Kuju Coffee Starter Pack

#5 in Coffee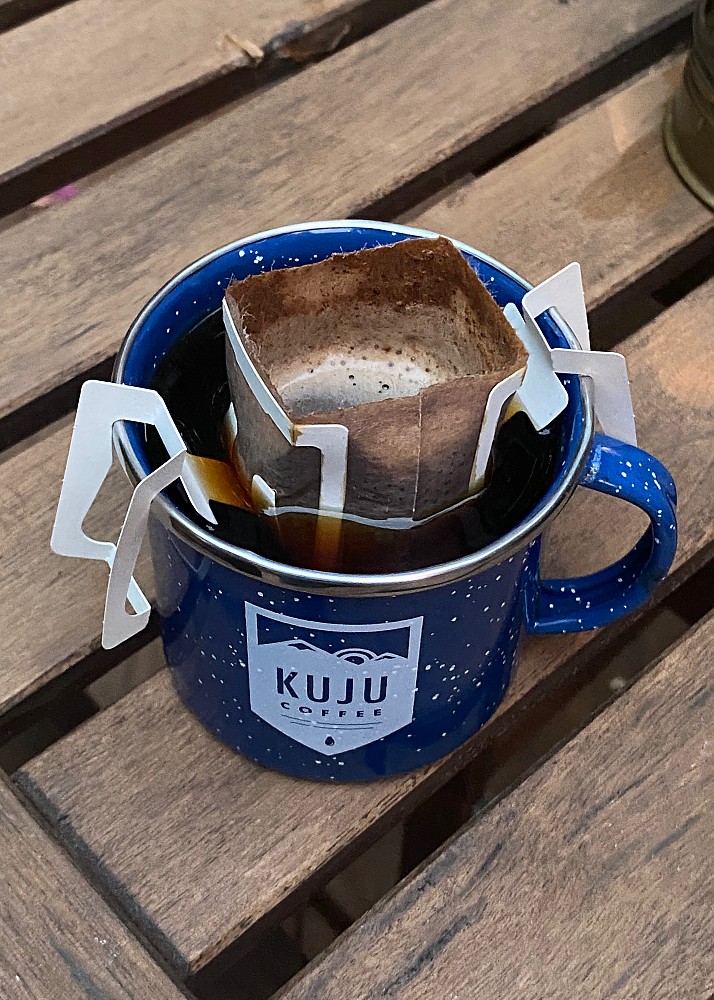 Reviews
1

review

5-star:

0

4-star:

1

3-star:

0

2-star:

0

1-star:

0
The Kuju Starter Pack offers one sample of the brand's six different coffees and an enameled stainless steel mug. These are pour-over coffees that do not require any apparatus: simply tear open, perch on a cup, and pour the hot water through the grounds. Six coffees cover most tastes; the mug offers a nostalgic touch. A useful starter kit to explore one's tastes, and an ingenious option for coffee lovers craving a better brew in the wilderness.
Pros
innovative pour-over design eliminates need for separate coffee apparatus
real grounds provide rich flavor
brews coffee in 2-3 minutes
Cons
priced above other coffee options
wet waste (used coffee filter with grounds)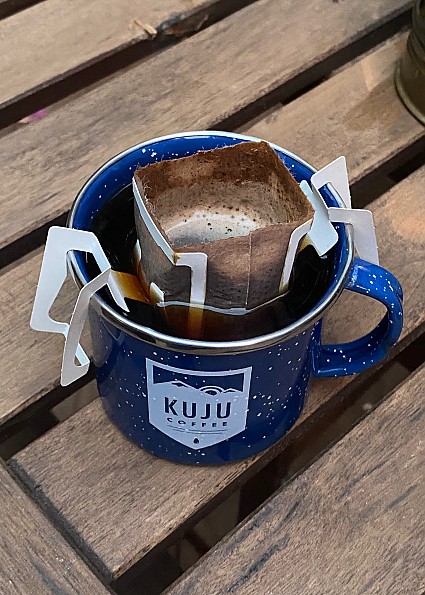 It is my personal grail quest, the quest for the perfect backcountry coffee. I am always looking for something new, something different, something better. I impulsively decided to try Kuju Coffee upon seeing it advertised as a 100% "specialty-grade coffee" that boasts an innovative "Pocket Pour-over" design.
I first ordered some of Kuju's Basecamp Blend. My interest was piqued by tasting this, so when I received an email with an offer for a free box of Angels Landing with a purchase of X dollars, I ordered the Kuju Starter Pack—one of each type of Kuju coffee plus an enameled mug. By the time I was through those coffees, I had more Kuju coffee en route to my home to do a more proper review for Trailspace.
The Starter Pack
The Starter Pack consists of six packets of coffee, a sampler of each type Kuju makes, and an enameled stainless steel mug. It turns out that this mug is made by GSI (a sticker on its bottom indicates this). I will do a later review of the mug separately, but for now, I want to keep the focus on the Kuju coffees.
The six coffees include a sample of a light roast (Angels Landing), and medium roast (Basecamp Blend), and a dark roast (Bold Awakening); and three single-origin, organic, free-trade coffees: Ethiopia, Papua New Guinea,  and West Sumatra.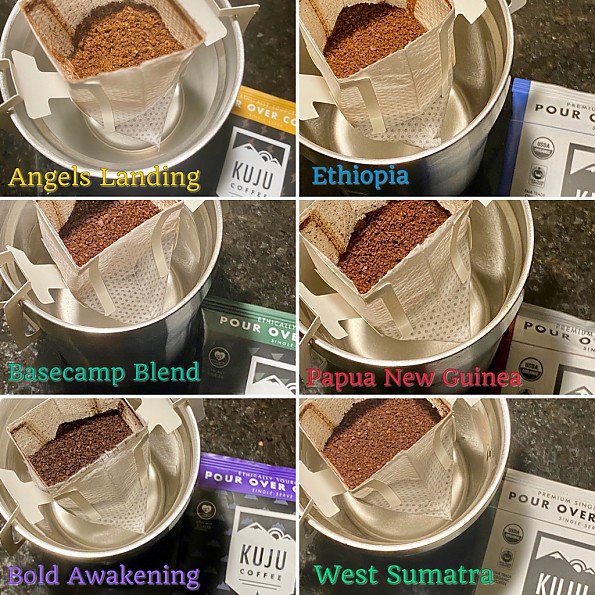 Making Coffee
In a serving of Kuju Coffee, one gets about 14g of medium ground coffee in a filter packet with attached paper  "Steady-Safe Anchors" (Kuju claims to have been the first U.S. company to bring this design to market). To make coffee, one opens a "Nitro-flushed," gas-impermeable single-serve pouch, removes the filter packet, and tears the top of it along a perforated line. The filter packet then opens into a rectangularly-shaped pouch, exposing the coffee in the bottom, and pulling on the paper anchors on the sides of the filter packet allows one to suspend the filter on the rim of a cup.
The best coffee is made with water just shy of boiling, so all one has to do now is pour a trickle of water into the filter. The grounds release a satisfyingly rich and creamy swirl of bubbles, pour-over coffee's answer to the thick crema of espresso. I learned from Kuju Coffee videos on their site that the founders have optimized the thickness of the filter material to allow a flavorful cup of coffee in 2-3 minutes (longer if you wish to steep the filter in the coffee). That 2-3 minute duration is about how long it takes to dribble a trickle of water into the filter as coffee seeps out the sides of the filter. For a complete portrayal of the brewing process, please see the video, above.
The entire process is divinely simple. Open a pouch, open a filter packet, pop the filter packet on a cup or mug, and pour water over the grounds. One is left with a drawback, the debris: while the airtight packet itself may fold flat, one does have wet grounds and a filter to dispose of. I pack out all of my trash, so I make sure I have gotten as much water out of the filter pack as possible before adding it to my trash.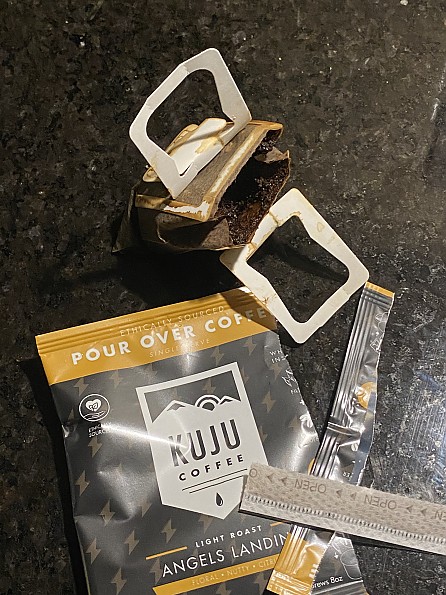 The Coffee Varieties
Kuju offers six varieties of coffee: three blends at about $2.20 a cup—Angels Landing, Basecamp Blend, and Bold Awakening—and three single-origin, fair-trade organic coffees—Ethiopia, Papua New Guinea, and West Sumatra—at about $3.00 a cup.
The blends each tend to feel smooth in the taste and on the palette, with the minimalist coffee-term descriptors appearing to be on target. The varieties and their descriptions are presented below: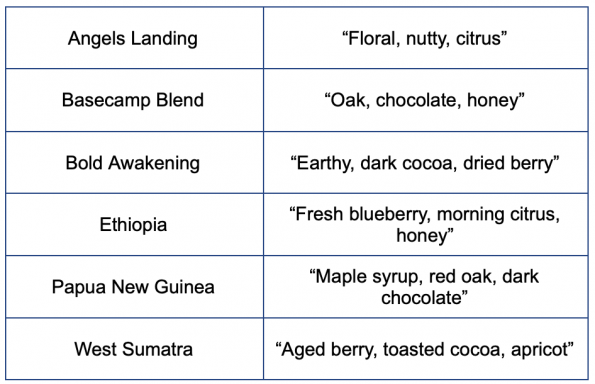 Taste
I'm no professional coffee cupper. I have roasted a few batches of beans, and I know what I like, but the following notes are general: taste is subjective; others may have differing opinions (if so, please comment below!). 
The three blends that run $2.20 a cup are smooth, moderately rich, and inoffensive, seemingly by design: while far better than the instant coffees I've tried and noticeably smoother than many major coffee brands, I found that these seemed aimed at a middle-of-the-road sweet spot. If my own notes echo Kuju's, it is because I found their notes to be generally accurate. Note: I suspect it may be also due to the rather general nature of their descriptors—the SCA Coffee Taster's Flavor Wheel distinguishes among four different levels of specificity when describing flavors; Kuju's generally center on the first, largest, and most general of these four levels.
Angels Landing is a light roast, presumably with more caffeine than the other two blends. One might term it a light breakfast coffee with nutty, citrusy flavors.
Basecamp Blend is the middle ground, a darker roast with notable chocolate and honey smoothness. 
Lastly, Bold Awakening is the darkest roast Kuju offers, perhaps analogous to a French roast with its earthiness and bolder, more tannic mouthfeel. 
All three are extremely palatable; all three lack lingering complexity. They are smooth, much better than your average cup of Joe, but their flavors dissipate quickly. They slide smoothly across the palate and disappear with nary a trace. Some will appreciate this clean finish. Dedicated javaphiles should read further.
Remember the Basecamp lend? Kuju describes it as "[a] smooth, bold and accessible blend of Ethically Sourced beans ending with a heart-warming full-bodied finish." The $3.00-a-cup coffees come with more rapturous prose descriptions. The Ethiopia coffee, grown at 6234 ft of altitude, hails from the Yirgacheffe region. Kuju describes this coffee as a "tantalizing balance of bold flavors and delicate nuance," saying that the drinker will "experience an awakening with flavors of morning citrus, honey and Yirgacheffe's signature blueberry notes."
Hailing from 4757 ft. of altitude in the Eastern Highlands, the Papua New Guinea coffee offers a transformative experience, according to Kuju: "Be transported to a far away [sic] island with this classic coffee from Papua New Guinea, delicate sweetness complemented with flavors of red oak and dark chocolate."
Finally, growing at 4265 ft. of elevation, the West Sumatra coffee seemingly promises tropical delights. Kuju writes, "An exotic orchestration of umami and ripe fruit, this West Sumatra coffee gets depth from notes of aged berry, toasted cocoa and apricot."
My own tasting notes are less purple and more prosaic in tone: I really liked each of the single-origin coffees. Each of the "Premium Single Origin" coffees has a distinctive character; each features more complexity and a more lingering taste than the less expensive offerings. Each satisfied my craving for a smooth, interesting, and reasonably well-balanced cup of coffee that I enjoyed savoring as I drank it. Individual tastes vary, of course, but each of these single-origin coffees makes a darn good cup of backcountry Joe that allows one to enjoy a beverage as satisfying as one's scenery.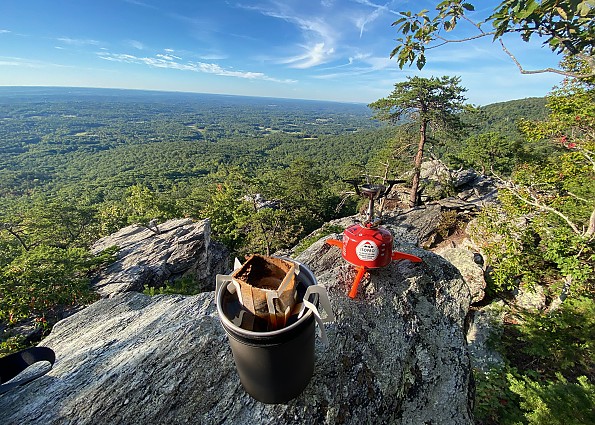 Conclusions
So what do I think? I think the Kuju pour-over coffees—notably the single-origin ones—are among the best options for backcountry coffee I've had. I do find the light, medium, and dark roast coffees to be good and perfectly drinkable, but they are not as interesting to me as the single-origin ones.
I love the utter simplicity of the package and process, the authenticity of the pour-over brew, and the richness of coffee, not some mere crystallized semblance of this heavenly drink. The self-contained pour-over concept works well, really well. The coffees are good, some really quite good.
The price is $2.20 to $3.00 a cup. Some might say that is a café price, a price considerably higher per cup than instant coffees. However, this is categorically not instant coffee; Kuju coffees are made from freshly-roasted, freshly-sealed coffee grounds. Coffee made from grounds will always be more expensive than instant coffee, but it also has more flavor, aroma, and ingredients such as antioxidants that are lauded as health benefits of coffee than does instant coffee.
Full disclosure: I am an unapologetic fan of coffee made from grounds. Consequently, the pricing of these coffees seems to me to be high but reasonable—after all, the coffees come in airtight, individually-packaged servings and can be used with minimal hassle and consumed with much delight. That is worth a bit more to me than less expensive options that leave one watching crystals dissolve into water. I never thought about the cost as I drank these Kuju coffees; I simply savored them as some really nice perks on some splendid wilderness adventures. 
There are a few other reasons the price seems reasonable to me, and these reasons reflect the ethics of the two Eagle Scout brothers who founded the company. First, Kuju uses only ethically sourced coffee that supports local farmers. Second, the coffee is processed in factories that are 100% powered by wind. Third, the company donates 1% of its earnings to the U.S. national parks. Kuju calls this their "Source-to-Soul" aspect of their company, and the founders note in a blog post that they are "constantly striving for impact in every part of the value chain we touch, from sourcing, to packing, to your purchasing and using our pourovers, and most critically the ongoing effect it has on you after you use it"; they further acknowledge that they aren't perfect, but that they are also just beginning. Effective marketing? Yes, but these are also worthy goals that may resonate with some consumers.
Kuju Coffee is not the choice for those seeking the cheapest coffee option, nor is it the choice for those who don't want to be bothered with some trash. It is, however, an excellent candidate for those who want a cup of good, made-from-grounds coffee that is produced in a fast, hassle-free way. I found using Kuju Coffee in the backcountry allowed me to focus on the experience of drinking the coffee in nature, not on the process of producing it, and such a simple pleasure can be the perfect touch to embellish a wilderness experience.
Experience
My search for the perfect cup of coffee in the backcountry has led me down countless paths in search of this elusive grail over the last 35 years. I have tried different devices, from a GSI Java Lite pour-over option to a Bialetti stove-top maker, from a French press in a double-walled mug, from an AeroPress to cowboy coffee. My passion for coffee has taken me to coffee farms in the Central Valley of Costa Rica, and I've even roasted my own beans. I have tried many instant coffees, from Nescafe to Starbucks to Medaglia d'Oro. I am always ready to try another method, another bean, another cup of Joe.
Source: bought it new
Price Paid: $20

You May Like
Recently on Trailspace