Kurgo Enhanced Strength Tru-Fit Dog Car Harness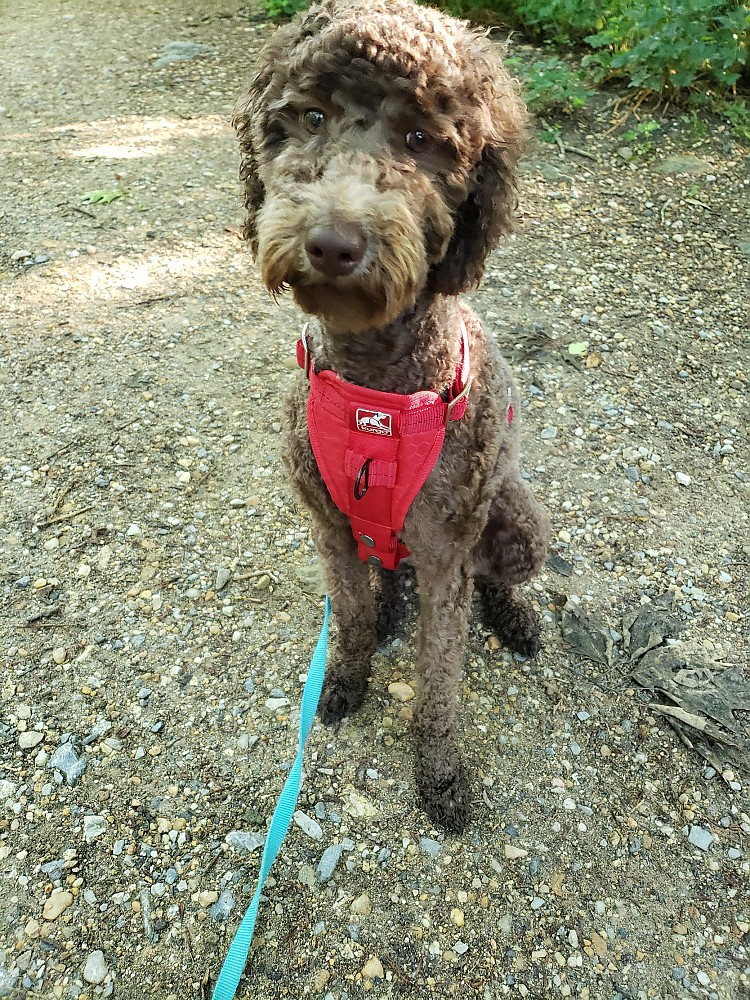 The Kurgo Enhanced Strength Tru-Fit Dog Car Harness is a great option for both dog-walking and safe travel in vehicles because it has been tested and designed for car use and has been crash tested. It's easy to adjust the size with durable webbing and steel hardware. For car travel, the harness comes with a separate piece of webbing on a carabiner to attach to a seatbelt. The harness also gets high marks for durability.
Pros
Adjustability—5 different sizes
Durability
Car travel attachment
Multiple leash attachment points
Cons
Must measure dog to get the right size
Metal hardware a bit harder to use than plastic clips
Meet Ruby, who graciously did all the work testing Kurgo's Enhanced Strength Tru-Fit Dog Car Harness. Note the mid-COVID and post-COVID coat; she doesn't shed, and after she was hopelessly overgrown and matted after months of no grooming, we had to give her a very short haircut. That's important to the review because it shows the adjustability of the harness—it fit her well in both the "before" and "after."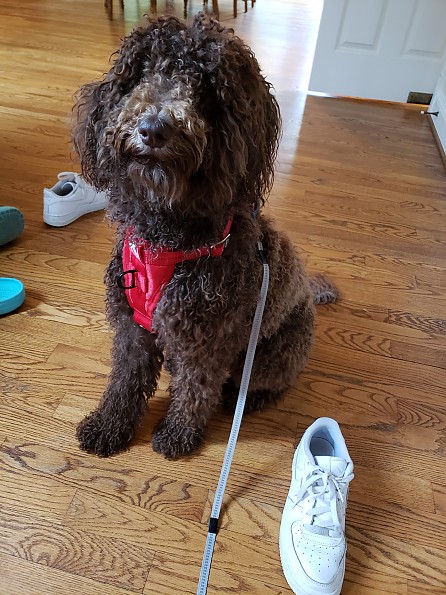 Both of these photos show the padded chest plate, which helps spread the force when a dog likes to pull. There are several brands that offer a similar setup. It doesn't at all interfere with normal use for walking and hiking.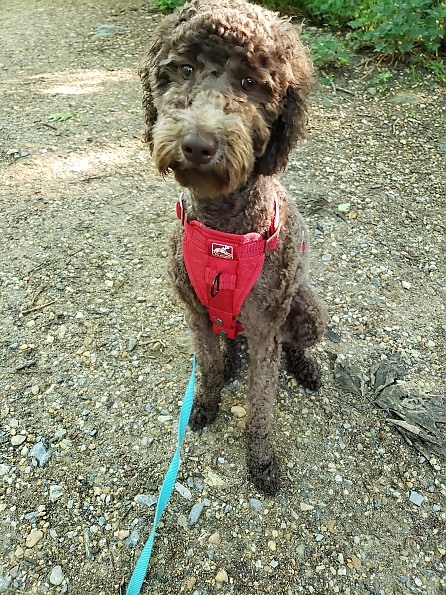 THE BASICS
The full name of the harness is a mouthful, so I will refer to it as the Harness for most of the review. As you can see, the Harness has a nice, padded front to spread the force of a dog who likes to pull hard, as opposed to collars that put pressure on a dog's neck. The Harness has two attachment points for a leash—a steel ring on the front of the padded part and a steel fitting that slides along the back. Ruby prefers the rear attachment point.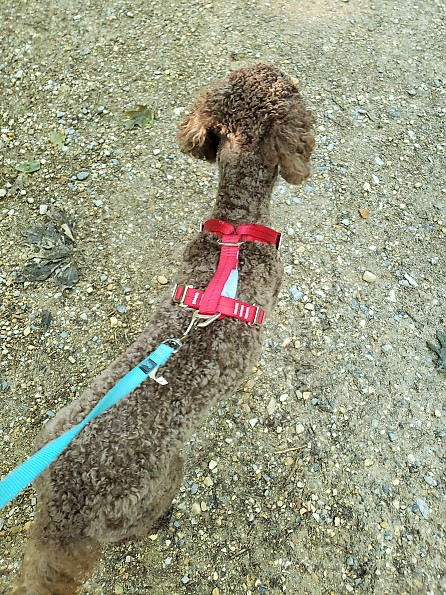 The Harness is made from stout nylon webbing and steel hardware, and high stress points have bar-tacked stitching—see the blue lines on the rear strap above. The hardware is relatively heavy, and it can sometimes take some fiddling to attach the harness (if you prefer plastic clips, Kurgo makes harnesses with that option, but they're not "enhanced strength").
Photo of the hardware below. You attach the harness by sliding a steel piece through another steel piece.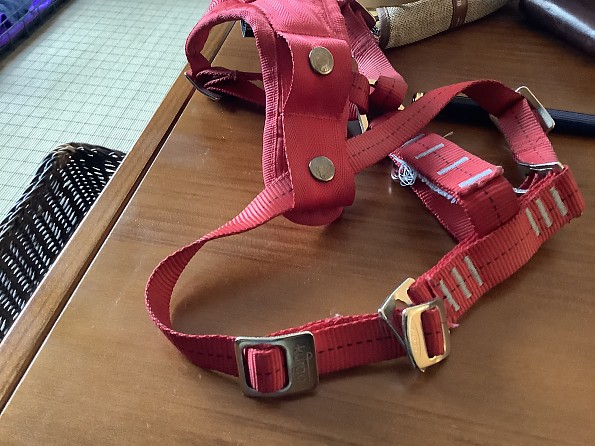 FITTING THE HARNESS
Kurgo sells the Harness in sizes X-Small through X-Large that fit dogs from 5 pounds to 110, according to the sizing chart, based on three measurements—neck, chest, and weight—to get the right size. Ruby was between sizes based on her measurements; if in doubt, Kurgo's website has a good video about how to measure your dog, in addition to live chat or calling their toll-free service number.  We chose the larger size after emailing with Kurgo.
The ability of the medium-sized harness we tested to adjust became apparent when Ruby became a slighter-looking dog overnight. The Harness was able to adjust to her size after the haircut.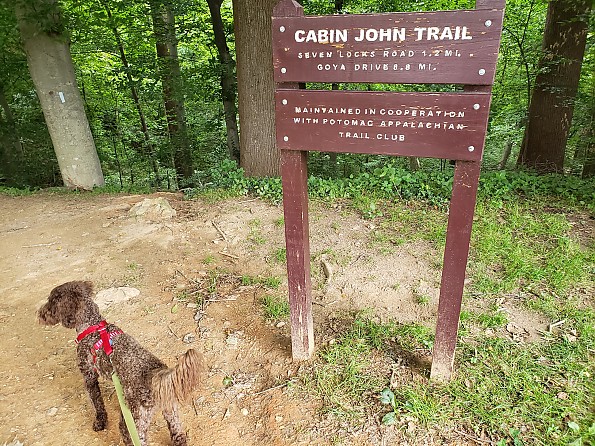 In addition to the strap adjustments on both sides, front and back, the strap that runs under the padded part can be snapped on in two places—that is apparent from the photo above. One minor issue with the harness is that for some reason, the bottom snap is very secure, but the top snap detaches during longer walks or when Ruby is racing around a field on the local elementary school. It usually detached in the first twenty minutes, roughly.  
DURABILITY
Outstanding all around. The Harness has been on several hikes, in and out of the water, and has been to many Sunday dog gatherings without any structural impact. There is a small blue strip of nylon sewn into the back, purely cosmetic, that has frayed a little—it's visible in the photo above the fitting section. Heavy webbing and steel hardware mean Kurgo's harness should last a very long time, short of a dog that likes to chew a lot getting at one of the straps. If it fails for some reason, Kurgo offers a lifetime guarantee.  
To the extent you like the Harness and have a very small dog (this Harness is available for dogs in the 5-10 pound range) you might think the steel hardware is too heavy. If that's the case, look at Kurgo's harnesses with plastic clips instead.  This Harness is quite a bit heavier than a hemp harness we already had.  
CAR RESTRAINT
The Harness comes with a ten-inch tether with an attached steel carabiner to secure it to a seatbelt for traveling in a car. Kurgo says it's compatible with any vehicle seat belt system and has crash test information and videos on its website. Note that Kurgo claims the Harness is crash tested up to 75 pounds, so consider whether it's safe for larger dogs. That is a great safety feature for unexpected quick braking, and a few states legally require dog restraints or that dogs be crated in cars. It's very easy to use—just wrap the restraint around the seatbelt and through the loop on one end, and attach the carabiner to the metal piece on the back.  
If you want even more convenience, Kurgo separately sells (for about fifteen dollars) a tether that plugs directly into the receiving end of most standard seat belts.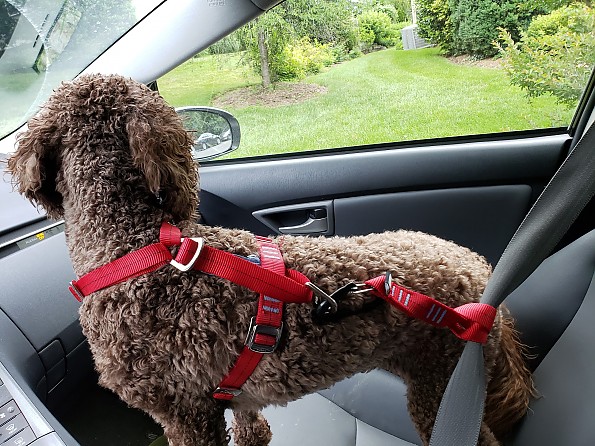 We used the Harness as an everyday option for hiking and walking, not just for the car, and it's a good option for both. (For the most part, we don't tether her to a seatbelt when she's in the car and have not used a seatbelt tether in the past. We tested it for the purpose of this review and are keeping the tether in one of our cars, in case we take longer trips and want to anchor her. Ruby likes to ride standing with her front legs on the center console between the two front seats).  
TESTING GROUNDS
Ruby walks or hikes 3 to 4 miles most days, and the Harness went with her for the past 6 to 8 weeks. It was also in and out of the Potomac River and local streams, and she wore it several times around several other dogs at weekly weekend gatherings on a local field. She's a regular rider in cars, so we had plenty of opportunity to use the seat belt attachment. My only real challenge was getting her to pose for photos when she was more interested in, well, being a dog. She had no issues with the Harness, and it will continue to be one of the primary options for walking and hiking with her.  
Worth saying that at $45, the Harness costs more than most dog harnesses in pet stores but is similar in price to a padded hemp harness that we already had for Ruby. Whether it's worth an extra $15-20 depends on whether you want and need a premium product, in this case a heavy-gauge, crash-tested dog harness with solid steel hardware or not. Our experience with harnesses is that you get what you pay for—ease of adjustability, better build quality and materials for the higher price. I recommend Kurgo's enhanced-strength harness to anyone, either as a very good everyday harness or as a great option if you plan to tether your dog to a car seatbelt.  
Experience
6-8 weeks of regular use by a speedy and very active dog, including trails, swimming, and wrestling with other dogs.
Source: received for testing via the Trailspace Review Corps (Sample for testing and review provided by Kurgo)

Your Review
Where to Buy
Help support this site by making your next gear purchase through one of the links above. Click a link, buy what you need, and the seller will contribute a portion of the purchase price to support Trailspace's independent gear reviews.
You May Like
Specs
| | |
| --- | --- |
| Price | MSRP: $44.99 |
| Sizes | XS to XL |
| Load | Crash tested for dogs up to 75 lbs |
| | Compatible with any vehicle seat belt system |