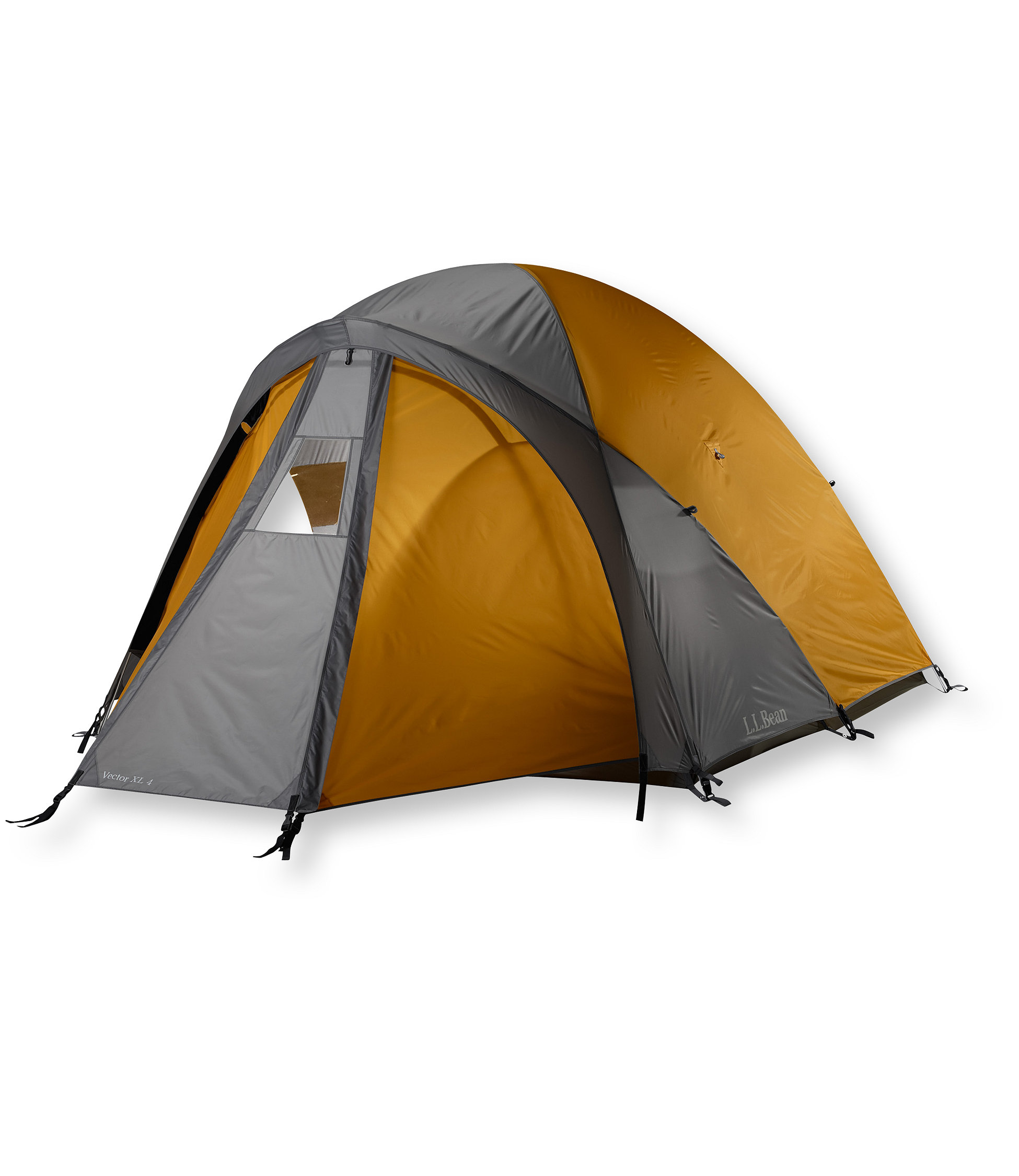 Specs
Price
MSRP: $389.00
Historic Range: $369.00-$389.00
Reviewers Paid: $249.00-$320.00

Reviews
2

reviews

5-star:

0

4-star:

2

3-star:

0

2-star:

0

1-star:

0
LL Bean Vector Dome XL6 purchased in 2010.  Available from www.llbean.com.
I started hauling my family camping when the kids were 3 and 1.  My wife was a good sport through all of this, and initially didn't complain about size of the 4 person backpacking tent I bought for us.  [Kelty Gunnison 4]
As the kids have grown, (they're both scouts now, and their mother a leader) so have the complaints that that tent is too small.  I don't agree, but to reward my wife's generous cooperation, we got a car camping tent this spring: An L L Bean Vector Dome XL6.
Criteria:
1 Stand up height
2 Vestibule big enough for the 65 pound dog to sleep comfortably
3 Design and build integrity that can stand up to worst case scenario weather
4 For scouting: Easy to pitch and rugged as hell.
5 Not so big as to limit us in places it can be pitched.
My shortlist was this LLB Vector Dome, and the REI Base Camp 6
We ended up buying both tents with the plan to return one after setting them both up in a gymnasium.  We liked the Basecamp.  The design was newer and more ergonomic than the LLB, it also has a nice heavy floor.  But the complexity of setup was too much to justify, and other than the floor, the build was a little light, so we returned it.
The LLB in comparison to the REI is an older and more basic design.  Perhaps in light of this it's hard to justify the price, but I shrugged this off, as the tent met all of my needs.
1a I think you could be 6 foot 5 and still not touch the top of this tent.
2a The vestibule provides lots of cover for the labradoodle, and he sleeps happily in it.
3a We haven't had this tent in bad weather yet, but the aluminum frame is very stout.  Full coverage fly pitches tight, with lots of available guyouts.  It's not going anywhere.
4a Pitching is a piece of cake.  I can rest easy that my wife and her girl scouts will succeed with this tent and have energy left over for the remainder of the day.  As for the Cub Scouts, they'll have to work at it to hurt this tent, and that's about all the strength I can ask of the Vector Dome.  The zippers are bigger and sturdier looking than I see on most other tents.
5a The size is 9 feet 2 inches by 10 feet.  In the ballpark of most car camping tents.  By no means the airplane hangar that some tents have become.
It is a very comfortable, bright tent, and owing to all its volume, not the least bit stuffy.  We live in Virginia where oppressive heat is more likely than cold, so I like the large volume of mosquito netting.
Why not give it 5 stars?  Well, it is a little expensive.
Price Paid: $320

Have not used it yet, but have set it up. This is a well-designed tent. It has many useful features, not the least of which are consistent color-coding of clips and such that go together. It seems to be well-vented, yet as one epinion reviewer said, you can see how it would be easier to go in and out the back door (less stooping) instead of the front door (which has a vestibule that slopes to the ground like a doorstop).
As a large dome tent (95 sq. feet or so, plus another 50 or more in vestibules), the shockcorded fiberglass poles are incredibly long and do require 2 persons to work with them. So far, the only downsides have been that the directions are sparse, and for one just re-entering camping after a 15-20 year absence, it was confusing at times to set up. I had to infer a lot of things about the setup that might come quicker to a current regular camper.
Floor seams are factory taped, but you have to seam seal the corners of the floor and windows.
Design: 3 season freestanding dome
Sleeps: 6+
Ease of Setup: Moderate
Weight: unsure
Price Paid: Paid $249 on clearance

You May Like
Recently on Trailspace