La Sportiva Batura

The Batura has been discontinued. It was replaced by the La Sportiva Batura 2.0 GTX.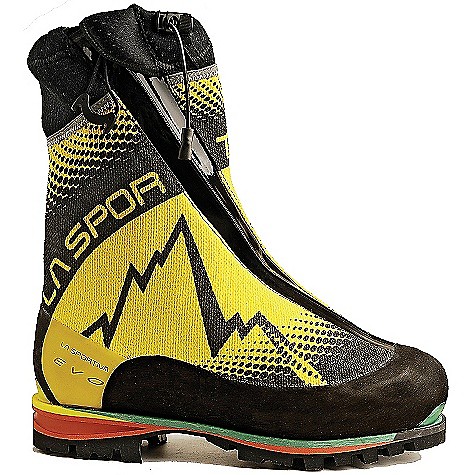 I have used these shoes too short to give a decent review. But I don't want you to withhold what I have experienced so far.
No real break in time form me.
Rock climbing is for me possible/doable up to 5.10. The contact with the rock is accurate. The sole/rubber is for a big boot narrow, that's why. Strange enough the toe box is quite wide. So no cold toes. Ice and mixed up to M5 went okay. No movement in the heel part. Used them with Simond Makalu and Grivel Rambo 4. Both fit and work fine.

Once they are wet, they dry slowly. Really slow!
How do they get wet?
Sweat from the inside and . . . from the outside.
The first fact is easy to eliminate use an aluminum derivate deodorant on your feet every day for a week before you climb. So no sweat, nice and warm feet.
On the approach in Scotland I stepped in a snow covered creek up to the ankle. I thought (past time) nice! this high gaiter keeps the water out. The gaiter does but the zipper leeks. So your safety margin is rather small compared to a 'classic' boot. The zipper starts low, see picture. Think also of wet snow.
To say it indiscriminate: People who tell you that this is an ideal winter boot for the lower ranges, like Scotland, don't know what they are talking about.
Is the shoe to blame? No. Once high or cold enough they work perfect.
The outside is sturdy so far. No visible scratches or crampon holes :-).
Then the weight … are they so light weight as promised? Not on my scale. My Scarpa Cumbre's weigh the same on my scale (same size). The Cumbre is supposed to be heavier. I cannot tell which one is warmer. There is a difference in warmth, but I didn't notice it until now.
Would I recommend the shoe? Yes, and I would also say that there are also other very good shoes out there as stable as these.
Price Paid: € 420

Batura is a perfect boot, i have never believe that ever i will have almost ideal boot. of course it is a waterproof, is warm how much you need, is too light, is too beautiful.
i have never believe that a gaiter like this can do a job of a gaiter but it work perfect. so everything is good, except RIRI ZIP, that zip is the WORST thing that is made of LA SPORTIVA. actually is not made of La Sportiva, is Riri, but unfortunately the La Sportiva have believe to RIRI.
i have used my Batura just 5 times. at last time i have climbed a 2500m peak and wen i saw in evening that the part of ZIP is destroyed i became too sad, and I admonish the climbers who want to buy batura, please wait till La Sportiva change the ZIP partner.
Price Paid: 370 euro

Your Review
You May Like