La Sportiva Cirque Pro

The Cirque Pro has been discontinued. If you're looking for something new, check out the best approach shoes for 2023.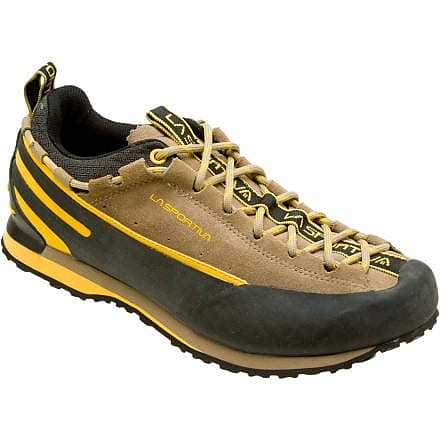 We women don't have much to chose from, but this shoe fits very well! I'm a women's 9, and the men's 7.5 seems to work. I've been a runner for over a decade and a half, so I'm used to very comfortable shoes. Combine that with having long toes and a wide foot at the toe end makes me hate just about any climbing shoe.
The Cirque Pro fit is half-way between a running shoe and climbing shoe. A tad tighter in the toes than I'd prefer, but I suspect anything looser would decrease functionality. The only time I tend to really notice that is in the car, though - hiking seems just fine. Nice and snug in the heel, which is good, and my high arches don't seem to mind them, either. I've had them for about 5 months, and they have yet to give me any blisters. They were nice to me right out of the box.
The rubber is sticky enough for a good grip, but not so much as to pick up lots of dirt, making 3rd and 4th class scrambles way easier than they would be with hiking boots. (Specifically, my first experience with the Catacombs at Sam's Throne AK in boots was miserable, but it's a snap in the Cirque Pros.) Excellent control. Not fantastic in the mud, but they're not really made for that.
So far I've used them mostly for cragging with a light pack. Haven't done any extended hikes with them yet, but I wouldn't hesitate to do so. They feel reasonably light on my feet, and haven't slid out from under me yet! Worth every penny!
I bought this shoe to bridge the gap between my old hiking boots and climbing shoes. I do plenty of hiking and a good amount of bouldering and scrambling around on rocks, but didn't feel like spending the money to buy rock climbing shoes AND new boots - so I got these.
Pros: very strong shank, excellent upper durability.
Cons: you'll need strong ankles because of the narrow design. While this is helpful for climbing and edging, it is a little unstable on uneven ground if you have weak ankles.
Also, if you are hiking on wet leaves or mud, these shoes have not so hot traction - less than most hiking boots. This is just because the treads are designed for rock, not wet trail.
However, I've gone on several wet and dry hiking and backpacking trips in them, and done some medium difficulty climbs, and they are holding up very well, except for a few spots on the sole which are wearing down - though there is still at least 3/4 of the tread left. The uppers and toe bumpers look like new, and the laces are very durable as well.
Overall: don't buy these shoes if you just want a good hiking boot, unless you do all your hiking on and around rock. If you want a cross-over boot good for some climbing and hiking, theses are great. BTW, I encourage you to buy them from Oregon Mountain Community.com.
Use: Rough trail w/ pack, climbing, hiking
Break-in Period: ~5 miles
Price Paid: $79.99

These are excellent shoes for mountaineering and hiking over rocks. I can easily climb 5.6+ in these shoes. About half of the Exum guides in Jackson Hole wear these for Teton climbs and general hiking. The lacing cinches the toe pocket nicely and the even pressure makes this a very comfortable shoe. The sticky rubber soles provide excellent adhesion to rock, although (as with all "sticky" shoes) this adhesion is significantly less when the soles or rock are wet.
Comparing these with La Sportiva's B5, the B5 has a slightly stiffer sole, better for sticking toe holds. But the B5's tread has a middle strip of non-sticky rubber, so friction climbing is a bit harder. The B5's have more defined tread, better if you expect a lot of mud. But in almost all cases I'd go with the Cirque.
These shoes are not waterproof and the leather takes a while to dry. They also feel heavier when they are wet, and the insole looses some of it's padding. They're fine to kick steps in snow, but expect wet feet at the end.
All in all, a great pair of approach shoes. More durable than some of 5-10's products and more comfortable too. Can't beat the weight.
The leather uppers won't stretch like the Mythos climbing shoes. Buy the correct size to start. I bought a half size up (the shoes run a bit small).
Materials: Leather
Use: Mountaineering, rock climbing, hiking
Break-in Period: 2 or 3 days (15 miles)
Weight: 1 lb, 10 oz
Price Paid: $95

These were by far the most disappointing pair of shoes I have ever owned. After one trip to northern Patagonia (within 2 months) they were totally trashed. They have a great fit and are very agile and precise on rock but that's about all they have going for them.
The design and construction of these shoes is total garbage. The lack of gusseted tongues is a large oversight that results in you having to dump out your shoes of debris quite often, the soles wear down to nothing and peel away faster than you would believe, not to mention every single seam on the things blew and I had to field stitch them constantly.
In conclusion these are not a good pair of shoes to say the least, unless you are strolling about town in them and even then you should probably minimize your use so they will last more than a couple months.
If you are not in the habit of wasting upwards of $100 for fun then DO NOT BUY THESE SHOES. Don't get me wrong, I love La Sportiva but these shoes suck!
Price Paid: $60 (Pro)

Took these to the top of the Matterhorn last weekend in Yosemite NP--performed flawlessly! Even when ascending & descending the SW slope in sand & talus the shoes performed better than expected.
I was afraid I'd be stopping frequently and emptying the gravel & sand but that was not the case. Summitted at noon and was eating lunch when I decided to empty less than a tablespoon of sand from each shoe. My climbing mates had ankle high Vasque and Asolo and they had as much or more sand in their boots. Asolo soles were a bit chewed up after making it back to camp...DON'T leave home without them!
Materials: leather upper
Use: approach & scrambling
Break-in Period: > month
Weight: ?
Price Paid: $100

What an awesome pair of shoes. I wear these for normal street life. They are extremely comfortable. The rubber is perfectly sticky and works great for scrambling and class 3 hiking. I have yet to try them on any class 5 climbs but I feel comfortable enough in them to climb up to 5.7. My only problem has been the lace, they tend to loosen up after a while and need to be retied.
Break-in Period: fairly quick about a week
Price Paid: $90

Here's the truth. I climbed three peaks in these shoes and there is nothing left of them. They started falling apart the first trip and by the third trip they couldn't be worn. All the seams completely blew out.
I tried to return them to La Sportiva and they blew me off.
Price Paid: $110

I've owned the shoes for about a month and used them for an ascent of Grand Teton. They served me very well.
They're almost suspiciously comfortable, and feel more like slippers than shoes.
Use: owen-spaulding ascent of Grand Teton (cat 5.4, mostly)
Break-in Period: one week
Price Paid: $90

Your Review
You May Like
Specs
Men's
Price
Historic Range: $44.85-$95.00
Reviewers Paid: $79.99-$110.00

Women's
Price
Historic Range: $47.48-$66.47