La Sportiva Men's Core High GTX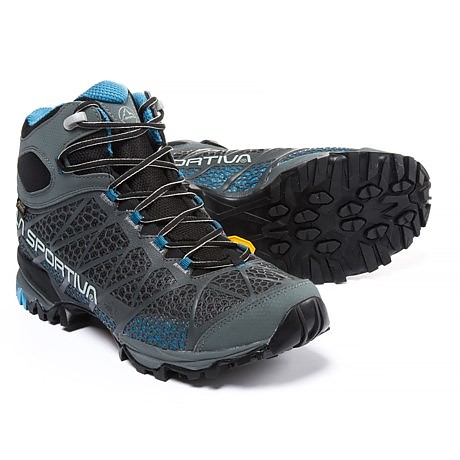 A light, all-fabric boot from one of the world's premier footwear makers, the La Sportiva Core High GTX competes well against similar offerings from the likes of Inov8 and Salomon. The combination of sticky rubber and a stable fit inspire confidence on all terrain.

This is a solid backpacking boot, with thermoformed polyurethane (TPU) reinforcements on the upper, to provide abrasion resistance, and underfoot, to add stability.
Pros
A deep heel cup, snug instep, and roomy toebox = backpacking heaven!
A true high-top design with upper lace hooks help prevent heel slip
New GoreTex Surround membrane seems more breathable than standard GoreTex
Fly-paper-sticky rubber also retains some durability
Proper ankle padding means no Achilles Tendon problems
Cons
No GoreTex is great for hot weather...
High stack height and a substantial drop
Best For: Thru-hikers who want more protection than a trail running shoe provides, but still want a trail-runner feel. Backpackers who get out in all seasons, carrying packs upwards of 40lbs. Adventurers of all types who don't stay on groomed trails.
Design: The Core High is the best-looking fabric boot I've seen: The colorway is a muted greyscale with striking yellow highlights and La Sportiva's partially-abstracted logo on each side in matching yellow; highly asymmetrical, they appear as if cast from human feet. An extensive TPU cage surrounds the upper and across the toe box, with an underlying honeycomb-like pattern reinforced by a thicker superstructure.
The toe and heel bumpers are made of a thick synthetic material similar in feel to Alacantra suede. This material also forms an ankle reinforcement into which the upper lace hooks are anchored. The remainder of the lacing is made of small webbing loops bar-tacked directly into the TPU cage, a design that, in my experience, should outlast the usable lifespan of the boot.
The main outer fabric is interesting. Peering though the cells of the TPU cage one finds what looks like spun polypropylene, the non-woven material used in home wraps and some rain gear. Looking inside of the boots, one finds a fabric also very similar in appearance to what Dri-Ducks/Frog-Toggs is made of. It would interesting to learn that "GoreTex Surround" is merely two layers of spun polypro, as that is exactly what it looks like.
While looking inside the boots you'll also find a high-quality Ortholite insole. It is removable, and the interior volume of the shoe will allow you to easily swap in a more substantial orthotic if needed. The footbed has a good bit of contour to it, however, including a pronounced arch, so after-market insoles will likely be an afterthought for most users. The tongue is bellowed, and one can observe the inner waterproof-breathable membrane continuing around the top of the foot, indeed 'surrounding' it...
The sole is a step up from what I've seen thus far. A Vibram unit, it uses a dual compound rubber that is crazy-sticky everywhere but the back outside of each heel, where the La Sportiva's Impact Brake System is employed. Here a harder rubber will afford better resistance to wear when going downhill on scree or hard-pack with a fully-loaded backpack.
The sole has a good bit of rocker to it, especially in the forefoot. Interesting as well is that it also incorporates substantial anti-rocker from side-to-side, providing lateral stability. The midsole is a bi-component mix of harder EVA foam with a TPU heel reinforcement. The heel stack height is tall and the heel-to-toe drop is noticeable; there's over an inch of foam and rubber under your heel.
Overall, La Sportiva seems to have adequately considered long-term durability with the Core High. They seem to want to make sure the boot will remain a high-performing product for as long as you might reasonably expect it to. This is an excellent sign.
In reality, no matter how much a given boot looks high-speed, it will not be if it does not fit well, if the last (the mold around which the shoe is built) does not fit your foot. Fit is certainly the most crucial factor, and La Sportiva's last fits my foot very well. Other companies use lasts that give me blisters and rub my Achilles Tendons raw; I am lucky that my feet fit the last of one of the best footwear makers around.
The La Sportiva last is generally a normal-to-slightly-narrow width in the heel, with a wider-than-average forefoot. Heel cups are generous in volume, yet tighten up quick to prevent the dreaded heel-slip. Insteps snug tightly while toeboxes remain roomy to allow your toes to grip and splay (and swell). The toeboxes also favor those with a second toe longer than their big toe, an anomaly called Morton's Toe, as I have. The Core High checks all these boxes.
Performance: These boots are stellar. They inspire confidence without fail, certainly a function of their precise fit to my feet. Their lightness means more miles in a given day—if that's your thing—and less fatigue at the end of said day. Given the stoutness of the heel counter and thicker sole, they are more flexible than might be expected.
This flexibility is to be chalked up to the TPU cage, methinks. It does a fine job providing structure to the upper without the limitations of typical fabric overlays. As there is no shank in the boot, the Core High prefers moving with you rather than against you. The lightly-padded ankle collar breaks in quickly, without any Achilles Tendon discomfort.
The lacing does well keeping your heel locked down. Indeed, there was no way I could make my heels slip without loosening the laces. The webbing loops which the laces pass through have shown no appreciable wear; I think keeping your laces clean and replacing them often goes a long way towards preventing wear in these areas. The metal upper lace hooks—powder-coated aluminum I think—will simply not bend, break, or wear out, or eat your laces.
The sole is as sticky and grippy as it promises to be. I had fun testing the limits of its grip, and you will too. You know how everyone puts that disclaimer about wet logs right here? Well, the lateral anti-rocker made me a wet-log-balancing fool. Seriously, foolish things were done...The  tread is deep, with pronounced lugs spaced widely enough to easily shed mud and dirt. Conversely, this also means that you'd be foolish to wear them on asphalt or concrete too long, for the lugs will quickly wear down.
The midsole provides shock absorption without feeling spongy. Sharp rocks are felt underfoot, but without much else; in other words, proprioception is pretty darn good for a boot of this nature. I'm sure La Sportiva would expect me to notice that the TPU in the heel helped my knees out a bit, but I just look forward to the boots having a longer usable lifespan.
I'm not exactly sure if I could note a sensible difference in breathability between GoreTex Surround and regular GoreTex, but the Core High boots did seem to dry out faster after creek crossings than I would have expected them to, having worn a few pairs of GoreTex boots in the past.
GoreTex Surround is just as good at holding in your sweat, however. Your feet will sweat in these boots in the middle of summer, but hey, it is summer, and you're backpacking in boots. What I mean is that GoreTex boots work best in cool-to-cold conditions; accordingly, the Core High boots have enough volume to layer up on socks if wanted.
Make no mistake, these boots are fully waterproof. All the way up to the top of the bellows on the tongue, which is directly in-line with the rear of the boot. As I measure it, you've got about six inches of waterproofness from the ground up. The one thing that Gore guarantees is, of course, still true: it will keep you dry.
Cleanup & Maintenance: I'm careful when I clean these, though I might not need to be. I could see the thinner TPU bits tearing off or the underlying fabric puncturing if I went to town on them with the usual stiff nylon brush. So I just use an old, soft-bristled toothbrush, and it takes more time but works just fine.
I clean them often, as GoreTex gets ruined when it gets dirty; the oils from your feet get into the inner membrane and clog its pores, rendering it functionally useless. I fill a sink with warm water, add a little Dr. Bonners Baby-Mild liquid soap, let the boots soak for a few minutes, and then clean as needed. I dry them on the floor, propped up against a wall, toes pointed down.
Conclusion: This is an almost perfect lightweight, backpacking boot. It makes great efforts to provide a precise and stable fit. They're as svelte as anything else in their class. So why is the stack height so high, and the drop so great? Why not make the most of the nimble chassis and exceptional flexibility?
The answer is that I'm a nit-picky egomaniac, and La Sportiva is in the business of making money selling boots. If they get Les Stroud, Creek Stewart, and Ted Nugent (and maybe Stephen Colbert) to wear these boots, they'll sell millions of 'em.
And they should: The Core High GTX boots are keeping my one-piece, full-grain-leather OG Fabianos in the closet, which is probably exactly what La Sportiva was hoping for.
Testing Conditions: Hiawatha National Forest, Pictured Rocks National Lakeshore Trail, in Michigan's incomparable Upper Peninsula: Late Winter, Spring, and early Summer temperatures ranging from 10 to 80 degrees Fahrenheit.
About the Author: Vince Contreras has been working as a professional Forester and Ranger for various federal land management agencies since graduating with a Bachelor's Degree in Forestry from Southern Illinois University in 2010. He currently resides in Michigan's Upper Peninsula, a Forester and Wildland Firefighter for the US Forest Service. He enjoys rock climbing, backpacking, and German Idealism. Other hobbies include leatherworking, bushcraft, and really, just creating original things.
Source: received for testing via the Trailspace Review Corps (Samples provided by La Sportiva for testing and review)

Your Review
Where to Buy
Help support this site by making your next gear purchase through one of the links above. Click a link, buy what you need, and the seller will contribute a portion of the purchase price to support Trailspace's independent gear reviews.
You May Like
Specs
| | |
| --- | --- |
| Price | Historic Range: $119.05-$200.00 |
Recently on Trailspace