La Sportiva Karakorum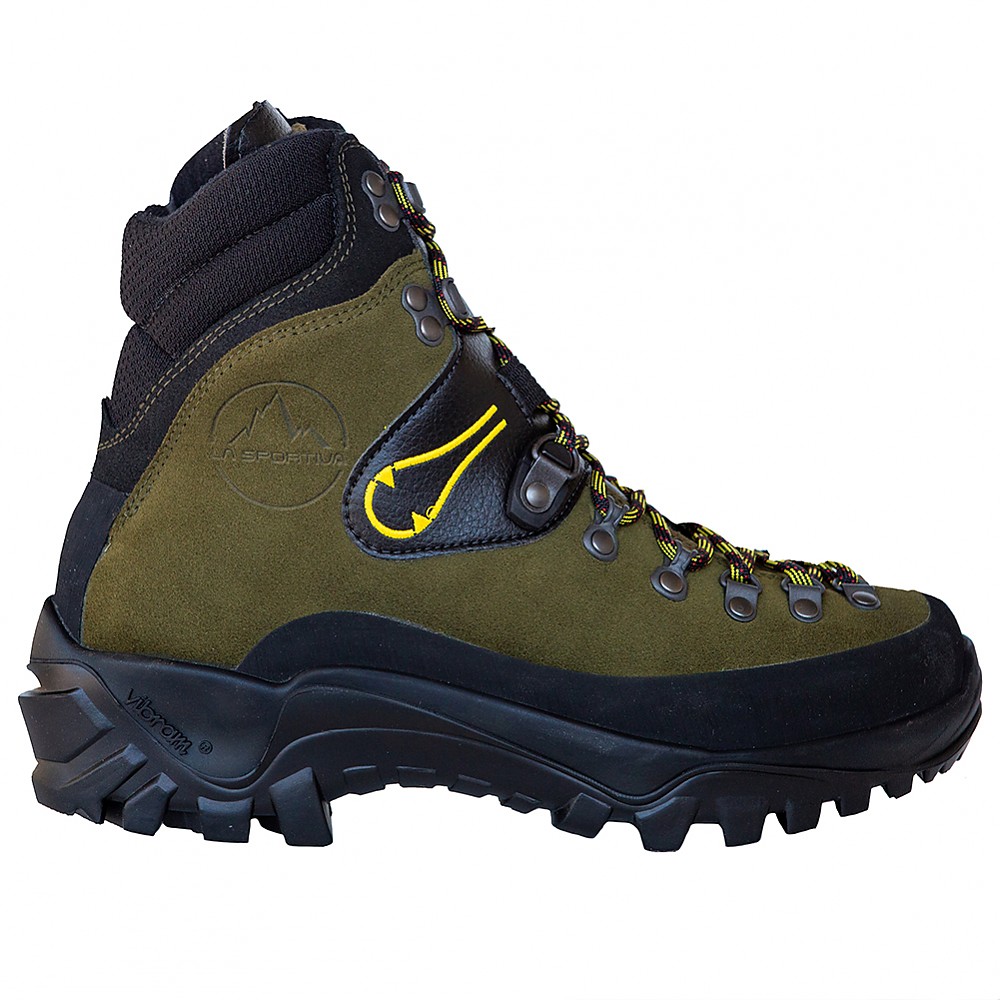 Replaced a pair of long lived Asolo TPS 520s with these in preparation for a mountaineering climb that required crampons. I loved the Asolos but needed something with a more rigid sole.
Pros
Solid construction
Sticky soles for bolder scrambles
Lace clamps at ankle eyelets
Cons
Heavy, but that is the point of a mountaineering boot.
In 1989 I bought my first "real" hiking boots. The $80 Vasque boots bragged of full-grain leather, double-stitched soles, steel shank, leather liner, and Vibram soles. They made me feel like I could go through anything.
They lasted me about 10 years until one of the soles separated from the upper 7 miles up a snowy trail. When I pulled off my gaiters off for the night and saw the front sole of my boot hanging, I realized why my foot seemed to be getting so wet.
The La Sportiva Krakorums have the same old-school feel without the weight. The 3/4 shank makes these a very rigid boot, appropriate for off-trail mountain hiking, summit scrambles, crampon use, and snowy terrain. I would not recommend these for backpacking and hiking, unless your need them for foot comfort.
I've used these boots for about 14 months, including casual training hikes, backpacking trips, mountain summits, and winter camping. They are definitely not waterproof, like my previous Asolo boots. After slogging through wet snow, there is some leakage at the base of the tongue, but in such conditions I expect my feet to get wet and stay wet until the trek is over, regardless of the claims of the footwear. After long periods in wet conditions in my Asolo TPS 520s, my feet would end up wet anyway, often from the inside due to sweat or from snow getting past the gaiters. (I hate post-holing through snow.)
The non-waterproof version of the Karakorums was specifically selected to keep my feet cooler and dry out faster. This has proven to be true. I can also apply additional water repellant coatings to the Karakorums as necessary.
The boots have sticky soles for rock climbing and have held up well so far. They also have nifty lace clamp or lock at the eyelet loops. It took a bit of play to figure out how to lock and unlock them without using my fingernails.
For fair weather trail hiking, I use a lighter shoe and save the Karakorums for when I have to put on my "man face."
I picked these up at REI after fitting and evaluating a number of other mountaineering boots at several retailers. I'm not quite ready to go for the tricked-out, stitched-up, plastic constructions.
Eugene
Source: bought it new
Price Paid: $180

A year or two ago I bought some La Sportiva Onix GTX hiking boots. They fit great and were very comfortable. Unfortunately, they recently developed tears in the uppers. There was one tear on each boot, both in the same location. I am normally very easy on my gear, and have never torn uppers before.
I called La Sportiva and spoke with someone regarding their warranty policy. They said the warranty is good for one year. I explained how they tore, and that I didn't really think they should have. They asked me to email them photos, which I did.
I then got a call from La Sportiva. They said the boots should not have torn and they would issue me full retail credit for the boots. I would then be able to put that credit toward any boot in the La Sportiva line. YES! That is awesome! I was super excited they would honor a boot out of their formal warranty period based on HOW it was defective.
A bit later I went to the REI Flagship store in Denver, as they have the largest selection of La Sportiva boots around. Now, it's important to understand I have a tough time finding boots that fit me well. So I tried on every La Sportiva boot they carried.
Two of them fit me well, but one of them had a thin upper material right where my Onix boots tore. Therefore, I was hesitant to go with that model. Additionally, they didn't offer much lateral protection from rocks, etc. So I had basically narrowed it down to one boot- the Karakoram.
The credit for the torn Onix boots was $145. The Karakorams were $270. Spending $270 on boots is a tough pill for me to swallow, but if they were the only ones that would work, well….that's was I was going to get. After all, I didn't want the $145 credit to go to waste.
I called La Sportiva and told them which boot that I wanted, but that I didn't want to get them for another month or two, as we have some expenses coming up that I am saving for. I asked if it would be alright if I call him in a couple months, pay the difference and have them ship the Karakorams to me. They hesitated briefly and said, "You know what? Don't worry about it. We'll cover it."
WHAT? You're going to send me the boots and I don't have to pay the difference? EXCELLENT! They said the boots would be sent out today or tomorrow. Wow! Talk about top-shelf service. This is a company that I will continue to do business with for a long, long time. Now I can keep my plans to go on a big hike in three weeks with a buddy.
Price Paid: $100

I purchased these boots for use hiking and backpacking in Colorado, on and off trail. I tend to hike 5-15 miles per day and usually carry a 20 Lb pack dayhiking and 50+Lbs backpacking. I have a narrow foot and have had good luck with the fit of LaSportiva boots in the past.
I like a stiff leather boot with lots of ankle support and the Karakorum fit the bill. I tried them on and they fit my foot very well right out of the box. They did not require much break-in time and are very comfortable. I did add a pair of Superfeet insoles.
I wore these boots on 20 to 30 hikes over a period of 2 months, mostly on-trail in dry, rocky terrain with distances ranging from 5-15 miles. Other than some occasional numbness of my toes from pressure on the top of my feet, the boots felt great and I never got a blister or hot spot. The numbness was always corrected by adjusting the laces.
They seemed to be fairly waterproof. I spent one entire day slogging through deep mud on a particularly sloppy trail and my feet stayed dry. The leather stayed looking new after many days of traveling over rocky trail and a few days spent scrambling through talus and scree.
My only complaint with the boots is the build quality. Within the first few weeks of use, the rubber scree protector began to detach from the leather on both boots. By the end of the second month, the sole began to come unglued from the heel area of one boot.
I would expect good quality, expensive hiking boot to stay together longer and I assume that the build quality is to blame. I have used other LaSportiva, Asolo, Lowa, and Kayland boots in similar and more adverse conditions that lasted many seasons. Either the Karakorums are defective, or they simply won't last a season of use.
Overall, I was very happy with the fit, but disappointed with the quality. I did not feel I used these boots heavily enough or in conditions harsh enough to cause the issues I had.
Price Paid: $270

I purchased this boot at REI after trying several La Sportiva models via Zappos--ran out of credit card! (I've had a pair of Makalus for 11 years but my foot is now too big for them.) Not all La Sportivas fit alike!! At least with my feet.... :-)
I wore the Karakorams for about five days prior to my trip for maybe a total of 5 hours, street walking only. Headed out to the Hoover wilderness/Toiyabe NP on Sep 18 with a 40+ pound pack. 5.5 miles to camp and 2400 ft elevation gain--Horse creek trail. Lots of rock and some very steep loose rock. The boots kept me sure footed at all times! I had to loosen my right boot once as my feet began to swell about 2.5 hrs in. After establishing camp I was astounded to find NO blisters!!!

Materials: leather upper
Use: Rough trail w/heavy pack!
Break-in Period: 5 days? Recommend more to be safe!
Weight: 4 lbs
Price Paid: $270

Version reviewed: GTX
I have used my boots on Rainier in snow fields with crampons, lenghthy approach hikes, and numerous fourteeners in Colorado including Maroon Bells, Pyramid Peak, Shavano, and Capitol. They were sturdy,comfortable, and break in was not long at all. La Sportiva makes an excellent boot.
Materials: leather
Use: expedition,heavy pack,snow,ice
Break-in Period: 2 good mountain climbs
Weight: 3lbs 8oz
Price Paid: $325

Your Review
Where to Buy
Help support this site by making your next gear purchase through one of the links above. Click a link, buy what you need, and the seller will contribute a portion of the purchase price to support Trailspace's independent gear reviews.
You May Like
Best For: General mountaineering and heavy backpacking
Specs
Men's
Price
MSRP: $305.00
Current Retail: $315.00-$339.00
Historic Range: $151.83-$339.00
Reviewers Paid: $100.00-$325.00

Weight
30.97 oz / 878 g

Women's
Price
MSRP: $305.00
Current Retail: $339.00
Historic Range: $112.00-$339.00

Weight
26.10 oz / 739 g

Recently on Trailspace