La Sportiva Trango Alp GTX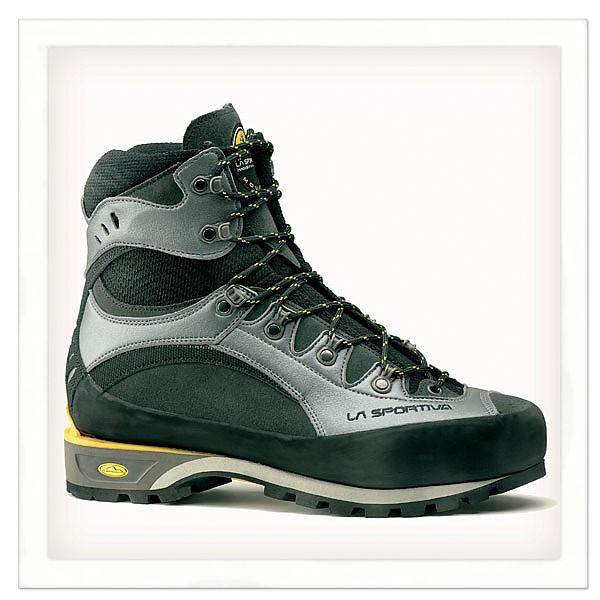 Over the past 16 years or so I've bought various boots that would fall into the UK category of '4 season' (in the UK this refers to a boot that is suitable for extended periods of use with crampons, as opposed to how well insulated it is). Mostly, they have been disappointingly uncomfortable or not robust and stiff enough.
I bought my Trango Alps new off an eBay shop for less than half UK RRP. I think the seller must have bought them as part of bankrupt stock.
So, they were quite a bargain. And they certainly look the part.
"This time," I thought, "maybe I've cracked it."
I took the Alps on a peak-bagging trip to the central Highlands of Scotland in early March 2009. Beforehand, I'd only had the opportunity to wear them to walk to work a couple of times and for a 'family' walk with my kids (16 miles total), just to see if they were going to rub anywhere. They were fine, but obviously I wasn't using them 'for real'.
On my trip, I lugged a big pack into a bothy (see http://en.wikipedia.org/wiki/Bothy), where I based myself for a week, making trips around and over the local Munros (see http://en.wikipedia.org/wiki/Munro). Conditions were typical for early spring up there; anything from powder snow to saturated bog underfoot, snow, rain and sun at various times, very windy most of the time, and often poor visibility on the summits.
On the day with the best weather, I broke trail through deep drifts to the base of a ridge, climbed it (some devious route finding to avoid steep, very soft snow and front-pointing on snowed-up, rocky, frozen turf were required), traversed four Munros and broke trail through more snow to get back to base, covering 16 miles in total. The other days were shorter, but still very demanding. I covered about 85 miles over 8 days.
The Alps were excellent! Despite my feet being wet almost all the time (from water running down my legs in very wet weather early on and a river crossing later), they didn't rub at all. I had one heel blister at the end of day 7, which I know was just from sheer foot pounding (if the boot had been rubbing, it would have burst).
They are very comfortable, but also feel tough and are stiff enough for front-pointing.
I'm not sure that the 'Impact Breaking system' (IBS) sole with the extremely funky tread helps me keep control on steep, slippery ground better than any other deep, chunky Vibram sole, but it certainly is a good sole unit. Some of the other boots of this type have a sole with a shallower tread and a treadless 'friction patch' at the front; adding to their performance on dry rock, but definitely not as good on the messy, muddy UK mountains as the Alp.
I assume that the jazzy, silver synthetic leather overlays are there to help stop the Perwanger leather that forms the main shell of the boot from stretching too much over time, but I wouldn't be too shocked if a La Sportiva insider let on that it's mainly eye-candy to seduce the likes of me into buying these rather pricey boots.
[Note, 12th Feb 2014 - I've upped the rating to the full five stars because, in the five years since I first reviewed them, the price has stayed static (in the UK, anyway), whilst competitors have continued to tweak their equivalent boots, ratcheting the price up all the while. Also, having talked to someone who is knowledgable about the supply chain, from 'bull to boot', I have realised that now, a 'no overlay' Alp would cost more, because thicker leather would be required, which is getting very expensive because of animal husbandry regulations.
So, I have cracked it: they they have the perfect combination of comfort, toughness and stiffness.
Addition, 16th Mar 2014:
The Gore-Tex liner has finally gone in the right boot. That's a long time for a boot liner to last. I am now 'retiring' these boots, as they also have very worn soles. They have served me flawlessly, and are easily the best boots I have ever owned.
I've just bought a pair of Trango Guide EVOs, so let's see if they live up to their predecessors.
Materials: Perwanger 2.2mm leather with synthetic overlays and deep rubber rand
Use: Mountaineering and back-packing on demanding terrain.
Break-in Period: Negligible
Weight: 0.95 kg/boot (Euro size 46)
Price Paid: £99

The previous review says it all, but always good to get another opinion. 
 Firstly fit is everything, and when I slipped on the Trango Alp in the shop it fitted like a glove, except on my foot. I have now used the boot for a couple of walks on the mountains this winter, and was impressed with the function and comfort, and having just used them for 3 days mountain walking in the Scottish highlands I am now convinced that this is just the boot I need.
The boot is compact and feels very nimble for a 4 season boot, secure, yet not cumbersome, and the ankle flex system is superb...with no sense of the top of the boot digging into you your lower leg - the boot just hugs your foot instead. The light weight means that stepping through deep snow was much less grueling, and when I needed the edge on icier ground they were reassuring and solid enough. 
All good stuff, but what really impressed me was the way you feel connected with the ground. These are not big blunt boots, but they're sensitive enough to make you feel light of foot.  May not seem a big deal, but it makes a difference to the mountain experience. 
The flex is an issue to consider. There is some confusion over whether these are B2 or B1, but I tried on B2 boots as flexible (Scarpa Freney) and also B2 boots which were stiffer (Manta). They worked well with B2 rated crampons, so I'd consider them a low B2 rating. The toe does flex, and if kicking steps they are less resilient than a solid boot, but I used my edges instead. And to be honest if you need to kick your toes in, you should probably need your crampons on..!!  The slight flex is all gain the rest of the day, in fact I can imagine mountain walking all year round with these boots.  Great for heeling in hard snow on decent.
A word on Goretex linings, which this boot has. Personally I wouldn't buy a boot without one, especially in UK winter where wet snow is as much of a boot wetter as a bog.
I can't comment on durability, but I don't get chance to do a lot of winter stuff, so hoping they will last many years.
In conclusion I'd thoroughly recommend, but back to my opener, fit is everything...and these fit me..!!
Price Paid: £200

Excellent boot, flawless performance.
Pros
Weight
Stiffness
Build quality
Cons
Won't fit everyone due to narrow fit
I bought these boots as an all rounder, something to use year round and they have performed flawlessly.
I have quite narrow feet, especially around the heels, so La Sportiva's range have always fit me well. The Alps felt good from the box and didn't require any break-in. The lace lock is a really nice feature and allows you to vary the lace tension from the bottom and top of the boot.
There have been reviews that have mentioned these boots failing around the toe crease area. There is a toe cap that ends where the toe would bend, but the sole is designed to rock and there is good flex in the ankle area, so you don't actually bend your toes, the boots don't crease in this area unless you get a bad foot placement.
I've used these boots for scrambling and winter climbing up to grade III and can't fault them, warm enough for UK winters and light enough to use through the summer. If you have narrow feet and are after an all-rounder boot, I would fully recommend.
Source: bought it new
Price Paid: £211.50

You can see my original review at the climbers shop Ambleside (and by the way this review doesn't reflect how good the shop has been, which is great).
Let's set the record straight: these boots are rubbish. Other reviews around the world suggest they are not as waterproof as ''some other boots.'' Well, let me assure you, I was on my third pair. All were brilliant to start with, very comfortable, etc. However, all three pairs have failed within 80 miles. The third pair failed within 10 miles.
By "failed" I mean soaking wet feet: not damp, not sweaty, soaked simply from wet grass. All have been sent back, and all have been replaced by the shop as they have witnessed the failures. They simply crease at the toe and it acts as a squeegee.
Please don't buy these boots. They will fail.
Just for the record, my wife uses Trangos and she loves em, but the Alps are simply dreadful. Looks like it's back to Charmoz for me.
Price Paid: $240

Your Review
Where to Buy
Help support this site by making your next gear purchase through one of the links above. Click a link, buy what you need, and the seller will contribute a portion of the purchase price to support Trailspace's independent gear reviews.
You May Like
Specs
Price
MSRP: $300.00
Historic Range: $129.95-$300.00
Reviewers Paid: $240.00

Recently on Trailspace