La Sportiva Venom

The Venom has been discontinued. If you're looking for something new, check out the best climbing shoes for 2023.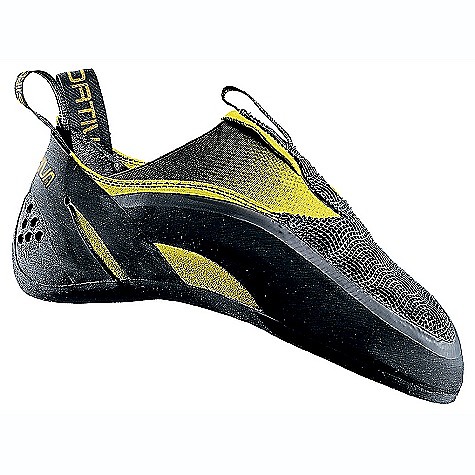 Before my Venoms, I used an excellent pair of La Sportiva Cobras for a couple of years till they wore out. I happened to stumble across the Venoms on sale when I was looking for a replacement pair of Cobras and debated about whether to stick with something tried and trusted or to take a chance. In the end, I went for the Venoms as they were a newer, slightly more aggressive design and only 10 Euros more.
Whilst it's hard to compare a new shoe with an old worn one, I have to say that I was very impressed with the Venoms. A good snug fit, very sensitive to what's under them and very sticky (obvious, I know, as they were new). They're just as easy to get on and off as the Cobras but I found one of the key differences was the lack of stretch, especially over the toes/top of foot where the extra rubber layer keeps them tight. They're great for the gym and short climbs but I generally swap them for a pair of sandals when not climbing so probably wouldn't be ideal for long days.
Price Paid: Euros 60

LOVE THEM. My last pair was Anasazi women's, which are a great shoe...but once I got used to edging with them and heel hooking and once they broke in I absolutely love them...every time I go for those big outstretched moves and release my core by accident the shoe keeps on stickin...It feels like cheating, and though they are primarily for sport and bouldering they're totally fine on vertical crimping routes. They edge great and they're super sensitive.
Break-in Period: 2 months
Price Paid: 115 CND

This shoe is amazing. It fits my foot like a glove and is crazy sticky. One real bonus for me is the mesh the shoe has on the top. That rubber makes toe hooking so much more a secure task. Great brand, great shoe.
Materials: leather, vibram climbing rubber
Use: Bouldering and sport climbs
Break-in Period: a few days, but comfortable right away
Price Paid: $98

I absolutely love this shoe! The grip this shoe gives on every hold is incredible, and right after purchasing this shoe, I completed an overhang route that I had been attempting without success for awhile in my Mad Rocks. I love them, 5 out of 5!
Price Paid: $98

Your Review
You May Like
Specs
Price
Historic Range: $57.13-$125.00
Reviewers Paid: $98.00