Lafuma Extreme 600

#8 in unisex Warm Weather Synthetic Sleeping Bags
The Extreme 600 has been discontinued. If you're looking for something new, check out the best warm weather synthetic sleeping bags for 2023.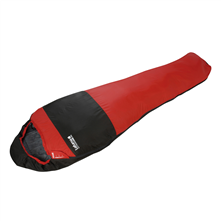 I haven't even slept in this bag yet and I love it! 20 ounces! That's right 20 ounces! The thing rolls down to a miniscule size; I can just about fit it in to my jacket pocket!
I'm a warm sleeper, so 45 degree rating isn't a problem. Besides, you buy this for warm weather, not for the 100 Mile Wilderness in April. Be sure that you use a sleeping pad, because obviously there isn't much insulation in this thing. And like one of the other reviewers mentioned, throw in a microfiber or silk liner and you've got a 35 degree bag that weighs under 2 pounds! How sick is that?
If I need warmer digs, I'll just pack my Lafuma Warm n' Light 1600 with its 10 degree rating (at just north of 3 pounds). Hey maybe I can use this as a liner in the 1600 and have a really killer cold weather combo!
Update: February 10, 2010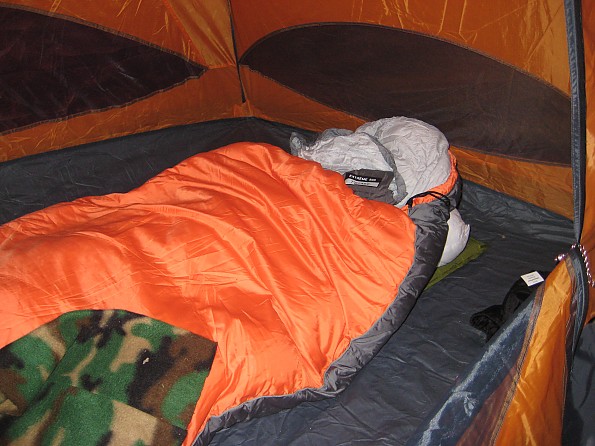 I wanted to submit a follow-up review on this bag: in addition to being a great little warm weather bag, I've been using this as a winter bag liner for my LaFuma Warm n' Light 1600G. This combination has allowed me to sleep quite comfortably at 5 degrees F with a -15 degree windchill.
The added bonus is that it only weighs a buck-and-a-quarter and easily stuffs inside the 1600G in the bag compartment on my Osprey Atmos 65. So, I have a killer sub-zero sleeping system that weighs less than 5 pounds.
If there is one complaint I have, it's that the LaFuma bags seem to have a very slim cut (performance mummy) and can be a little snug on my type of physique. However, when the mercury dips, that snugness is appreciated. Oh well, I guess I should just shed a couple extra lbs.
Design: mummy
Fill: synthetic
Temperature Rating: 45 F
Weight: 1 1/4 pounds
Price Paid: $34.98

Overall a steal of a warm weather bag. First of all it is 20 ounces. That's right, 20 ounces. It packs to the size of a Nalgene bottle. Functionally everything is fine. No zipper snags, shell is durable enough, etc...
Why did I ding it half a star? Typical Lafuma liberal temp rating. I knew it going in and so should you. This bag is rated to 45F. I'm a warm sleeper and i start to get chilly around 55F. But hey, it's a warm weather bag right? I mean c'mon, it's only twenty ounces. I throw a liner in there for an additional 5 degrees and voila, a 50 degree bag.
I wonder what would result if you bought two of them and put one inside the other??? At only 2lbs-8oz, I think you'd have a sweet set-up.
Design: Mummy
Temperature Rating: 45F
Weight: 20 oz
Price Paid: $64

This bag is just what it says it is, ultralight. I would highly recommend a sleeping pad with this bag. Also it could come with a better stuff sack. It is about 6" round by 12" long. Still, a nice bag for the price.
Design: Mummy
Temperature Rating: 45 f or 7c
Weight: 1lb 4oz
Price Paid: $35

Your Review
You May Like
Specs
Price
Historic Range: $29.93-$79.49
Reviewers Paid: $34.98-$64.00

spring 2010
Weight
1 lb 4 oz / 570 g

Temperature rating
45 F / 7.2 C

EN comfort
54 F / 12 C

EN lower limit
45 F / 7.2 C

EN extreme
23 F / -5 C

Fill
Synthetic

Shape
Semi-rectangular

Recently on Trailspace