Lafuma Warm'n Light 600

Top 50 in Warm Weather Down Sleeping Bags
The Warm'n Light 600 has been discontinued. If you're looking for something new, check out the best warm weather down sleeping bags for 2022.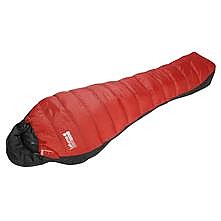 Specs
Men's
Price
Historic Range: $59.93-$269.95
Reviewers Paid: $52.00-$107.00

Women's
Price
Historic Range: $69.95-$109.95

Reviews
5

reviews

5-star:

2

4-star:

1

3-star:

0

2-star:

1

1-star:

1
I have cold weather bags (synthetic-would like a down someday), and needed a packable warm weather bag. I hoped this LaFuma would fit the bill when I found it on special.
First off, it is reasonably well made, particularly for the price. The stitches are not the straightest I've seen, but it has a tactel lining and DWR treated shell. The YKK zipper is top notch, with a glow-in-the-dark pull that is very handy on those ink-black nights.
I have large (13) feet, and the trapezoidal footbox is markedly roomier than my other bags without the design. I had just enough length to be comfortable (6'2" tall). I had my i-phone and a micro-light in the interior pocket. I only wish it had the same glow pull as the main zipper.
With the compression sack, my bag is 5" dia. x 10" and 1lb 6.5oz! Amazing...The exterior is durable enough, although I baby my bags and haven't yet slept in the bag outside of a tent.
This brings me to my first trip with this bag, which was in conditions outside its intended use. I took this bag to Little Round Valley last weekend, at 9800 ft, not only to test the bag, but my limitations of comfort as well. Conditions called for a night time low of 37-38F, with winds at 12-14 gusting to 28mph. Forecast was correct, if not conservative (later confirmed temps at 36 w/out windchill factored in). It was 36-41 degrees in my tent through the night).
The LaFuma bag is rated 19-40F = "risk", 40-50F = "transition", and 50+F = "comfort". This assumes dry conditions and no wind chill. I was in a dry tent and on a blue closed-cell foam mat. There was some breeze coming in (allowed in to keep condensation at bay). I run warm when I sleep, but i was wearing light-weight merino long-johns and socks, and a short-sleeve light-weight merino top.
I was slightly under-hydrated at bedtime, which for me makes me a little colder at night. But it was a realistic body condition after arduous hike-in camping. I was also a bit sleep-deprived (too many things to do before leaving for the trip), which makes my extremities colder at night. I list all of these conditions because they directly influence sleeping experience, and I need to be accurate when rating a bag (many don't consider these things when writing a review, and they are all extremely important). I had backup in a down jacket if needed.
I sleep on my side, and this bag allowed me to do so comfortably. I was plenty warm with the hood drawn all the way in...at first. My neck and torso got slightly cold at about 3 in the morning, and I had discovered that the hood had been opened up (in my sleep I guess, 'cause the cord mechanism holds fine upon testing) and was letting cold air in. My legs and feet were fine. I was able to close up the hole and regain comfort, but it was definitely on the fringe of being too cool. I was able to fall asleep again quickly, despite the lowered temp of my torso. I NEVER shivered once.
The winds really started howling (somewhat inside our tent as well) and I didn't get up to close the window. The draft tube works alright in my tent: I felt no coldness along the zipper. I would have been warmer had I hydrated better and slept better the night before.
The bottom line is this is a perfect Summer bag (and/or Spring and much of Fall in SoCal, sometimes even Winter) where you can expect temperatures within its rating zone. But if you aren't smart enough to bring back up warmth in fringe or "risk" conditions (see other reviews) and you don't know your body, then leave this at home and pack your heavier bag.
The bottom line in that this bag worked for me as advertised. It would've been too cold exposed to the elements, especially the windchill. So be aware of that. A great light-weight bag that packs so small it could be a daypack/climbing emergency biouvac.
Design: mummy
Fill: 600 down
Temperature Rating: 40-45
Weight: 1.45 lb
Price Paid: $52

I've been wanting a down summer bag for a good price and kept my eye out for one since December '06. My current REI Polar Pod 20F bag is just too heavy, too bulky and too hot for southern California summers. A month ago I spied the Lafuma on sale for $79. It was a 600 fill goose down, weighs about 21 ozs and packs to an incredibly small size. I was sold.
I couldn't believe my eyes when I saw it arrive. It was a bit longer than a football (American that is;) and much narrower. And the weight can't be beat!
A couple of weeks ago, I went along with my friends to camp in the Eastern Sierras for a couple of nights and climb Mt. Langley, my first 14K. I found this to be the best opportunity to test my Lafuma sleeping bag.
Pros:
1. Light: 21ozs
2. Small: Packs to about 12"x5"
3. Good shell.
4. Roomy enough for me to turn around. Perhaps someone else might not like that.
5. Long enough to fit a 6' person.
6. Small zipper near the top for easy access to essentials.
7. Zipper seems to be of very good quality. Compressing the bag in its small pouch puts a lot of twists and turns into the zipper. But I've packed and unpacked my bag quite a few times now and the zipper is faring well. This of course needs a lot more mileage before I can be certain.
8. Packing: It isn't very difficult to pack the sleeping bag in it's pouch. On a friends advice, I just stuffed it in and it went in fine. Typically, when I have room I like to kind of fold it length-wise and then roll it. That's another easy way to pack too.
Cons:
1. Granted this is a 45F bag. But the opening at the face is a bit too big for my comfort. A slightly smaller opening might make this bag slightly more usable if the mercury dips.
2. It's a thin, light bag and as a result doesn't loft too much. If you plan to use it in the open, you better have a wide enough sleeping pad so that the bag doesn't lay mostly on the ground. While the shell looks to be good, letting the bag roll on the bare ground will only shorten its lifespan.
I am going to use this bag a lot more this summer. I already have 3 more trips planned for it. Sometimes, I am sure the temperature will dip below 40 or 35 when I will be using it. I plan to layer well and see if I can use this bag when the temperatures go between 35-40. If I can live with it, then my Polar Pod might see very little action in the next couple of years!
Design: mummy
Fill: 600 fill down
Temperature Rating: 45F
Weight: 1lb 5oz
Price Paid: $79.99

Great in three seasons and I could do four in this awesome bag. It is extremely small and light yet very warm. Not much to say other than to go and get one yourself!
Design: Mummy
Fill: 600 down
Temperature Rating: 40 F
Weight: 1lb 5oz
Price Paid: $89 US

My friend and I each purchased a Warm n Light for a climbing trip to the Tetons in July 2009. We found this bag to be a joke. It would not even keep us comfortable in a cabin at the AAC Climbers ranch on July nights.
When held up to the light, you could see right through the thing. The down clung to the stitching like frost on a window pane. I had brought a good EMS 25 deg. down bag as a precaution and I am glad I did. My friend resorted to using both his and my Lafuma at the same time.
On our trip to Mt. Owen, we were forced to sleep in down jackets, wind pants over our climbing pants, and two pairs of socks.

I might add that we are both warm sleepers and have spent considerable time climbing in Alaska, Bolivia and the White Mts. of new England.
Overall the only use we could come up with for this rag is crashing on a friends couch or floor.
LaFuma... Italian for frostbite?

Design: mummy
Fill: 600 down
Temperature Rating: 40
Weight: 22 oz
Price Paid: $107

I bought this product in what I believe to be an older model (the color is different and the bag design), it has the same name and details for the most part although on one website I found the older model to be rated to 44 degrees instead of 40. Watch out, because at least in the older model this bag is cold.
I used it on about a 30 degree night in Southern California. The inside of my sleeping bag was so cold, and the draft tube is more like a piece of stiff fabric. I could feel cold air entering through the zipper. I heard good things about this bag previous to buying it. My guess is the new model may have solved some of these issues.
My advice is watch out which model you're buying. The model that has the name printed on the center of the chest: Warm'n Light and on the next line Lafuma 600 down. That is not the bag to buy!!
Design: Mummy
Fill: 600 fill
Temperature Rating: says comfort 52, but rated down to 26. Not True!!
Weight: 600 g
Price Paid: $69.98

You May Like
Recently on Trailspace