Larabar Cashew Cookie

Top 25 in Nutrition Bars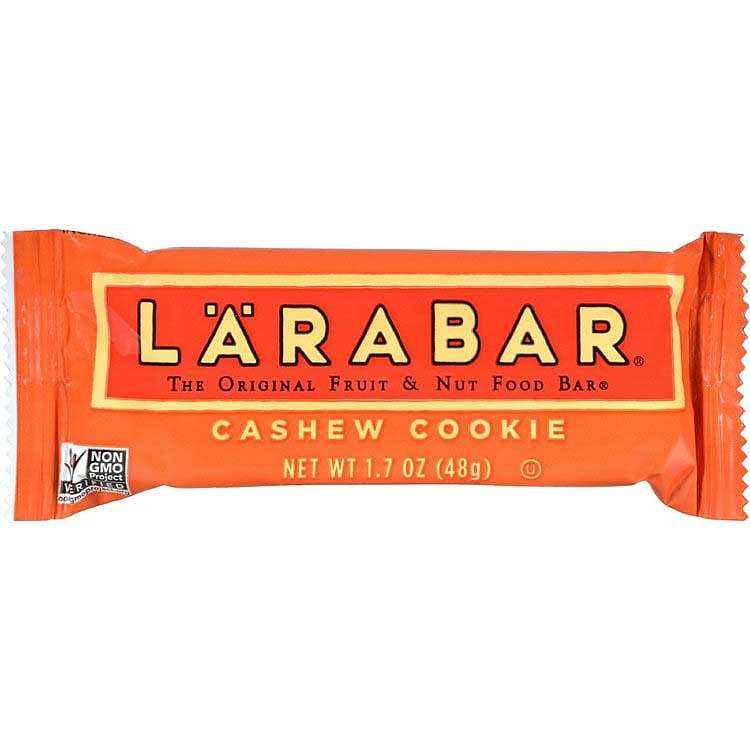 Reviews
1

review

5-star:

0

4-star:

1

3-star:

0

2-star:

0

1-star:

0
A straightforward, no-nonsense trail snack that has become a personal favorite.
Pros
Real ingredients, and only 2 of them (cashews and dates, that's it)
Pleasant consistency
Balanced taste—not overly sweet, and not artificial
Taste: 
With only two ingredients (cashews and dates), the taste is as one might expect (surprise, it tastes like cashews and dates!). I've never been a huge fan of raw dates, but these are much more enjoyable than raw dates, even though there is a distinct date flavor. As for cashews, I could eat them all day, everyday, so this bar was particularly intriguing for me.
From what I've seen, most other trail bars/snacks that include cashews also include chocolate (let's be honest, the two flavors go great together). Don't get me wrong, I love the combo of cashews and chocolate, but there are too many hot and sunny summer days where I do not want chocolate melting away in my pack. While I never thought I'd say it, not having chocolate is a great advantage of the Larabar Cashew Cookie. 
Size and Satiety:
The one drawback I have with this (and other Larabars I've tried) is the small size of them. Weighing in at 1.7oz (48g), they leave me wanting a little bit more, even if it was only one or two more bites. As a comparison, many standard Clif Bars weigh in around 2.4oz. (68g). That's a 42% difference in size. Maybe Larabar's knows this and banks on me eating two instead of one, thus doubling their sales...hint, it's working! ;-)
As for nutritional facts, with 220 calories per bar, along with 15g of sugar (from the dates) and 12g of fat (from the cashews), one bar provides plenty of pick-me-up and keep-me-going until the next meal. I've found these are a great mid-morning snack that allows me to extend the morning (i.e. the cooler part of the day) while hiking and wait to have lunch until a little later.
Is It Really a Cookie Though?
I've been asking myself this question for some time, often staying up into the wee hours of the morning debating both sides of the argument. Okay, not really. I just wonder why the Larabar company decided to call this a cookie when it neither resembles a traditional cookie (i.e. it's a rectangular bar, not round) nor tastes like a cookie (I think of cookies as sweet, and this is more balanced). Regardless, it's a somewhat confusing name for the product.
Recommendation:
The Larabar Cashew Cookie is ideal for those who like a simple trail snack with straightforward ingredients (i.e. dates and cashews) and a pleasant taste. It doesn't melt in the hot weather, so it's particularly great in the summer.
Source: bought it new
Price Paid: $5 for a 5-pack

You May Like
Recently on Trailspace