Leatherman Squirt PS4
Reviews
If this wasn't made specifically for the lightweight…
Rating:


Source: bought it new
Price Paid: 27 CAD

Summary
If this wasn't made specifically for the lightweight backpacker, it should have been. An awesome and functional multi-tool for the weight conscious. I love it!
Pros
Very high quality construction, 25-year guarantee!
Incredibly lightweight, only 2 oz.
All the tools are highly functional.
Cons
The blade doesn't lock, so be careful.
I've been eyeballing this PS4 or several months now waiting for a sale and I finally picked it up on Amazon.ca for $27. My goal is to lighten my load this year by 5 lbs and this definitely fits the bill at only 2 ozs ! The scales are made from aluminium and the tool steel is 420HC stainless. All of the tools are highly functional meaning you won't pull one of them out and think "What's this for?"
The tools consist of:
spring action needle nose pliers

wire cutters

spring action scissors

knife

wood and metal file

bottle opener

small slot/philips combo and medium slot screwdriver

key ring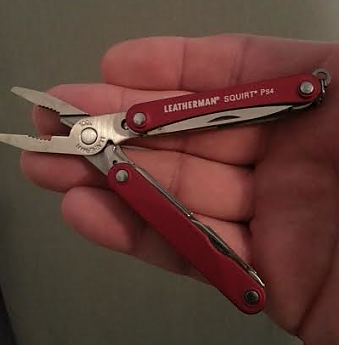 The fit and finish of this Leatherman is right on par with all the other Leatherman tools, no surprises there. The pliers actually snap back into the folded position which is a nice touch once you fold them to about the 50% in position. You could easily carry the PS4 on a keychain, the size is not obtrusive. The blade is very sharp but you won't be gutting and quartering any large game with it. I'll be carrying a MORA most likely for the more taxing cutting tasks.
The fine file is perfect for taking the edge of a broken nail as well the scissors are sharp and will easily handle most of your backwoods hygiene clipping needs. As I mentioned, the only con I can see is that the knife doesn't lock when out so you must be careful when using it. If the PS4 had an integrated toothpick and tweezer I'd be in heaven. Are you listening, Leatherman?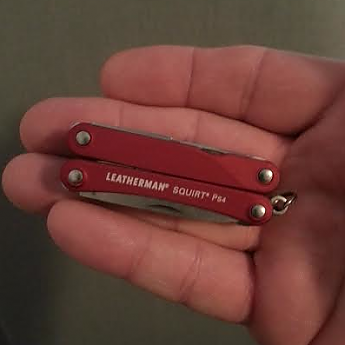 ***Update***
I added a couple pics for size comparison.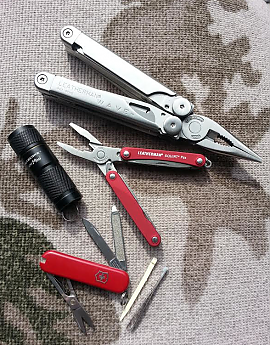 Leatherman Wave, Leatherman PS4, Nitecore SensMini, Victorinox Classic SD.
Though small in size, this is still a serious tool.
Rating:


Source: bought it new
Price Paid: $29.93

Summary
Though small in size, this is still a serious tool. It is well-made and has the diminutive heft of pocket-sized tool that is meant to be more than an ornament. Its chief limitation is its size, which is also its chief virtue.

An excellent option for small repair jobs, removing a hot pot from a fire, or similar tasks. Great for everyday carry as well as backpacking.
Pros
Made of quality materials
Useful array of tools
Handy size encourages it to be carried
Excellent fit and finish
Durable
Cons
No toothpick, no tweezers, no awl
Small scale limits utility
Chisel-ground knife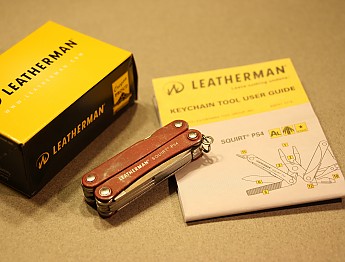 The quest for the perfect backpacking multi-tool is one in which many of my friends have engaged. Trying to find the perfect balance between features and weight or size and utility proves elusive. I think there is still some money to be made by someone nails this combination. But in any case, it was with the goal of continuing this quest that I purchased the Leatherman Squirt PS4. This review is based on a half year of near daily use, both in urban and backcountry environments.
Leatherman has been around since 1983, and—so closely is Tim Leatherman's name attached to the idea of a multi-tool—the company's catch phrase is "the original American multi-tool." I own another Leatherman, the PST that was retired in 2004. It still works beautifully, a testament to the materials and craftsmanship that went into its creation.
While small, the Squirt PS4 has a similar feel of quality. Weighing 2 oz./56.4g, this tool is fashioned of 420HC stainless steel and 6061-T6 hard-anodized aluminum. The tool is held together with recessed rivets. A gentle, half-moon scalloping of the scales produces a satisfying, smooth hand feel. This dishing out of the scales serves a second purpose for the aware user: it allows one to recall the location of the tools, for the most-scalloped side opens onto the longest tools, the knife and the files.
Mine came in a pleasing dark red color that is now beginning to show signs of its daily journey on my key chain, a journey enabled by a small keyring attachment that pivots from one end of the tool. Tools are accessed by either unfolding the tool or by opening tools by using small fingernail grooves in each implement. Owing to this tool's small geometry, these are on the small side, at times requiring a second attempt to catch the groove and open the tool.
Features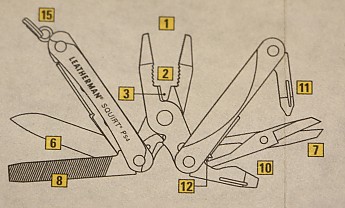 The photo above, taken of my instruction sheet, reveals the full array of features on this tool. For simplicity's sake, I will use Leatherman's numbering scheme in the list below:
  1. spring-action, needlenose pliers
  2. spring-action regular pliers
  3. spring-action wire cutter
  6. knife
  7. scissors
  8. fine and coarse files
  10. medium screwdriver
  11. flat Phillips screwdriver
  12. bottle opener
  15. key ring attachment
Things I would love to find on a tool this size would also include notable absences on the Squirt: a toothpick, tweezers, and an awl. There is no room, however, for these implements on the Squirt's compact frame (thus the quest continues).
Again for simplicity's sake, I will discuss these features in the order presented above.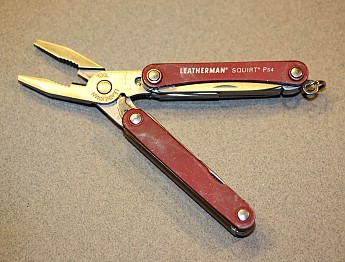 Needlenose Pliers: The multi-tool unfolds, clicking into position for pliers use with the jaws of the pliers held open by the built-in spring. I prefer spring-loaded pliers on a multi-tool because it is one less thing I have to worry about when trying to fix something; the spring here has a very positive feel, not at all mushy. The hinge is elegantly recessed with no side-to-side play.
Equally impressive is the precise fashion in which the actual nose of the pliers aligns itself: this is a precisely machined tool, not a loose and wiggly cheapie of questionable origin. The grooves in the mouth of the needlenose pliers offer sufficient grip for anything one is likely to attempt grasping with a tool this size (the whole tool is 2.25 in/5.72 cm closed). I have used this extensively to pick of hot pots off a fire, to bend fire, and the like. They work well.
Regular pliers: In some ways this is the afterthought of the tool. I don't mean that the pliers don't work—they do, as when I've grabbed a nut with them while screwing in a bolt. But on a tool of this size with small levers (handles), simple physics work against these pliers being able to tackle any sizable task.
At their widest spread, the regular pliers jaws are less than 3/4 inch (1.9 cm), and material 3/8 inch (.95 cm) in size is really about as large as one would want to tackle with these. It makes sense to include them, of course, given the design of the tool, but don't expect to have the functionality here that an analogous feature on a larger multi-tool would have.
Wirecutter: Size is again the limiting factor of this tool. I was able to cut through 10-gauge copper wire, but the size of the wire's insulative sheath tried to slip out of this small wirecutter's jaws; I had to chomp down and then rotate the wire to cut the insulation all the way around first, then cut through the wire itself.
As I suggested with the regular pliers, the length of the handles is a factor here, for longer handles would provide better leverage: I cut the wire, but it took some straining. The reality, of course, is that longer handles would also defeat the purpose of this tool, which is sized below the larger Juice (3.25 in/8.26 cm) multi-tool. I used the Squirt PS4 to fashion a pot stand from hardware cloth mesh, and the wirecutter snipped through this lighter weight material with authority.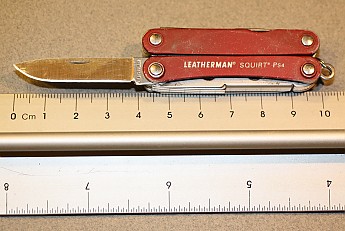 Knife: Made of 420HC steel, the knife is a useful little tool. I've used it day to day to open packages or cut twine. It would suffice as a cutting utensil while dining (to cut a modestly sized steak, for instance, not for chopping or dicing!), though I've not had need to use it as such. While sharp, I did take an immediate dislike to the chisel-ground blade. Sharpened only on one side, the knife was adequate for cutting tasks, but I quickly decided to regrind the blade, adding a second bevel to the back of the blade.
I'm no bladesmith, and the result was—in its present iteration—not wholly even, but it does seem to have improved the cutting ability of the knife. Being 420HC steel, the blade takes an edge readily, another perk over lesser steels used in lesser tools.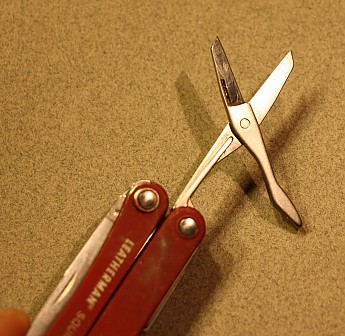 Scissors: Cute is the first word that comes to mind when I look at the scissors. They are well-made, but more diminutive and less robust than their familiar Swiss Army Knife counterpart. They are spring-loaded as well (that is what the piece of spring steel is running inside the outer blade in the image, above), again a useful feature, but have a total blade length of 5/8 in (1.59 cm)--you want get far with that, despite the Leatherman web site's somewhat optimistic suggestion that this tool can be used for "wrapping a birthday present on the go."
Fortunately, I don't wrap too many presents in the wilderness, and certainly the Squirt is capable of handling another suggested use, cutting fish line. I've used them to trim my nails as need arose, but their size makes this task a bit more tricky that it has been when I've used the Swiss Army Knife scissors.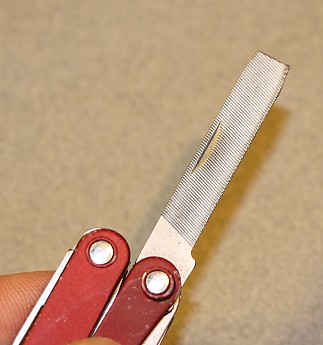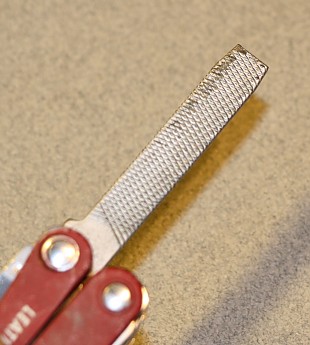 Files: The double-sided file functions well, offering fine and course options. They are cleanly etched and work well for a tool of their size. I've used mine to clean battery terminals of corrosion (see discoloration in second photo, above) or to remove burrs from metal. I have not been so ambitious as to try to use them as sharpening implements. I suppose one could, but—as with other tools on the Squirt—the tool's size will be its limiting factor.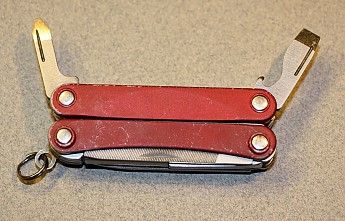 Medium Screwdriver/Flat Phillips Screwdriver: Let me say at the outset that I am not a huge fan of the flat Phillips screwdriver design, but I must also say that both of these implements work. It is my instinct to tackle tasks in proportion to the tools I have on hand, so I have not tackled huge screws with these screwdrivers. I have, however, used the Phillps screwdriver to tighten screws on knife sheaths and lamps and door locks, and used the regular screwdriver on a host of analogous tasks.
The key here is that good heat-treating of the steel has produced tool points that have handled these tasks without the screwdriver tips twisting out of shape or bending. I have not abused these tools—after all, I paid for this thing!—but I have not hesitated to use them for tasks that seemed scaled to the reasonable use parameters for a keychain tool of this size.

Bottle Opener: One of the greatest considerations for an outdoors lover when considering the purchase of a multi-tool is its bottle opener, and this tool I have tested and retested more assiduously than any other. Indeed, some evenings I have tested it several times at regular 12 oz. intervals.
I would love to say I have no qualms about it, but my extensive use has revealed that this tool requires at least two or three attempts at different places around the cap to open a bottle. Why? Size, of course—it takes multiple pryings to get the cap sufficiently free from the lip of the bottle. It does work, however, and certainly there is no need to resort to more barbarous methods of opening bottles if you have the Squirt on hand. Friends, I will make a point to retest this soon, just to make sure my results are fair and impartial.

Keyring Attachment: A nice detail here is that the flat steel to which the ring is attached pivots, providing a wider range of movement than would otherwise be provided. This is a nice perk when carrying the Squirt on a keyring, as I do, for it prevents a measure of tangling that can occur. This feature works well. 
Conclusions

The Squirt PS4 is a handy, well-designed, well-made multi-tool that rides easily on a key chain or in a pants pocket. It features an array of generally useful tools and offers a viable option for backpackers seeking a good quality, small multi-tool for on-the-fly repairs. By this point in the review, you will doubtless have sensed a theme in my comments.
The key to understanding the value of the Squirt is the scale of one's expectations: the Squirt PS4 is small, and thus it has inherent limitations in terms of the scale and quantity of work it can reasonably handle. If the buyer's expectations are judicious, he or she will find in the Squirt to be a useful and well-made tool that can assist him or her in a variety of circumstances, both in the backcountry and at home. However, just as I would love to see additional tools on the Squirt, some may want more productivity out of the Squirt, and to such a prospective buyer, I would say look for a larger tool.
I find that having the Squirt on my keychain or in my pack is reassuring, and I've found I use it more than I initially imagined I would—and no, not just for its bottle opener! It is handy and small, well-made and helpful when one uses it to tackle appropriately sized tasks. I recommend the Squirt for those seeking its tool set while recognizing its limitations.

This new PS4 is such a triumph over its predecessor,…
Rating:


Price Paid: $35

This new PS4 is such a triumph over its predecessor, the Squirt P4. With the addition of the scissors and without whatever that little shiv was, this is the perfect keychain multi-tool.
This is the perfect mini/daily carry too. Just enough pliers and screwdrivers to do light jobs around the office and home, knife to open letters and packages, this is great! Don't underestimate the tiny scissors either, they are sharp and rather helpful.
The only quarrel I have is that, unlike its predecessor, the PS4 does not have grooves for your thumbnail to access the blade, which isn't a detriment, just kind of annoying, I thought.
Where to Buy
Help support this site by making your next gear purchase through one of the links above. Click a link, buy what you need, and the seller will contribute a portion of the purchase price to support Trailspace's independent gear reviews.