Leatherman Style PS

At 1.6 oz, the Style PS is an ultralight multi-tool that has EVERYTHING a hiker could want…except a knife blade. (Oops!)
Pros
1.6 oz
Compact size
Mostly useful tools
Both pliers and scissors
Let me start with a story…
I am in the St. Louis REI, with an hour to kill before a flight to Boulder, CO. I am staring at a wall of multi-tools—Leatherman, Gerber, Swiss—way too many choices. What I really want to find is a sub-3oz tool with both pliers and scissors. After 45 minutes of comparison shopping, I select the Style PS and head to the airport.

A few hours later, I am sitting with a friend in the Dark Horse Saloon in Boulder bragging on my new ultralight purchase. My buddy looks at it intently and then asks the question that stop me cold, "Where's the knife?"

Aaarrgh! It never once occurred to me that someone would make a multi-tool without a knife blade. Isn't that the feature that all multi-tools are built around?
At 1.6 oz, the Style PS is ultralight and compact. It slips into the smallest pants pocket or anywhere else I want to store it. Additionally, the bottle opener/carabiner feature allows me to clip the tool onto my pack, belt loop, or wherever. On a recent trip, I used my spare boot lace from my repair kit and wore the Style PS around my necklace.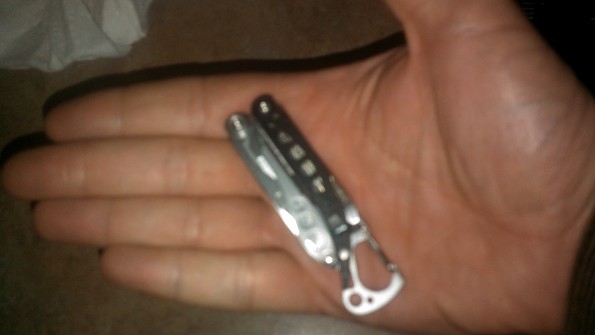 The compact size allows it to fit anywhere.
The PS Style claims to feature 8 (mostly) useful tools. This diagram, taken from the Leatherman website, best shows these tools.

1 & 2—Spring Action Needle Nose Pliers.  Leatherman takes some liberties here claiming two tools. #1 is officially needle nose pliers. #2 is officially regular pliers. I feel it is a bit of a reach to claim this as two tools. Many people say pliers are unneccessary in the outdoors, but I have had too many times where I have used this feature to disregard it. I have fixed zipper pulls, watch straps, and the handle of a MSR Pocket Rocket. I regularly use it as a pot grabber.
3—Wire Cutters. This feature is not "make it or break it" for me. However, I have found it to be useful when thorny, wild raspberry bushes reach out onto the trail. A quick snip, and my path is clear.
4—Spring Action Scissors. Admittedly, these scissors are not as good as the scissors on the Style CS. However, the CS does not have the pliers I want. The scissors are rugged enough to trim toe nails, negating the need to carry nail clippers on the long trail. Of course, it can snip that dangling thread or cut through Zing It line in one squeeze.
5—Flat Head Screw Driver. Although it is a flat head, it is narrow enough to fit in many Phillips head screws. Keep in mind, this is not going to replace the screw driver on a full size multi-tool, but when would you need that on the trail?
6—Tweezers. July 5, 2013, I found a tick embedded where no man ever wants to find one. That incident confirmed my choice to never be on the trail without tweezers (And if tweezers weighed 20lbs, I would still carry one!).
7—Nail File. Oh, puh-lease! You can give me a nail file, but not a knife blade? I consider this a mostly worthless feature, and its only value is the screw driver at the end. For a brief moment I even considered trying to grind the edge down to a knife blade.
8—Bottle Opener/Carabiner. I have already mentioned the usefulness of the carabiner. Since I personally do not feel alcohol belongs in the backcountry, this is a feature I do not plan to ever use.
__________
But there is no knife…
Reading on a few ultralight websites, I see where a number of people claim a person does not really need a knife on the trail—that scissors are sufficient and, actually, more useful. So I decided to put that claim to the test last spring. For my week long trek, I took my Style PS and my Gerber Mini Paraframe. I determined not to use the knife at all. And truthfully, the knife stayed in my pack all week…until our last full day. I need to clear a thick raspberry bush branch from the trail, and the Style PS was not up to the job. I needed (and used) the knife.
__________
In conclusion
I really want the scissors. I really want the pliers. I really want the knife. To date, I know of no sub-3oz tool providing all these features. My current solution is to carry both the Style PS (1.6oz) and my Gerber Mini Paraframe (1.4oz). While the knife doubles the weight, the two units combined still meet my weight goals.
Should any Leatherman rep read this review, I would encourage you to ditch that worthless nail file and include a knife blade.
Source: bought it new
Price Paid: $22

Cute little Leatherman for travel.
Cons
Hard to get to tweezers
Small scissors with not much strength
Did I just say Cute? Yup.
This one is a travel/flight friendly version of the CS from Leatherman. This one has no blade so you will be able to travel/fly with it.
I have had this one a few months and my issue is that it's so small and light weight I keep losing it.
It's held up while I have been able to use it. Mostly I have used it for quick fixes when my shooters are looking to tighten a screw or snip a string while on the shooting line. Not much heavy duty. The scissors aren't going to be doing much heavy duty cutting but will do the poster board wrapped in packing tape without issue. Opening boxes, meal packs, plastic packaging.....
One thing is an issue like with the CS model. The tweezers are a bugger to get out. I have nails and can dig it out but there is a small lip that keeps them FIRMLY held in. Once I went in and filed that down I was able to get them out easier and still had no issue with the tweezers coming out.
Overall it is usable and something I can have with me in school, shooting line, and on flights, making it something I try to have with me often. I don't expect a lot of heavy duty from this little tool but it is compact and something I am allowed to carry.
Source: bought it new
Price Paid: $20

Your Review
Where to Buy
Help support this site by making your next gear purchase through one of the links above. Click a link, buy what you need, and the seller will contribute a portion of the purchase price to support Trailspace's independent gear reviews.
You May Like
Specs
Price
Current Retail: $34.95
Historic Range: $19.99-$34.95
Reviewers Paid: $20.00-$22.00