Leki Cross Trail FX.One Superlite

The Leki Cross Trail FX.One Superlite poles are what their tongue-twister of a name implies: feather-light, fixed-length, folding poles, with a grip that combines the latest designs in trail running with a bit of the traditional ideals of a trekking pole. These are best suited for fast and lightweight trail running. Unfortunately they did not hold up to the rigors of backpacking for me. They are functional and sleek, but were not very durable for my long-term use.
Pros
Ultralight at 5.7 oz / 161.6 g per pole and strap
Pole diameter is very minimal, making for a sleek, well-balanced feel...they have excellent swing!
Deploy quickly and smoothly, no play or flex at the joints once locked.
Cork grip is nice.
Integrated strap and grip system works well to provide secure contact, good energy transfer, and relieve hand stress.
Very compact (15" collapsed and a very tiny package overall)
Cons
Lack of durability of carbon pole section
Price
Possible to lose a strap, which are very expensive at around $40 to replace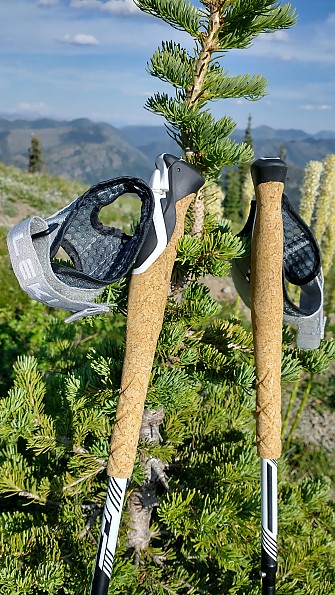 Specs (weights are my own measurements):
Length (fixed): 120 cm (available from 105 to 130 cm, in 5 cm increments)

Weight per pole: 5.7 oz (pole: 5.1 oz,  strap: 0.6 oz)

Non-telescoping, no shocks
From Leki:

The extremely lightweight fixed-length carbon pole, with its diameter of just 14/12 millimeters, is equipped with the newly designed Cross Shark grip. The system is ideally suited for fast hiking and combines the advantages of a trail running grip with those of a trekking grip. The wide strap made of highly breathable mesh with an optimized fit, encloses the hand firmly and securely, relieving stress on the hand muscles. The open-pored, imitation cork foam grip is rounded off with a grip extension for additional grip variations.
The Pole:
For the purposes of this review, it's important to understand what this pole is and for what uses it's designed. Part of Leki's Cross Trail series, the Cross Trail FX.One Superlite is intended to be a hybrid between the brand's minimalist Trail Running and its traditional and sturdier Trekking poles. For reference, Leki says of the Cross Trail FX.One Superlite: 
This cross over pole is suitable for Trail Running, Fast Hiking or Trekking. There is nothing the Cross Trail FX.One Superlight cannot do.
I would describe myself as an experienced long-distance thru-hiker/backpacker and would expect my trail activities to be included under "fast hiking and trekking" in the list above. My pack usually weighs around 15 pounds, even when I'm thru-hiking. Combined with my slim body weight of around 130 pounds, I'm generally very light when compared to many backpackers (hence my trail name: Twig).
Fit & Features:
The stand-out feature of these poles is Leki's unique Cross Shark grip with Trigger system, adapted from the Trail Shark grip on Leki's trail-running poles. As a crossover pole, Leki says the Cross Shark grip "combines the power transfer of a trail running pole with the comfort and performance of an ergonomic trekking grip" (more on that under Comfort below). 
Leki's quick-release Trigger system is used on its alpine skiing, Cross Trail, Trail Running, and Nordic Walking poles. Trigger-equipped poles have a hinged jaw that captures the small loop of the wide glove-like Shark Frame mesh straps. When downward pressure is applied, the jaw automatically locks the loop into place, securing the strap to the pole. This allows the poles to swing freely but securely for efficient weight-transfer from the arms to the poles, without having to actually grip the poles.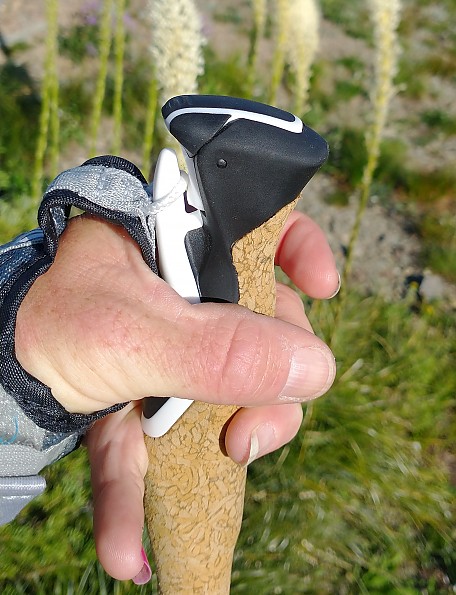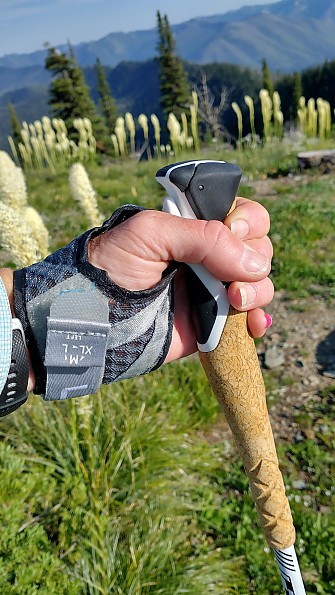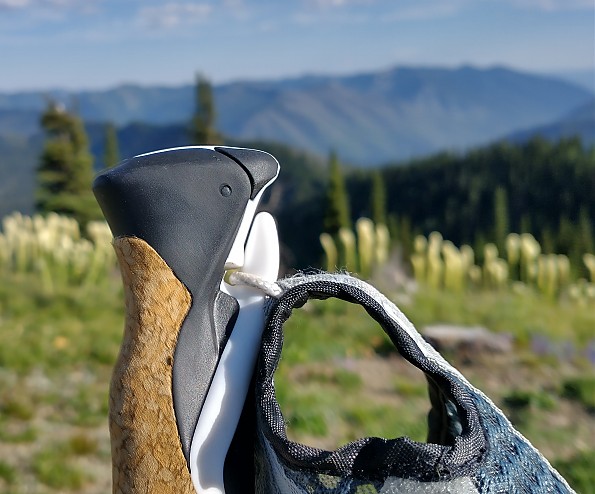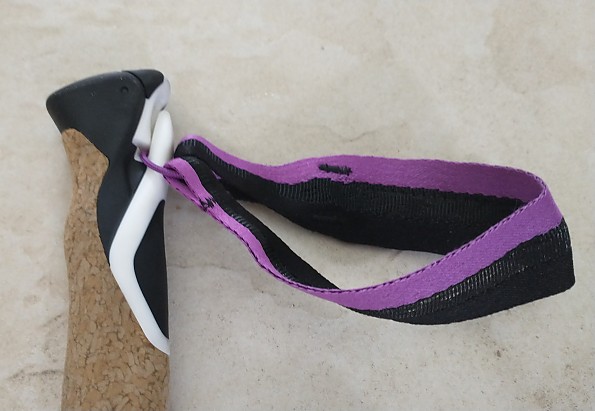 To remove the straps from the pole (to free the hands and avoid having to take the straps all the way off), I simply pushed down on the back of the top of the grip with my thumb and pulled my hand up. It takes a little practice but can work smoothly once you get the hang of it. With time, I noticed that this mechanism didn't move as freely, which is something to watch out for in terms of durability.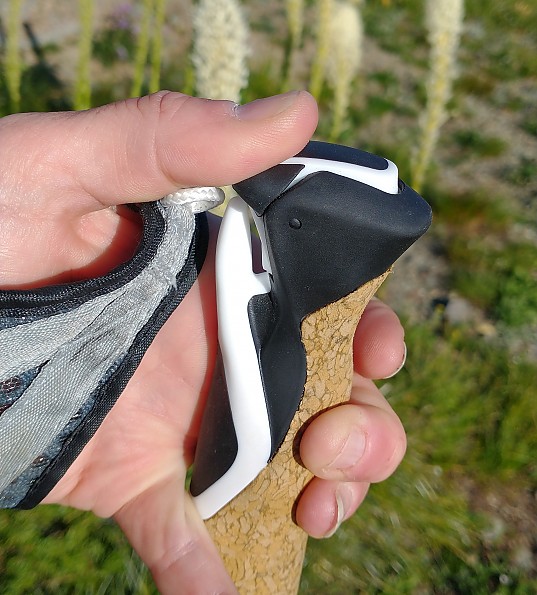 Video demonstrating the Cross Shark grip attachment and release
The straps have a hook-and-loop closure to adjust the size, fitting similar to cycling gloves (replacement straps are offered in two sizes: S/M/L or M/L/X). They are made of thin and breathable mesh but can still get warm and sweaty, more so than simple trekking pole straps. Like any gear, they also get pretty dirty with prolonged use.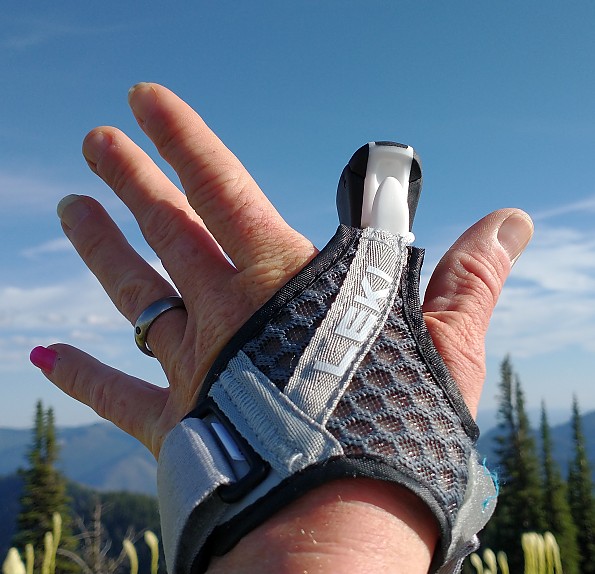 I found this system to be ideal for secure energy transfer from my arms to the poles and in reducing hand fatigue. I've occasionally dropped my other poles when they slip from my hands, but with the straps locked in and cinched down tight, these poles stay right where I need them. They also result in a nice "swing"...hard to describe but they just feel effortless when cruising along a nice trail. Bliss.
I didn't like this strap system as much when it came to multi-tasking, as I found unlocking the straps from the poles not as simple as just sliding my hands in and out of traditional trekking pole straps. Even though the straps do detach from the poles fairly easily, they're still meant to remain on your hands. I suggest considering how you use your poles and hands on the trail when deciding between traditional pole straps or a quick-release attachment system like the Trigger.
Personally, when backpacking, I tend to need my hands quite a lot, tucking my poles under my arms while I eat snacks, collect and filter water, take pictures, and use my electronics and/or paper maps...all while still moving down the trail a lot of the time. Wearing the straps during such activities meant they would often get wet and/or soiled, which in combination could damage electronics or maps. So, I routinely took the extra step of removing the straps from my hands altogether...increasing the potential of them being dropped/lost. 
This also meant another clothing item that needed to be washed in town...and could easily be lost at a laundromat. A pair of Leki's Trigger Shark Frame Strap Mesh replacements sell for $50 a pair, which is more than I'd be willing to pay for something so basic. 
I also wondered what would happen if I were to fall and not be able to release my hands from the poles easily. Could having my hands tied to the poles make me more prone to injury? Perhaps this was what led to one of the poles breaking...more on that in a bit.
In general, I think this design is great for trail running, where having one's hands locked into the poles for sustained periods of time is applicable. But as a dedicated hiker, such a "cross" design just wasn't as good of a fit for me. It can't really be seen as a knock against the product as such, just an observation that these are probably more specialized towards trail running than what their "cross" hybrid descriptor implies.
Comfort:
Because the Cross Trail FX.One Superlite poles utilize a hybridized design, the grips are not shaped like those of traditional trekking poles. As mentioned above, Leki says its Cross Shark grip "combines the power transfer of a trail running pole with the comfort and performance of an ergonomic trekking grip."
What did this mean for me? The grip tops are somewhat sharp and narrow, as opposed to broad and flat—more trail-running-specific than trekking oriented. Plus, there's a moving joint built into the top that shifts a little when pressure is applied. I'm very fond of "cupping" or "palming" my trekking pole tops when I'm on a descent. This gives me more stopping power and control over the poles, reducing the chance they might slip out of my hand  I'm also able to get more length out of them in this way, making extended pole plants while lowering myself down from rocks and steps.
Theoretically, the straps of these poles can take the full strain of a pole plant, but I never quite trusted them to do so. I still preferred having a more solid contact with the top of the pole in the cup of my palm. But the straps and sharpness of the tops of the grips aren't as conducive for this technique. This is again an observation that these poles aren't as versatile for hiking and trekking as Leki claims, but it's not a fault with the design, which may be more popular amongst trail runners.
Adjustability:
These fixed-length poles are available from 105 to 130 cm, in 5 cm increments. Leki does make adjustable-length Cross Trail FX Superlites (110-130cm) and  Cross Trail FX Superlite Compacts (100-120 cm) if you prefer.
They are not telescoping but rather what's called a folding pole (or z-pole by another brand), meaning the segments come apart but remain connected via an inner tensioning cord. 
The fixed-length Cross Trail FX.One Superlites break down into an extremely compact shape of only 15 inches in length and roughly 1.5 inches in diameter. They are wonderfully small for packing in a tiny suitcase/daypack or the side pockets of a backpack. This is one of their best attributes.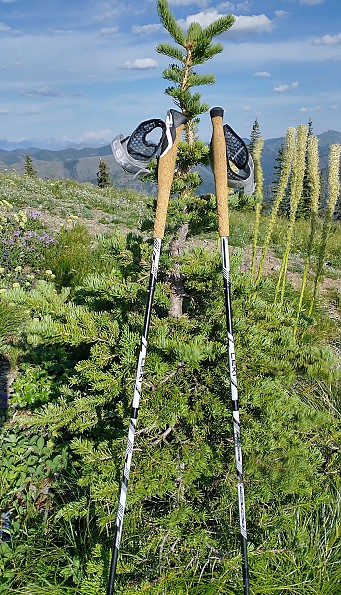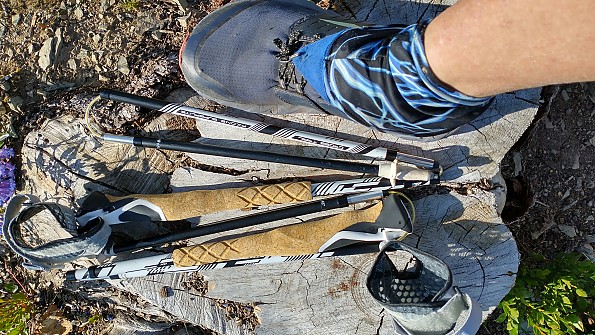 Locking:
The FX.One Superlite poles extend and collapse better and more smoothly than any similar folding pole/z-pole I've tried. To extend them, I merely let gravity pull the lower pieces straight down while extending the two pieces above and below the locking button. All pieces slide into position easily, like butter.
Unlike some folding poles, there's no play or wiggle around the locking button, giving the poles a very solid feel. To collapse them, simply push in the locking button and slide one piece into the other, releasing the tension on the inner cord.
Traction and Baskets:
The Cross Trail FX Superlite poles come stock with Leki's one-piece Trail Running Basket and Tip. With such minimalist tips, I didn't expect a whole lot of grabbing power from them. I found they met my expectations, but I also noted that the tiny baskets got chewed-up very quickly. They might as well not even have baskets...just basically a metal tip. If you require a bit more basket, some Cross Trail models come with a Micro Basket and Carbide Flex Tip.
I crossed a few snowfields in Glacier National Park where I had to be very careful not to sink the poles through the snow. I'm used to this from my other minimalist poles, but these take it to an extreme. They're definitely not ski poles, but on the other hand, the tiny baskets don't get hung up on the vegetation on overgrown trails. I personally prefer such small tips and baskets for hiking, because I hate catching the baskets on objects, especially my legs.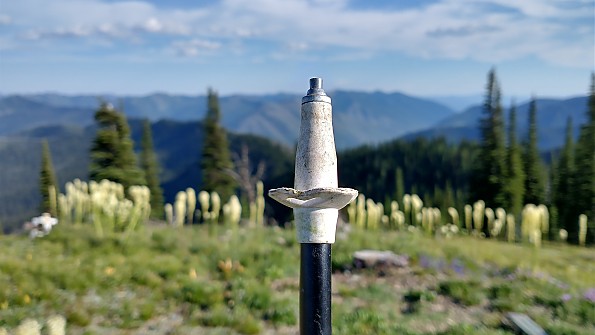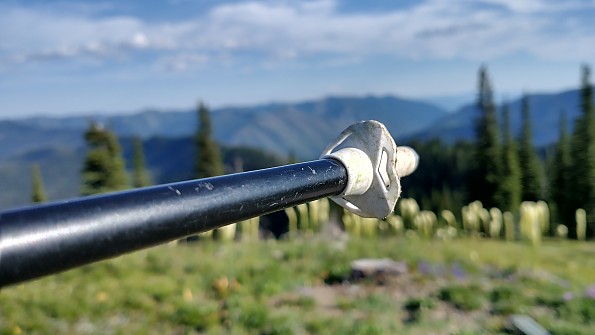 As far as replacement goes, I usually just replace the whole basket/tip piece together. I haven't looked into this process for these Lekis but I imagine it's the same as my Black Diamonds. For those, I heat the tips in boiling water, pull them off with some pliers, and slide the new ones on. It's really simple and I've even done it in the field. The bottom pole diameters on the Leki's are about the same as the BD's, so I'm pretty sure I could replace the baskets with BD basket/tips too.
Leki sells its replacement set for around $18. BD distance basket/tips are slightly cheaper at $15 and I prefer their shape and durability. Of course, one is free to replace the tips with any other in the Leki product line (ones with larger replaceable baskets), provided the tips fit the diameter of the pole.
Accessories:
These poles came with a small mesh and nylon storage/travel bag but no additional tips, baskets, or straps. You can buy replacements from Leki. I found that the storage bag also makes for a great minimalist tent pole bag.
Flex:
I was really impressed by how solid these poles felt...right up until one broke, that is. The segments all seemed very strong and there was no play or wiggling at any of the joints once they were extended and locked. The aluminum joints also seemed strong. But I guess looks/feels can be deceiving...
Conditions, Construction, & Durability:
Well, as you can see from the pictures below, these poles didn't quite work out for me. One broke after 5 days and 100 miles of use on the Pacific Northwest Trail. After this, I was hesitant to keep using the other pole, for fear it would also break and leave me with no way to pitch my non-free-standing Zpacks tent. While it's certainly possible that I just received one with a manufacturing defect, the only conclusion I could make based on my experience is that these are not reliable or durable poles for backpacking. Perhaps they'll hold up better for trail runners.
I feel like the carbon lay-up is way too thin and flimsy around the joints. The shaft basically shattered all the way around with pretty minimal pressure applied...certainly less than half my body-weight. At the time, my pack weighed about 12 pounds and myself about 130 pounds, so that's not much pressure. I've used other ultralight trekking poles to stabilize myself in similar situations thousands of times before, and I've never broken one so easily.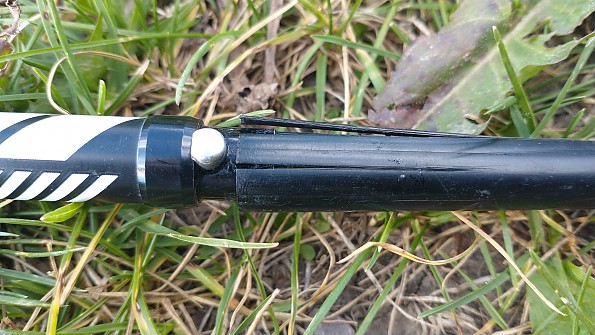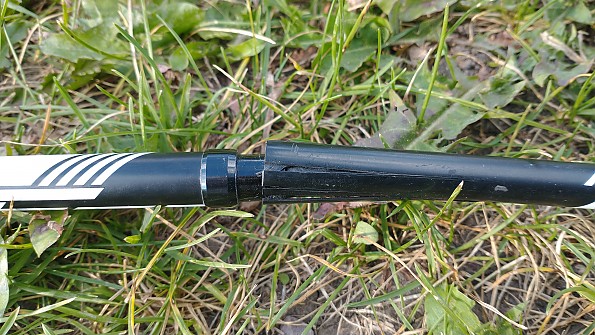 Further, a break like this at the locking button rendered the pole useless. In the past, I've been able to apply aluminum shims to broken tent and trekking pole segments in order to continue using them. But a shim wouldn't fit over the locking button and without the button keeping the tension, they would stay together anyway. The pole became a 5-ounce tent stake and left me in a tough situation on my Pacific Northwest Trail thru-hike last summer, which (fairly or unfairly), further soured my experience with them.
Out of the box, I loved these poles. I was excited when I first used them because they felt wonderful in my hands, nicely balanced with an effortless swing. The straps took a bit to get used to, but I warmed up to them. Everything was going great for 80 miles throughout the Whitefish Mountains. I clambered over blowdowns, through some snow patches, and up and down lots of steep mountains...standard PNT fun.
On day 5 with the poles, I had the pleasure of going over spectacular Boulder Pass in Glacier National Park. I successfully crossed numerous snowfields and after several hours of route finding and unsteady footing, I and my gear made it through unscathed...only to have my foot slip on mud and wet grass in the trail, where I instinctively stuck a pole out to steady myself. I've executed thousands of such routine recovery/stabilization maneuvers in the past, but suddenly I found myself on the ground, wondering how a minor slip turned into a fall. (I almost never fall...not even once on the entire 2,700 miles of the PCT!) At least it was a zero-consequence fall, landing me in a flat patch of soft grass.
But I was so amazed and surprised to find that the pole had folded and that's why I went down. Thank goodness this didn't happen when I'd really needed stability just minutes before on the steep, snowy slopes...that could have been really bad! But now I was down to one pole, and given the circumstances surrounding the demise of the other, I had no trust left in it.
As I hiked on that day, I fully contemplated the really bad timing of this gear failure. I was scheduled to flip-flop to the mid-point of the trail, Oroville Washington, and resume hiking into the Pasayten Wilderness the next day. From there, the trail would take me through more than 200 miles of remote and rugged wilderness before I could visit another post office. I knew I'd need two poles to get through the Pasayten, where there were thousands of blow-downs to negotiate, plus several sizable river crossings and huge topography...7000-foot gains/losses in a single day were common on the PNT.
I'd be going past an REI in Spokane, but I didn't want to buy a new set of trekking poles since I had a new pair of Black Diamond Distance Carbon Z poles at home in Miami. I've used that model for all my other thru-hikes. I ended up borrowing a pair of older aluminum ski poles from a trail angel in Spokane. While it was nice to borrow them, I hated them so much compared to the ultralight poles I was used to. I eventually I had my BD poles shipped to Concrete, Washington, the borrowed poles shipped back to their owner, and the Lekis shipped home.
This is all to say that breaking one pole in GNP ended up being a big expense and hassle, limiting me to one pole for over 50 miles and landing me with undesirable poles for over 200 miles. Could it have been worse?...a LOT worse. Did it ruin my thru-hike?...no way! I still had the best time. But it did leave a bad taste in my mouth when it comes to these particular Leki poles.
Trailspace did inform Leki of the pole's failure and asked for feedback given its crossover design and marketing. Leki said they hadn't seen other poles with a similar break, and that these should work for traditional hiking usage. However, they wouldn't target them for a thru-hiker carrying a significant load (which my 15-pound pack was not). They also said "the ideal segment for this product is the consumer that might go for a run one day and an aggressive vertical hike the next."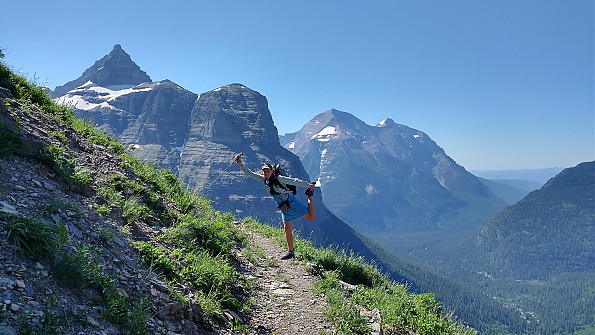 I also debated whether to do a direct comparison with other trekking poles. I think it's important for readers to know that I have extensive experience using a very similar ultralight trekking pole: the Black Diamond Distance Carbon Z poles.They weigh almost exactly the same as the FX.One Superlites (BD: 5.3 oz per 120 cm pole, so they're actually lighter!) and are also constructed almost entirely from carbon.
I've used the Distance Carbon Z poles for all my other thru-hikes. Up until the Appalachian Trail (my 8th thru-hike), I'd never broken one. On the AT, I actually broke a pair, about 1,000 miles apart, but they were 10 years old and had well over 5,000 miles on them. Given their age and heavy use, I expected them to go at some point and had no qualms about buying the same exact model as my next set for thru-hiking. Moreover, the poles broke in a spot that was easy to repair on the trail by attaching a shim. I continued to use each for another 500 miles on the AT and still use them as spares at my family's home in Colorado. I recently did a 50-mile section hike on the CDT with them.

However, I can definitely suggest not using them for backpacking. With so many trekking poles available, there are plenty of other durable and lightweight poles better suited to hiking and backpacking. No gear can truly do it all.
Experience
I've been using trekking poles since I began backpacking 30 years ago, and ski poles before that. I started with pretty clunky telescoping aluminum poles, complete with shocks. I've had ones with both the cam-lock joints and the type that tighten by screwing tight (but never end up holding). I switched to fixed-length folding/z-poles in 2012 and never looked back. I love using trekking poles and now feel somewhat awkward when I hike without them. They are indispensable to me.
Source: received for testing via the Trailspace Review Corps (sample for testing and review provided by Leki)

Your Review
Where to Buy
Help support this site by making your next gear purchase through one of the links above. Click a link, buy what you need, and the seller will contribute a portion of the purchase price to support Trailspace's independent gear reviews.
You May Like
Specs
Price
MSRP: $199.95
Current Retail: $199.95-$239.95
Historic Range: $84.32-$239.95

Construction
Folding|PB|Fixed Length

Grip
Cross Shark

Strap
Shark Frame Strap Mesh

Segments
4-pieces

Shaft Diameter
14|12|12|12 mm

Upper section
Carbon (HRC)

Lower section
Carbon (HRC)

Basket
Trail Running Basket

Tip
Trail Running Tip

Length/Size
105 - 130 cm (in 5 cm steps)

Weight/Pole
162g/per pole at a length of 120 cm

Pack Size
35 cm

Recently on Trailspace