Leki Makalu Ultralite

The Makalu Ultralite has been discontinued. It was replaced by the Leki Makalu Lite.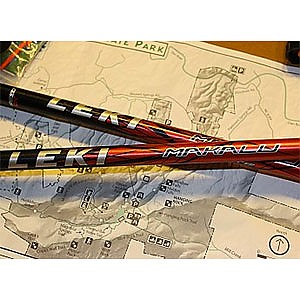 Superbly built poles allow confident use in a variety of conditions--creek crossings, uphills, downhills, as shelter supports, etc. Leki Speedlocks work great, allowing for swift adjustment with no worries about the locks giving way. There are lighter poles out there, but these are solid, reliable, and a pleasure to use.
Pros
Quality construction
Speedlocks rock! — quick and secure
Strong
Rounded ends of poles provide great palm grip on downhills
Cons
Grips may be a tad small for larger hands
26.8 in/67.9 cm minimum length is a bit bulky
Not the absolute lightest poles around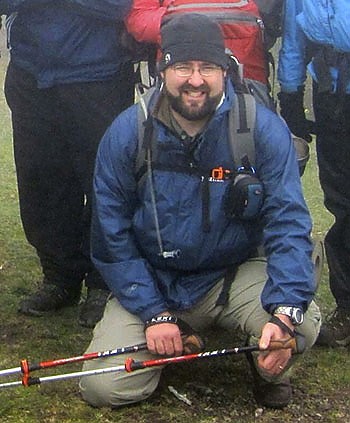 This may be an old school review. You see, years ago Leki made the Makalu.
I've had these poles for quite some time. A lot of miles in sun and rain and snow. My Leki Makalu Ultralite poles have never let me down, and since I began hiking with them, the thought of not having them along on a trek has become unthinkable.
They have become an extension of my body when I'm on the trail, whether they are probing for solid footing, stabilizing me on logs and in creeks, vaulting me over obstacles, cleaning cobwebs, saving my tail too many times to count, aiding my uphill climbs with upper body strength, easing my downhills by distributing my weight, speeding me along flats as fast as I want to go, or holding up my tarp at night. In short, in these Lekis I found good poles that sold me on the virtues of trekking poles and the virtues of at least one Leki product.
Features
When collapsed, the aluminum Makalus are 26 3/4 inches long (67.9 cm). Each Makalu weighs 9.24 oz/262g. The poles are attractively finished in a gradient black-to-red finish that has not shown much indication of age or use despite being used to whack at trail obstructions.
The grips are ergonomically shaped, a mixture of black plastic and rubber and what appears to be a hybrid cork-synthetic material that offers a superior grip and which has demonstrated its durability over hundreds of miles of trail. The hand feel is not soft, but it is secure. I find them a little small for my large hands, but—as I am often wearing gloves when using them—this isn't something I lose sleep over.
I do like the shape of the poles' ends, a rubbery oval that fills my palms nicely when I am using the poles to control my descents. This feature and this use have saved my knees a lot of unnecessary agony and strain.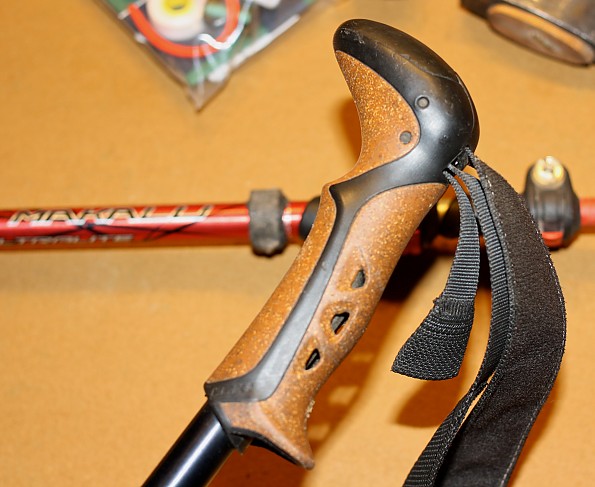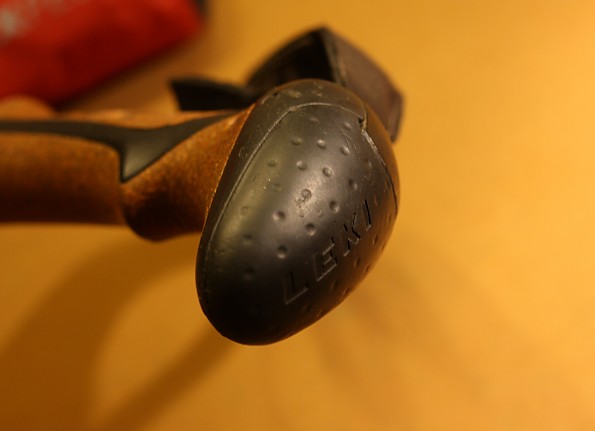 The wide, adjustable straps are comfortable and secure. Lined with a skin-friendly fabric, the tough webbing gives one a sense of security. Pulling on the top of the strap unlatches a locking mechanism, and this in turn permits one to adjust the length of the straps easily and simply: a push in the opposite direction locks the strap in place securely.
A thoughtful touch: L and R designations indicate right and left on the straps. Another thoughtful touch: the Leki text on the straps is reflective. That's helped me numerous times when nature called and I had to locate my tarp in the dark. The flash of light generated by this reflective material provides high visibility in the dark.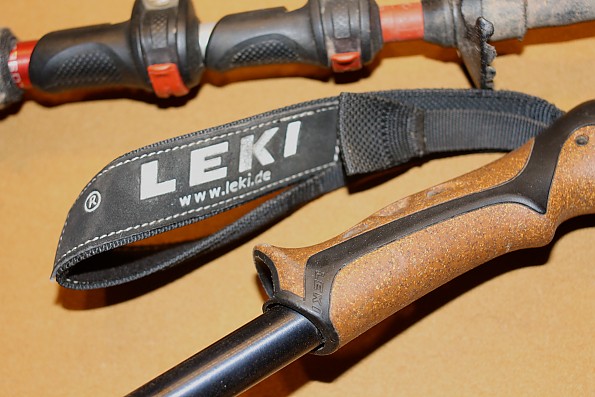 A key feature is the presence of the Leki Speedlocks. These external locks allow easy adjustment of the pole lengths, making it practical (if one is so inclined) to adjust the length when one encounters a long uphill or downhill. The Makalus max out at 135 cm, or about 53 inches. A red, curved lever activates the Speedlocks, snapping flush to the lock housing when closed, flipping open and away from the pole when open for adjustment.
Leki boasts that the Speedlocks are "the strongest external locking system (worldwide)." I don't know if this is true, but I have never had them fail on me. Moreover, they are adjustable: a knurled plastic screw allows for finger tightening or loosening or--with a a thin coin or screwdriver for the screw's slot--mechanical tightening or loosening. I have adjusted these as needed, generally when the poles did not extend as smoothly as I would have liked. A quick adjustment and all was well.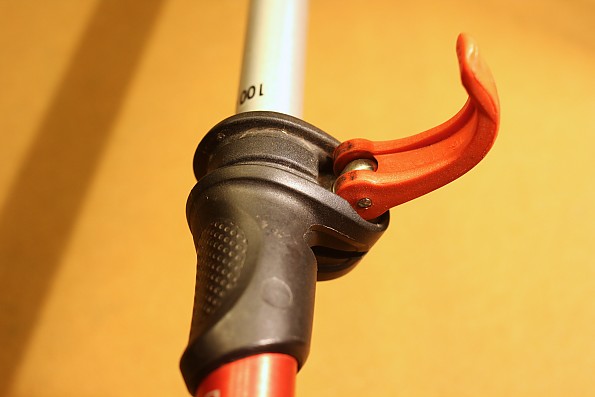 The poles end in "performance baskets" and carbide tips. I have used these poles a lot, and yes, the baskets (which I tend to leave on--rain and soft ground find me a lot) are looking a tad bit worn. These are threaded for security, a feature which also allows easy removal and easy replacement. However, they still work fine, distributing the weight of the poles over a broader area and preventing leaves from running up the poles.
They are compact enough that I don't mind their continual presence on the poles. The carbide tips offers positive traction on many surfaces and work nicely, too, when I want to stick my poles in the ground, as when I am setting up a tarp and using them as support poles.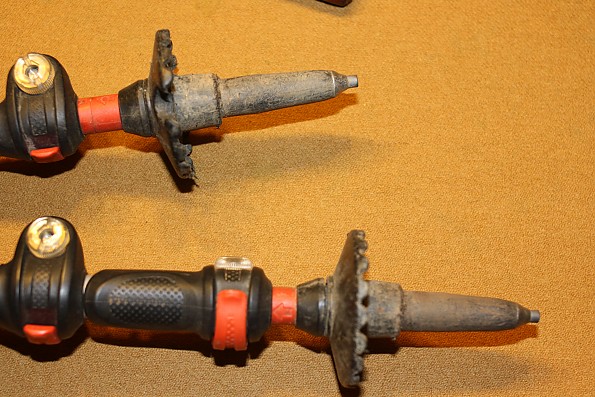 Conclusions
Leki seems to build a well-designed, solid, durable pole that is comfortable to use. After years and many miles of use in all sorts of terrain, these poles look and feel quite new, aside from the lovingly worn tips and baskets. Traction has remained great on a wide variety of surfaces, wet, icy, or dry, hard-packed or loose. I have stumbled and thrown my weight onto the poles, caught them between rocks, batting at small tree limbs threatening my face (admittedly not the best idea); the Makalus held up fine. 
I love the Speedlock feature. In fact, as I was researching poles, I quickly decided that I did not want an internal locking mechanism. I had had those before, and I had known them to fail, rendering the poles useless. I also didn't want to play the "did I turn it to the right or to the left to tighten it?" every time I needed to make an adjustment. To some that direction is intuitive; not for me. The Speedlocks may add weight, but the ease of use and dependability of their mechanism make this sacrifice worthwhile to my mind. It is an added bonus that I can easily adjust these even when wearing winter gloves.
I love having this reliability translate into shelter set-up, too. I carry a tarp more often than a tent, and having reliable, structurally sound poles in my hands to pitch the tarp is a nice bonus. When I first got these poles, I was worried about their strength. I am 6'2", around 225 lbs—if I lean onto my poles, I need them to stand strong.
The Makalus do: I can force some flex into the poles when I lean with my weight on them, but if I adopt a more natural position, pushing against the ends of the poles, these feel rock solid and have saved me countless times on the trail.
What about the absence of shock absorbers? Well, I didn't want those. I wanted a rigid pole that would allow my own body to function as a shock absorber. That sounds more brutal than I intend: simply put, I wanted a rigid pole so that I could better gauge the relative solidity of the surfaces I am pressing the pole into.
I would like a more compact collapsed form, but I recognize that—to a degree—this is a compromise I must yield to as a consequence of wanting the Speedlocks.
I would love to shave weight from the poles, too, but I am not sure how realistic it would be with this design. These are light enough for my purposes. If I ever make the transition from lightweight hiker to ultralight, I will explore carbon fiber options. For now, my Makalus are my my go-to poles. I love them!
And hey, my 11-year-old loves them, too. Now that's an endorsement!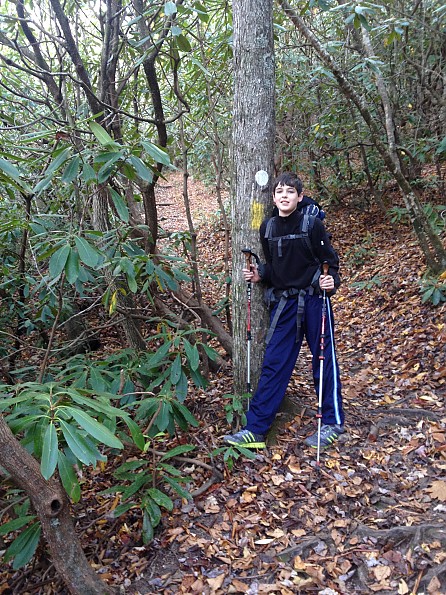 Source: received it as a personal gift

Your Review
You May Like