Leki MCT 12 Vario Carbon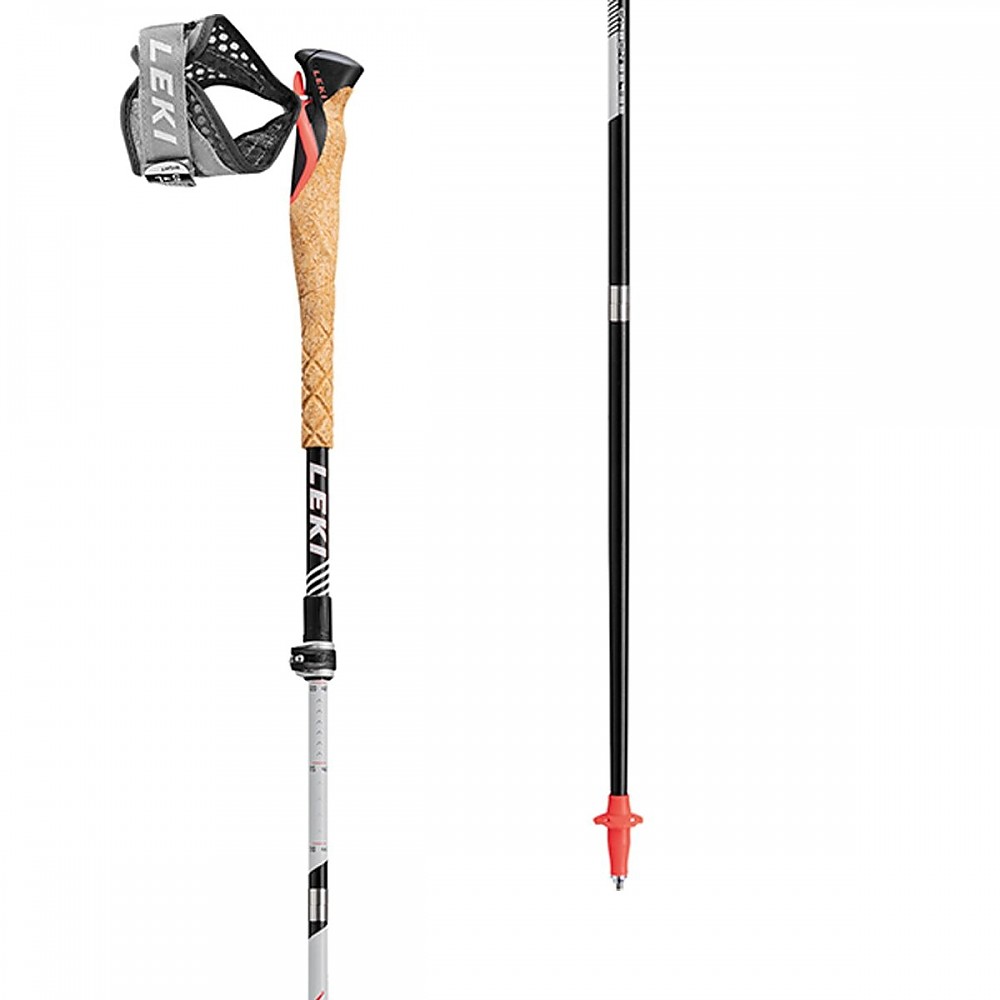 An ultralight, adjustable length, hybrid folding-telescopic, all-carbon pole for trail running or power hiking on good trails. Quick and reliable locking mechanisms for deployment and length adjustment. Full-wrap straps with well-designed quick-release for shifting gears on the move or freeing up hands for photo stops etc. Small diameter baskets and light construction limit best use to firm surfaces—no snow or deep mud, please.
Pros
Ultralight and stiff
Breathable, full-wrap hand straps for close grip (and palm protection)
Quick release straps great for changing to carry/stash mode and photo/snack stops
Reliable locking and adjustment mechanisms
Cons
Tiny baskets not good in snow or deep mud, no big basket option
Quick release spring too stiff
Not as tough as beefier poles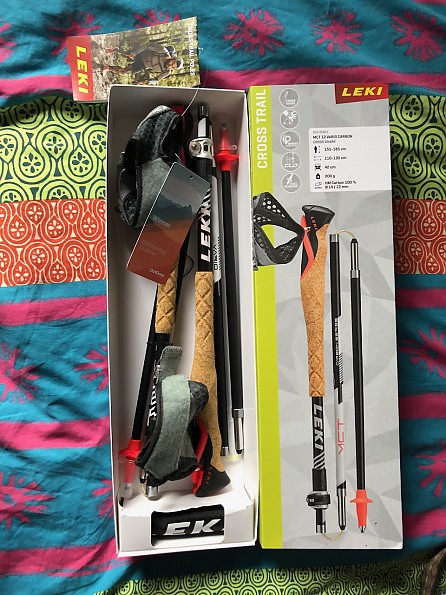 The first word that comes to mind in describing the Leki MCT 12 Vario Carbon pole is "elegant". Leki has dreamed up, or more rightly engineered, an ultralight, adjustable-length pole with some highly functional features that should make it a top choice for uncompromising runners and ultrahikers that want the advantages of adjustability without much of a weight penalty. In addition to adjustability, Leki's quick-release, full-wrap wrist straps set its poles apart from all others in the UL class.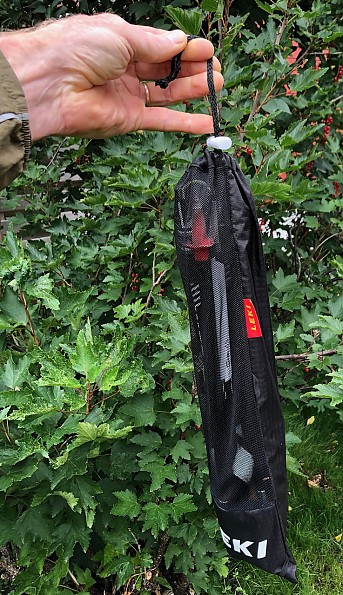 The hybrid folding/telescopic design combines the light weight and compactness of a folding pole with the adjustability of a telescoping pole.  Leki's weight is 400 g / 14 oz  per pair; I weighed mine in at 418 g with a little dirt on the tips. Leki's and others' lightest carbon fiber, fixed-length folding poles weigh in at about 300 g / 10.6 oz at 130 cm, so there is a weight penalty for adjustability.
The poles adjust from 110 cm / 44 in to 130 cm / 52 in; I have not verified the lengths because it depends on where you measure and Leki's cm-inch conversions are rounded off anyway (130 cm works out to more like 51.2 in). The folded length is 42 cm / 16.5 in; a three-section telescoping poles is more like 60 cm / 24 in.
Both poles together fold into a compact bundle about 5 cm / 2 in in diameter, with a little bulk added by the wrist strips but these can be worn on the hands while on the move. The poles come with a nifty sack, fine for storage but I don't see bringing it along on runs or hikes.
Leki has given imaginative names to the various features of this and other poles: Cross Shark (grips); CLD (core locking device); Trigger Shark Strap (quick release mesh straps); Speed Lock 2 (cam locks). To avoid too much jargon, I will be using conventional descriptors for these features in this review.
(She got the gold mine I got) The shaft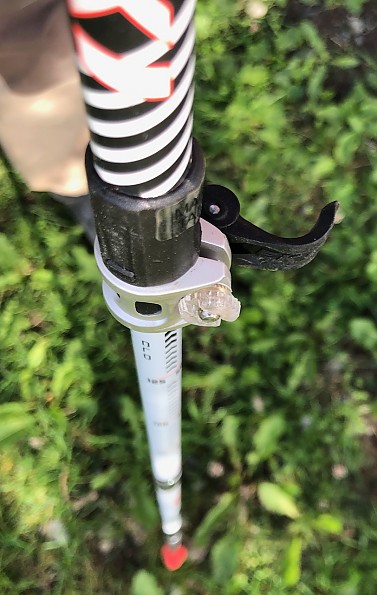 The shaft is 100% carbon fiber, with two lower 14 mm diameter folding sections and the upper telescoping section with outer 16 mm and inner 14 mm tubes. Despite the small diameter the pole is remarkably stiff, as expected with carbon fiber. The folding sections are joined by precisely machined aluminum fittings, with a spring-tensioned, coated (Kevlar?) cable running through to hold it all together. It folds to about 42 cm / 16 in, small enough to drop inside a day pack.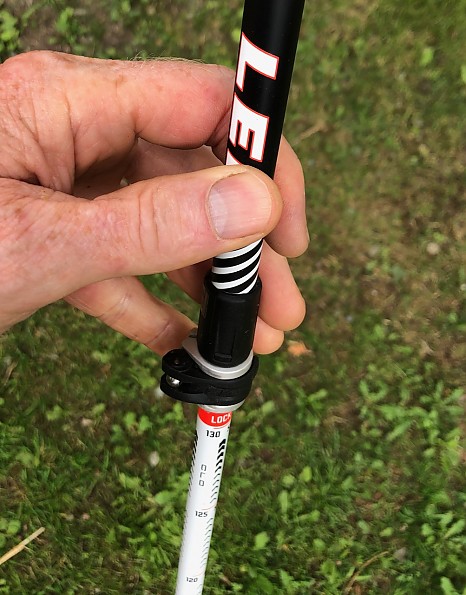 The pole is easily deployed by opening the cam lock and pulling down on the telescoping section until an orange band marked "LOCK" at the top of  the middle section shows and there is an audible click as the hidden locking mechanism engages. The pole can then be telescoped down to the desired length and the cam lock closed.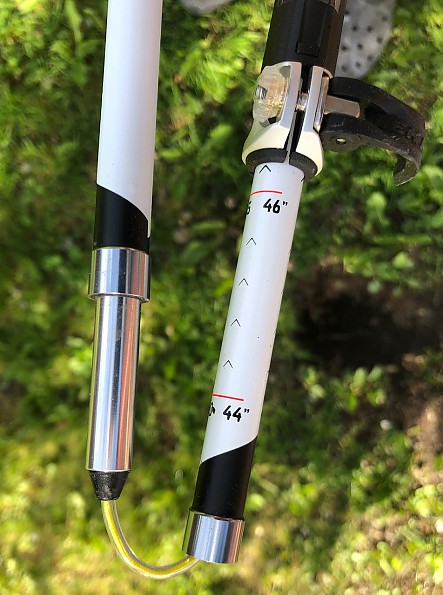 The conical heads on the joint fittings ensure that the sections come together easily. To fold the poles, open the cam locks and pull down until the orange band shows again and the same click signals that the locking mechanism is disengaged, so that when the telescoping section is collapsed there is plenty of slack in the cable to fold up the pole.
The core locking mechanism has been 100% reliable so far. The cam locks are the most compact and streamlined of any that I have used on numerous pairs of trekking and backcountry ski poles; Leki says that they are "30% smaller, 25% lighter" with "20% higher holding force" than the previous generation. They have occasionally loosened up a little so that the telescoping section starts to collapse, but they are easily tightened up without tools via a knurled knob. The locking collar is aluminum, which I find reassuring because I have seen plastic locking collars break. 
The pole telescopes from 110-130 cm; the women's version is 10 cm shorter, with baby blue instead of fluorescent orange tips and accents on the shaft and grips. The slightly less expensive aluminum version has the same light blue accents in the men's version and hot pink in the women's (just in case you're wondering). As a tall guy, I have mainly used them at full length but will sometimes shorten them by 5-10 cm for running up steep hills. The 130 length works well enough for most of the running I do, but I would appreciate a "Max" version in a 120-140 length for a little more on the upper end.
I somewhat inadvertently tested the durability of the pole on one of my first outings, a day hike in slippery conditions with Harley, our very strong and eager dog, attached to my waist. When he tugged at an inopportune moment on a slippery downhill, my feet went out from under me and I instinctively tried to prevent a backward fall with the poles. I felt one of them bow under my weight, and when I got up found that I had not broken the shaft, which is a general concern with carbon fiber poles, but had instead bent one of the aluminum fittings between the sections.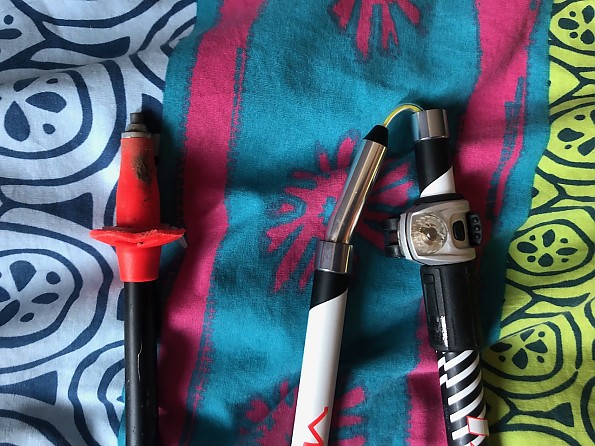 When I contacted Leki (via Trailspace) they said that they had never seen that failure before and sent me a new pair. Leki's carbon pole shafts are covered by a one-year warranty. The lesson from this little incident is that the pole shafts are very tough, but these lightweight poles do have limits that are worth keeping in mind, especially on slippery downhills.
Grips and straps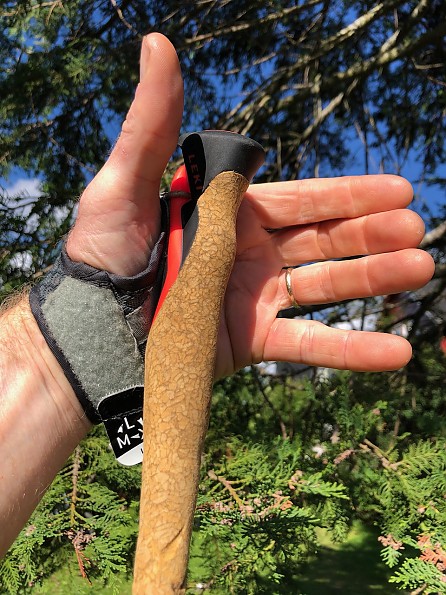 The grips are made of a slightly squishy, faux-cork foam that provides good grip in both wet and dry conditions. A rubber patch on the molded plastic part of the grip provides friction for a more secure grip, and an index finger indent makes for a comfortable feel. A 10 cm extension down the shaft allows for a lower hand position on the fly—something that can easily be taken advantage of with the quick release straps. Although the grips are smaller in diameter than those on my other trekking and backcountry poles, I find that they work well even in my XL hands. For me, the grip extensions are too small for comfort during extended use, but that's not really an issue with a telescoping pole.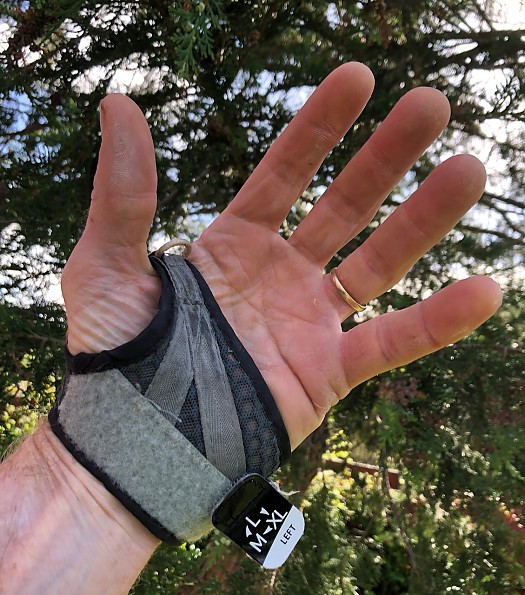 The quick release straps are the most groundbreaking feature of these poles. It starts with wraparound straps with a thumbhole and Velcro closure, like those found on high-end xc ski poles. They are more stable than a traditional wrist loop but can take a moment longer to put on, albeit without the twisting that sometimes happens with wrist loops. But because of the quick release feature, I can put the straps on at the start of the run and just leave them on for the duration, dis- and re-engaging them as needed, whether it's to carry or stash the poles for long flat sections where they aren't needed or to pull out my phone for a photo-op or to change podcasts.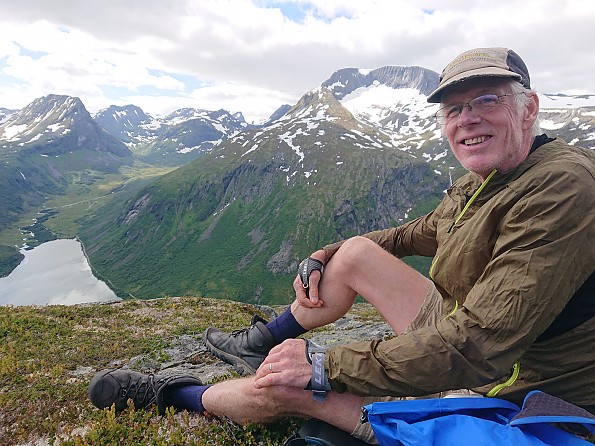 The straps are made of a breathable mesh with honeycomb foam padding, with nylon reinforcements. I typically wear out full-wrap xc pole straps in 5 to 6 seasons of use, but xc technique produces a lot more and more intense action than running poles. My main worry is that the sewn-in quick release loop (see below) will go first, but, as with all durability issues, only time and intensive use will tell. Leki sells replacements for about $50 a pair, so I hope they last a good long time.
They are adjustable from M to XL; I'd guess the women's version fits XS to M. They fit well on my big hands, even over a pair of light wool gloves. My wife borrowed the poles for a recent uphill-downhill race and said the straps worked OK on her men's S hands, but they looked a bit loose to me (she's not as picky as I am). As a bonus, the wraparound straps also protect the base of the palm in the event of stumble and forward fall.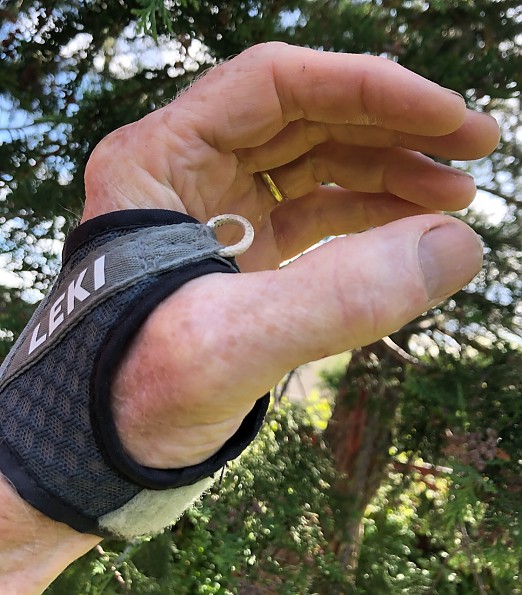 Now for the quick release part. The full wrap with thumbhole strap allows Leki to place a small cord loop in the crotch of the thumb.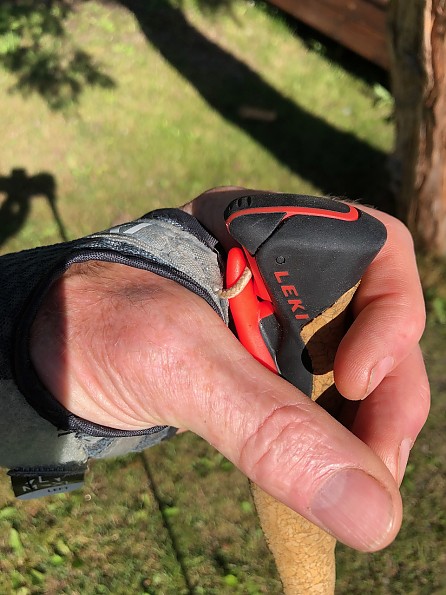 This fits into a notch on the top of the grip that closes via a spring-loaded, thumb-activated lock at the top of the grip, which holds the loop securely when closed.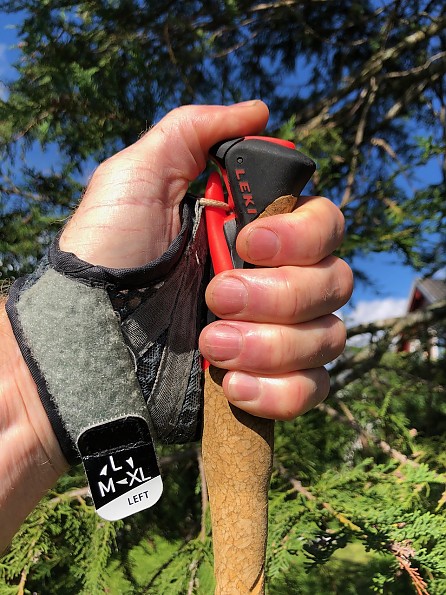 To release, I just rotate my thumb over the trigger and press down. This gives a natural upward tug so that the loop pops out, and the whole operation can be done fluidly, on the move, and one-handed or on both hands simultaneously. To reengage, the loops have to find their way back into the notch, but this also happen quite naturally if I simply grip the pole a little higher than normal and then push against the ground. After some practice, I can often click the straps back in without even looking down, although sometimes a downward glance is necessary if I don't get it on the first try.
The whole setup is pretty seamless, and I have to wonder how many different versions Leki tried before getting it so right. Leki offers quick release straps on some of its trekking, xc, alpine and backcountry ski poles, with an additional breakaway release function on the alpine and backcountry poles to help prevent shoulder injury. (I'm due for a new pair of backcountry poles and because of the quick release the Spitfire Vario is now at the top of my list).
The breakaway feature might also be an advantage on these Cross series and other trekking/running poles because pole tips can sometimes get trapped between rocks. I'll also comment that the release springs are somewhat stiff so that it takes strong thumbs to open them up.
Tips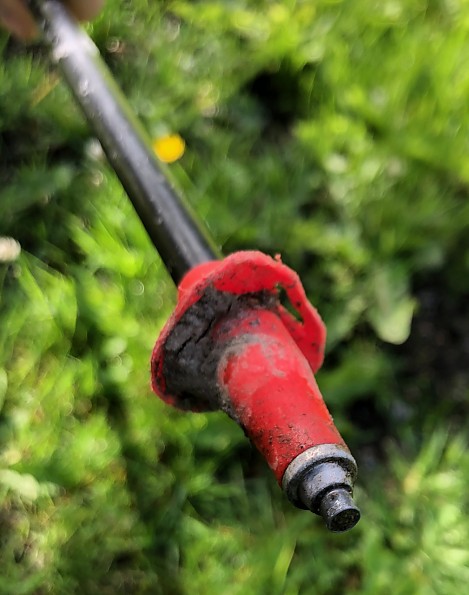 The tips are where the pole meets the trail and not something we usually think much about—except when they break or wear out. This and Leki's other running poles have a trail running tip, really a single-unit tip/basket assembly, without replaceable baskets of different sizes (as on trekking poles) to extend its useful range to muddy or snowy conditions.
When describing ski pole tips, I usually divide them into three parts: the actual metal tip; the ferrule, the molded plastic piece that joins the tip to the pole shaft; and the basket, the more or less wide ring or flare on the upper part of the ferrule that helps prevent the pole tip from penetrating too deeply into soft surface. On the MCT 12, the ferrule and basket are a single molded unit, as is the case on xc racing poles and other poles with small baskets.
The tough carbon steel tip will last a good long time and is concave to give multi-angle purchase on hard rock as long as it's not at too much of an angle. The tips are not independently replaceable—some poles have threaded tips that can be replace, others replaceable ferrule/tip assemblies, but with the running tip all three parts get switched out as a single unit, at a cost of about $18 a pair. I hope it will be a while before I have to replace, but I have done so on numerous other poles, including Lekis. They are held in place by a glue that softens at boiling water temperature, so replacement is usually easy. I have not weighed them separately and Leki does not provide a weight, but the small size should make them lighter than a more versatile alternative, helping to provide a low swing weight.
The minimal basket is triangular and only about 2.5 cm / 1 inch along each side. That's enough to prevent the pole from going too deep in firmly packed soil, but it will go deeper in soft mud and is pretty useless in summer snow. Many mountain runs here in Norway may include muddy, boggy, and snowy sections, even in late summer, so I'd have to think twice before choosing these poles for, say, the 60 km Trollheimen Triangle.
The small baskets can also allow poles to slip more deeply into the cracks between rocks, which can lead to a broken tip, ferrule, or shaft or even a dislocated shoulder. Unlike on some of Leki's trekking poles, the ferrule on this pole is not flexible. That little bit of give can help prevent damage to the pole (or, in extreme cases, the user) if the pole tip gets wedged between rocks. Been there, done that, and more than once—I have learned from experience to place my pole tips carefully in rocky conditions, but it can still happen. This user would appreciate the option of an at least slightly larger basket, either as an option when purchasing or as some kind of add-on. The three cutouts on the mini-baskets might offer an attachment point for an accessory basket.
Best Use
These MCT 12 Vario Carbon poles are intended for trail running where minimal weight is a priority, but also in terrain that gets steep enough to make adjustable length worthwhile. I would rather have something with a bigger basket for runs with a lot of snow or mud. They would also make a fine trekking pole for gram-shaving through hikers that want some adjustability, again with the caveat that they won't work well on long snowy traverses. 
In general I would suggest that backpackers and day hikers that aren't too concerned about an extra 100 -300 g in weight should consider a beefier trekking pole as offered by Leki and many other producers. Leki's Micro Vario Carbon, which I tested in a longer length max version for Trailspace a few years back, scores well on various online surveys and in my review as well. 
However, for trail running or power hiking on firm trails of variable steepness, Leki's MCT 12 Vario Carbon is an excellent lightweight option.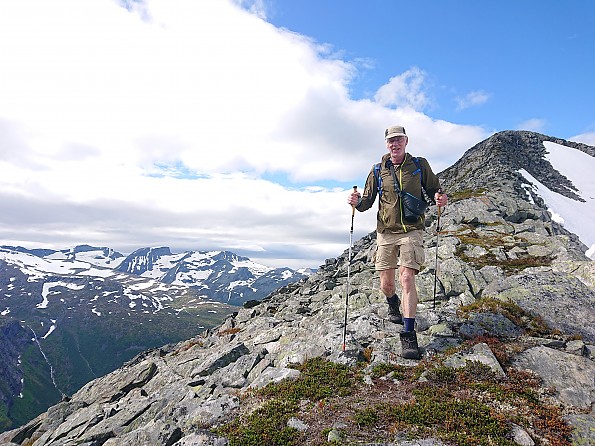 Experience
I do most of my weekday running and xc skiing in Estenstadmarka, my backyard forest park here in Trondheim. It's mostly uphill from my house, with trails ranging from broad, hard-packed forest roads that double as xc ski trails in winter to steep, rocky side trails, with some deep muddy stretches and bog crossings thrown in for good measure. In other words, a good place to test a pair of running poles in a range of trail conditions—about a month's worth so far. Add to that a few day hikes and runs on Norway's rough mountain trails for a more complete field test.
Source: received for testing via the Trailspace Review Corps (Sample for testing and review provided by Leki)

Your Review
Where to Buy
Help support this site by making your next gear purchase through one of the links above. Click a link, buy what you need, and the seller will contribute a portion of the purchase price to support Trailspace's independent gear reviews.
You May Like
Specs
Men's
Price
MSRP: $249.95
Historic Range: $149.97-$249.95

Use
running, hiking

Weight
200 g per pole

Grip
Cross Shark

Strap
Trigger Shark

Segments
4 pieces

Tube diameter
14|12|12|12 mm

Shaft material
100% Carbon

Adjustment system
Speed Lock 2

Tip
Trail Running Tip

Length
110-130 cm infinitely adjustable

Pack size
42 cm

Women's
Price
MSRP: $249.95
Historic Range: $187.46-$249.95

Use
running, hiking

Weight
190 g per pole

Grip
Cross Shark

Strap
Trigger Shark

Segments
4 pieces

Shaft Diameter
14|12|12|12 mm

Shaft Material
100% Carbon

Locking System
Speed Lock 2

Tip
Trail Running Tip

Length
100-120 cm infinitely adjustable

Pack size
42 cm