Leki Micro Tour Stick Vario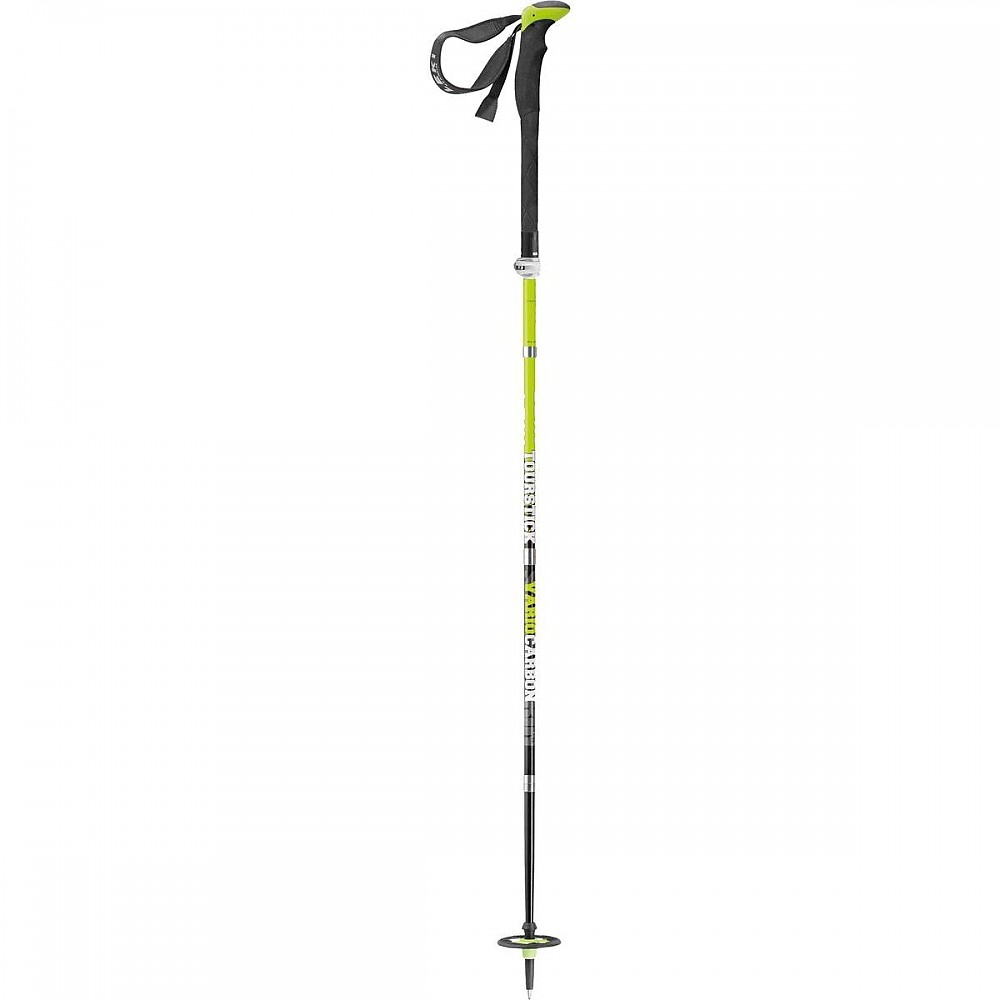 The Leki Micro Tour Stick is a very light and durable collapsible trekking pole, equipped with well padded wrist straps, simple extension, and very secure lever-lock adjustment. These trekking poles are ideal for hikers and backpackers who value a small packed size and low weight in a convenient and reliable product. While lighter poles are available, they lack many of the comfort, strength, and convenience features of the Leki Micro Tour Stick Vario.
Pros
Lightweight, sturdy, and durable
Easy and secure lever locks
Easy and secure strap adjustment
Ergonomic handles
Extended comfort grips
Aluminum lower pole section
Very small collapsed size
Optional camera mount
Cons
Limited length range
High price tag
Thin Aergon grip pommel construction
Cumbersome trekking baskets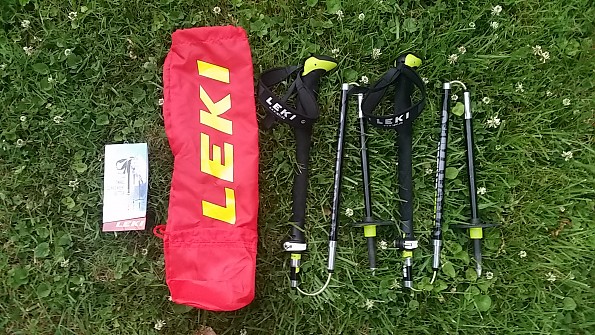 Included items: poles, pole baskets, pamphlet, and storage bag
Features
While many aspects of the Micro Tour Stick Vario are recognizable and consistent with industry norms, I find Leki's high attention to detail and functionality superb. The "one pull assembly" and click-button latch work as well as advertised.
The ergonomic handles are comfortable, and the extended grip down each pole is very helpful. I really like the Aergon handles, as the smoothly rounded yet effectively shaped pommel allows for secure comfort in almost any hand position, even palming or top gripping.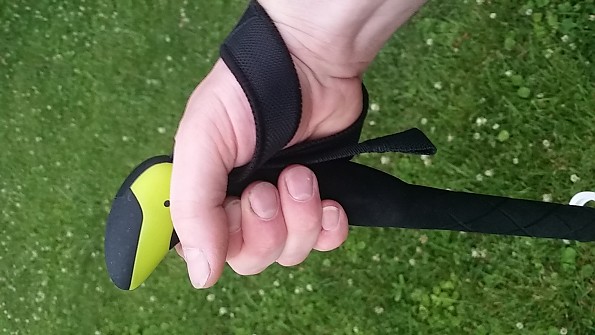 Aergon handle and extended foam grip
This pole set's greatest feature is how it balances light weight with function and durability so successfully. They weigh only 9 oz. per pole, and 18 oz for the set. Having looked at and tried lighter carbon fiber poles, I found myself concerned at how flimsy they seemed, and disappointed in the poor and lacking features.
This Leki set, however, has addressed those issues: The grips and straps are ergonomic, comfortable, and carefully designed; length is easily and securely adjusted through strong lever SpeedLocks; the carbon segments are coated to prevent damage; the lowest pole section is strong aluminum to avoid breaks; and the poles collapse down to a very short and convenient length of 15.5 inches. At only 9 oz. per pole, and 18oz for the set
Thee poles uses a plastic coated Kevlar cord, an internal spring, and a button latch to allow the lower three pole sections to be alternately assembled collapsed to such a short length. I was initially concerned that the cable and lock retention system would allow unwanted flex and instability. My concerns were unfounded, however, and I now have complete confidence in the design.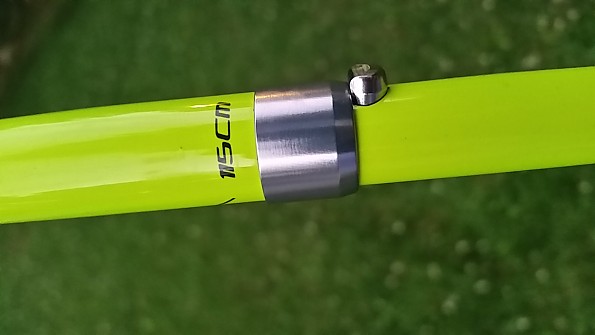 The button lock that holds the assembled pole together
The negative aspects are few: I would prefer cork handles, but it is not a large issue; the 135 maximum height is not very tall, and may present limitations for tall users or with some shelters that utilize trekking poles; provided baskets are less than ideal for general hiking; the price tag is quite hefty, making them an item I could only justify if I could find them on sale; and the Aergon Grip pommel, which houses the strap adjustment mechanism, is a rather thin and soft plastic which is bound to wear out in a few years of steady use.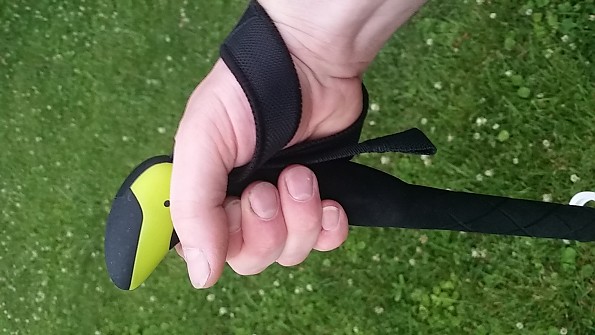 Palm side view of strap configuration
Fit
My previous trekking poles had straps that simply went around my wrist from above. When I first used the Leki poles, I was dubious of how comfortable their strap configuration would be. With the Leki straps, you put your hand through the strap from below, which places them first going downward underneath your palm as you grasp the pole grips, while the padded section passes up and around your wrist.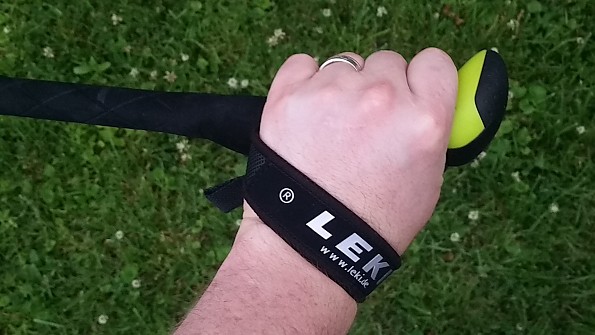 View of padded strap crossing over back of my left hand]
My concerns were twofold:
That abrasion and blisters would take place where the strap changes from webbing to padding, and

That the configuration would create lots of pressure, abrasion, and blisters on my palms.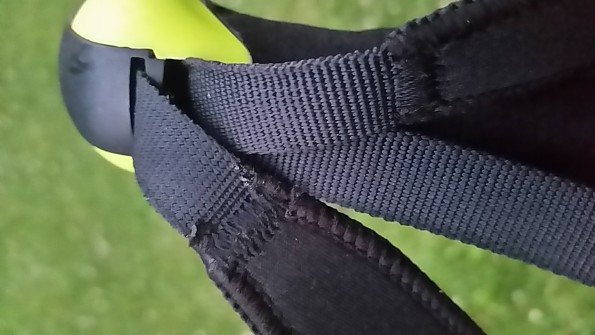 Potential abrasion points at stitched seams
While there was certainly an adjustment period while getting used to the new strap design, which included some hot spots and very mild blisters, my hands quickly got used to them. The padded section of the straps is quite soft and wide, which effectively distributes a lot of pressure. It is only fair to mention that I went through a similar adjustment phase when I first got my last pair of trekking poles, which were the first ones I owned.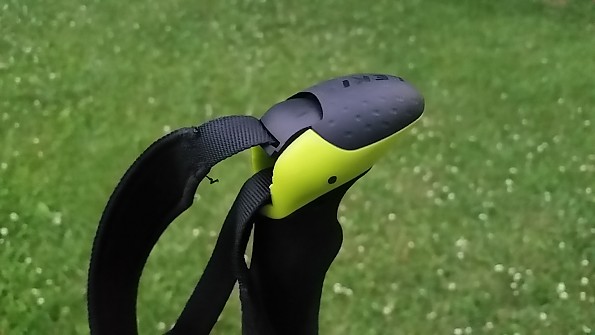 Strap adjustment in unlocked position
Adjustability
The adjustable Aergon strap system is very solid and easy to adjust, far more so than my prior Easton poles. Not only is it a breeze to adjust, once locked down, I have not experienced any slippage or loosening at all. That is a huge improvement over the simple mechanism of my former set, which required constant readjustment to keep the straps snug and comfortable.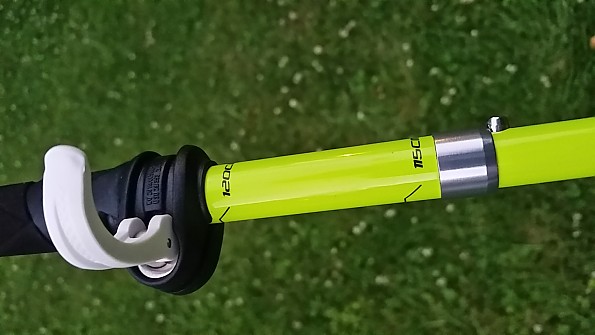 Lever style SpeedLock in open position and height measure marks
The poles have a working range of 115cm to 135cm, secured with Leki's SpeedLocks. The lever function locks are low profile, rock solid, and very simple to use.
Locking
I really do not like (OK, despise would be more accurate) twist locks on trekking poles, as their use is foiled or complicated by sweat, grit, mud, gloves, and ice. Give me lever locks or give me death! OK, maybe it's not that big of an issue, but these lever locks are great, and I am very happy to have them included on these poles. The SpeedLocks are very secure, and their tension is very easily adjusted without tools. I have not had them loosen, slip, or pop open at any point during my testing.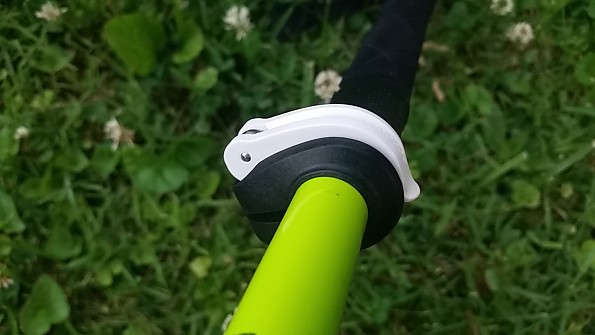 Low profile SpeedLock in closed position
Many trails in the areas I visit are overgrown, and I often like to explore off trail (where legal), too. On all the previous poles I've used, dense vegetation often results in lever locks snagging and releasing, which is a royal pain. I have yet to have that happen with these Leki poles.
As with any lever lock, they are going to get snagged on thick weeds and brambles sometime. However, the design of the Leki SpeedLock is really wonderful: the release end of the tab nestles in a groove and sits at an angle that makes it very difficult to catch on clothing or weeds. Also, since there is only one SpeedLock on each pole, which is up high near the handle, it isn't down in the weeds where most snagging usually occurs. That makes this hiker very happy! 
Shocks
The Leki Micro Tour Stick Vario poles do not incorporate any shocks, but I never even considered shocks when looking for poles, and did not miss that feature at all.
Traction
The carbide flex tip does what you'd expect. It is of course noisy and metallic sounding on rock, but so is any other. The flexible shaft of the tip is appreciated, as it was not uncommon for it to get wedged or stuck between rocks, which would result in bent or broken poles if not for that bit of saving flex.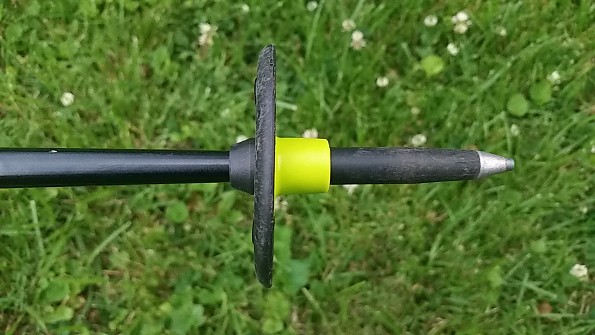 Lowest pole section, standard pole basket profile, and carbide flex tip
Baskets
Leki attempted a "one size fits all" solution with their Retro Bandit Basket, which comes with these poles, but I feel they missed the mark. While the Bandit basket might be good in come snow conditions, I find its wide and flat profile to be most problematic for hiking. They constantly caught on rocks, plants, vines, roots, and even the edges of my boots.
A slimmer profile basket with conical shape is far more practical for most three-season hiking and backpacking in the lower 48. Fortunately, Leki sells such a product, but for $200 a set on the poles, I think they should have included the other baskets as well. On the plus side, though quite secure once installed, they are simple to remove and swap out as well.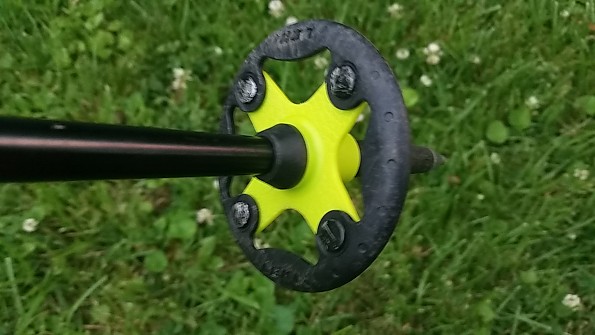 Wide and cumbersome standard pole basket—note scratches from catching constantly
Accessories
I purchased the lower profile Performance Baskets, which were easy to change. I am much more pleased with them, though I do not like the cutout section, as it tends to snag on vegetation.
I also purchased the Aergon Photo Adapter camera mount to assist with photography, which requires changing out the top of one the Aergon handle tops. The mount itself merely screws into both the camera and pole top, which does not make for fast attachment or removal. While the design of the mount is a bit clumsy, it is very nice to be able to use your poles as a monopod for steady photo and video shots. Swapping out the Aergon handle top for the adapter wasn't too difficult, but some care and attention is required.
I have not had the need to replace the carbide flex tips, as they have help up well.
Construction & Durability
So far, I have not had any failures or problems with these trekking poles, and all features are working great. The foam handles are holding up well, the straps haven't had any stitching unravel, the assembly cables and locks are working fine, there haven't been any issues with the lever locks, and the finish on the pole sections is in excellent condition. 
The only main durability concern, which I noticed when I installed the camera mount, is the thinness and softness of the plastic of the Aergon grip pommel. Having only used these poles for a few months, there is already noticeable wear on the contact points of the strap locking mechanism. I imagine with a few years of steady use, it will likely cease working effectively.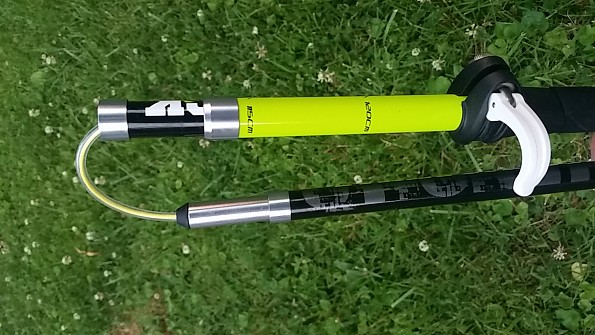 Pole section ends with metal-reinforced connection points and PE coated Kevlar tension cable
Flex
The pole sections themselves do not have any flex to them at all, but because there are two tension fit joints in each pole there is a tiny bit of flex. I initially thought that bit of movement would equate to a degree of undesirable instability, but in use I didn't really notice it at all and they are very stable. 
My wrists and elbows are less sore with the Leki poles than my previous aluminum ones, which I had attributed to better straps, but it's possible the slight flexion deserves credit as well. 
Ease of Use
Everything works like a dream other than the Retro Bandit Baskets, and I replaced those! The pole assembly from collapsed position is simple and easy. 
Conditions of Use
During a period of about three months I hiked over 25 miles with these poles through the varied and challenging terrain of the Cumberland Escarpment, traversing sections of the Cumberland Trail, off trail down into deep gorges, in the rain and fog, and on a few night hikes as well.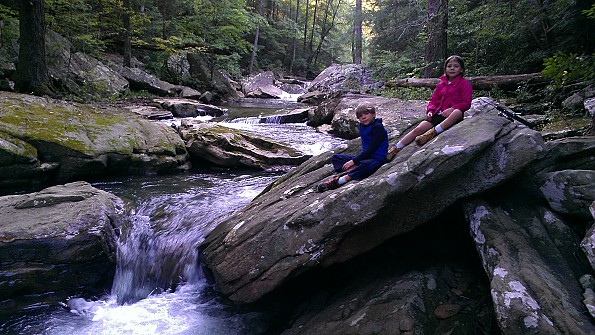 In Middle Creek Gorge near the Cumberland Trail with my niece and nephew, an example of the area where the poles were tested
Conclusion
The Leki Micro Tour Stick Vario is a wonderful compromise between light weight, excellent features, and reliable durability. While there are a few minor drawbacks, most notably the price tag, they are a very good choice for those who want a full featured trekking pole in a very small and light package. 
Source: received for testing via the Trailspace Review Corps (Sample provided by Leki for testing and review)

Your Review
Where to Buy
Help support this site by making your next gear purchase through one of the links above. Click a link, buy what you need, and the seller will contribute a portion of the purchase price to support Trailspace's independent gear reviews.
You May Like
Leki's Micro Tour Stick Vario trekking poles are five-section folding poles with 100 percent carbon upper shafts, machined aluminum connection sleeves, and stainless steel centering connectors. The poles can be deployed with a single pull.
Inside each is a PE-coated and Kevlar reinforced tensioning cord. Outside Speedlocks provide 20 cm of adjustability and keep the poles strong and in position.
The compact, lightweight (510 g per pair) Micro Tour Stick Vario features Leki's Aergon Thermofoam Tour grip with a soft, wicking strap and lightweight EVA foam grip extensions for shifting hand positions. A Carbide Flextip on each and optional interchangeable baskets allow for four-season, alpine use.
The trekking poles are sold as a pair.
Specs
Price
MSRP: $199.95
Historic Range: $119.97-$199.95

Weight
510 g / 1 lb 2 oz per pair