Leki Micro Vario Cor-Tec TA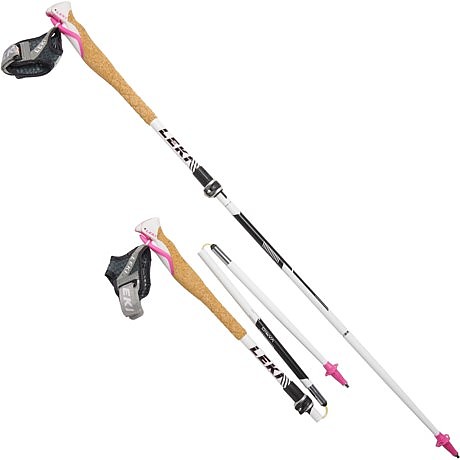 Leki's Micro Vario Cor-Tec TA are a sturdy, packable set of poles which will keep you on your feet, and save your knees. Super easy and fast to assemble and adjust, and rock solid performance for your dollar.
Pros
Packable
Strong
Easy to adjust
Fairly lightweight (10.8 oz each on my scale)
Straps are easy to adjust
Lifetime shaft breakage warranty
Good value for the quality
Cons
Not the lightest poles in the Leki line
Speed lock adjustment might be difficult in cold weather, while wearing gloves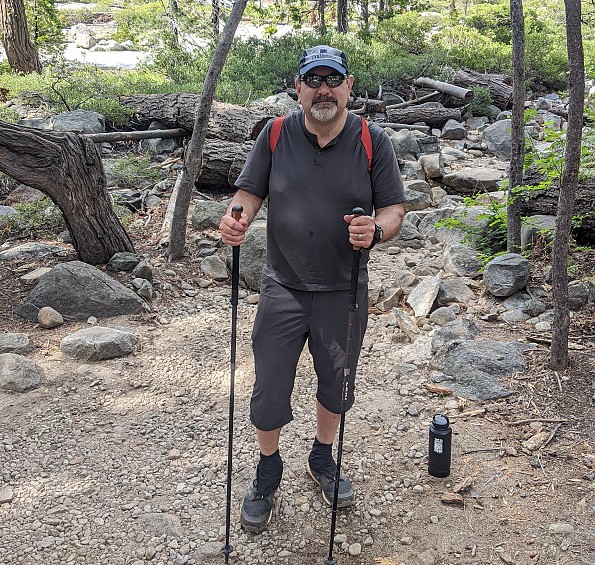 I have been a fan of hiking poles for a long time. Because I have horrible arch stability, and a fairly uneven sense of balance, having those extra supports makes a real difference, and has saved my bacon more than once! I have had a pair of Black Diamond Carbon Cork poles which have literally hundreds of miles on them, and they are looking a little worse for the wear these days.
I've also been curious about the folding compact pole designs which have come into favor in the last few years, so when the opportunity arose to try the Leki Micro Vario Cor-Tek TA poles, I was very interested in giving them a try.
The poles come packed in a sturdy nylon mesh bag. This bag can be useful, as the poles can be a little squirrely when they are not snapped together for use. This bag is also handy if you are traveling on an airplane, as they are acceptable in your checked bag (but not your carry-on).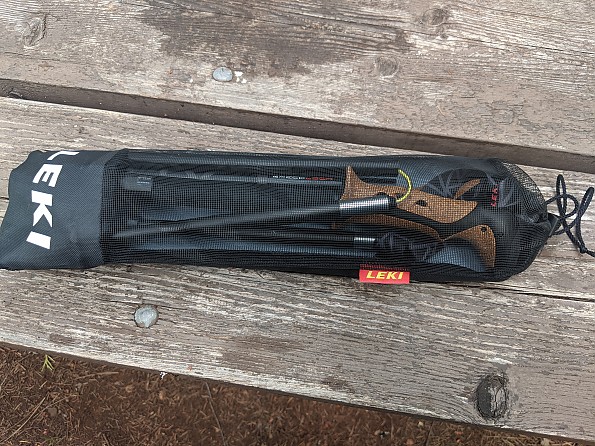 They measure out at 38 cm (about 15.5 inches) when disassembled. The three main pole sections are connected by a strong, spring-loaded polyethylene-coated Kevlar-reinforced cable. 
Assembly is simple... one simply pulls the moving section of the top part of the pole out, until the whole thing snaps in place. The top of each section has a nicely machined aluminum connector, for an easy fit. There is a spring loaded button which keeps it locked. That lock is rock solid, and I never felt like it wouldn't hold tight. Disassembly is easy... just pull that section apart slightly, and push the button in and let it slide back into the handle section.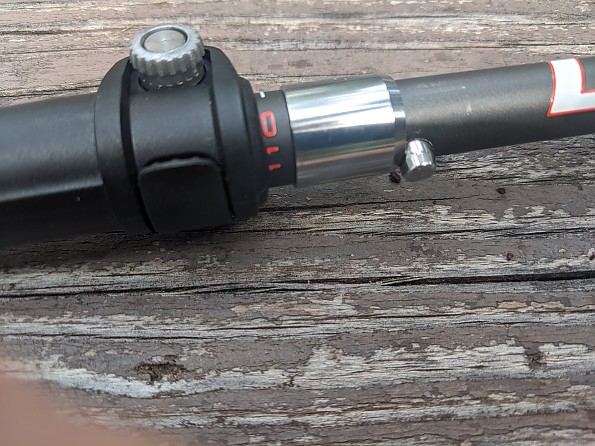 The length of the pole can be adjusted between 110-130 cm (approximately 44-52") using a flick-lock mechanism called "Speed Lock+." These can be adjusted super fast and easy, and have a lighter weight and lower profile than the older version of the Speed Lock. The length is marked on the pole in 5 cm increments, so you know exactly how long it is.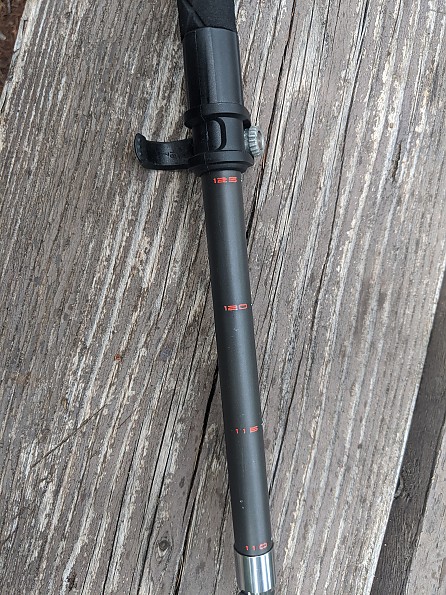 The locking mechanism is easy to tighten "on the fly" with a metal thumb-wheel. Other poles I have used in the past required a small screwdriver to tighten them up, so this is a great feature. The only issue I can see with this, would be if you were wearing gloves in cold weather, it might be more difficult to tighten manually. So a tool adjusted lock might be a little easier to deal with in that situation.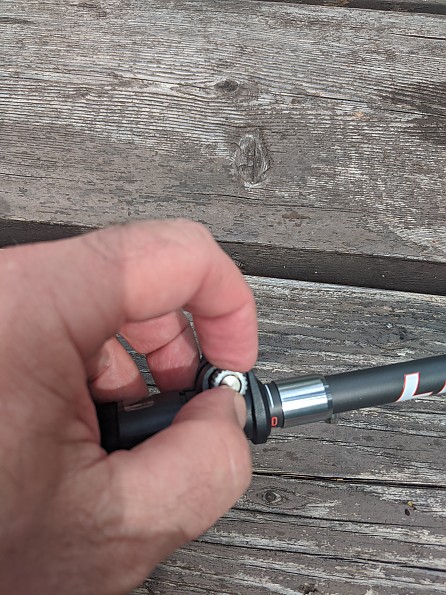 Once you get the Speed Lock + tensioned up the way you want, they are super secure. Once I got them set to the length I wanted, they stayed at that length without slipping. 

Fit/comfort: These poles have a very nice mostly cork handle, which I've always preferred to rubber or plastic. The best-selling "Aergon"  handles are very comfortable, and the little vent holes seemed to help keep my hands from getting too sweaty. The handle is nicely shaped, with a rounded edgeless grip, and I never felt like they were digging into my hand, even when gripping at an angle or the top.
My wife gave these a try on a recent hike, and they fit her smaller hands just as well. The handles are set at a slight 8° positive angle position, for a fairly neutral hand position for most people.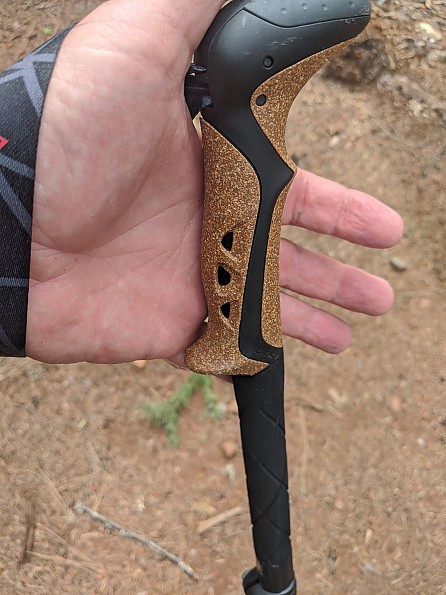 There is a super light wrist strap, which is thinner than what I have seen on other poles. The lightweight fabric never got sweat soaked, and dried quickly when it got damp. I really enjoyed the thin strap material, which felt secure, but didn't get in the way.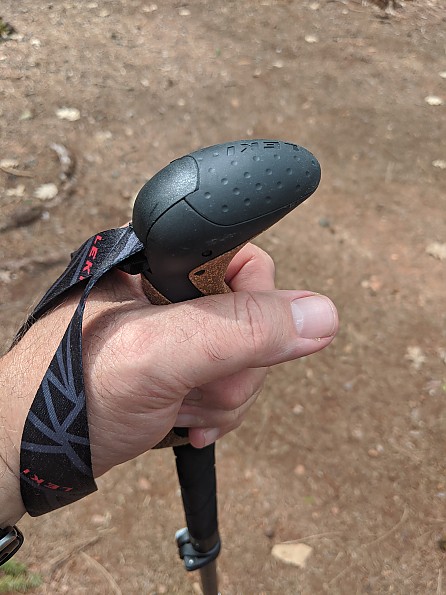 The wrist strap is easily adjustable by means of a pop-up mechanism on the top of the handle. Just pull the strap upwards so the tab pops open, adjust the ultra-light strap to your liking, and push back down to lock it in. Once it's locked in, it is super secure and never slid out of adjustment. This has been a problem I've had with other poles I've used, so I was really pleased with that.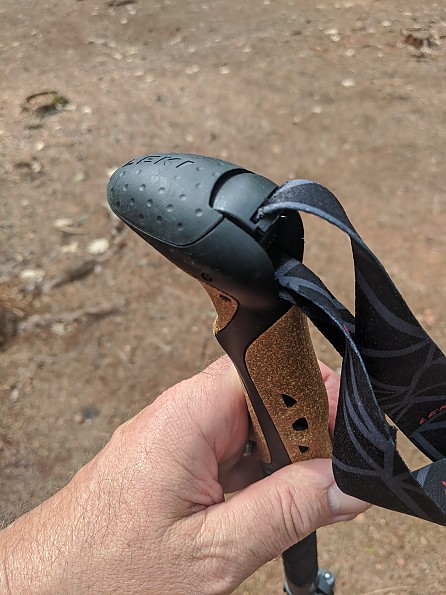 Traction: The carbide flextip is very sturdy, and gives great purchase on a variety of surfaces, whether on dirt, granite slabs, or wet river rock during creek crossing. These poles include Leki's interchangeable basket system, so you can change the size of the basket to fit your needs. The 45 mm "Trekking Basket 2.0" comes standard, but it can be changed out to the 50 mm "performance" basket, or the 95 mm "touring" basket, if you need flotation for snow. 
A plastic tip protector comes with it, which is handy for storage and might keep you from accidentally poking a hole into that new down sleeping bag in your Subaru's cargo compartment. You can also get a variety of easy to install rubber tips, for those who use them walking on pavement, or prefer rubber to metal on dirt and rock.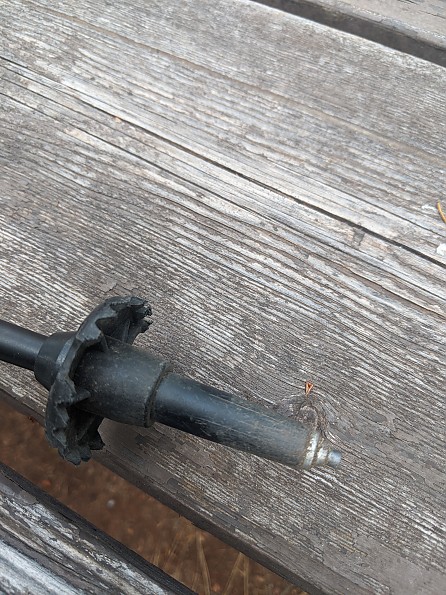 Strength: The heat-treated HTS 6.5 aluminum shaft is super strong and stable. I've never felt that they wouldn't hold my (significant) weight when under stress, so I had great confidence in their ability to hold.
Having used carbon fiber poles for many years, the aluminum definitely feels different. My carbon poles have had a tendency to have some significant vibration in the shaft when being used on a hard surface like a granite slab. The aluminum poles had very little vibration at all. (I actually did an experiment recently, where I hiked with one of each type of pole, and this was the biggest difference I noticed.)
Weight: The poles are fairly light, weighing in just under 11 oz per pole, and I never experienced fatigue in using them on all-day trips. While they are not the lightest pole in Leki's line (especially with the many carbon fiber options available), I didn't find the weight to be an issue on all day outings. (By comparison, the carbon version weighs in at about 8.5 oz each)
Other uses: Some backpackers use their trekking poles as supports for tarp setups in camp. While the top of the handle is somewhat rounded, the pole is balanced enough that it should provide a solid base for good stability. 
Construction/Durability: These poles are really nicely made, with good clean machining, and a rock solid stability. I have had them for a couple of months now, and have maybe 50-60 miles in rugged mountain terrain them, they still look and feel "out of the box" new. I expect that these will give good service over time.
The Micro Vario Cor-Tec TA poles also come in an anti-shock version, for those whole like that (I don't).
One should also mention that Leki has a lifetime shaft-breakage warranty on their aluminum trekking poles. 
To sum it up: These are a terrific packable, sturdy, reliable set of poles, at a good price point. While there are lighter carbon options in the Micro line, you'll pay for that option. Suitable for day hikes, backpacking trips, trekking in the Alps, and more. I truly enjoyed having them on every hike I've done since receiving them. Highly recommended!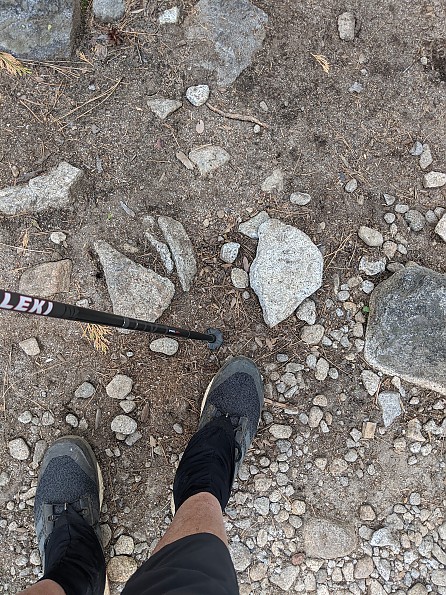 Experience
I have used the Micro Vario Cor-Tec TA poles on several all-day hikes the Sierra, and a multi-day backpacking trip along the Stuart Fork in the Trinity Alps. I have been leaving them in the cargo bay of my car, just so I've always got them if I decide to go for a hike.
Source: received for testing via the Trailspace Review Corps (Sample for testing and review provided by Leki)

Your Review
Where to Buy
Help support this site by making your next gear purchase through one of the links above. Click a link, buy what you need, and the seller will contribute a portion of the purchase price to support Trailspace's independent gear reviews.
You May Like
Specs
Price
MSRP: $139.95
Historic Range: $69.83-$139.95

Weight
288 g per pole

Grip
Aergon (CorTec)

Strap
Lock Security Strap (Skin)

Segments
5 pieces

Shaft Diameter
18|16|14|14|14 mm

Shaft Material
Aluminium (HTS 6.5)

Locking System
Speed Lock +

Basket
Trekking (Trekking 2.0)

Tip
Flex Tip (Short)

Length
110-130 cm infinitely adjustable

Pack size
38 cm

Recently on Trailspace