Leki Micro Vario Ti Cor-Tec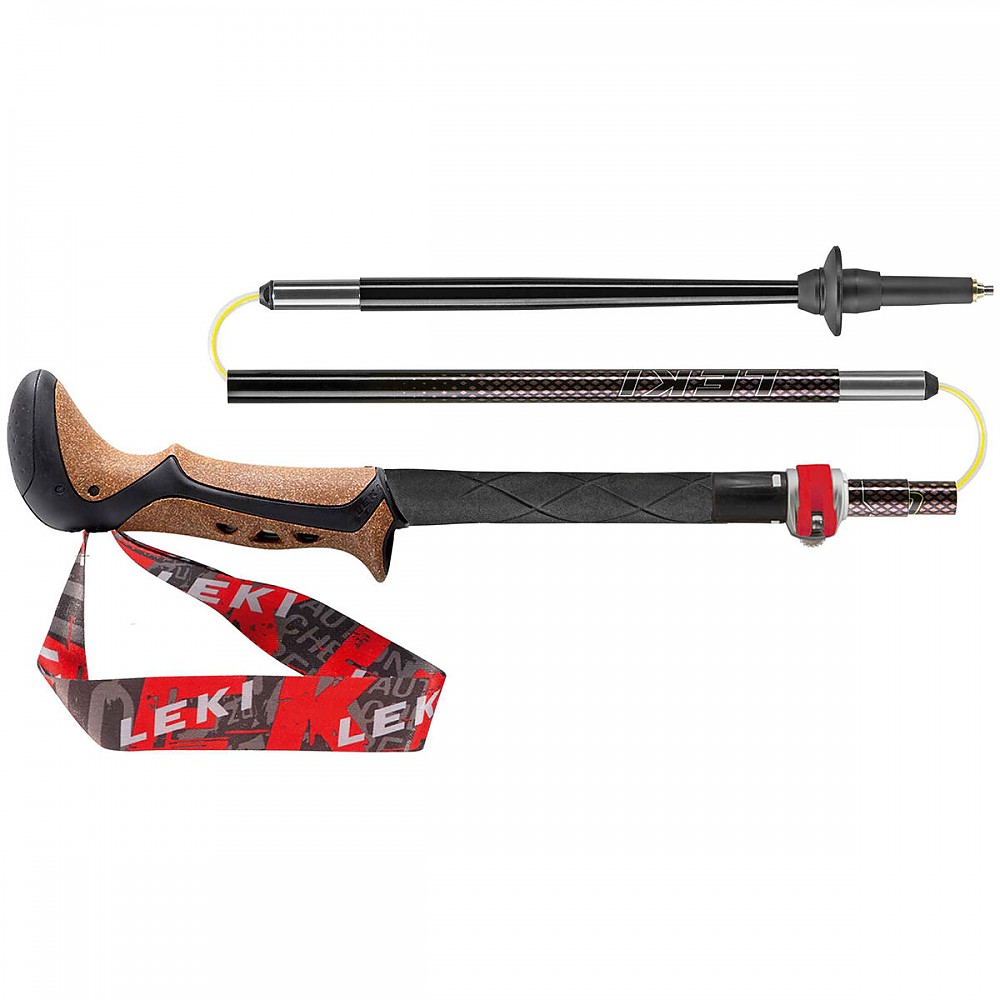 Looking for a go-to trekking pole that does it all? This pole might just fit that bill. From the ergonomic cork handle to it breaking down to 15" stow length, this aluminum tough cookie is a pole to consider deeply. Leki included some key features that make this a year-round pole.
Pros
Sturdy
Breaks down to 15" long bundle
Comfortable grip
Quick Clip adjustment
Soft wrist straps
Anti-shock
Cons
Have to fine tune the the set screw on the Speed Lock
Works loose with opening and closing
Make sure screws are tightened before each use
I am a hard sell for hiking poles.
As my knees got a little stiffer, I decided to start using poles. About 20 years ago I found a pair of Allsop ski poles that I cut down and fine-tuned to me. I adore the grips. (The poles are white with Neon pink accents and grips. I always knew no one would ever steal them : ) ) I have used them, HARD for 15 years. I have resisted getting another pair even after I have tried others in stores, tried other people's, and even tested some for Trailspace (I didn't mind that pair) --but--
I may have found the pair that will have me retire my beloved poles.
Let me speak as to what has tainted me against other poles:
I'll start with the grips. I have found other poles' grips to not really fit my hand, and the grip base does not ride right against the heel of my palm.  And..
The straps --ugh! I hate the heavy, scratchy webbing in how stiff and cumbersome most straps are.
Now to the Lekis: These grips and straps are a game changer!
I really loved how the grips felt so good, instantly, in my hands.  As I get older, ergonomics become more and more important (and I had quite a bias against other poles because the grips to my Allsops were literally hand-in-glove.)  This is the closest I have come to loving that fit. And...
These straps are almost silky. I truly forget that I have them wrapped around my wrist. Even at 95 degrees and 80% humidity, these didn't get scratchy, heavy, or annoying. I was duly impressed. Also, the handle is designed for a comfortable palm grip for downhilling. They feel really good in the hand. I always felt stable using just the palm grip.
The Micro Vario Ti Cor-Tec poles are virtually micro-adjustable from 100cm to 120 cm (which is about 7").  I am 5'5 1/2" with my boots on, and I like the poles at about 112cm. I can fine-dial them both in mere seconds.
The poles are actually in four tube sections, (besides the removable/repairable tip). The portion that houses the handle is the key—the 7" adjustable portion seats in the handle with the locking mechanism.
The other sections use a technology like a tent poles—end in sleeve design. But the ends are about 2" long, making the poles very stable.
My only gripe, as noted in the Cons, is the set screw on the Speed Lock. The user MUST make sure it is tightened down enough so the pole doesn't slip. Let's face it, the last thing anyone needs is to be in that one touchy spot, where we really need to have full trust in our gear, only to have the pole collapse as we put our weight on it.
Do a routine spot check on the flip lock, so it's good to go. Once the screw is set, it's set for all day. To test, I did not tighten the set screw except for one time after I got back from my international trip, where the poles got jostled inside the luggage.
Once set screw is tuned, I can put my full weight on the poles, and they stay put.
The anti-shock design is  clever. It uses a rubber bushing that the tip rides beneath, so it not only compresses, but will absorb shock from any angle.
I found as I crossed the classic variety of terrain, I did not notice any undue vibration from the pole. Whether I was crossing a scree field or slucking through muck,  I did not notice any undue or abnormal "feel" from the pole.
The pole uses a classic carbide tip; I did note that the tip was a little larger than other models; the tip always felt secure, even against slippy rocks.
I admit, I was worried a four-section pole was going to feel either mushy or over-stiffened—but I was relieved to discover that Leki hit that "sweet spot" for a good feel. In normal use, I don't think many users will use the poles to the punishing degree that could fracture or break the pole that would not break or damage other poles. 
Like I said earlier, even when putting my full weight on the pole, it demonstrated some flexure, but the worst of the flexion was absorbed in the tip. I suppose if I were to put a full lean, then bounce and sheer, I could get them to bust, but my estimation is it would take some serious punishment to achieve breakdown of the pole.
How many of us have discovered that our baskets have unwound and gotten lost — or we have found a stray basket on the trail (and never seems to fit the poles that we are carrying?).
The way Leki designed the mount, it is hard to "accidentally" lose the basket. It's a type of friction mount where the user has to push down and turn the basket clockwise several times to dislodge the basket from the pole. Then, just reverse the process to install a new one. Outside of the basket being permanently installed, this is one of the best mount designs I have seen. It takes a very intentional act to take the baskets on and off.
With these poles, the user can replace the straps, change out the dirt baskets for snow baskets, and replace the tips.  Each of these features are pretty user friendly. They also come with a handy stuff sack.
These aluminum Micro Vario Ti Cor-Tec poles are a great bang for the buck. While they are not as light as their carbon fiber counterparts, I found the weight to be very comfortable and easy to carry. I never got tired while using them.  They added less than a pound to my luggage.
They tolerated being used as tent, hiking, and backpacking poles, as well as getting crammed and dragged around in my suitcase during my international travel.
A very minor little paint scuffing is evident, but otherwise, they look brand new. The only condition I didn't really get to test is how they tolerated Deet. I am not sure what Deet will do to the cork and padding. But, the Permethrin based products didn't affect the cork or padded handles at all.
Conditions:
I was able to use these from May until present, from the Cascade Mountains to the mountains of Japan. They got used in temps from about the mid-40's to  95 degrees and 80 percent humidity in Japan. The temperature and conditions had no bearing on the performance of these poles.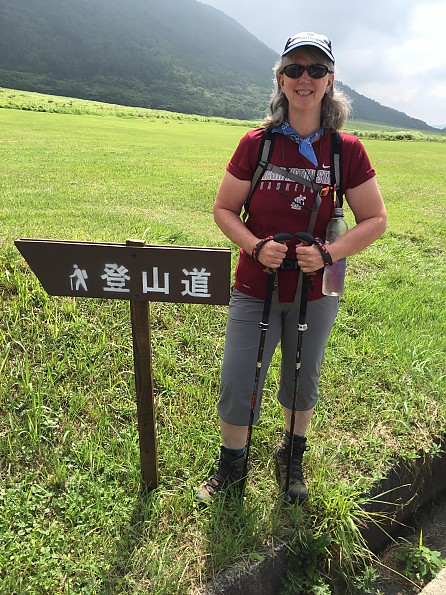 Mt. Daison, Japan


Not only did they get used while hiking and backpacking, they also got used as tent poles.
Even the special considerations from handling the intricacies of adjustment while wearing my burly mittens to taking the punishment of riding in my luggage to and around Japan and back—all at a pound for the pair—I have been duly impressed with Leki's design of this pole.
For a couple of years, I have been seriously toying with getting a new pair of hiking poles as my ol' go-to Allsops have started to age out. I would seriously consider investing in this Micro Vario Ti Cor-Tec pair after testing them for Trailspace.
Source: received for testing via the Trailspace Review Corps (Sample provided by Leki for testing and review)

Your Review
Where to Buy
Help support this site by making your next gear purchase through one of the links above. Click a link, buy what you need, and the seller will contribute a portion of the purchase price to support Trailspace's independent gear reviews.
You May Like
Specs
Men's
Price
Historic Range: $69.93-$139.95

Women's
Price
Historic Range: $64.99-$139.95

Recently on Trailspace