Leki Super Makalu COR-TEC PA

Top 25 in unisex Rigid Trekking Poles
The Super Makalu COR-TEC PA has been discontinued. If you're looking for something new, check out the best rigid trekking poles for 2023.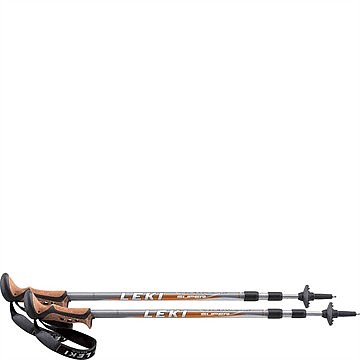 I gave my rigid Komperdell UL explorer trekking poles to my 10-yr-old son after I found these on clearance at Sport Chalet, of all places. At my height I love the extension to 145 cm, and the vented Cork Grips breathe wonderfully.
After a backpacking trip of 9.2 miles in 7.5 hours (5534 ft gain) up (towing my 10 year old) and 3.25 hours back down the following day at a pounding pace, these Shock-equipped poles really saved my knees and allowed me to pack without noticeable soreness in my legs, hips, and back.
I really love working out my arms with these. They are sure-footed, and really enhance my ability to climb steep trails with a heavy pack. The positive angle grips are comfortable and complement the lightly-padded straps perfectly. I never once had the pole locks loosen, despite some fast hiking (w/ 38 pounds of pack onboard).
I banged them around quite a bit on the trip, and there are virtually no visible scratches...very durable. Lifetime warranty on the poles.
Price Paid: $48

They are light, strong and very well made. There are two things that I do not like about them though.
The first one is the overall length. The middle segment do not slide completely inside the upper most shaft so almost one forth of the middle segment is staying outside, adding to the overall length.
The second issue is the anti-shock. It's a soft anti shock. It really is soft. I would have better loved it if it had been a stiffer anti-shock mechanism.
Price Paid: $120

I've had these poles now for over 5 years, and I am totally sold on the advantages of hiking poles. They provide stability and reduce fatigue when hiking with them. However the Leki Super Makalus have definite room for improvement.
I have one main complaint which is that tightening mechanism on the lower sections of both of my poles have gotten to the point where they spin freely when I try to tighten the poles to set the length. I will be the first to admit that I have not done any maintenance on these poles, but this still seems like a flaw in the design of the poles to me.
Another thing which I have come to accept as a limitation of these poles is that they are very hard to adjust with heavier gloves or mitts on. This was not a factor in my decision-making when I bought the poles, but on several mountaineering trips this has proven to be a difficulty.
I am going to look into repairing my Leki's so that I can continue to use them for backpacking, but I would strongly recommend the Black Diamond poles with the flick-lock mechanism for anybody who might be using their hiking poles in colder climates.
Price Paid: $129

These are the first poles I have owned. I debated and borrowed others, but these are fantastic. They are very sturdy, have a shock system which is adjustable inside the pole itself. The hand grips are cork, which I originally disliked, but the cork allows my hands to breathe much better. Now I would only use cork handgrips. and they seem to have molded slightly to fit my grip--these poles are fantastic. Worth the slight extra weight on long ventures.
Price Paid: $85

I've been backpacking since I was a kid, the first time I saw some one using trekking poles I wondered "where are their skis?" I rented these poles for my wife and I on her first backpacking trip. She thought she wouldn't use them, and would end up strapped to my pack. At the end of about 9 miles at Joshua Tree she told me that if she didn't have those poles she would be very angry with me. We now have or own.
I recommend going to a store and playing with them, and figuring out witch features you like best and then don't balk at the price. They are worth it, and far cheaper than the treatment for the injuries that they can prevent. Swollen knees and sprained ankles are the least of them. Many tent manufactures now offer tents that use trekking poles for their frame. Trekking poles have revolutionized my hiking, I can't say enough about them.
Your Review
You May Like
Specs
Price
Historic Range: $90.94-$139.95
Reviewers Paid: $48.00-$129.00

Recently on Trailspace