Leki Thermolite Aergon Antishock

The Thermolite Aergon Antishock has been discontinued. If you're looking for something new, check out the best antishock trekking poles for 2023.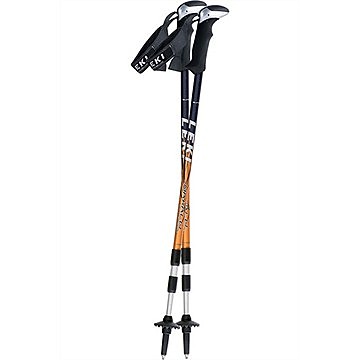 It has been a month since Outdoor Retailer Summer Market, when I took home a pair of the new Leki Thermolite AERGON Antishock trekking poles to test. These Thermolite poles feature the Soft Antishock System Lite (SAS-L), the newest version of Leki's antishock system, and use Leki's traditional internal twistlock Super Lock System. A new SpeedLock external locking systewill debut on five 2010 Leki poles, but the company tells me they do not have a satisfactory antishock design and the system is not in use here.
The Leki Thermolite AERGON Antishock trekking poles.
I have given a pretty thorough wringing to the Thermolite AERGON Antishock hiking poles this summer, using them on a half dozen hikes, totaling around 40 to 50 miles. My wife, Barb, also used them on one 5-mile and one 6-mile hike. Total altitude gain during usage was somewhere around 15,000 feet, and of course, the same descent.
I will state up front that I am strongly biased against antishock poles, and have had numerous discussions with the Leki people over the past few years about why I dislike them so much. Basically, I find the "pogo stick" rebound of traditional antishock poles to give me an uneasy, off-balance feeling, resulting in using more energy to hike as I tense up in response to the off-balance feel. This is especially troublesome when crossing streams or negotiating narrow passages where you expect the poles to aid your balance. It also shows up when putting on a heavy pack and using the antishock pole for balance while it sinks away from you as you load it trying to balance getting up.
I have used some type of hiking staff or pole(s) for many years and have seen the very great benefits that can be derived from their proper usage. They do indeed help with balance and maintaining a restful, yet speedy rhythm to proceed along trails, both uphill and downhill, and cross country. I have used them for hiking with packs (including carrying climbing gear up into the 70-pound range), when hauling sleds (as can be seen in the photos in my Antarctic trip report), and of course for skiing (mostly backcountry).
I have several different brands of poles currently in my quiver, including a Leki camera monopod that also serves as a hiking or ski pole, and that was used as one of my pair of poles on Kilimanjaro. The monopod has the old-style antishock system, and like a couple other pairs of antishock poles that Barb and I own, exhibits the feature I have disliked most about antishock systems — it acts like a pogo stick. Place it firmly and it bounces back with a strong kick. I usually lock the antishock feature out, as Barb and I both do with our other antishock poles.
The Thermolite AERGON Antishocks were a real eye-opener, though. 
First of all, they are quite light (16.2 ounces per pair) and, despite my leaning and jumping on them (occasionally pole-vaulting as I came down steeper trails), they never collapsed or even lost any length. Barb did have one pole slip a bit when she used the pair during a cross-country hike in August when we were at the Sierra Club's Clair Tappaan Lodge in the Sierra Nevada, where I was giving an intro workshop on GPS receivers. But it turned out she had not really tightened the twist lock when adjusting the length.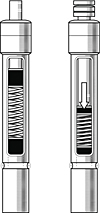 Soft Antishock System Lite (SAS-L)
The real goal was to see if the new antishock system was all it is claimed to be.
Well, I discovered on the very first hike (on a hot day up Mission Peak, a 6-mile round trip with a 2,100 foot cumulative elevation gain, part of it effectively off trail) that the new SAS-L antishock system really works. Even if you really jab the pole into the ground, or worse into rocks when going over sections that are over long stretches of boulder (the exposed results of glaciation seen at Donner Pass, for example), the tip stays pretty well put and doesn't skitter along like a rigid pole (either a 2- or 3-section adjustable or a fixed-length ski pole). There is still a bit of skittering, and the light pole does vibrate transversely when jabbed hard into the rocks or hard surfaces. It's more than I would like, meaning more than the carbon fiber poles I use most of the time, but no more than other aluminum poles I have.
Do they change my mind about antishock poles?
Definitely yes, as far as the Soft Antishock System Lite specifically goes, but not at all as far as the older "pogo-stick" systems go. The Leki Thermolite AERGON Antishocks are the only antishock pole I have found that I feel are really usable and of benefit. They are good enough that I plan on buying a pair of the women's version for Barb, which are slightly lighter, due to the smaller diameter tubing. However, Barb thinks the Thermolite AERGON Antishock poles we both tested may be just right for her as well. They do have a nice light swing and a good feel to them, and the grips and the strap system is quite comfortable (Barb made the mistake of putting them on the wrong hands for the first mile of one hike and couldn't figure out why they didn't feel quite right — like putting shoes on the wrong foot, though much more comfortable). They are a bit pricey, though, at $139.95.
Leki Thermolite AERGON Antishock

Features: Positive Angle AERGON Grip, Super Lock System, Soft Antishock System Lite, 7075 aircraft-grade aluminum tempered at the factory, anodized finish, interchangeable basket system, carbide flextip.
Weight: 16.2 oz per pair
Length: 65-135 cm
MSRP: $139.95 per pair
Leki also offers the Thermolite AERGON XL Antishock, the same poles with an extra-long foam grip extension.
Weight: 17 oz per pair
Length: 65-135 cm
MSRP: $149.95 per pair
Source: received for testing via the Trailspace Review Corps (Sample provided by Leki for testing and review)

Your Review
You May Like
Specs
| | |
| --- | --- |
| Price | Historic Range: $87.95-$139.95 |