LifeProof FRĒ Series Waterproof Phone Case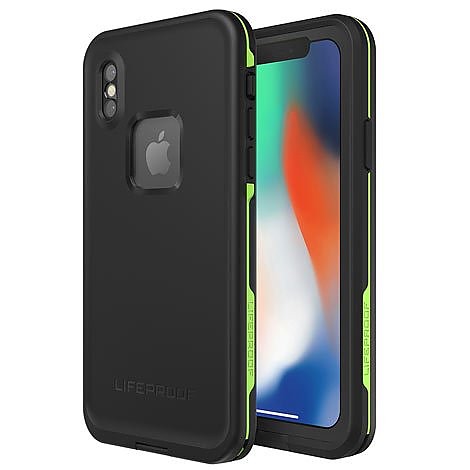 This slim profile case protected my phone admirably, the waterproofing especially held up well, even while kayaking. Regrettably, after one year the case "bowed" and the control buttons for volume, on/off and Bixby no longer work as they don't match up with the phone's buttons. For this reason, I don't recommend buying this case.
Pros
Slim profile fits easily in pocket and permits one-hand control.
Waterproofing passes test after 3, 6, 9, and 12 months.
Cons
After one year the two halves of the case bowed and the control buttons no longer work.
For the first year I've owned this case, it's performed admirably for my activities: daily work commute, hiking and kayaking. And the sound quality for the speaker and microphone were very good. I did not drop my phone in water, but regularly tested the case and it always remained sealed with no leakage.
I didn't dare drop test my phone. I imagined my own clumsiness would provide ad hoc testing. And there were a few drops from waist and chest height onto concrete and soil. Each time, my phone showed no affect from the drop; the case protected it from impact and dirt. I was in love with my purchase.
Just after the one-year warranty, the case's control buttons no longer worked the phone's buttons for on/off, volume and Bixby. The case halves had bowed out slightly, so the case-to-phone buttons were no longer aligned. My ritual became to squeeze the case halves together in order to realign the buttons, then use a button to change volume, etc.
The cause for the bowing is unproven, I never left my phone out in intense heat and even removed it from the car dashboard cradle during hot summer days. I believe heat from the phone's battery caused this bowing. 
Still, it's inconvenient to keep having to squeeze the case to make the buttons work. I'm replacing this case and do not recommend it.
Experience
I've used this product for a year in North Georgia during normal daily work activities and hiking and kayaking.
Source: bought it new
Price Paid: $90

When new, the case offers admirable protection. Unfortunately, the case suffers from premature wear and allows debris/dust to collect between the screen and screen protector.
Pros
When new is quite water-resistant, maybe waterproof
Nature of construction helps prevent bending of larger-size phone
Very rugged drop protection
Cons
Extremely expensive
Screen protector is susceptible to scuffing over time, reducing screen readability
Dust and debris intrudes onto the screen over time reducing visibility and making screen bumpy
Poor longer-term reliability; case warps
I purchased this case at clearance for about $50 for my iPhone6+ around the time the iPhone 7 was released after previously using a LifeProof NÜD case with the same phone. The Nud did not adequately prevent bending of the phone resulting in "touch disease" (search it) and also blocked touch access to the edges of the screen. I anticipated the FRĒ would be an upgrade to the NÜD.
I am writing this review after using this case for around three years. I generally carry the phone in my front pants pocket and, so far, have not dropped it into liquid accidentally or on purpose. I did use the phone with this case in a driving rainstorm once and the phone was protected. I have dropped the phone many times on accident from heights up to a meter or so onto a hard surface; again, the phone has been protected and is still working.
The case was easy to install, the front and back snapping together securely. The buttons, power and volume control worked easily. The silence switch operated acceptably well. The audio jack is protected by a captive and o-ring gasketed plug which screws in, closing securely. This plug can be a little bit difficult to open if secured tightly. The case comes with an included dongle (also w/ o-ring) which screws into this port allowing larger diameter plugs to be used.
Stock non-lightning earbuds have a narrow enough plug to not need this dongle; overall I don't find this dongle to add value as it's just another, easy to lose item and why would one futz about to screw it in every time you wanted to plug in? The charging port door is hinged with an actual thin metal pin and is easy enough to open and close when new; unfortunately it quickly became insecure after only a couple months of use. 
To reiterate the protection: in terms of bend resistance, this case is much better than the NÜD. Also, it allows touch access to the full screen, even at the edges. Again, when new, the case inspires confidence that the phone would be well protected if it got dropped even if from several feet above, even if dropped into a flowing gutter!
Unfortunately, this is about all the positives I can write about the case. The product's reliability is in fact very poor although the drop/bend protection is still very good even in a degraded state. When new, it's likely the phone could be submerged in a foot or more of water without a problem. Alas, after only a couple months the charging port door hinge bent slightly affecting its alignment such that it would no longer securely latch and at that point probably no longer submersible with impunity.
Note this bending happened in the course of normal use and not as a result of a drop. Eventually the rubber gasket of this door also fell out and cannot easily be replaced. This "highly waterproof" capability is probably the best known feature and maybe the reason one might want to pay a hefty price premium over comparable rugged cases--gone after a short time. That's pretty much the worst thing here.
The power and volume control buttons are of a softer, rubberized plastic which might feel good but also wears down faster than one would hope. I can no longer find the power button reliably by feel, as it has worn flush with the surrounding surface. It has also become harder to operate since it is no longer positively tactile. The volume buttons have worn similarly, but to a lesser degree due to lower usage. As well, there are hard plastic protrusions which make finding the volume buttons by feel an easier task. The mute slider now operates somewhat unreliabley due to the slight warping of the case (more on that later).
Let's talk about the screen side: Unlike the LifeProof NÜD, there is not a rubber gasket sealing the edges of the screen. Basically, the phone is cradled in a rectangular box with a thin clear side for the screen. What this means is that dust and other small debris infiltrate over time primarily through the charging port door and end up between the phone's screen and the clear plastic integral screen protector. This results in an annoyingly bumpy feel when operating the screen. It also lowers screen visibility over time as the smaller dust adheres to the underside of the plastic. Finally, the material of the clear screen protector is not as hard as glass and over the last year has started to become noticeably scuffed in a few areas; this really affects visibility in the sun.
Also in the past year and a half I began to notice the case had become significantly warped on the back with a large bulge of several millimeters from middle all the way to the top and a smaller bulge from the bottom the bottom. The phone now can move slightly in the case and that back window separates from the main case body. Did I mention everything is plastic? Since the phone now moves slightly, the silence switch no longer mates well with the switch on the phone making its operation more difficult. 
The final deterioration is more aesthetic, but why not mention it? The main body of the case is a harder plastic similar to the hard toothbrush handle plastic. The screen-side half of the case originally came with that nice-to-feel soft and rubbery plastic embedded around the periphery of the screen, in all the edges and thickly at the bottom (port-edge). This provided a very secure grip and feel and did last a couple years. But, that really deteriorated and much of it has detached and peeled off. there is still some well embedded in the sides so grip is not really compromised but no one would now say this is a good looking case, even by "engineer" standards.
To sum up, this is not a bad case as it provides excellent drop/bend protection. However there are cheaper ruggedized cases available for a lower cost. In terms of value, if I had paid $20 my feeling would be of receiving a good value. For $50 I don't find a good value proposition here, mainly due to its waterproof nature failing so soon and there being a flaw like allowing intrusion of dust onto the screen (and around the whole phone really. This case is flatly not a good value at its list price of close to $100. I would say it's even an embarrassingly bad value at that price.
If you have money to burn, only expect to use the case for around a year, and not depend on it being submersible, and are looking for a rugged case this may be for you. Otherwise, I would steer clear!
Experience
I have previously used the LifeProof NUD and have used this case daily for three and a half years in a commuter and outdoors lifestyle. I have previously used battery cases, simpler non-rugged, and competing rugged (Otterbox) cases as well with iOS, Android, and blackberry devices.
Source: bought it new
Price Paid: about $50

Your Review
Where to Buy
Help support this site by making your next gear purchase through one of the links above. Click a link, buy what you need, and the seller will contribute a portion of the purchase price to support Trailspace's independent gear reviews.
You May Like
Specs
Price
Current Retail: $45.98
Reviewers Paid: $90.00

Protection
360° with built-in screen cover

Submersible
6.6 feet / 2 meters underwater for 1 hour

IP Rating
68

Sealed
from dirt, dust, and snow

Survives
drops from 2 meters

Dimensions
6.09 x 3.23 x 0.45 in (iPhone X case)

Weight
1.57 oz / 44 g (iPhone X case)

Recently on Trailspace