LifeProof Original iPhone Waterproof Case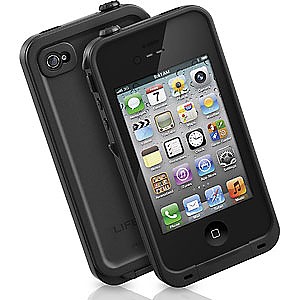 This case is a tough nut to crack! Like the old Timex — "it takes a licking and keeps on ticking!" I bought this case with the expectation to have the phone live life to my fullest. And it has!
Pros
Highly shock proof
Keeps dust out
Waterproof
Very tough
Did I mention shock proof?
Fits fine in my pocket
Cons
Screen will scratch
Edging can be cut or torn
Using the Lifeproof case is a easy as using the phone sans a cover. The levers and buttons work with perfect ease.  The touchscreen is perfect. Even with the cover, because the camera lens covers are glass, pictures and video are not affected in quality. 
Like I said, I have lived life with my phone on my person virtually every waking moment. I figured if I was going to have an expensive 'tool' then I was going to use it to its fullest.
The "features" of this phone are quite straight forward.
Per the Lifeproof website:
"LifeProof frē for iPhone 5 is the thinnest, lightest, strongest all-protective case ever created. frē delivers the waterproof, dirt-proof, snow-proof and shockproof protection you expect from LifeProof, and so much more.

Featuring an integrated scratch protector, frē completely safeguards your iPhone 5's touchscreen. Ultra flat and ultra clear, the scratch protector is virtually invisible to the eye and to the touch. No other case available offers this level of protection and functionality.

Along with the barely-there scratch protector, every other feature works seamlessly with your iPhone 5 — camera, buttons, microphones and speakers. Plus, the sleek silhouette barely adds to iPhone 5's precision lines, and clear back window shows off the Apple logo."
I would agree that having this case has not made ANY function more difficult whatsoever.
Additionally, per the website:
Case Dimensions
2.64" (W) x 5.41" (L) x 0.48" (D) (67.1mm (W) x 137.52mm (L) x 12.18mm (D))
Case Weight
1.05 oz. (29.8g)
Operating Temperature iPhone
32°F (0°C) to 95°F (35°C)
Temperature range for LifeProof Case alone
-40°F (-40°C) to 140°F (+60°C)
Operational Depth
6.6 feet (2 meters) underwater maximum
Drop Height
6.6 feet (2 meters) maximum
And from the True Accessory website:
Shock and impact protection

Meets military standards for enhanced security. 

Protection: Protects against every-day hazards

Freedom: Ability to swim and take underwater or anywhere

Beauty: Ultra-slim and adds only 1/16-Inch (1.5mm) when measured from the center of the phone

Full Functionality: Double AR-coated optical glass lenses provide unprecedented crystal-clear photo and video quality

Convenience: Weighs less than an ounce (28g)

Full screen protection and functionality
Complete access to all buttons, ports and controls
Maximum sound output and clarity
For as hard as I have used the phone, the case has held up well—let me explain:
I didn't have the phone very long when I did a bunch of painting on my house.  I managed to put a pretty good scratch on the clear screen cover.  I also noticed that as I used the phone, with it living in a pocket, that through the pocketing and using the clear screen cover has also developed mild markings. This does affect the HD quality, but I find with the backlighting on the phone, I can still see the screen quite clearly except in full sunlight.
The big scratch on bottom right is from a screw driver—the phone and tool shared a pocket.
The phone wound up in the "Big Muddy" Missouri River several times while on 150 mile trip of the Breaks area in Montana. I still even have the life jacket clip on my phone.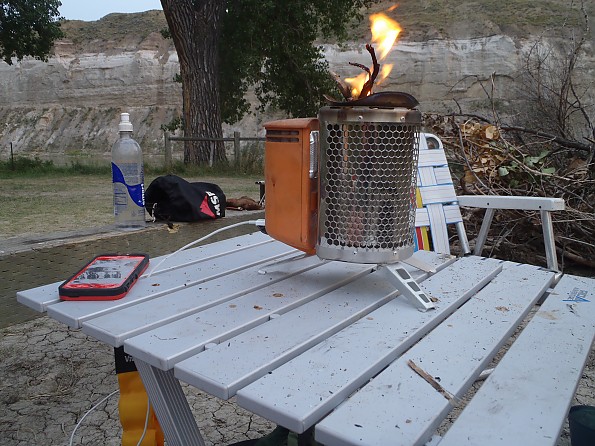 It is amazingly dirty/muddy along the Missouri River — the case could not have performed better.
Because the phone is "plumb full" of apps, I am forever using it for more than calling and texting. For example, I put the phone and cover through its paces by using an app as a level on a project at home of installing a rain catchment system to water our garden (yes it is legal where I live-- I checked!) We worked in the rain and mud.  I found that the clear screen did suffer some minor dulling from the constant exposure to mud and dirt.  But I found it was not severe, (and I can still see everything fine) considering how much I asked of the case.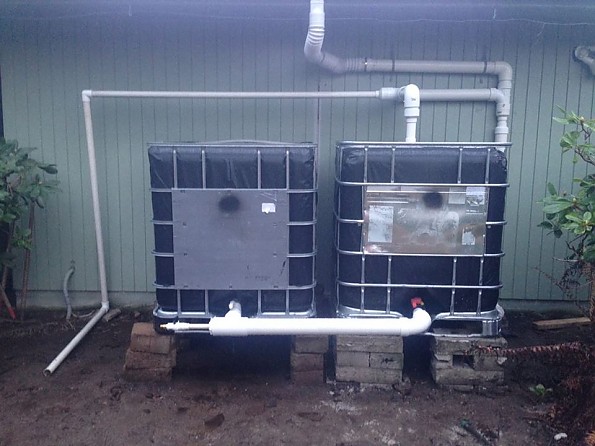 I leveled each cement block with my level app. The screen cover did get a little beaten up.
What spurred me to finally post a review about the Lifeproof case was the horrible drop I had with the phone while biking (insert acerbic comments about texting and biking below).  I pulled my phone out to read the text, and the phone slipped from my fingers as I was biking about 13 MPH — and I watched it bounce about 25 feet.  I was horrified!
When I ran over to retrieve my phone, I was AMAZED at all that happened was a pretty good scuff on the corner of the case. The phone was absolutely undamaged! And, I have found that phones have a funny way of getting dropped. I have dropped mine several times — it's fallen out of my pocket, gotten knocked off my teacher's desk, slipped out of my hand — and the case has performed perfectly.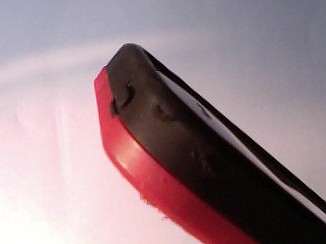 Note the scuffing on the black area, and the abrasion on the red.
That leads to me I have NO idea how a little tiny bit the case (2mm x 3mm) got cut? torn? off of the bumps that help protect the volume and toggle switch on the side.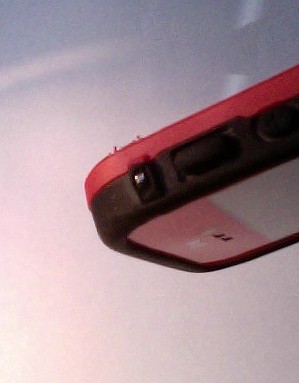 The "shiny" part is the iPhone showing through the missing portion.
I was pretty unhappy about that, since a huge part of why I wanted this case was for it to be waterproof. 
As a canoeist, hiker, backpacker, the waterproof feature was imperative. Besides, I have had other phones go for for a "swim" (*embarrassed silence in the restroom*).  I intended to get every bit of life out of this amazing e-tool, thus keeping it safe was of top priority.
I like how I can get the phone into and out of my pockets easily. I have friends with other protective cases, and I can see how much bulkier their cases are.
So, I would buy this case all over again. In fact, I have been pricing a replacement for my summer pursuits (to have the waterproof factor again).
To me, it's worth every penny.
Source: bought it new
Price Paid: $79.95

Version reviewed: iPhone 4/4S
This case is backed by a warranty that stands behind the superior quality of the product. A perfect way to protect your communications when on the trail, this iPhone case will end your hunt for the search for the BEST. Great for daily use too, if your a klutz.
Pros
Extremely tough
Waterproof
Highly impact resistant
Cons
On the expensive side
Can be a hassle having to use the headphone adaptor
Several small parts that can be lost
Difficult to clean dust
I will have to admit, I thought I was crazy after spending $80 on a case for a phone. This is THE product, though. When people use the term 'bulletproof', this case will fall into that criteria.
I purchased this case over a year ago when preparing for a big trip into the Cranberry Wilderness of Monongahela National Forest. It has held up to its claims up until now, and people should really know about how excellent this product really is.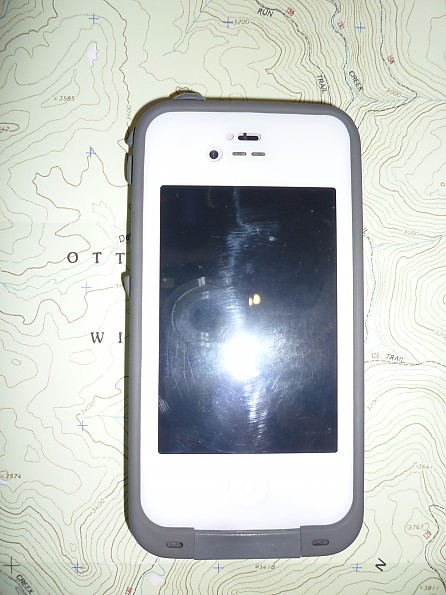 LifeProof stands behind their product with a 90 day/365 day warranty, although I have never had a reason to make any type of claim. They state that they water test each case manufactured, and it meets the specifications for the Military Standard 810F-516 and IP-68 classifications.
They boast a temperature range from -40°F to 140°F, far above and below the temperatures an iPhone can even function. Its operational depth maximum for water is 6.6 feet (2 meters), and has Gore-Tex linings covering the microphone and speaker openings. There is a nice gasket sealing the two main pieces. There is an additional gasket at the charging port.
Its drop height is spec'd at 6.6 feet (2 meters) and passes 26 separate drop tests. The lens over the camera is double AR coated optical glass, which does really keep the photo and video quality up to a high standard. There is an optional swimming headphone adaptor to allow use of waterproof headphones (In case Michael Phelps wants to jam??). The speakerphone quality is actually enhanced by the design of using the back of the case as a subwoofer. It actually works!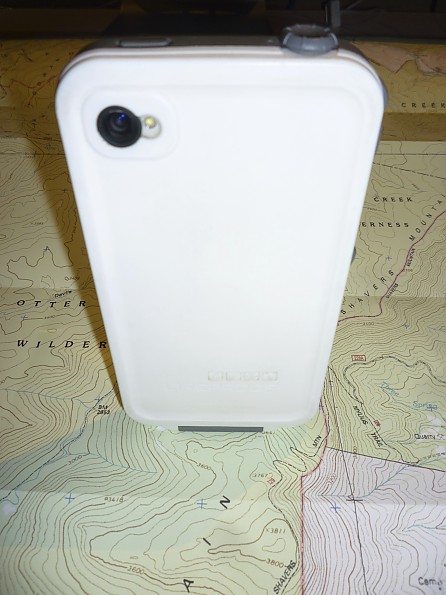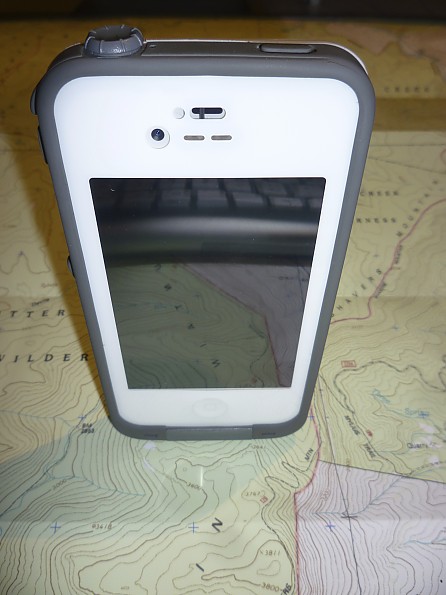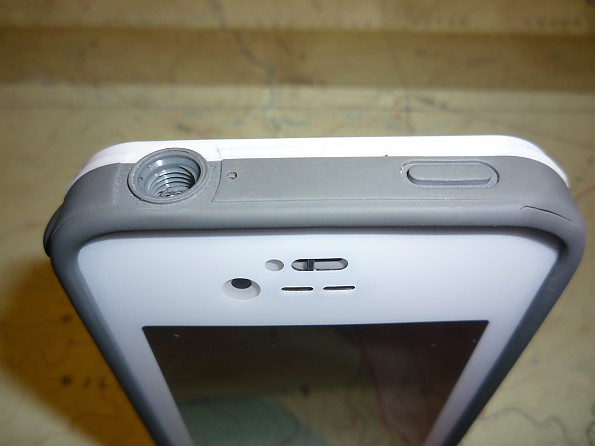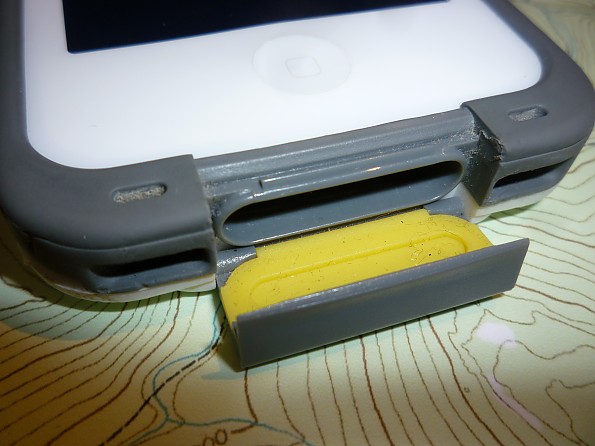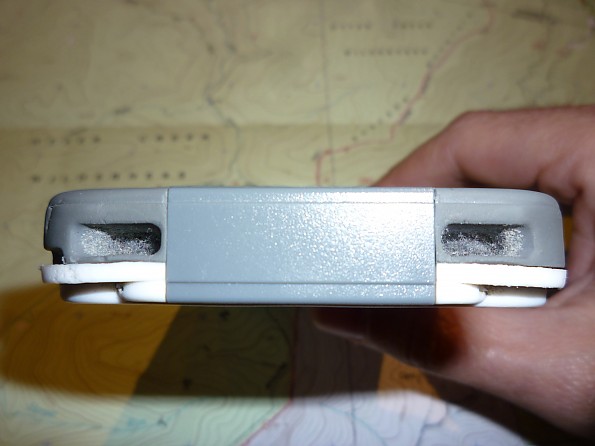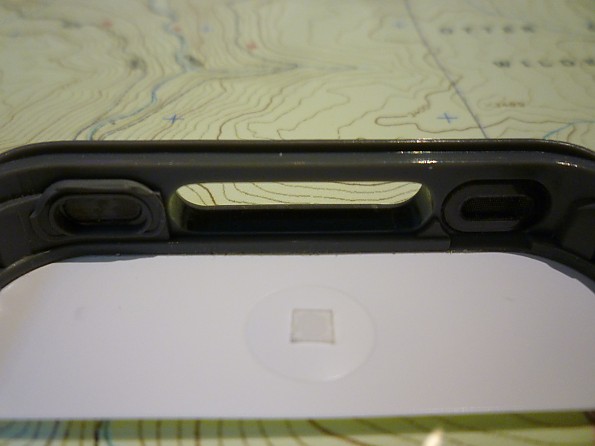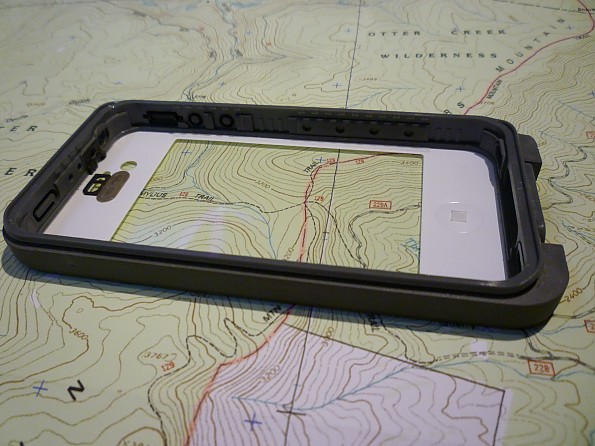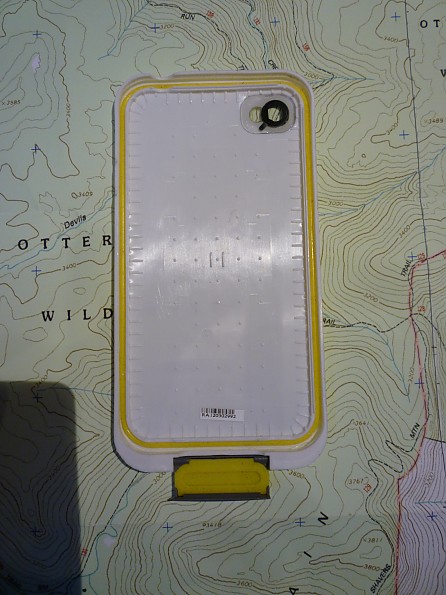 The design has two little bumpers to protect the volume buttons, and the ringer enable switch, which really shows the attention to detail with the design.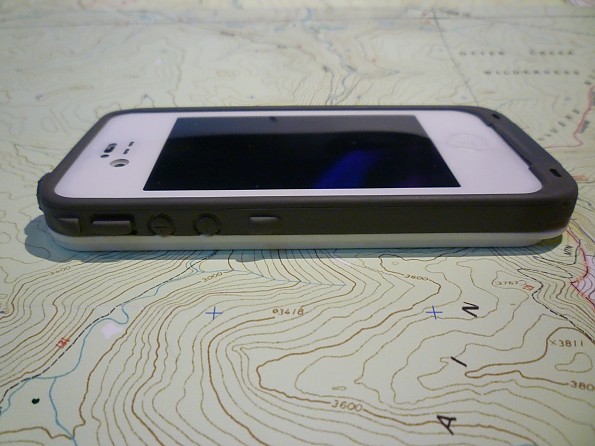 Included with the case is a cleaning cloth, one extra headphone adaptor plug if you lose the first one, and the headphone adaptor itself. The plug has a silicone o-ring gasket that sufficiently does the job; there is one on the adaptor as well. You will see that the adaptor has an attached spot for you to store your headphone plug when you are using the adaptor, ingenious!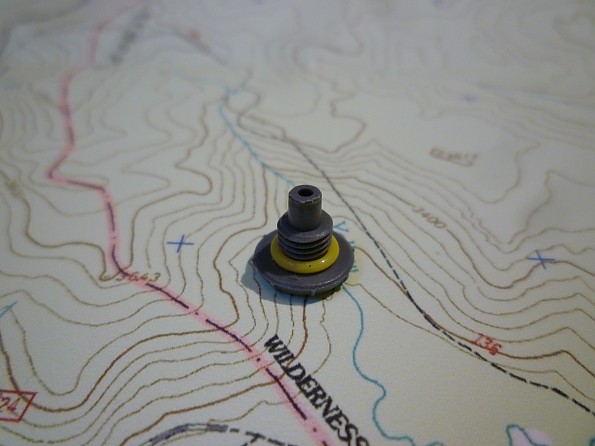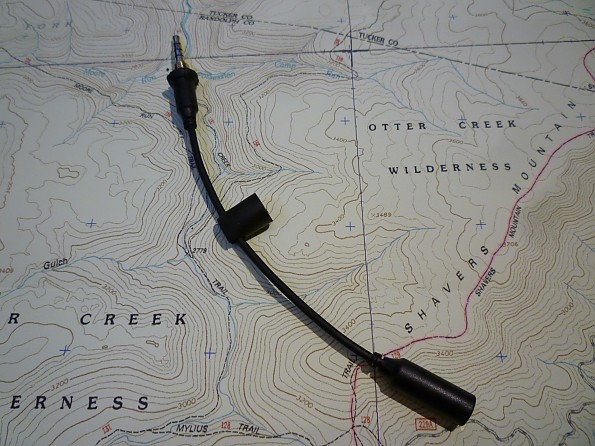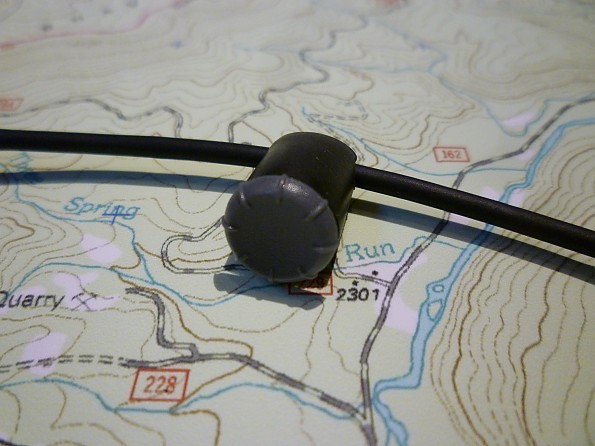 The case is not too much bigger than the phone itself, and also does not add much weight.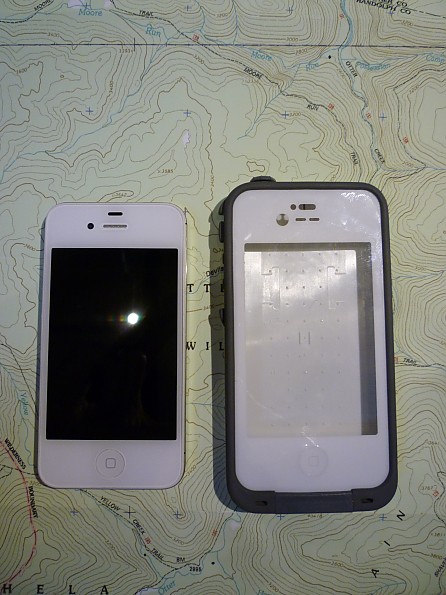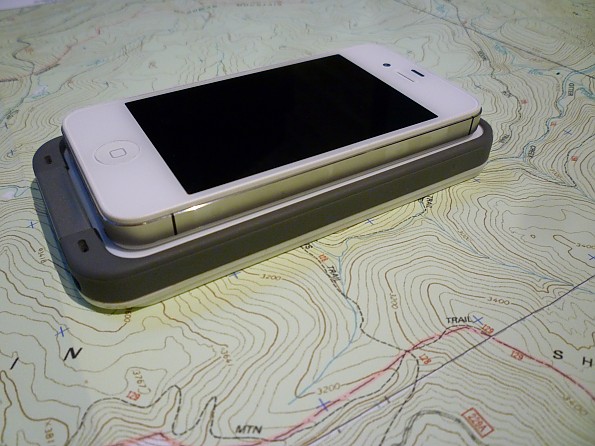 I have found this case to fully protect the phone in all drops, all accidental. You can see the plastic is somewhat marred from some of its life, character from doing its job. The speakers do not sound bad on either end of the phone in use, nor does the speakerphone function.
The only minus is that it picks up pocket lint. Compressed air helps a little, so do Q-tips. I find washing it helps the most.
The camera takes great pictures in the case, lessened picture quality could definitely be a deal-breaker. Here's a sample shot at Monongahela's North Fork Trailhead.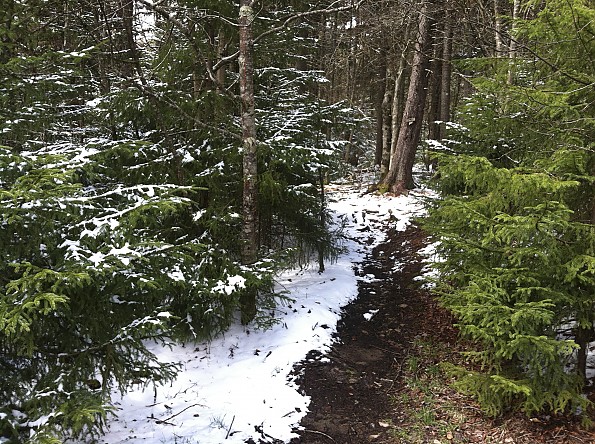 There are a few small parts that can be lost, and some are not easily replaceable, like the charging port silicone gasket. A little dab of RTV or silicone adhesive can easily rectify that. One of the only other gripes I can even come up with after a year of ownership, the headphone adaptor pig-tail can be a pain. You never ALWAYS have it with you when you are listening to music at home, in the car, etc. I do not have personal experience shooting video underwater, I never bought it for that intent. There are available videos online for your viewing pleasure if this is a needed perk for you. 
Overall, this is the best mobile phone/music player case I have ever owned for any device. I couldn't ask for more. One may never justify spending this much dough for plastic and silicone, but that's a drop in a bucket compared to replacing an iPhone!!!
Source: bought it new
Price Paid: $80

Version reviewed: iPhone 5S Case
Great for outdoorsy people who might get their phone wet. It's a waterproof case that is easy for hiking, fishing, and being out on the river or out on the boat!
Pros
Waterproof
Not too bulky
Cool colors
Cons
The auxiliary port is hard to get to without the adapter.
Speaker sound can be slightly distorted with the case on.
The phone's case is a great improvement to your investments. It protects your phone from dirt, dust, debris, and most of all water! It makes it great for taking it out on your boat or kayak to take pictures of the catch of the day without the fear of ruining your phone.
I would highly recommend the Lifeproof case to anyone with an iPhone to protect! It also makes a great gift for someone.
Source: bought it new
Price Paid: $89

Your Review
Where to Buy
Help support this site by making your next gear purchase through one of the links above. Click a link, buy what you need, and the seller will contribute a portion of the purchase price to support Trailspace's independent gear reviews.
You May Like
Specs
Price
Historic Range: $59.98-$79.95
Reviewers Paid: $79.95-$89.00

Weight
1.05 oz / 29.8 g

Dimensions
5.1" x 2.6" x 0.5" / 129 mm x 66 mm x 13.3 mm