Light My Fire Swedish FireSteel Scout

#3 in Fire Starters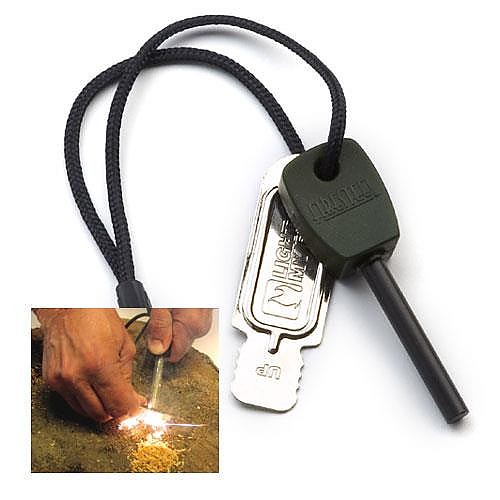 Specs
Price
Historic Range: $6.73-$14.99
Reviewers Paid: $4.00-$15.00

Reviews
3

reviews

5-star:

2

4-star:

1

3-star:

0

2-star:

0

1-star:

0
The Light-My-Fire Scout is a dependable tool for starting a fire or lighting a stove. For me, it has worked in every condition and has become my primary method.
Pros
Always creates a spark, even wet.
Only has two parts
Compact and lightweight
Cons
Tinder needs be fairly fine for sparks to catch well when starting a fire.
Takes some practice to be most effective.
I initially bought the LMF Scout mostly on a whim and because I thought it would be a fun way to start a fire.   After spending some time learning how to use it, I learned which tinder and grade worked best to effectively start a fire. Lighting a stove is a cinch and really takes no practice. As I continued to use it, I realized that I didn't need matches or a lighter as a backup and have dropped them from my fire making kit.  
Here is a short demonstration:

In conclusion, the LMF Scout is an effective fire starter that I have come to depend on when getting a fire going or lighting a stove. The simplicity of the tool is quick to master with a little practice and can be used as a principal method or tucked away as a backup means when needed.
Source: bought it new
Price Paid: $10

I got one of these from Europe. At first, I was suspicious about how such a technology could light a fire (which is hard enough in good conditions when you don't know what you're doing). I tried it on some dry grass that had gotten soaked in a downpour, and after about 20 strikes, I lit my fire. So it does work. And it seems to me that the rod itself will last for many years — all my strikes hardly smoothed the surface at all.
Pros
It works on wet fuel.
It is highly transportable, and a good camping aid.
Cons
I like ultra-lightweight goods, so this could have been more compactly made.
At first, this wasn't easy to use. But after a few minutes and gripping like heck, I got the movements correct. From then on, it was very easy. And it was fun watching the sparks fly.
I also felt it was safe to pack away immediately afterwards without the hazard of heat or flame erupting — and that's a good thing.
It's very simple, and it does live up to expectations.
It is well made. It's pretty hard not to make a well-made rod of iron, isn't it? You can feel it is really solid, so I have confidence in mine. Mine is new, so ask me in a few years if it's stood up to the test of time, which I am sure it will.
I've only used it 3 times, and on each occasion, I had to work to get my flame, but got it fairly easily. And that was the objective. I used it in the dry, the breeze and the wet — it works, with varying levels of success depending on the conditions, but it does light fires in all cases I tried.
A worthwhile invention.
Source: bought it new
Price Paid: $4

This is the greatest thing since sliced bread. It starts a fire quick and the fire steel even works when wet. It seems to work better the firmer the scrape is, so make sure you get a good firm scrape on the fire steel to get the most spark possible. No baby scrapes. The element also comes with a coating so before you use it for the first time make sure scrape it all off.
Price Paid: $15

You May Like
Recently on Trailspace