Lowa Banff

The Banff has been discontinued. If you're looking for something new, check out the best backpacking boots for 2023.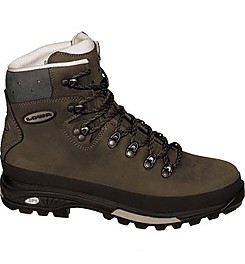 I recently wore out my first pair and was worried I wouldn't find another. I happen to be in Germany right now, and found a brand new pair in my size on eBay here. I got them for only 69 Euros (about $100)!!! They just arrived and I'm thrilled!!! Christmas in July!!!
I do a lot of hiking and hunting back in the wilds of Canada, and nothing beats the comfort and durability of the Lowa Banff!
Price Paid: $100

6'5" and 300 pounds of hammer, nails and puppy dog tails, and let me tell you that I owned a pair of these boots and wore them nearly every day without as much as a hint of failure for 5 years. 5 Years!! 
And if 300 lbs isn't pressure enough, I am a General Contractor by trade and put these boots through some of the toughest conditions imaginable. And outside of the grind of the workplace, I am an avid hiker who logged many a mile, and crossed many a stream in my trustly Lowas.
Man I loved those boots! Almost cried when I had to finally say goodbye! Bidding on another pair on Ebay right now.
Materials: Leather
Use: Work and play
Break-in Period: Great right from the box
Weight: 300 lbs
Price Paid: $239

I do a lot of backcountry routes in Grand Canyon and the desert Southwest. Plenty of rough miles with a heavy pack (carry lots of water).
Very pleased with the boots. They have held up very well for several years. I believe the boots will outlive me!
Materials: Leather
Use: Rough trail / heavy pack
Break-in Period: Almost none--able to size boots right out of box
Weight: 5 lbs.
Price Paid: $225

I just retired my first pair of Lowa Banff boots and have ordered a new pair.
I have been backpacking for 40 years and have a narrow foot, 14 B to be precise, so my choices are very limited. I had been wearing Vasque narrow sizes until they moved production to China and discontinued most of their narrow products.
These are absolutely the most comfortable boot of any kind I have ever worn. Break in was very short compared with other boots, no more than about 10 miles. They are comfortable enough to use as a day hiker, but a bit on the heavy side for that.
I am working on bagging the NE 4's and enjoy bushwhacking into the Vermont wilderness areas and I could not be happier. Ample support, no pressure points and never a blister. I wear a poly liner under a trekking weight wool/nylon sock.
Materials: Leather
Use: backpacking, bushwacking
Break-in Period: 10 miles
Price Paid: $200

These boots are tough. Has taken 5 weeks everyday wearing in very wet and dirty conditions to break in. I wear size 14 wide and they fit well but a little weak in the ankle. They take quite a while to break in.
The vibram rubber sole doesn't grip well on slippery surfaces, but all in all if this boot is well maintained it should last. The leather inside makes for a smooth feeling when putting them on first thing.
As for long hikes, this boot can be very rough on the foot at the end of the day. I would bring something else to wear around camp to relieve my feet in the evening. These boots are great for long hiking, but I would make sure that the seams inside don't chafe the top of you foot or ankle.
These boots need some break in time but can hold the test of the PCT. I would not break in these boots on the trail or in the city. After treating the leather, I have worked in very cold water for several hours and socks were totally dry.
Not the most insulated boot, but I got these boots for hiking not total snowy conditions. Great boot, just need some love before hitting the trail..
Materials: leather
Use: rough trail heavy pack
Break-in Period: long time 5 weeks everyday or more
Weight: NA size 14w
Price Paid: $179

I used a pair of these on a two day hike almost straight from the box in wet muddy conditions and they were flawless. Covered a load of ground with a wide variety of terrain assessing 3 Expedition groups and they felt solid, comfortable and cleared mud well. I had no leaks or seepage through the leather despite total immersion for long periods. Built quality is as if your mother made them for you herself. IMO Better tread than the Munro that has replaced it (Itself an excellent boot).
Would recommend them if you can still get them.
They are made to last and will cope with anything the UK can throw at them over two to three days from my experience.
Materials: Leather
Use: Instructing and assessing expedition groups.(Mountain and wet upland area).
Break-in Period: None.
Weight: 1.9Kg Size 10.5

This is my fourth boot product from Lowa and every one of them has exceeded my expectations. The boot fits well though it may be a little large. I enjoy leather lined boots and prefer them over all other types. Lowa is one of the few makers that still produce them. Will take some break in time but that is expected.
Materials: leather one piece
Use: day hikes
Break-in Period: 20 miles or so
Price Paid: $190

This is a fantastic boot which has kept my feet dry and comfy over thousands of miles. They provide excellent support and traction. I am amazed that my feet never seem to get too hot yet they provide enough insulation for pretty cold winter hikes.
The only problem I have with these boots (and all Lowa leather lined footwear) is that the lining has a tendency to wear through by the heel. I have done this on two pairs of Jannu Lows and now on the Banff too. I was able to get it restitched, but would have preferred to not had it wear through in the first place.
Price Paid: $200

Version reviewed: Scout
I have relied on this boot for seven years now. The same boot used to be called the Scout. I have two pairs one lined with calfskin the other with Gore-tex. Both have been resoled by Dave Page in Seattle ( http://www.davepagecobbler.com/ ) and are still going strong.
If Lowas fit your feet you can not find a better boot. I love Scarpas but the Lowa Scout/Banff fits me perfectly and they are tough reliable performers. I particularly like the stability and firm footing in loose or otherwise challenging terrain/conditions.
I use these boots in the Canyonlands of Utah, mountains in the Sierras and Cascades. Anywhere I need solid support and traction when I am carrying a load I use these boots. Yet they are still relatively flexible and light compared to other backpacking boots. I use these boots for day hiking as well knowing that I will be prepared for whatever the trail or terrain throws at me.
The Renegade GTX mentioned by the other reviewer is what I would classify as a dayhiking shoe (it can not be resoled by the way). It is fine for moderate day hiking. However for serious backpacking and offtrail routes a more robust boot is called for. In short being prepared for whatever terrain and conditions you may encounter the Lowa Banff is as good as it gets in an all around boot.
Break-in Period: Quick Break In
Price Paid: $185

This has been my main winter hiking boot for 3 years in the NE Mountains, bareboot and snowshoe. I have size 12 narrow, and the narrow model is a rare fit. Though not a "winter" boot, it's served me well including many 15-20+ mile days doing 4k footers in winter, good snow traction and edging. I carry neoprene covers but only used once or twice with this great boot (I have warm feet)!
Price Paid: $200

I've hiked long distances with Asolo Powermatic 400's and Vasque Clarion GTX. Those are good boots, BUT, I was still coming back with blisters and sore feet after about 20-25 miles.
My hikes will normally include mountainous terrain of steep elevation gain and loss, scree, and dry creek rock hoping.
I decided to buy the Lowa Banff and what a difference they are. My normal size is 10 wide but I purchased 10.5 wide to give the extra toe room for the STEEP down hill so that I don't end up with smashed toes and extreme discomfort like toe nail loss.
I spent a fair amount of time for break-in and I will never buy another type of boot, these things are just amazing, I love them! After hiking in them to Mount San Gorgonio and other equally great hikes, I have yet to get any blisters or foot discomfort, just awesome!!!
Price Paid: $200

If you're looking for boots, give these a try. I bought them for the AT and have spent a month breaking them in on longer and longer hikes. They feel great although I went up a half size to an 11.5. No blisters and no hot spots. My heel seats perfect with plenty of toe room. There not cheap but they work for me perfectly. You might want to change out the inserts to fine tune them.
Materials: Nubuck outers, lether inners
Use: AT
Break-in Period: 1 month
Weight: I didn't weigh them.
Price Paid: $220

Even though this boot is considered "heavy backpacking" they are comfortable enough to be worn for anything! Nice wide toe box, superb fit in the heel! (They can be heat molded to your foot. Make sure to ask a trained person to do this.) Excellent traction in all types of weather and all types of terrain; swamps to mountain tops these perform! The "glove" leather lining does fit "like a glove." I wore them on a 10-mile rugged terrain hike directly out of the box!
Materials: leather
Use: heavy pack
Break-in Period: none
Weight: 3 lbs (pair wmns 8.5)
Price Paid: $200-ish

Hurray! Never ever tried the boots on and they fit great with a pair of medium to heavy hiking socks. I am 6'1" and 200lbs. I have a 12D to 12 1/2 D foot for many of my boots and shoes but usually have to go up to 13D to get a shoe that fits or is available. Heard these shoes ran 1/2 size large so was a little worried ordering a 13 D, especially since my heel is more of a B-C size. It's the exact same length as my new Columbia diamond peak hiking boots and Mack steel toe work boots. The slight extra room in the toe box prevents my big toe from rubbing on the side, but the outside of the foot rests firmly, but nicely, on the outside of the foot. I have a low to medium arch but the boot still feels good, and probably good enough for someone with a medium to slightly higher arch. High arch people may want to buy a high arch insert.
I have not yet hiked in them, but testing them in the neighborhood up and down steep slopes and cross slopes, and brisk walking did not fatigue/hurt my feet like the Vasque Wastach. Of course both pairs of Vasque Wasatches I got were defective and poor quality. Maybe because Vasque is now made in China?
Waterproof test passed also, and also should breath better than a Gore-tex boot. 12 1/2 D may be perfect but these 13D's seem fine.
Solid boot. Comfortable right out of the box possibly do to the extra 1/2 size I had to get. No excessive heel pressure at all, and yet does not slip much. And all that sole and built in footbed technology stuff they proclaim (SPS, c4 tongue, etc.) seems to work. Very supportive all around. Easy to tie the feet up nice and snug. The removable insert is pretty basic and nothing to write home about. The sole has less tread rubber than I prefer, but really grabs well. The flat non-tread sole rubber is roughed up (not smooth like other boots) which should provide some extra traction on sharp wet roots and rocks.
The soft leather inside the entire boot is awesome.
I have only recently gotten these from Zappos.com so I have not hiked in them yet, but testing them around the area up/down/sideways along steep slopes has shown them to work extremely well. Zappos price matching got me an incredible deal on the these boots, and their free/no shipping charge return policy encouraged me to buy thee boots and try them.
Great backpacking boot. Very firm soles/midsoles and supportive. Quality/supportive seamless leather upper. Good looking and comfortable enough to also wear casually too. Don't feel very heavy either, although supposed to be heavier than some other hiking/backpacking boots. Comes up a little higher above the ankle up on the back of the leg than some other hiking boots and mid hikers I have tried, which I like.
I have heard it also comes in narrow and wide widths, but that the wide withs have more volume, but same footbed size as medium requiring more break in of the leather and the 360 degree rubber rand protector. The shoe felt pretty true to length, volume, and width sizing for me.
Materials: Nubuk Leather water proof, no GTX, but with moisture control
Use: casual, hiking, backpacking
Break-in Period: Very Short
Weight: close to 4 lbs supposedly, but don't feel heavy
Price Paid: $121

I got a great deal on these boots on ebay and there was only one pair in the size and model (WXL) that I wanted. The WXL has extra room in the toe box.
I love these boots. They fit me as if they were custom made and are super comfortable right out of the box. The finish and construction is very impressive and, I would venture, second to none.
They fit a size larger than marked in the US sizing, but if you go by the EU sizing (38, 38.5, 39, etc.) it should give you more accurate size information.
Materials: leather
Use: backpacking
Break-in Period: minimal
Weight: 3 lbs. (1.8 ea)
Price Paid: $124

This boot is the best thing I have ever worn on my feet. Ever. And I am a bit of a boot nerd. I bought this boot semi-reluctatly. I was looking for something mid-weight, one piece leather upper, simple, and sturdy-feeling, but somewhat flexable. I probably tried on fifteen pairs of boots before I tried these on. The price seemed steep at the time, but in hindsight was worth every dollar.
I pounded these boots through all types of terrain, from wet and muddy to steep and rocky. They were thoroughly comfortable. I wore them every workday for about 80 consecutive workdays, sometimes for up to 13 or 14 hours straight. Canadian treeplanting demands the best gear--especially boots--and with a little love, these boots lasted beautifully.
Note--if you buy these boots, you have to take care of them. The boots are durable, but it is important to treat the leather consistantly (I treated them every 2-3 weeks) with a quality spray or wax. Also, I used a few applications of "FreeSole" liquid rubber to keep the sole tight against the leather upper, and to add some protection to the exposed leather toe.
Materials: leather
Use: Treeplanting, long hikes w/ heavy pack.
Break-in Period: Very short. Wore them around the house.
Weight: mid-weight.
Price Paid: $320 (CDN)

After trying on all brands of boots, this Lowa felt the best and have not proved me wrong. The rocking system is amazing, and the finish quality first class.
Materials: nubuck, gore-tex
Use: rough trail
Break-in Period: 1 day
Weight: heavyish
Price Paid: NZ $365

I have worn the Lowa Renegade GTX for three years. The best boot I have ever worn. The only problem was the toe stiching which came undone. Lowa replaced the boot with no problem however it happened again with the second pair. Lowa suggested that I exchange for the Banff, a boot without seams on the toe and a more heavy duty boot. The Banff runs larger so I went from a 11.5 to a 12. The Banff is well made but somewhat stiffer at first. This boot is tighter around the toe and top of the foot. I wear a 12 in a walking shoe. Has anyone experienced this and did it loosen with wear? This boot is not available in a 12.5 only 13. I think the 13 would be too large. It is not too late to return the boot. I do miss the Renegade.
Price Paid: $200

After reading several reviews of the higher-end trekking boots available out there, I was already leaning toward the various Lowa products, and finally purchased the Lowa Banff boots a few weeks ago. Since then, I've taken a number of strenuous mountain hikes here in the Appalachians in a range of weather conditions and the Banffs have broken in beautifully.
Yes, there IS a break-in period, during which time the Banffs soften and conform to your feet, with some noticeable creaking. After about three lengthy hikes, however, the boots settled-in and felt incredibly comfortable, like a prolonged foot massage.
Fantastic internal "climate control system" wicks moisture away from your feet, keeping you nice and dry and COOL, with no hot-spots... For instance, after one five-mile mountain hike, I removed the boots to find my medium-weight Thorlo socks entirely dry, which was quite a surprise!
I can tell you that hiking the Smokies calls for versatility in a trekking boot, and the Lowa Banff delivers--The heavy-duty Vibram soles provide excellent traction and stability through moist and muddy as well as dry and rocky terrain. They provide excellent protection and ankle support through the most precarious ridge trails and the most unforgiving scree.
HOWEVER, and I want you to know this is my only disappointment, the Lowa Banff are HEAVY boots at 5 lbs.... These babies are definitely NOT for ultralight pursuits.
When properly treated as suggested by the manufacturer, the Lowa Banff clean up easily, although you may notice some darkening and/or slight mottling of the Nubuck leather after the first few cleanings, particularly if you use mink oil or some similar leather treatment. As far as I'm concerned, the slight discolorations give the boots more character.
In summary, the Lowa Banff are amazingly comfortable and versatile trekking boots that provide support and protection through all sorts of terrain. Based on what I've thrown at them already, I'm sure they will survive many years of similar punishment, and--who knows?--perhaps they become more and more comfortable as time goes on!
Materials: Nubuck leather uppers, soft leather interior, Vibram sole
Use: Mountain trail hiking, some approach
Break-in Period: Three solid 5-mile hikes should do it, about 10 to 15 miles.
Weight: 5 lbs dry
Price Paid: $165

Very nice boot indeed. I also have the Lowa Scout also. These are even nicer than the Scouts though.
They have the rocker type sole and I find that it's nice when you are getting tired. They give you a little energy with each step (no BS).
The support in these babies is wonderful. Some boots tend to make my feet roll inward but these keep me in alignment. I have a flat wide foot with narrow heal. These fit perfectly and they took minimal break-in time. The trusty Vibram sole is a life saver in decents.
I think I will stick with Lowa, they are a very nice brand with quality, not like some of the boots made in China (nothing against China, I am Chinese myself). I just noticed when I tried boots like from Vasque or Asolo recently, the quality and fit are a downer.
Materials: Nubuck leather
Use: hiking and backpacking
Break-in Period: almost none, 1 week at most
Weight: 2 pounds
Price Paid: $199

This is a remarkable boot. I have a hard to fit, narrow foot. Backpacking has always been a struggle with foot pain and blisters, but not anymore. I've used this boot right out of the box on three tough hikes with a lot of climbing and numerous stream crossings. The boot performed perfectly. It was extremely comfortable and held my foot in place. No blisters or aching toes. Thanks to Lowa for offering a great boot in narrow widths.
Materials: Leather
Use: Backpacking
Break-in Period: zip, zero
Weight: per manufacture
Price Paid: $200

Your Review
You May Like
Specs
Men's
Price
Historic Range: $60.58-$219.95
Reviewers Paid: $100.00-$239.00

Women's
Price
Historic Range: $73.75-$219.95
Reviewers Paid: $124.00-$200.00

Recently on Trailspace