Lowa Civetta GTX Extreme

The Civetta GTX Extreme has been discontinued. If you're looking for something new, check out the best mountaineering boots for 2023.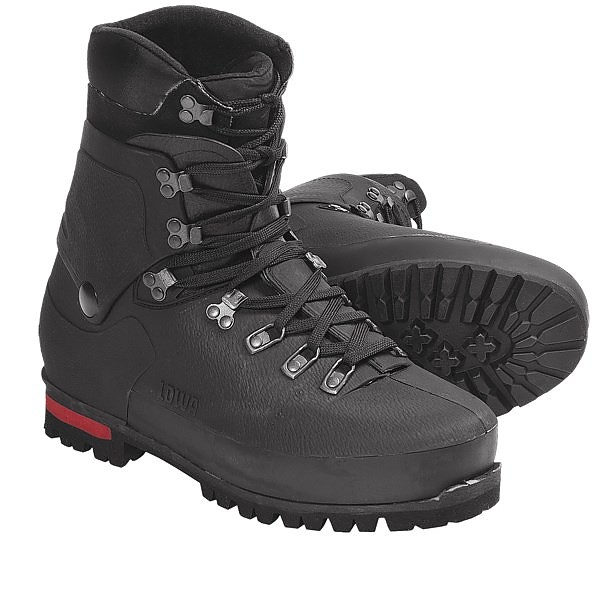 I purchased the Lowa Civetta GTX Extremes in 2004. I take a U.S. size 15, so I didn't have much choice in the matter — at the time Lowa was the only manufacturer making boots this big. Nevertheless, I'm pretty happy with them.
I wear a polypropylene liner sock, a vapor barrier sock over that (actually oven roasting bags — the manufactured nylon VBLs tend to bunch at your toes), a heavyweight mountaineering sock over the VBL, the liners, these shells, and when it's really high / cold, a pair of 40 Below Purple Haze overboots. This way, the heavy socks stay dry and warm, and at the end of each climbing day I dry out my feet, powder them and put fresh liners on, and then dry the used liners and inverted VBL in my sleeping bag at night. The heavy socks stay bone dry, and so very warm.
I think you do need to be careful about securing your gaiters quite snugly to these boots - loose snow seems to easily find its way through the top if you're careless about this.  I wear either an OR Crocodile gaiter or the 40 Below overboots - with the overboots on, these are ridiculously warm, which makes sense as the closed-cell neoprene expands with altitude, but even lower down, I have used these boots without the overboots in extremely cold conditions without ever having cold toes. I hear that some people who have had cold toes have had luck with replacing the stock liner with a pair of Intuition Denali liners - I have yet to come across a negative review for the Intuitions, but I have not tried a pair myself.
As far as climbing performance, they are not an ultralight boot, but have relatively low toe box volume so placements don't feel too clunky. They front point and edge well, and if your feet are small enough that you can find a Silvretta binding to fit (my 15's are too large for this), I hear that these boots are one of the better ones for ski approaches and descents without carrying an additional pair of AT boots, provided they are tightly secured.
Price Paid: $400

I got these boots at an amazing price and am extremely happy with them. They aren't super warm, but I used them in the Adirondacks of New York for a week (spending nights inside a cabin) during February. What they lack in super warmth they make up for in super comfort. These boots required no break in and they were great for snowshoeing and hiking. I think with toe warmer pads these would work anywhere.
Use: snowshoeing, hiking in winter, with crampons but not for technical climbing
Break-in Period: none
Price Paid: $75!

Another incredible product from LOWA.
Pros
Warm
Great construction
No break-in
Removable liner
Crampon compatibly
Cons
Can be expensive if not gotten on sale
I've been looking for this boots for years for their warmth, construction, crampon compatibility. With this I've found all of the above. This boot is warm and indestructible, it wears well and I've had "no" break-in period.
I train at Mount Washington, N.H., and I need extremely warm items and this fits the bill. Hopefully I'll be able to test them in Nepal in Spring 2016. Also, I have the Grivel G20 crampon and I've had no problems with the step-in's.
Source: bought it new
Price Paid: $129

I've worn these up Mount Baker, Mount Adams, and Mount Rainier mostly traveling on glaciers, but also a bit of vertical ice. They are outstanding - comfortable on long approach hikes, very stable, fit well, and warm in weather down to zero degrees. I'll never own another brand.
Materials: Plastic with fabric/Gore-tex inner liners
Use: mountaineering
Break-in Period: none
Weight: 5 lbs 5 oz

Best damn boots ever. If you have low volume, medium width feet, and are in need of a great everything boot, this is the boot for you. They're awesome...never heard a complaint from anybody. Stiff enough for sustained vertical, and never a hotspot while hiking in.
Materials: Plastic
Use: Ice Climbing, Mountianeering...
Break-in Period: none
Weight: ?
Price Paid: ?

These boots KICK BUTT! They are light, fit right, not too tight. The linners have gore-tex so they will dry quickly overnight in your sleeping bag. They are well worth the expense, but that's just my opinion.
Materials: plastic
Use: technical ice and glacier travel
Break-in Period: approximatly 5 days
Weight: not too much more than the civetta's approx. 92kg
Price Paid: $385-ish (depends on how you shop)

Stiff boot, still breaking them in. Got hot spot on base of toe after a 7 mile shoeshoe hike. Great for ice.
Materials: Plastic, Inner boot lined with GORE-TEX,Vibram
Use: Ice Climbing, Glacier,
Break-in Period: 10 + days
Weight: ?
Price Paid: I bought mine for $140, retail $385

Your Review
You May Like
Specs
Price
MSRP: $440.00
Historic Range: $134.99-$450.00
Reviewers Paid: $75.00-$400.00