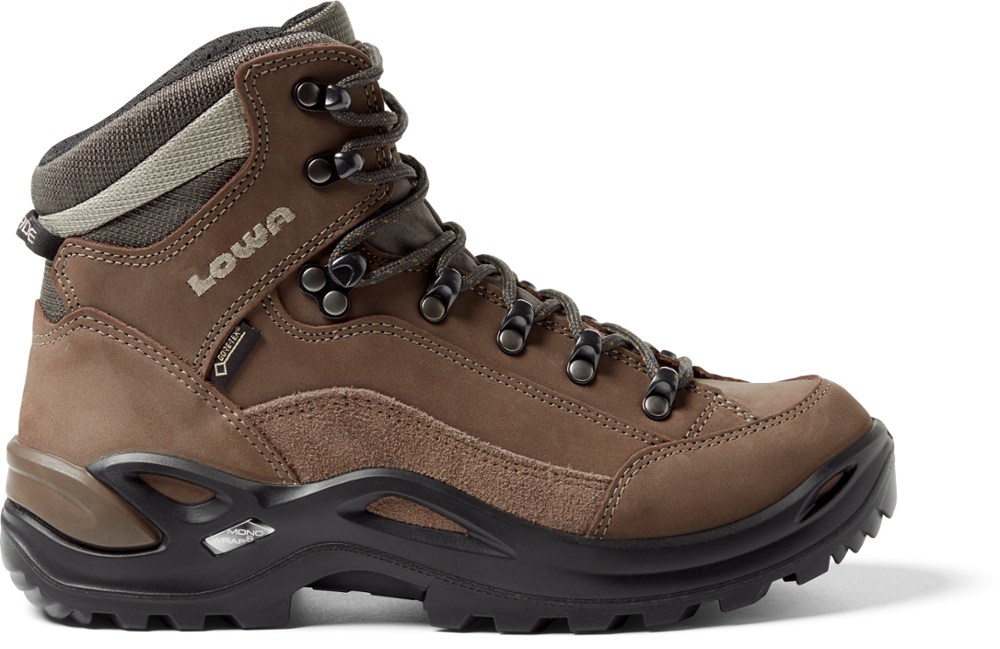 Specs
Price
MSRP: $240.00
Current Retail: $164.74-$240.00
Historic Range: $49.48-$240.00
Reviewers Paid: $163.00-$250.00

Hard Weight
440 g/Single Shoe

Upper
Nubuck Leather

Lining
GORE-TEX

Insole
ATC

Midsole
Double Injection DuraPU

Outsole
VIBRAM Evo

Stabilizer
ATC

Reviews
5

reviews

5-star:

2

4-star:

0

3-star:

0

2-star:

1

1-star:

2
Lightweight, comfortable from the very first try, and no blisters. These are the key ingredients to commend this boot. The mid-high design provides support for weak or compromised ankles, there's plenty of room in the toe box, and the lightweight material dries quickly after river crossings.

The sturdy sole accommodates additional back-weight from day packs, backpacks, or recalcitrant pets reluctant to take another step. Great for non-technical climbing and long hikes.
Pros
Weight
Ankle support
Fit
Do not need to be broken in.
Cons
Expensive (more than $200)
Have noticed some chafing on ankle when new.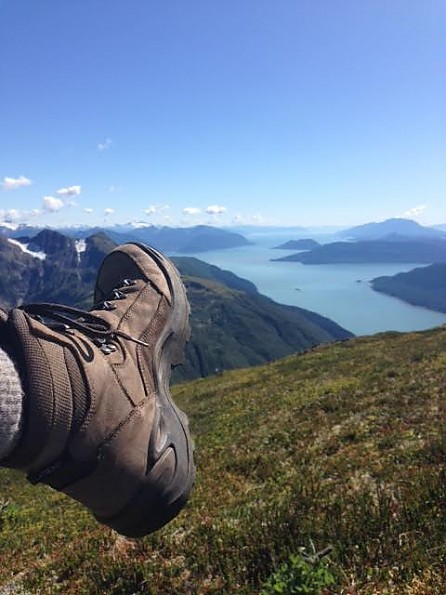 The Lowa Renegade GTX mid hiking boot is a comfortable, excellent fitting boot for someone who needs a roomier toe-box and ankle support. No break-in required, although one may experience a little chafing at the ankles when new.
The boot is designed to keep feet dry and it succeeds; lightweight material keeps feet relatively comfortable in warmer temperatures, although Alaska's "warmer" temperatures are generally cooler than most.
Long lasting; wore the first pair for more than 10 years and only recently noticed them beginning to fray after having worn them to backpack extensively throughout England, the Chugach Mountains in Southcentral Alaska, and the trails and mountains of Southeast Alaska with nary a blister.
Source: bought it new
Price Paid: $230

Pros
Comfortable right out of the box
Cons
Falls apart easily if not using daily or weekly
So here's my Lowa story...a shoe that feels mostly comfortable right out of the box, costs a lot, and falls apart in a couple of years.
First off, I'm very grateful for the beautiful nature that exists. My life is very busy but I'm able to go hiking every once in a while. A few years ago, I bought my first hiking boots. Due to my excitement at that time for the adventure outdoors, I bought three different brands (Lowa, Montrail, Vasque).
This mini story/review is about the Lowa brand boots I purchased. They weren't as stiff as the other boots and fit more comfortable right out of the box, so I bought two identical pairs. At that time, they had high reviews and no disclaimers on their website like they do now (perhaps, they received quite a few complaints to put a disclaimer?). The first pair of Lowa boots I used for hiking once in a while, the second pair was kept as a back-up, brand new, never used.
Fast forward a few years, I'm getting ready for a hiking trip, when I notice the sole of the used Lowa boots is cracking and coming off a little. I also inspect the backup pair I never used and they seem fine so I try the never-used pair on. After walking around for 15 minutes, the soles fell off of the never used boots.
Still in a bit of shock, I contact Lowa and they tell me, they can do nothing about it (no returns or refunds due to the age). Instead they offer a 10-15% off discount to my next pair with them.
Considering that my other pairs of boots (NON-Lowa brand) were the same age with similar usage AND the soles were still intact on them, I don't trust the Lowa shoes to hold up so I declined to buy another pair.
In short, if you're an avid hiker and can use your hiking shoes at least every week, then this boot may be for you but if for whatever reason, you need to store them for a few months or years, then don't expect them to be functional the next time you need them. Hopefully, this will save someone from making a costly mistake.
Again, if you're a daily or weekly user, then these boots may be good, but if not, then these expensive boots may not be worth throwing away money.
Source: bought it new

Boots fall apart within 2 years.
Pros
Comfort
Quick to break in
Cons
Poor quality
Company does not stand behind its product
Tread is not aggressive
I used to buy Lowa boots until my last two pairs de-laminated at the seams. The company would not replace these boots even though they were less than two years old.
I had bought Lowa boots for years and I was happy with them, but it's ridiculous to spend all of that money and not have boots last more than 2 years.
Fit: They always fit me well.
Comfort: Very little break-in time required.
Water Resistance: Not very much
Traction: Slippery on rocks
Construction and Durability: Terrible
Source: bought it new
Price Paid: $200

DON'T BUY THESE BOOTS. Comfortable, yes. For the year they last. Then they fall apart at the seams. Have had two pairs. $500 down the drain. Don't waste your money.
Pros
Comfortable, while they last.
Cons
Fall apart at seams within a year and a half
Sole peels off
Not waterproof; more like water-absorbent, and take FOREVER to dry out
I've had two pairs of these. Love how comfy they are, love the grippy soles.
But they fall apart at the seams way too fast, right after warranty runs out.
After first pair did so, was advised by a gear expert to get $$$ insoles; did so, same thing happened with second pair.
I'm a light user, walk maybe 8-10 miles a week, and that's walking, not vigorous hiking. Otherwise wear the boots as everyday around the house/running errands footgear.
Unbelievably shoddy. Why doesn't Lowa fix these problems???
DON'T WASTE YOUR MONEY. Really. It's like a bad love affair—you fall in love as soon as you put them on the first time, the relationship runs along happily for a short while, and then it goes all to hell.
Source: bought it new
Price Paid: $250 with shipping

My husband bought me these boots as a birthday gift as I needed new hiking boots for our trips to Pocono Lake. We go hiking in the Pocono mountains often and love to collect pine cones, leaves and twigs.
I am so happy with the quality of these fabulous women's Renegade GTX boots. My feet are sensitive so I need a comfortable boot where my feet feel good. These boots are not only durable but they are soft, stylish, fashionable and soft at this same time.
My feet tend to get very sweaty when I'm hiking but these boots allow my feet to breath without getting that stinky sweaty feeling.
I've had several pairs of hiking boots in my lifetime and I have to say these boots are fabulous and worth the price. I highly recommend these boots to anyone who is an avid hiker like myself. Thank you!
Price Paid: $163.00


All Renegade GTX Mid versions
In addition to the 5 women's reviews above, there are 31 reviews for other versions of the Renegade GTX Mid. Read all reviews »
You May Like
Recently on Trailspace