Lowa Ticam GTX

The Ticam GTX has been discontinued. It was replaced by the Lowa Ticam II GTX.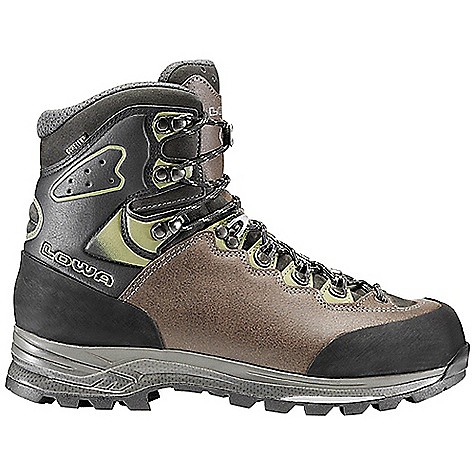 THE BEST. EVER. For a tough boot, these make every other heavy duty boot I've owned look truly wimpy! What a fantastic boot for backpacking!!! Grippy tread, excellent support and protection, super stable. My heel always stays put, my forefoot has plenty of room, especially in the toe-box.
Pros
Excellent support
Great lacing system/I-Lock
Stiff/flexible in the right spots
Great, grippy sole design
Cons
Expensive
Not lightweight
After recent struggles with several pairs of boots, I have finally come up with a big winner. Foot support is very important for me due to an ankle injury that tore all three of the major ligaments in my right ankle several years back.
I have had difficulty finding a boot that stays comfortable day in and day out, and will still provide sufficient ankle support. I have also fractured my pelvis from a fall in 2007, and now battle advanced spinal disc degeneration and a torn disc at L5-S1. I have strengthened my ankles, used lightweight boots and trail runners, lightened my load, but have still had something missing. Sometimes it just takes a nice pair of boots that fit right to bring a system together.
Here the boots are, still untarnished on an AT trip last month...
The Lowa Ticam is a pretty standard boot when it comes to construction. Being a backpacking boot, it weighs in at a strapping 4lbs. It is made from large panels of leather with a synthetic upper. The inner liner of the boot is also synthetic, which I prefer over leather. There is ample room in the toe-box, which seems to be one of the more common problems I find in a boot. The rand wraps almost entirely around the boot, however does not around the middle-outside area.
There are toe and heel caps to help with durability, as is the boot's nylon shank. The Vibram Masai sole is aggressive, has wide lugs, and has a very noticeable angled cut at the front of the heel to assist for downhill braking.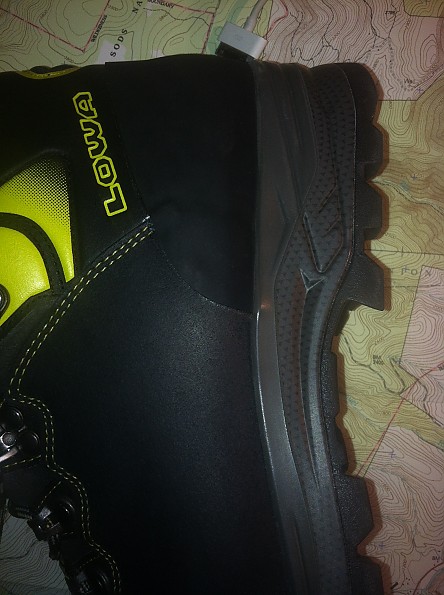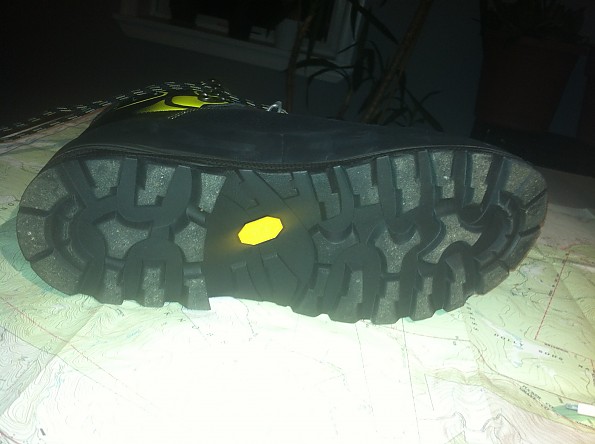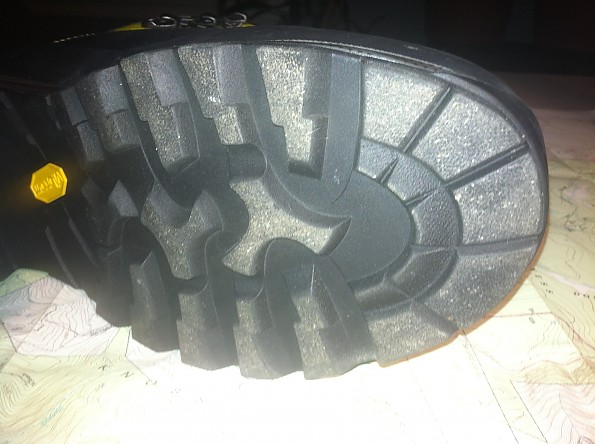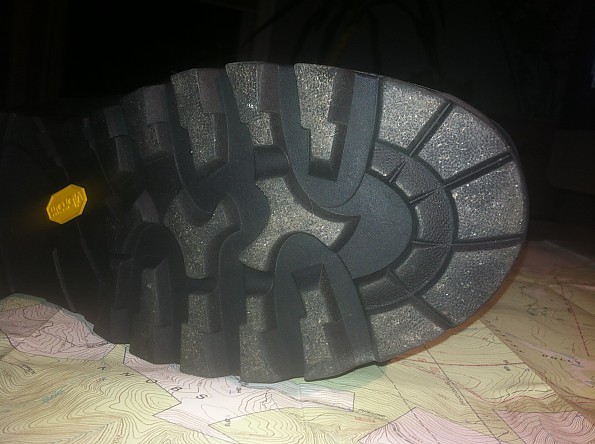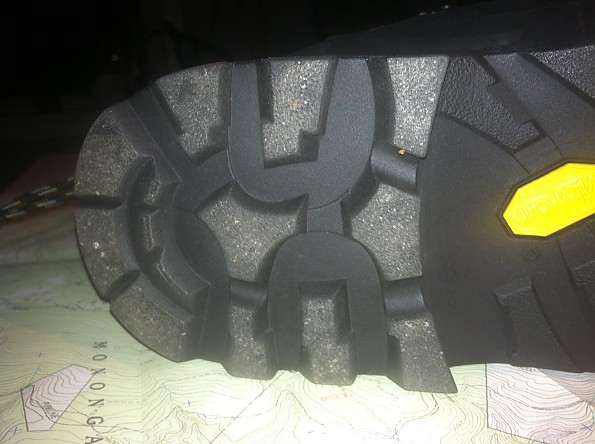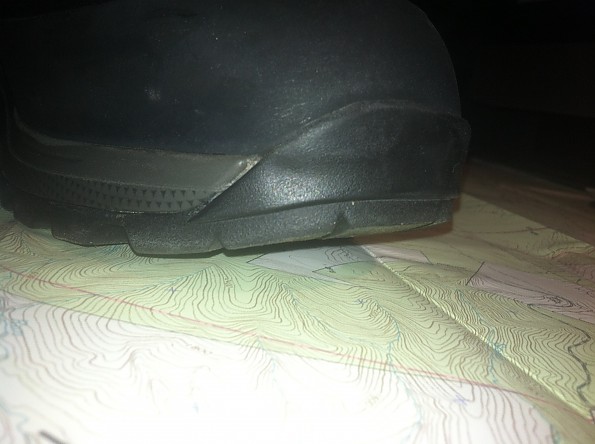 Some of the 'bells and whistles' are actually very well designed additions that greatly increase the quality of this boot. The lacing system has a lace stud in the tongue, locks at the top of the forefoot.
The boot has a crazy ball-bearing system instead of standard eyelets. They may help with adjustment, and prolong shoelace life, but are most definitely crud-catchers. This is probably my least favorite 'whistle'.
This boot fits extremely well, most notably when braking down steep descents. I have not noticed any excessive movement, whether the boots are laced more loosely, or when I have them cranked down. The ankle support is really amazing, which is a must have for me (I'm prone to rolling my ankle). Any substantial lateral movement forces the wearer to pick up their heel, rather than flexing the ankle greatly. I purchased the Ticam size 10.5, when I typically wear a size 10.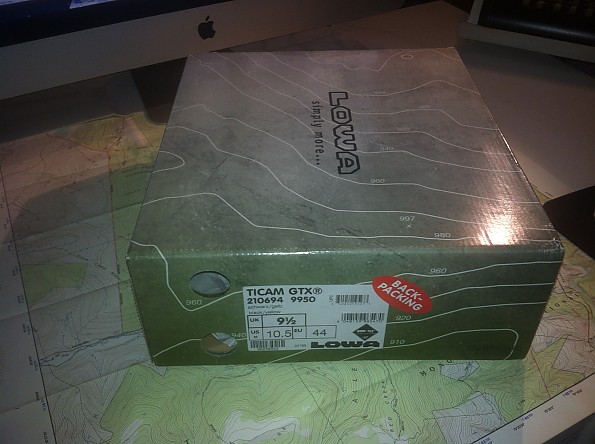 I have a pretty narrow foot, with a high arch. I must say that the stock insoles do not work for me; they would probably be fine for someone with more of a flat foot, or low arch.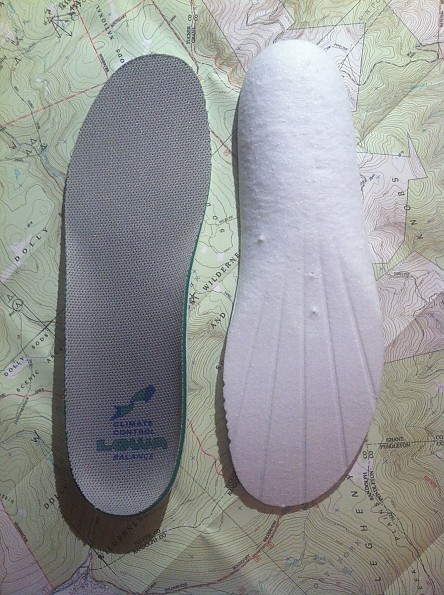 I replaced them with SuperFeet size 'E' green insoles (9.5-11), and they are about the identical size as the stock liners. I found that my older pair of SF liners moved around a bit because they had been slightly trimmed to fit my last pair of boots. I have also found that I just can't get comfortable using my SF orange insoles in these boots; perhaps the thicker liner in the forefoot is my concern.
There are many factors that need to be noted that are responsible for such a good fit. The lacing system begins fairly close to the toe, and allows to the wearer to torque/tighten where needed. An added feature I have never seen before in a boot is Lowa's I-Lock system, which really (REALLY) holds the adjustment of the laces prior to the quick-lace hooks.
On the tongue in between the second and third set of quick-lace hooks is a stud that is a stud for cross lacing. I have found the addition of this stud to really allow for a customized fit.
Break-in has been pretty kind to me. My ankles were pretty beat up wearing them around the house for several hours, but after about 10-15 hours at home, these Lowa's were ready to hit the trail. The boots have now gone on a half dozen day hikes, and two short backpacking trips.   Lowa advertises its 'Flex-Fit' technology, which effectively allows just enough flexibility in the mid-sole and forefoot.
I have found consistent comfort when wearing different types of socks. From merino wool blend light-hikers, heavier trekking style socks, combinations with polypropylene & merino wool liners, and two pairs of socks in cold weather, all fit like a true winner.
The Lowa Ticam has (so far) proven to be a waterproof boot. My last pair of boots (Kayland Vertigo) had an eVent membrane, and I can't really tell a difference in overall breathability between the two. I am fortunate that my feet don't sweat excessively, and also don't overheat. I certainly cannot speak for someone that has these concerns, but heat and sweat haven't bothered me so far. The lining of the boot is perforated to allow air exchange, and help the membrane transfer moisture. I will need to update this review in regards to heat, as I didn't get these boots until after summer had passed. Low temperatures, snow and rain have proven this boot to be comfortable in these conditions.
The boot has a polyurethane midsole, and what Lowa calls an SPS dynamic midsole, the same design as the Lowa Tibet, a favorite for many people over the years. One of the things that this boot that I found attractive is the design of the Vibram Masai sole. It is most definitely on the soft side, which is a giant plus for me. It has proven to be sticky on wet, mossy rocks and in colder weather.
The design has open lugs, which helps to aid keeping the tread clear of mud and other stuff. Once again, I will have to update the review to speak about the sole's durability. I understand that a $350 boot should last, but that's what replacement soles are for. I am fully convinced that with proper care, these boots will last through several pairs of replacement soles (I will have to make sure to buy several pairs of soles at the first replacement).
After an estimated 50 miles of wear, I have decided these boots are the best backpacking boots I have ever used. I am now very happy with supporting Lowa, and the Ticam boot.
Source: bought it new
Price Paid: $350 US

Your Review
You May Like
Specs
Price
Historic Range: $179.83-$359.95
Reviewers Paid: $350.00

Recently on Trailspace