Lowa Zephyr GTX Mid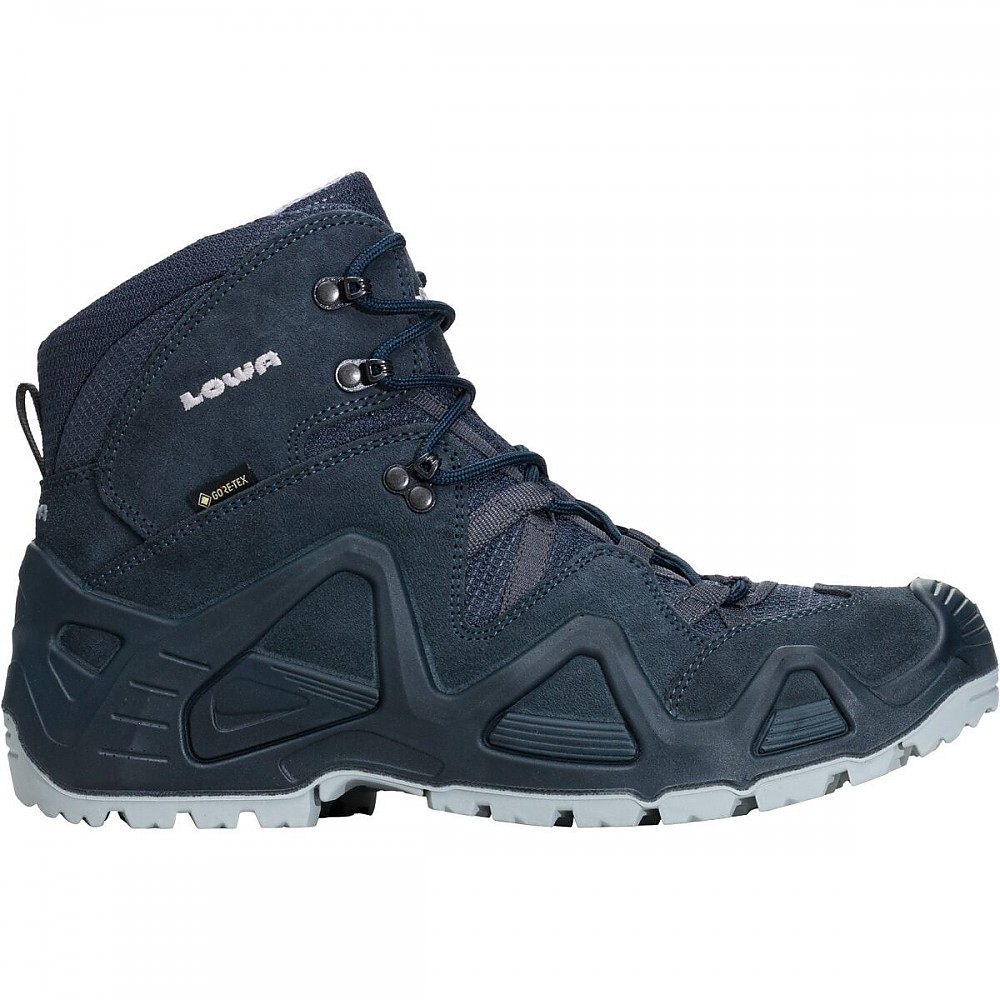 Comfortable and sturdy (but only if you are lucky).
Cons
Bad wet surface grip
Sometimes they don't survive even a month
A bit warm
I have mixed feelings about the shoes. I bought them as service boots for military. I did some light hiking, they were comfortable enough. Went up few mountains, did some running and jogging, and all was well.
Then I went on one month hiking trip with boots. Did 900 kilometers (only light backpack and the track was not that rough). I have a lot of problems with my feet, but the boots served me well. So I was glad with my choice of footwear.
The fit was decent, foot is firmly anchored inside the boot.
I had some blisters problems on my heel, but they seemed to be random. One day a blister, I patched it with Compeed for few days. Then two weeks nothing, then blister on other heel. Too random to make any conclusion.
There was not a lot of rain during hike, but they held water for some time, then started leaking.
Traction is decent on dry ground but lacking on wet surfaces. They can be slippery. Actually it can be pretty bad. I even had problems on very steep asphalt road. They really need to improve that.
Haven't used them much in winter conditions, but for hot weather they are a bit too warm (but my feet sweat so it's biased opinion probably).
So far I have been using them for one year. One 900 km hike, everyday use in service, and some mountain hiking. They are basically worn out. I have just bought another pair, non-GTX version.
Now the bad thing. I have bought a second  pair a few months after the first and just 4 or 5 days of using them they tore at the heal. I thought I must have cut them on some sharp surfaces cause I couldn't imagine that they would get damaged so fast.  Then I saw the same thing on four pairs that my coworkers bought. So the second pair was of really bad quality and I need to send it back and get a replacement.
So the quality control is really questionable. Wouldn't expect that of German company and in this price range. It's really a shame cause otherwise they looked like perfect boots for me.
Source: bought it new
Price Paid: €170

I've bought about four pairs of these boots over the last 10 years and I live in them every day of the week, around the office, on the hills and crags. They typically last me 1 -2 years.
Cons
When they fail the sole has always split horizontally and separated and can't be repaired.
On one occasion the stitching failed at the widest part of the foot.
Water resistance is good in wet and boggy hikes. The comfort factor for my feet is perfect and I have a wide foot. I have lived in these boots over the last 10 years and a pair lasts me about two years with constant daily use. Break-in time for me is about zero to one full day.
On a day to day basis the comfort is my primary concern. I don't get stinkfoot (or bromadrosis as Frank Zappa refers to it) or athletes foot, which I have experienced with similar boots by other vendors. They are a bit pricey (depending on where you buy them), but for me I'll pay the price for what they deliver.
They are lightweight (you don't know you're wearing them. The ankle support is great on the trail and I can honestly say I have never turned an ankle when wearing them and this is another reason why I continue to use them. When they have finally failed on me the composite material between the sole and the last splits horizontally at which point the goose is cooked and they are retired to gardening duties.
In regards to how long they last on a casual use basis I cannot comment as I wear them from day one to day finito.  The sole isn't Vibram but works in most conditions wet or dry for the most part. In terms of edging when scrambling on rocks they are somewhat limited but once you know their limits you can make them work. 
I personally would recommend these boots for casual use and lightweight trekking and hiking.
Source: bought it new
Price Paid: typically $200 USD

Best boot ever made. I have bad feet, real bad, but these boots are so comfortable they allow me to work 10 hours a day standing.
Pros
Comfort like no other
Looks great
Rubber soles make no sound when walking
No shoelace eyelets on top of foot making it more comfortable
Cons
If shoelaces break you can't get regular laces to work
Fits a little tight unless you get a half size larger
Goretex kind are hot
Telling you, if you like the look of this shoe but need somthing that is comfortable then don't worry, they are the most comfortable boot I ever had.
I have a tehered spinal cord that causes a lot of foot pain. I have tried at least 50 different brand of shoes over the past 20 years always looking for something to help my feet. I stand on concrete 10 hours a day and my left ankle is crooked, normaly go through 3 pair of boots a year due to the crooked ankle causeing excess wear to the side of left boot.
I have had my Lowas for about 8 months now and they are holding up great, and the rubber that comes up the side of my shoe helps to keep my ankle straight so the shoe doesn't wear out as fast. I just got my 2nd pair of the desert Lowas, first pair were the green GTX. The green ones are a little warm for summer so will wear the desert pair in the heat.
They fit like a sock, my feet actualy feel better with them on rather than off. I did get a size larger so I can add extra shoe soles or inserts to the boot, so i don't know just how comfortable the shoe sole that comes with the boot is cause I have an extra gel soul on top of that.
Normally whatever I get iI buy a size and half larger and put 3 to 4 shoe inserts in each shoe, these are comfortable enough that I got a smaller size and use only 1 extra shoe sole.
Can't say enough good things about this boot. It laces well, but the laces are small and so are the eyelets they go through so I dont think regular laces will fit if these break. I haven't been in much water with my Gortex pair other than walking accross parking lot in rain, but my feet haven't gotten wet. They have great traction and are extremely quiet, if you run on pavement they make no noise at all.
Source: bought it new
Price Paid: $250

Hard wearing, very comfortable, good quality. Poor grip on hard wet surfaces.
Pros
Very comfy
Well made
Easy to slip on and off
Great ankle support
Cons
Not resole-able
Poor on wet hard surfaces
Great boots, well made, very comfy, but rubbish on wet rock (some debate that this is not their intended use but nothing advertised accordingly). 
Put a Vibram sole on them and I would buy again, but do not venture into the mountains in the UK weather!!
Have worn every day for general use for about 1.5 years and the sole has worn through, uppers are mint but cannot resole.
Experience
Worn on a daily basis until they bit the dust
Source: bought it new
Price Paid: £160

I bought the Zephyrs in a sample sale at a local outdoor store and have brought them on a few backpacking/camping trips now. I have been very pleased and really enjoy the Gore-tex liner which makes it breathable and waterproof.
The boots fit well, but I think that the sizes run a little large. I normally wear a size 6 and bought a size 5.5. They offer great arch support and my foot does not slide around inside of them. This is sometimes a problem for me because I have narrow heels. The soles are not cushy at all, so you may want to consider buying more comfortable insoles.
Still, I recommend these boots because of their great support, the Goretex, and the thick tread great for dry and wet conditions.
Materials: Leather and gore-tex
Use: Dayhikes and short backpacking trips
Break-in Period: None
Weight: 2 lbs. 4 oz. for size 9
Price Paid: $130

Comfortable and ready to wear, but didn't last.
Pros
Very comfortable out of the box
Stylish for hiking boots
Cons
Seam busted open after one week of light use
Slippery on wet pavement
I'll start with the things I liked about the boot: They were extremely comfortable right out of the box. My ankles and feet felt supported and my feet never got tired while wearing these boots. They are also a stylish boot.
Now the cons: The boots have no traction on slippery pavement. I was walking with friends wearing converse sneakers and flip flops and they both had better traction than I did in these boots.
After three weeks of ownership and maybe 20 miles of urban or light hiking, the seam near the outer toe began to tear. I thought I might be able to sew it up after I returned home, but it only got worse with time to the point where I decided I ought to return them. No sense in spending $200 on boots that don't hold up with light use.
I returned them to REI and the guy there said that he's seen the same tear on several returned Lowa Zephyrs.
Source: bought it new
Price Paid: $200

Boots do fit big on the ankle for narrow feet. The elite version is better in this case. This boot is not meant for traction in rain. It was designed as a combat boot, specifically desert boot, where there is no rain.

It is comfortable, but a thicker soled sock is helpful. Keeps rain out though better than any boot I've had, especially in stormy weather.
Good fit. Big in ankles. Hiking sock needed. High quality.
Are meant as combat desert boot, not as city boot or rain boot. 
Source: bought it new
Price Paid: 260 cad

These boots look good, feel good for an hour or so, cause tendon damage and pain.
Cons
Terrible pronation of the foot causing pain and lon-term injury.
Uggh! good looking boot. Comfortable walking around in the store, but these boots cause terrible pronation of the foot, resulting in severe Plantar Facilitis, after just a few hours of walking. This is not a single occurrence issue, but foot damage with every wearing of these boots. It sometimes requires 3+ months to heal from the tendon damage caused by these boots. I will never wear these boots again, even though they have so few days of wear on them. I've never in my 50+ years of climbing, hiking, hunting etc. worn boots which caused this painful affliction. I've used many different brands of boots including: HiTec, Danner, Red Wing, LaCross, Kennetrek, and a hand full of European boots, without issue. Beware!
Source: bought it new
Price Paid: $200.

Got the Lowa Zephyrs. Haven't walked in them yet, but I am very impressed with them!
Extremely lightweight, comfortable, they fit true to size and they are passing Gore-tex's  waterproofing test method that is recommended to the consumer.
For 12 hours now, the boots have been filled with water and not one drop can be seen on the outside of the boot, or on a sheet of paper under the boot.
These Lowas are made in Slovakia. The craftsmanship between a European made vs a Chinese made boot is blatantly obvious. Another example of — you DO get what you pay for.
Will update the review as I break them in. I'm truly looking forward to walking in these.
Update: February 7, 2012
Wore these 3 times taking the dog for a walk. 2 miles/walk
I think the Lowas are broken in already.
Love how you can walk on an asphalt road and be as quiet as can be...no "clomp clomp clomp." You could actually sneak up on someone while you're wearing these.
I'm likin' 'em!
Price Paid: ??

Your Review
Where to Buy
Help support this site by making your next gear purchase through one of the links above. Click a link, buy what you need, and the seller will contribute a portion of the purchase price to support Trailspace's independent gear reviews.
You May Like
Specs
Men's
Price
MSRP: $190.00
Current Retail: $146.96-$235.00
Historic Range: $47.83-$235.00
Reviewers Paid: $200.00-$250.00

Women's
Price
Current Retail: $220.00-$230.00
Historic Range: $101.69-$230.00
Reviewers Paid: $130.00

Recently on Trailspace