Lowe Alpine AirZone Pro 45:55

Top 50 in men's Overnight Packs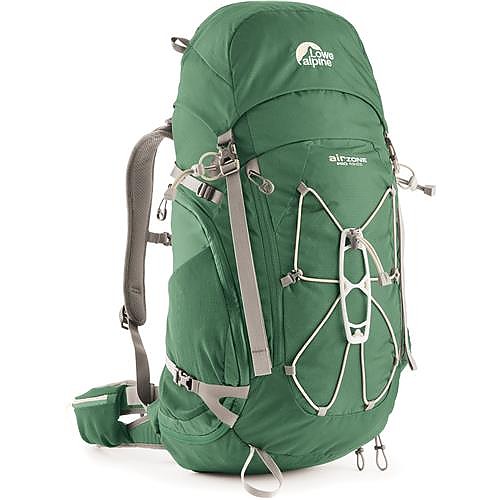 Specs
Price
MSRP: $200.00
Historic Range: $149.92-$200.00

Volume
45 L+10 L extension/ 55L / 2745+610 cu in

Weight
1.62 kg / 3 lb 9 oz

Fabric
N6.6 210D Mini Rip / 450HDP

Back System
Torso Fit Centro - 18-20" / 46-51cm

Load Zone
10-15kg / 22-33lb

Reviews
1

review

5-star:

0

4-star:

1

3-star:

0

2-star:

0

1-star:

0
The Lowe AirZone Pro is a lightweight internal frame pack that can serve a lot of different purposes. Because it has the "Airzone' back that allows air to circulate, and because it has a fair bit of storage space, it would be a great backpack for three-season weekend or shorter multi-day hiking trips. However, it has several features that make the backpack very capable as a winter day pack or summit pack too. Its main limit was that it struggles carrying loads over thirty pounds. It is a great backpack for hikers who are organized and like multiple pockets and access points. This backpack's comfortable suspension, light weight, and versatility make it a very appealing option.

Pros
Comfortable suspension
Light weight
Multiple pockets, features, access points
Cons
Lightweight materials and features might be prone to wear or damage
Reaching for water bottles in side pockets is uncomfortable
Could use a few more attachment loops/points
This backpack was supplied by Trailspace and Lowe Alpine for testing for the Trailspace Review Corps.
Fit and Features
The Lowe AirZone Pro 45:55 I received is a size medium and weighed 3 pounds on a digital hanging scale. The torso length adjusts a few inches via a slider where the shoulder straps attach to the back. At 20.5 inches, the medium fit my torso at the top end of its range. The frame is a slightly curved piece of hard plastic backed by two very slender aluminum pieces. That curve, combined with two thin strips of mesh and cut-out plastic, leaves some air space between your back and the frame, allowing air to circulate.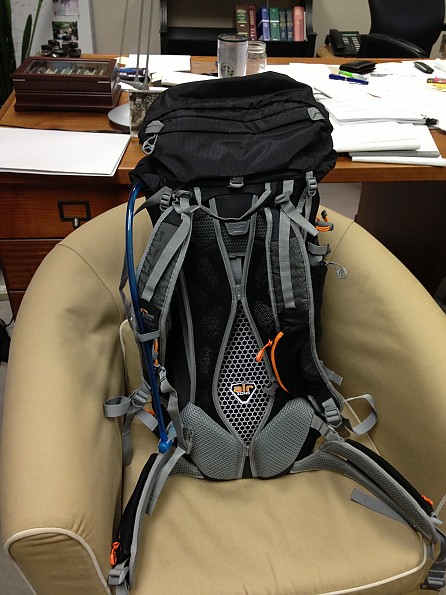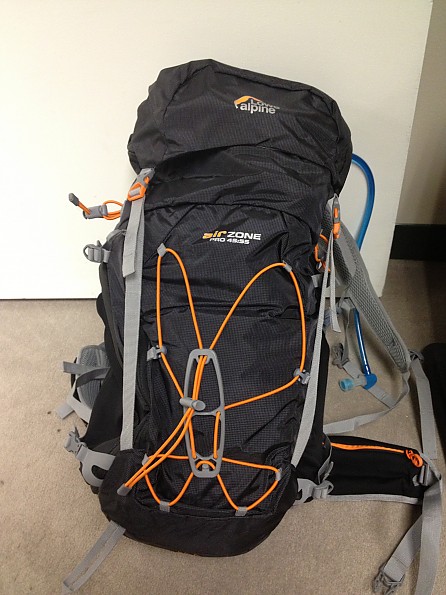 The hip pads and shoulder straps are very lightweight foam, perforated to save weight and covered with mesh.  The split hip pad wrapped around the sides of my hip bones and provided a surprising amount of support, given how thin and light they are. Over the three months I tested the pack, I carried as little as ten and as many as thirty pounds in it. At thirty pounds, I felt like the hip belt was started to sag and pull a little, which made me think that thirty pounds was probably the most weight I could comfortably stuff into it. 
The AirZone Pro is an organized hiker's dream. It is a top-loader that can also be accessed via a size zipper that provides really good access to the interior, which also has a long zippered interior mesh pocket. If you load from the top and need extra space, the pack has an extension sleeve that gives you an extra 10 liters (roughly) of storage.
It has a good-sized top with a big zippered pocket on top and a very flat zippered pocket underneath; you could choose to reduce weight by removing the top and closing the pack via an elastic shock cord and a strap that clips over the top.  It also has a zippered outer pocket on the back, beneath a shock-cord web, that can hold a lot – I often shoved a windbreaker, extra hat and gloves, and a bunch of snacks into it. 
You also have additional storage in two very stretchy side pockets, each of which is large enough to hold a one-liter water bottle or your hat, gloves, camera, even a light windbreaker. The pockets are easy enough to access if you are reaching for gloves or an energy bar; I found that reaching for and getting a water bottle meant contorting my arm in a pretty uncomfortable way.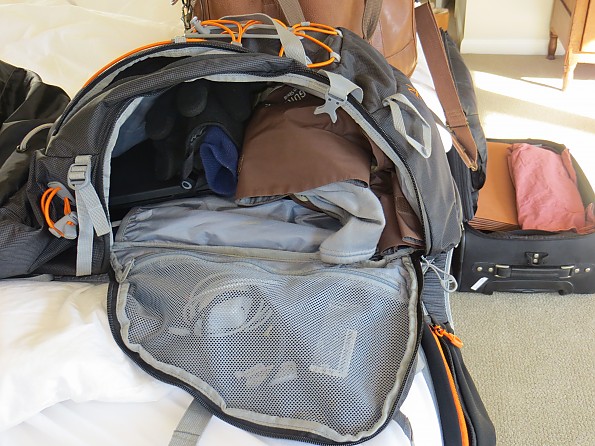 Also, I had water bottles slide out of the side pockets on a few occasions during rest stops. On the other hand, the pack has a great hydration sleeve and port, with an elastic on the shoulder strap to keep the hose from waving around.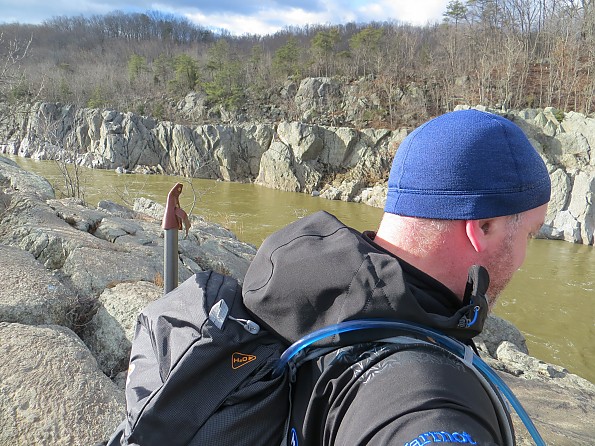 The back has a shock cord web with a hard plastic "thing" in the middle of it that gives the pack a distinctive look. The web can easily hold a rolled-up fleece, raincoat, or a pair of crampons.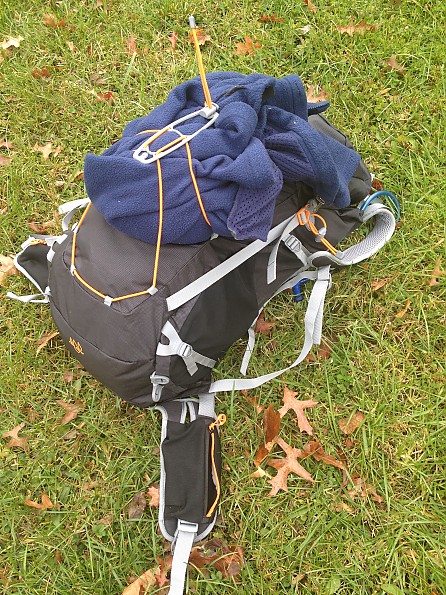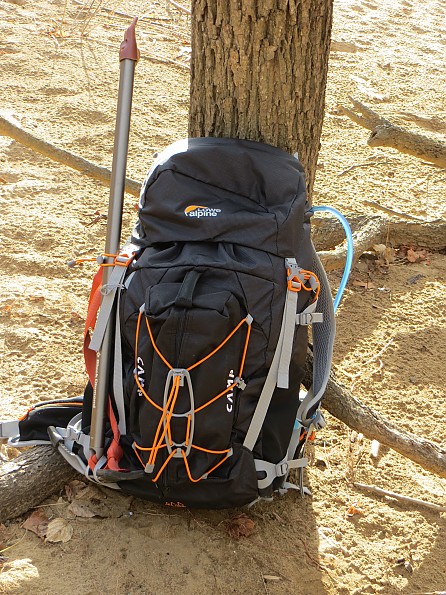 Finally, the backpack has a single ice axe loop and a system for securing a pair of trekking poles, including elastics to grab the top of the axe and pole. It's worth noting that if you secure trekking poles using the hardware on the pack, the poles cover and substantially reduce the size of one of the stretchy side pockets.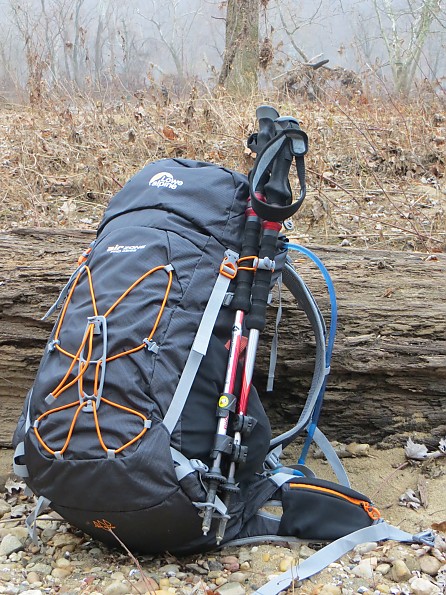 The Hiking Experience
I used the AirZone Pro for day-hiking on a weekly basis for nearly three months, walking 12-20 miles per week with it. Some of those hikes were in suburban Washington, D.C., some were about an hour outside Boston, and a few were in the mountains in parts of former Yugoslavia when I was there for work.
I was planning to use it as my day/summit bag on a winter hike in the White Mountains until a major storm made that hike too risky; instead, I took the backpack on some half-day hike/snowshoe excursions after the storm dropped over two feet of snow on the Northeast. Overall, I logged roughly 150 to 200 miles with the pack on my back, so I got to know it pretty well.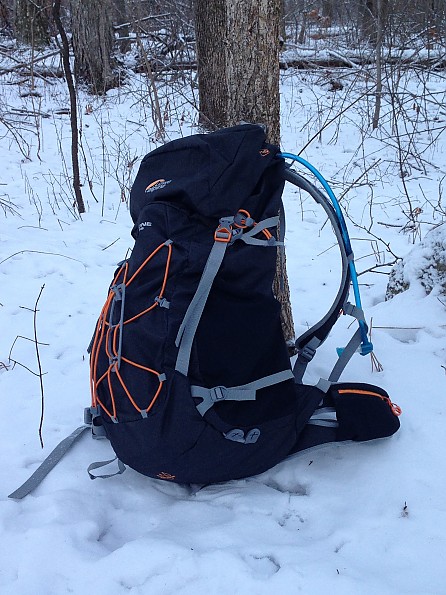 My initial concerns about durability, given the backpack's weight-saving design, proved to be largely overblown.  The pack material is a big plus. It is crinkly, especially in cold weather, but very tough and completely unscathed.  The various shock cords also didn't suffer any damage or significant wear; I wouldn't use them to secure crampons unless they were in a bag or had point protectors, though. 
The only real impact from all that use was that the two stretchy side pockets may have lost a little bit of their stretch, and the coating on the zipper that accesses the backpack through the side is starting to peel away in spots. To the extent durability might be an issue, the literature that arrived with the backpack indicates that Lowe backs it up with a lifetime warranty. Impressive.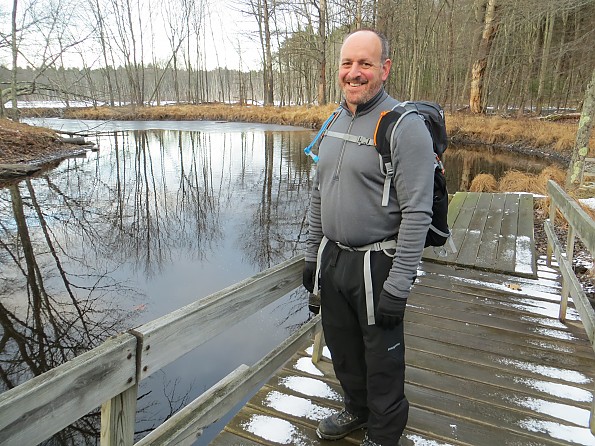 For a backpack that appears designed to be a winter day or summit pack, I would have liked to see better attachment points. The backpack has two thin compression straps on each side; because the pack doesn't really have many attachment points, I looped the ends of my bungee cords (my cords, they don't come with the backpack) to secure my snowshoes when I hiked to a couple of trails.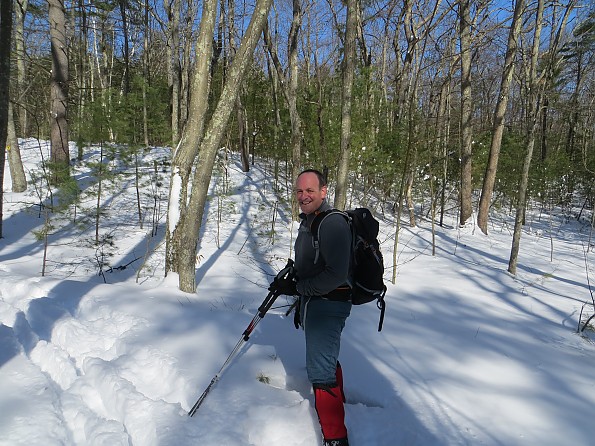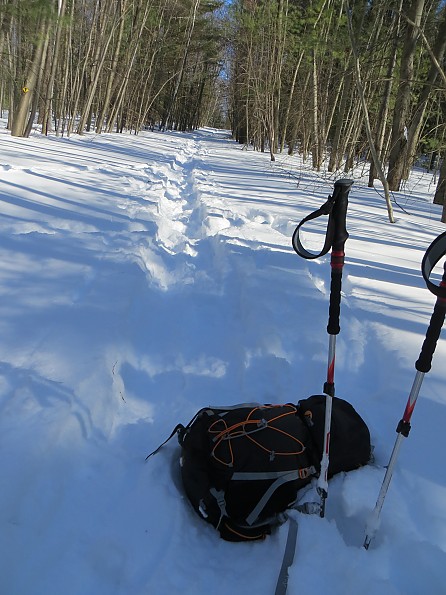 On winter hikes, I really appreciated the zipper pulls. They are big and flat and easy to grab and use with gloves on. I also loved the big side zipper that opens to the interior of the backpack and used that often to access or store a puffy layer if I stopped for a while, without having to unsnap the top. I regularly used the small zippered pockets on the hip belt. Each one is large enough for an energy bar, a smart phone, or a thinner compact camera. The left shoulder strap has a smaller zippered pocket that did nicely with a small ipod or folding knife. 
A number of my day hikes in the D.C. area were in the rain.  No worries — the bottom of the backpack is a zippered pocket that holds a shock-corded rain cover for the pack. 
The most positive part of hiking with this backpack was that I didn't much notice the backpack. Despite very narrow, thinly padded hip and shoulder pads, it is a very comfortable backpack to wear, unless you load it over thirty pounds.  I particularly liked the way the plastic cut-out strips worked with the mesh against my back, because they felt very firm and stable, more so than some backpacks that allow air to circulate against your back but have mesh-only panels that can sometimes feel a little like a small trampoline. As a result, even fully loaded, this backpack is extremely stable — it doesn't sway or 'trampoline.' 
I want to thank Trailspace and Lowe Alpine for the opportunity to test this backpack. It offers great comfort and usefulness for a variety of conditions, particularly considering that it only weighs three pounds. 
Source: received for testing via the Trailspace Review Corps (Sample provided by Lowe Alpine for testing and review)

You May Like
Recently on Trailspace