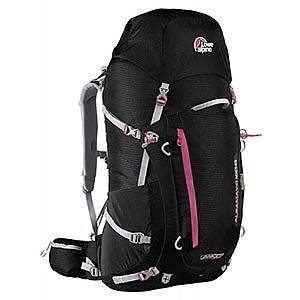 Specs
| | |
| --- | --- |
| Weight | 5 lb 1.8 oz / 2.32 kg |
| Volume | 65 + 20 L / 3965 + 1220 cu in |
| Load Zone | 25-32 kg / 55-70 lb |
| Back System | Axiom |
| Fabric | TriShield GRID / N420 |
Reviews
1

review

5-star:

0

4-star:

0

3-star:

1

2-star:

0

1-star:

0
Features upon features upon features! For the right person, this pack can handle up to 70 pounds. Its feature-rich design can handle the weekend warrior to the expert expedition-er. This pack offers over 5,000 cubic inches of room.

If the pack will fit your frame, the hiker can carry grandma, the rocking chair, and the campstove. The bummer — can be hard to dial in the fit, the only reason the pack garnered only 3 stars.
Pros
Designers really thought through the ways this pack will be used
Really deep outside pockets will hold two quarts of water in slender bottles
Built in hip belt pockets hold those little things
Excellent materials used in construction
Cons
Frame sheet does not comfortably fit my medium build
Waist belt will almost not tighten small enough
Waist belt and straps need more padding
Features:
I so very much wanted to like everything about this pack. The pros list truly barely scratched the surface of great things this pack offers.
The Lowe Alpine page makes the user navigate to different pages, so I will list details here along with the website link: http://www.lowealpine.com/axiom-alpamayo-nd65-85
TriShield Mini Grid nylon 6 base with nylon 66 rip stop grid
High end construction and sewing
High end components of zippers and buckles
Tip gripper for poles
Bungy clip for poles
Detachable lid with waist belt for day hikes
Internal bear can/ load stabilizer holster
Detachable hydration pack for fast/light day hikes
Sturdy, adjustable breast strap
This feature-rich pack weighs in at 5 pounds 2 ounces. For the heavy duty and extra features, I was impressed at the low weight.
By removing the pack cap, rain fly, and hydration pouch the weight can be reduced by 12 ounces.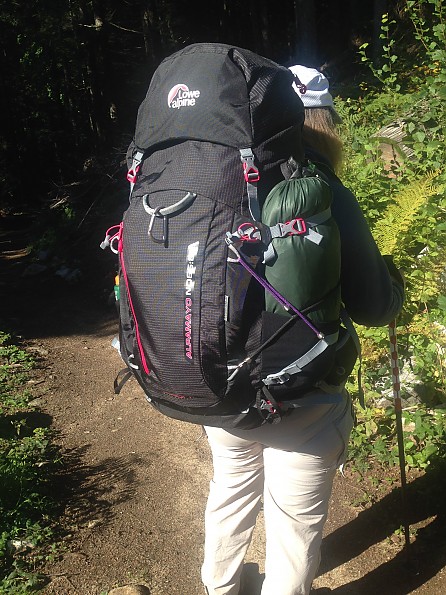 *Nice, roomy pack cover. 
Fit:
The fit is where this pack's features fall very short.  I am genuinely disappointed that no matter what I did, I could not dial this pack in entirely to my body. 
The pack is marketed as a women's specific design, but I found that even as a WSD, the women it fitted still fell in a narrow window.
I also fought and fought the Axiom element of strap adjustment. I could NEVER adjust the torso length while the pack was on my body. I finally took a reasonable guess and adjusted it off my body and got it as close as it will get for me.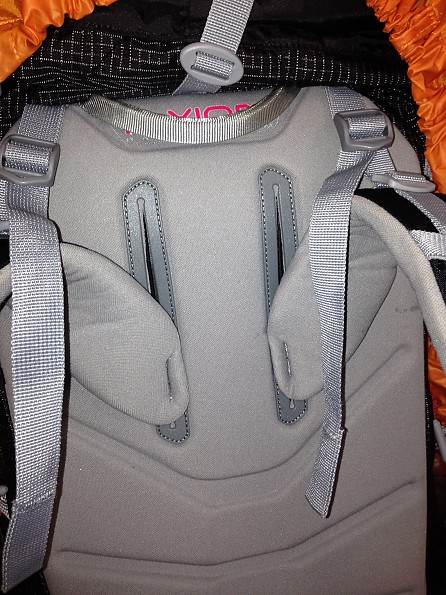 *Strap adjustment ports
What is the clincher of the not-quite -fitting was the design of the curve of the frame sheet.  The curve is so severe that it causes many wearers to lean forward to accommodate the curvature and heavy padding that sits above the hips.
I really wanted to be fair in the fit assessment, so much so that I had my daughters try it, then I took my pack to work, and had six other people of different heights and builds to see if they could dial in the fit better.
Out of those eight women, only two were able to make the curve in the frame sheet work for them, and they both LOVED how it felt.
The two ladies it fit best were one who was about 5'6" who was a medium/large build, and the other was 5'9" who was fairly thin and athletically built.
The shorter and more slender ladies immediately were frustrated with the frame sheet fit.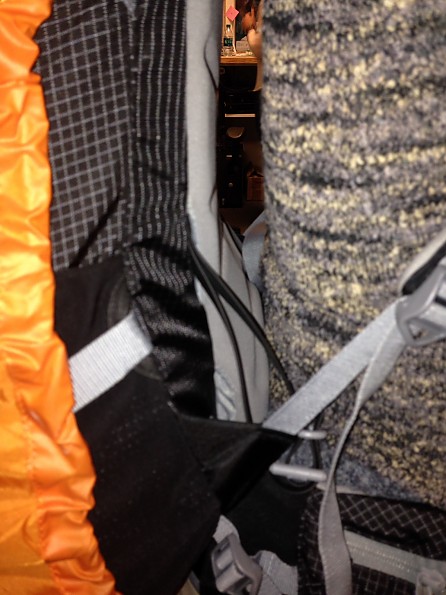 *The pack does not ride well on some backs.
For me, I do not dare over-use this pack since the way it rides on my back/pelvis, the curve and weight put a lot of pressure on my sciatic nerve, which is very distracting and painful.
I found that trying this pack on was much like trying on shoes. Even before fully inserting the foot or tying the laces, the wearer will know the shoe will not work. Many women didn't even finish getting the pack on only to shuck it off, unhappy with the way the frame sheet rode above their hips.
Comfort:
When I just put the pack on, the hip and shoulder belts felt fine. But I have two major caveats to that comment.  
The hip belt was almost too long for me to adjust down to my hips. I am a medium build and I wear small to medium sized clothes. I am pretty average height and weight, and yet I was running out of room to pull the belt snug.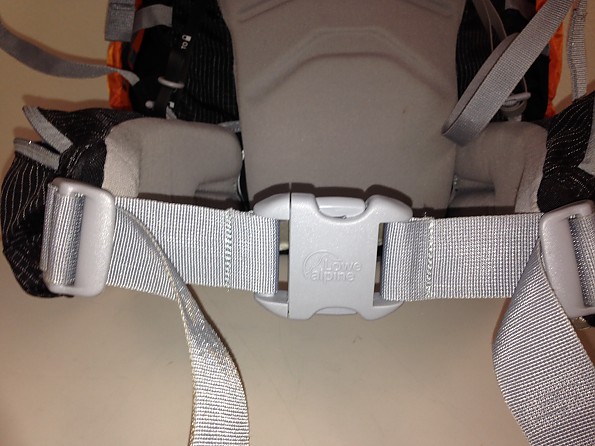 *My hip belt adjustment after I took off the pack with my medium build.
I had a 5'2" 117-pound friend try this on, and 5 fewer pounds, and she would have run out of snug room.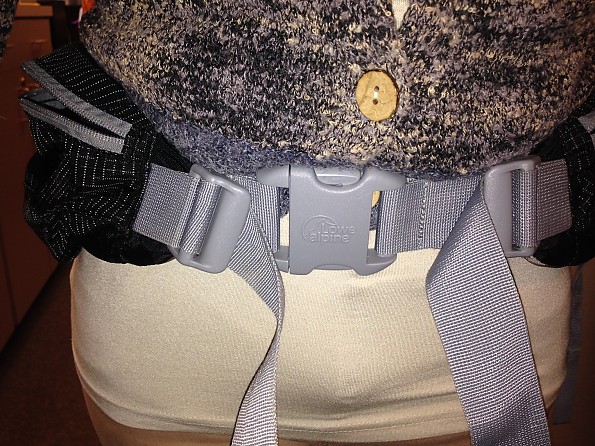 *VERY little strap left
After wearing this pack on training day hikes, my hips were frequently sore from the hip belt not being padded enough.
That frustration spilled over deeply into the shoulder straps. While just getting the pack on and getting under way, the straps felt ok, but as the hike wore on the shoulder straps felt like they were going to going to crush me. I had awful strap hickeys if I wore the pack for more than an hour or two at a time. I had one 13-mile day with a full load that left me with strap hickeys that took two weeks to heal!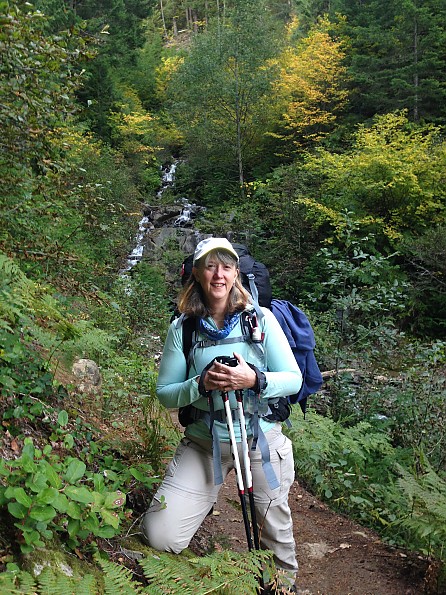 *On the trail
One thing that works very well on this pack is the venting. I never felt over hot while wearing it. In fairness, I wore this pack through the fall and winter, but I never had issues of over heating, even under my jackets.
I had no issue with adjustment straps for the shoulder straps. They functioned perfectly. The only nitpick is the thumb tabs to release the straps are fairly small.   
Ride:
Because the pack is so "overbuilt"  being designed for heavy use, the load and ride have always felt stable. Hauling a full load while dealing with rough trail, bending over, water crossings, and so forth, the pack rode really well. This pack never felt sloppy or like it wanted to soften and sag.
I have never carried over 45 pounds in any pack. Honestly, I have no need or intention to ever carry over that! :) But the pack is rated to carry up to that weight, and I fully trust a person could do so in that pack.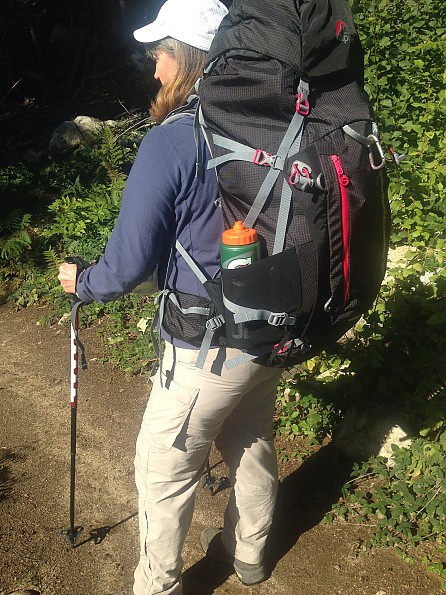 *Weekend getaway
Compression:
In that same vein, the compression straps do a good job buttoning down a lighter load to help the contents stay close to the body.
Capacity:
This pack is designed for multi-day and expedition use. According to the website the specs are 65 + 20lt / 3965 + 1220cu.in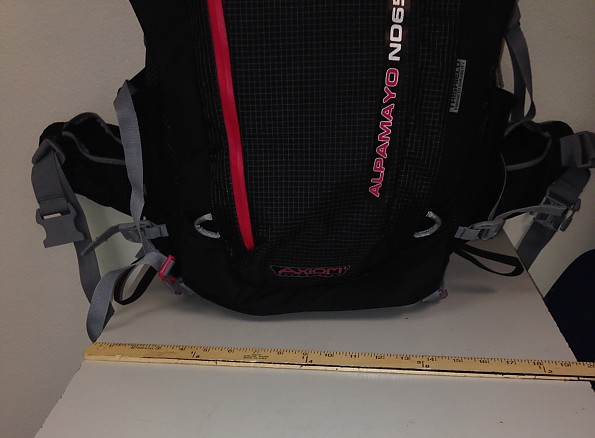 *19" wide filled
This pack swallowed all of my gear, and the bottom zip/flap design made accessing the gear simple. It's one of my favorite features. One lady at work joked that she didn't want to try to the pack on because she wanted to be put INTO the pack because of its volume.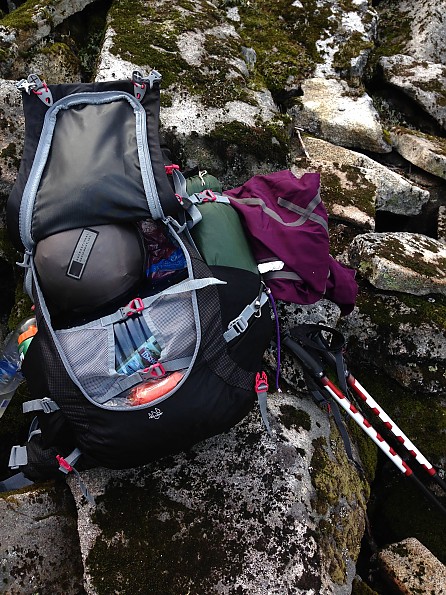 *Note the bear can inside the load net
Another design I liked was the huge side pockets. I could get two slender water bottles in one pocket. I also was able to put an ultralight tent in the side straps and outside pocket.
The front features a stuff pocket. I found that I was frustrated that I could not get a light fleece stuffed inside that pocket. I could cram in an expedition shirt if the pocket was empty. That is probably more user preference, but if it were raining, I would be frustrated to have to open my pack all the way up to load or unload layer; I would rather have fingertip  access at a stop.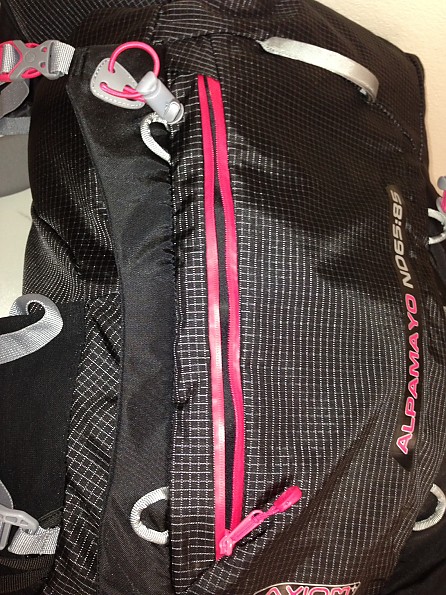 *Front pocket—with water resistant zipper
The stuff pocket will handle all that "little stuff" to keep organized, however.
The lid is voluminous as well. It too will handle that little stuff that is handy to keep on top. The lid can be used as a fanny pack as well.
The pack also has a detachable hydration pouch that can be used as a quick and light day hiker pack.
Organization & Accessibility:
Another design I was very happy to see is that a bear can will sit sideways inside the bag.  However, if you like the idea of pinning the can down with the internal holster, you take away options of were the can will ride.
The pack otherwise is pretty traditionally designed.  And as noted earlier, the front zips open into a big flap so large that I could turn the pack inside out through it.
The strapping, clips, lash loops, pockets, etc, all are easy to use and load.
Construction & Durability:
I have been able to use this pack since October. The only kind of "wear" is where I set the pack down. I have used this pack pretty consistently carrying about 30 pounds, and it absolutely looks brand new. 
Lowe Alpine used high end products on this pack, and it shows. Just looking over the pack, one can see the quality in the construction. I have been pleased with the not only the toughness, but the attractiveness.
The version I tested is the black and fuchia version. I normally avoid the gender specifying colors, I found this color scheme attractive. I was especially pleased when I looked on line at the other colors in the offering for this pack.  This configuration was my favorite. 
Additionally, the ladies at work also really liked the look. When making an investment in high end goods, we like our things to reflect that attractiveness and quality. Lowe Alpine achieved that with this pack.
Conditions: Where, when, and how long have you used this gear?
I was able to use this pack this fall on a weekend getaway. I have also used this pack almost daily for my winter training regime.   
In my near daily use, the ONLY "wear" or sign of use is the grey bottom is slightly discolored from it being put down.
I typically carry about 30 pounds. I have pushed and pulled gear into and out of this pack to test the stress and pull on the fabric. The pack just smirked at the abuse I handed it.
Ease of Use:
This pack did not come with any instructions or owner's manual. To be fair, I am glad I am a pretty good problem solver. I really had to study and handle the pack to understand lots of the little bells and whistles. 
One clever innovation is the use of the over-sized zipper pulls on the front flap. They are designed to be used easily with mittens.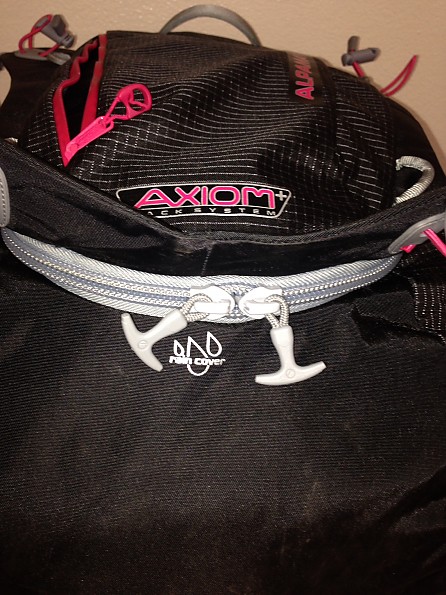 *Mitten-worthy zipper pulls
I really liked the bungy clips that hold poles or dead-man bars. They are easy to use.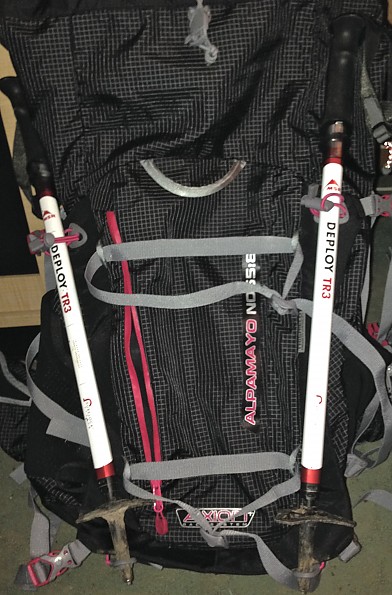 *Pole clips and lash points in use
It's also nice when packs come with the little hip belt pockets. I love having some of those little things right at my fingertips when I don't want to or have time to look for stuff, like bug dope, lip balm, or bonk food.
Once I figured the details out, everything works just like it is designed to do, with the exception of the ease of use of the Axiom adjustment system.
One feature that surprised me that it didn't include is having hydration ports on both sides of the pack.  While that may be a nit pick, I prefer to have the hydration tube on my left.
Lowe Alpine touts this pack as being adjustable on the fly. I really tried to do just that as I fiddled with weight and packing systems. I always had to stop and wrestle with the adjustor straps, or in time, I just took it off to adjust it, which defeats the idea of the design.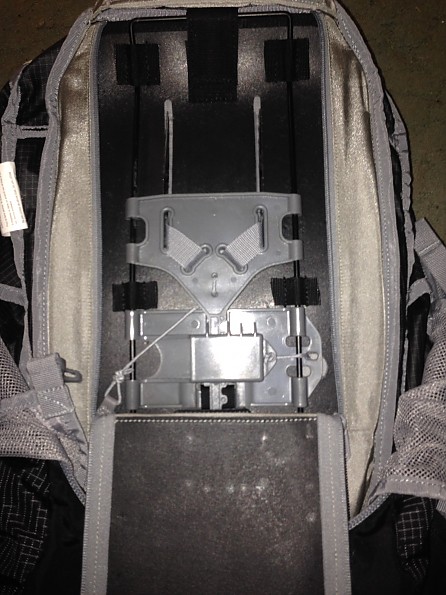 *The Axiom adjustment mechanism inside the frame sheet
Outside of that, the features do what they are supposed to do, with quality and ease.
I love the features, quality, and innovations this pack has to offer. I just wish that it fit me the way I need it to.
If you can get the pack to fit your frame, and you are looking for an excellent, durable, attractive product, I highly recommend this pack to you.
Source: received for testing via the Trailspace Review Corps (Sample provided by Lowe Alpine for testing and review)

You May Like
Recently on Trailspace