Lowe Alpine Contour 60+15

The Contour 60+15 has been discontinued. If you're looking for something new, check out the best weekend packs for 2021.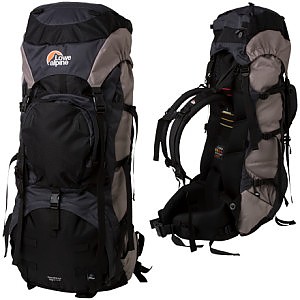 Specs
Price
Historic Range: $89.72-$239.95
Reviewers Paid: $170.00-$239.00

Reviews
2

reviews

5-star:

2

4-star:

0

3-star:

0

2-star:

0

1-star:

0
I've been backpacking for 15 years, and this is my 4th pack. I have found it more comfortable than any other pack I have used in the past (granted the others have been externals).
The harness system provides a lot of adjustment and must be capable of fitting a person of nearly any height. After using it I have found it to be very secure and the load carries close to me and feels placed correctly.
The extending hood allows the "+15" Liters of volume. If the full hood were used the top would be a bit high and less stable. I expect this is typical of packs with the expanding feature.
The fabric seems very tough/durable. If durability is not as important, many packs use a lighter weight (weaker) material.
The padding on the harness and around the belt and shoulder straps is thick, firm, and so far is holding up very well.
Pockets:
-Main compartment has a zipper divider to separate top from bottom. Both top and bottom half have their own access.
-Front pocket, maybe 2-3 L in volume.
-Detachable lumber top with 3 separte portions.
-2 water bottle fold out pockets that fit 1 quart Nalgenes among others
Type of backpacking:
I typically backpack in high altitude with a group in the summer, we stay ~5 days/4 nights. I hike on rocky trails with some bushwacking and boulder hopping.
Design: top loading internal (w/ a front load zipper down low)
Size: 60L + 15L = 75L
Number of Pockets: 2 in the main compartment, 1 on front, 3 or so on top piece.
Max. Load Carried: 45lbs
Height of Owner: 5'9"
Price Paid: $170

I just got back from a backpacking trip using this pack.
A little history: I originally bought the Gregory Triconi (which is a top quality pack) but when I packed it for my shake-out hike the week prior, I had trouble fitting all my gear into it. This concerned me because I wasn't winter packing but at some point I will be doing winter packing. I am not an ultra-light packer (or I wouldn't have chosen the Triconi to begin with). So I took the Triconi back to REI and started my search there again.
After two hours of trying on packs and walking around, it came down to the Gregory Baltoro and the Lowe Contour 60 + 15.
The Contour has many more features than the Gregory: More pockets for organization, a built-in pack cover (included in the weight number), larger sleeping bag compartment with a full closure separator that prevents small articles from falling through from the main compartment unlike the Baltoro, more durable fabric (over-all except for the bottom), and the Lowe has all sorts of lash points where the Baltoro had alomost none, the Contour can expand to exceed the capacity of the Baltoro, the lid converts to a fanny pack, there is a "head-bucket" to allow maximum head movement, and the Contour has two stow-away mesh water bottle pockets that are afixed to the outside to where normal water bottle pockets are located.
The only feature I give to the Baltoro over the Contour is the suspension movement however I found the padding on the Lowe better. Two other factors: The Baltoro costs $30 more than the Contour and the Gregory is made in China vs. the Lowe in Vietnam (very small difference being that both have lifetime warranties).
Use: Packed 14.5 miles (out and back) over moderate terrain over two days carrying a load of about 38 - 40 pounds (a lot of fluid included). We had 32 stream crossing each way (yes, we counted them on the way back beacause we couldn't belive it on the way out). The stream crossings required a lot of balancing over wet rocks, and we did 8 log "balance-beam" crossings. The Contour was very easy to balance. The hike included two areas of side-hilling. Again, the Contour was easy to balace and very stream-lined. The Contour easily packed my gear with room to spare without considering the expansion. It was very strange that Contour packed so much bigger than the Triconi.
The suspension held up without a wince and was very comfortable for the entire hike. Other members of my group complimented the good looks and functionality of the pack. I know this pack will allow me many varied adventures due to its capacity capability and versatility.
This pack is very durable, and with all the features comes some added weight. For my puposes and to trim some weight, I made some modifications...I trimmed all extra length strapping, I removed the extra mesh water bottle holders (I know I will never use this feature), I treated the pack to avoid the need of a pack cover.
Weight savings: 10 ounces.
As I learn more about what this pack can do, there may be another couple of ouces I can cut out.
Although I am criticizing the weight a bit, I am still giving it the full 5 star rating, because I can appreciate the extra features and what they bring to the party for those that would use them, although I would never use them (and I knew this before buying the pack).
This is a GREAT pack and I highly recommend it (if you want a bomb-proof, very comfy pack (which are MY main considerations in a pack) and you are not counting grams).
Design: Internal
Size: 3,700 expandable to 4,600 cubes
Number of Pockets: A lot
Max. Load Carried: 40 pounds
Height of Owner: 5'11"
Price Paid: $239

You May Like
Recently on Trailspace