Lowe Alpine Contour IV

The Contour IV has been discontinued. If you're looking for something new, check out the best expedition packs for 2023.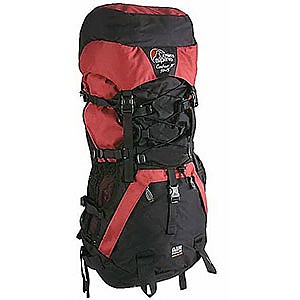 Durable, stable, comfortable, durable, easily adjustable (older version, not the new one). Bought the old one barely used maybe 20 years ago. Used to go to the Alps every year. Never had a single thing break on it but the waterproofing died years ago.

Looked at all the new ones last year, probably some that were better, ended up getting another Contour IV (much newer model) barely used for $45 this fall. Added a homemade double loop thumbstrap to the sternum strap so I'd have a place to hook my thumbs that was comfortable for cruising all day. Other than that zero mods. (Update: Found one of the older models in pristine condition at a Outdoor Exchange shop in Durango Co. for $35. Absolutely prefer the older harness. Denser hip pads and the slider adjustment for height is so much easier! Just not wild about the pink side panels on this one. Going back to the past for the serious hiking.)

Bought a rain cover from Lowes after a few years. It lasted about 4 years before the waterproofing went south. Just sprayed everything with silicone spray which helped.
Pros
Durable. Fewer pockets and zippers and junk to break means less things break.
Older version was super easy to adjust for height if you loaned it to someone.
Waistbelt and hipbelt of high quality and never broke down.
Cons
New back length adjustment system is far more difficult than the old version, still only takes about 5 minutes.
Top pocket still doesn't turn into a waistpack for walk around duty.
If you want to eat a horse during your trip you probably won't be able to fit him in the backpack. It is not a huge expedition pack.
Waterproofing didn't last forever.
Pockets on the sides of early model were just for holding the ends of poles, etc, worthless otherwise. New ones are made of a mesh, now just worthless except for drying you speedo.
Don't know what it was designed for but I'm 6'2" and 200# and it fit me well. I think it would be top heavy for shorter people.
Comfortable for me for 55-60 lbs all day up and down mountains. My legs were the problem, not how much the pack could hold or transfer correctly to my hips.
Reasonable is totally objective. I never carried a week's worth of food, so I always had plenty of room for bag and tent and pad and clothes and, and, and, inside. Never tried strapping more stuff onto it.
Organization. Three options. In the top pocket if you needed it fast and it's small. On the very bottom if you need it fast and it's large (ie rain gear). Top/bottom divider just keeps the clothes bag and sleeping bag in their respective places. If you want organization bring a very light multipocket bag to organize things then just load the thing in the pack.
When all the straps are pulled tight this thing is part of you which is good for log crossing, scrambling up rocks, etc. Set everything for hiking along mode and it will ride along pleasantly with a bit of sway and decent back ventilation.
Compression straps only work down to about 2/3 full. 
Ease of use: Old version, incredibly easy. Newer, not so well.
Durability: In spades!! 20 years and one 1/4" sized hole isn't bad even if you are only taking a few trips a year.
Hiking on flats trails in Illinois to get my legs, then 1-6 weeks a year in the Alps for 15 years. Moderate + loads, 45-60 lbs max. 
Source: bought it used
Price Paid: $60 ($35)

As a first pack, I have found it very versitile. I have used it for various trips ranging from 10 days in the Boundary Waters to a couple days on the Superior Hiking Trail and it fits my needs very nicely.
Negative's
----------
- heavier loads tend to "sway". I've tried a variety of different packing methods and found it to be common, especially when it is a little heavier on top.
- the two side pockets are not very useful for carrying items such as water bottles (the nalgene bigmouths do fit) or items you wish to access easily, but they do secure lengthy items such as tent poles and my Sven Saw.
- The 2 side pockets which can be purchased and attached are of very poor design. Whereas they do add to the overall carrying capacity of the pack and are nice for items such as fuel bottles, I feel they add to the instability of the pack because they do not fasten firmly enough and wobble back and forth when walking. They also widen the pack and tend to get caught on bracnches and in narrow trails.
Positive's
----------
- The pack is comfortable to wear. It feels nice against my back when I put it on and it is easily adjustable while I am on the trail.
- It has unlimited space to put all your gear. I've had times when I literally couldn't fit anything more in the top section and still managed to fit an extra "something" in there.
- Durable. The outer shell resists abrasion very well and it has taken a lot of abuse across portages (no Duluth pack for me!), down steep trails and for the first 5 months I had my new puppy (he chewed my shoulder stap in half).
Overall I would recommend this pack to most people. As I am not a tall person, I cannot foresee the problems related to height, but being about average size, I can honestly say that there is never an instance that I have not been able to use this pack for a trip or wished it were bigger/smaller/lighter etc... A very good pack.
Design: internal
Size: 90 + 15
Number of Pockets: 2 side + 2 add on
Max. Load Carried: 75 lbs
Height of Owner: 5' 10"
Price Paid: $220 US

This is my first Lowe pack, and overall I'm pretty satisfied with it, save for a few minor design flaws. So far I've only used it once on a 4-day trip, but it was easy to get it dialed into my body shape. The pack itself is touted as being a pack for women or people with shorter torsos, but I bought it because it is slightly more compact than some of the more average sized internal frame packs for weeklong endeavors, such as the North Face Renegade. It still fits me quite well, despite my being slightly larger than its intended user. It is a nice choice for someone like myself that likes to pack light for a trip. My 3 season 15 degree bag just fits into the bottom, which makes me think that getting an overstuffed 4 season bag in there come winter may be trouble. However, I can always get a compression sack for my winter bag if I need to.
My biggest and only real complaint about this pack is the pretty major design flaw in that the 2 pockets on the bottom sides where you can ususally stow a Nalgene for easy access are two small to fit a normal wide mouth 1 liter bottle. Instead, I keep one clipped to the back with a biner and one in the lid pocket, but I can't get to water without taking it off. I plan to invest in an Outdoor Research water bottle holder that fits onto the waist strap to remedy this.
Design: internal frame pack
Size: 5000 cu. in.
Number of Pockets: 3 addt'l pockets
Max. Load Carried: 60 lbs.
Height of Owner: 6' 0"
Price Paid: $229

I have owned this pack for 13 years and can say it hasn't failed me yet. It is a large pack that can handle big loads. I've had as much as 85 lbs. in and on this pack hiking Isle Royale and other areas in the U.P. This pack is a tough well made pack that is very comfortable to carry. I have always found the harness adjustment with the slider on the web to be so simple and slick I can't figure why they changed.
The compression system works well to control big loads and will secure your tent poles along side the pack quite well. One of the only draw backs to this pack is with it's size the compression system can't reduce the bag size enough for light weekend trips. Not a big problem if you always go big.
I had purchased two side pockets for my pack just after my first hike. I found I needed room for smaller items that I wanted close at hand, it is to hard to have to bust open the bag to get small stuff. It's a shame, even today, that they don't come with the bag standard. They make it much more versital and if you don't need them on a particular trip you could leave them off.
All said, there is very little not to like about this pack. It's a great value in an ever growing field of high-priced gadget packs.
Design: Top Load Internal
Size: 80-90 liter
Number of Pockets: 2 (optional)
Max. Load Carried: 85 lbs.
Height of Owner: 6'1"

This pack packs. In the years I've owned it it's taken me from Alaska to Argentina with Europe, Asia, and a whole bunch of mountains in between. I hauled 100 lbs. 45 miles in two days coming down from Aconcagua once with not so much as a single saddle sore. I have used it as my weekend pack, my daypack, my summit pack, my duffel bag, and my work horse pack. Nothing has ever broken, ripped, torn or failed.
The only problem I've ever had was that somebody else liked the pack so much they stole it. This gave me time to reconsider the packs available out there and try some different models. But returning from a recent Mt. Rainier climb with a competitor's pack and yet another sore back convinced me that no other comparable pack compares. It's cheap, comfortable, easily modified for huge hauls, and doesn't complain. No matter how big the load.
I just got a new Contour IV and the recently added features make it a better pack then ever.
Climb on!
Size: 90+15
Max. Load Carried: 100 Lbs.
Height of Owner: 6'3"
Price Paid: $149

Version reviewed: 1999
great winter pack. sleeping bag conpartment holds your bag and then some. I have never been able to fill the whole bag even with 75# in it. straps on the sides hold my snowshoes tight against my pack. the bungi on the front (or back) is great for my crampons and ice axxes.
the only negative thing I can say about it is the top detachable pocket cover doesn't pull down tight if the pack is not full. I usually store my food in it and put it inside the back.( it wobbles if not pulled tight).
the hydration system is great. every pack should have one.
Design: internal frame
Size: huge
Number of Pockets: 2 side 1 top
Max. Load Carried: 75lb
Height of Owner: 5'10"
Price Paid: retail $250 (paid $150)

Version reviewed: 1996
Well, now that I have had this pack for five years and close to at least 100 trips (weekends and longer adventures), I feel that I can write of the good and bad.
Design - The pack is made with a wider profile rather than a taller thinner profile. I find this nice for cruising through blowdown.
Pockets - not enough. I added the side pocket for winter use, but they always seem to be sloppy and catch on things.
Top Pocket - Fallback is that it does not turn into a hip pack for daytrips into town or side trips whilst on longer trips.
Suspension - Comfortable and not bad for $200, but certainaly not of the quality of gregory or dana.
Overall Quality - The materials and overall design of this pack are great. I have had cheap packs (Kelty and Eureka and Camp-trails) over the past 20 years, and it is things like bar tacked stitching, heavy duty cordura in wear spots, good high density foam for shoulders that doesn't break down over time with heavy loads. A comfortable hipbelt and good plastic/nylon buckles. This pack makes a great all around pack and I know it will give me many more years of great use - I haven't even begun to wear out the PU coating even after all these trip so far.
I am sure that others will find this pack a great value and trusted piece of gear.
Design: Internal Frame
Size: 5400 CI Plus (60 liters)
Number of Pockets: 1 (top pocket)
Max. Load Carried: 65 (winter)
Height of Owner: 6'1"
Price Paid: Paid $199 in 1996

Have used on numerous treks in all seasons. Multiple adjustment strap system, built-in yoke strap, and padded waist belt were the convincing points for purchase in early 1990s for a tall, narrow waist male.
Pros
Adjustable strap connection to pack frame
Padded hip belt, fully adjustable
Side hip belt strap can accept bottle parkas.
Extremely rugged materials,
Cons
Typical internal frame with top-loading entry.
Top cover too small, not designed as fanny pack
Another great piece of gear discontinued...
Bought the Alpine IV in early 1990s, has been used in multiple treks, trips on weekends and summer. Holds as much as you want it to, sometimes too much.
Chose this pack for its stability factor and ability to adjust various straps (belt, should) to ventilate or adjust CG while descending or ascending trails.
Got my money's worth when used often. Today, I may use once or twice a year, depending upon event.
Source: bought it new
Price Paid: about $250 or more, in 1990

Version reviewed: 1990
It's not a bad pack so long as you are not carrying huge loads. The stays start bending if you carry much over 50 lbs.
The sleeping bag compartment is too small for winter bags, or most synthetic three-season bags. The size range quoted by Lowe is a joke. The pack is maxed out in adjustment range for someone with a 19-inch torso. Tall people need to beware! Always remember that the load-lifter straps need to leave the shoulders at a 45-degree angle or greater to be effective.
Overall I would recommend this pack to most people. It is fairly inexpensive and carries well for most trips.
Design: internal
Size: 5500
Number of Pockets: 1
Max. Load Carried: 65 lbs
Height of Owner: 6' 0"
Price Paid: $220

This pack has worked out well for me in the past. It carries the load very well when it is packed fully. I have a couple of complaints. The stitching on a velcro pad in the sleeping bag compartment came undone within its first year of use. Also, the water bottle slots on either side are virtually useless as the bottles are nearly impossible to remove and replace in their pockets. Besides these two minor flaws, I really enjoy the pack, especially at the price.
Design: internal frame
Size: 5600
Number of Pockets: 2
Max. Load Carried: 60 lbs
Height of Owner: 5' 11"
Price Paid: $185 on sale

This pack has been a welcome addition to my gear. It's the most comfortable pack yet. Its contoured alluminum stays are wonderful and can be adapted to fit any back. It has unlimited room and space for anything. Extra deep bottle pockets allow for the storing of other gear such as tent poles and other bulky items. Scalloped compression straps on the sides make for smushing your load a very easy task. This bag gets a firm A.
Design: Internal Frame
Size: n/a
Number of Pockets: 4+2
Max. Load Carried: 50Lbs.
Height of Owner: 5'11''
Price Paid: $230

Had the back for 10 years now, really reliable. Made a few adjusments, add a front pocket and staps. a bit too big, if i had to buy a new one i would look for the contour 3 probably. the 4 is a fair fit for a good price. 8.5 on 10.
Design: contour 4
Size: 75+15
Number of Pockets: 1
Max. Load Carried: 100lbs
Height of Owner: 6'
Price Paid: $250 cnd

Your Review
You May Like
Specs
| | |
| --- | --- |
| Price | Reviewers Paid: $60.00-$230.00 |