Lowe Alpine Triple Point Ceramic Jacket

The Triple Point Ceramic Jacket has been discontinued. If you're looking for something new, check out the best waterproof jackets for 2021.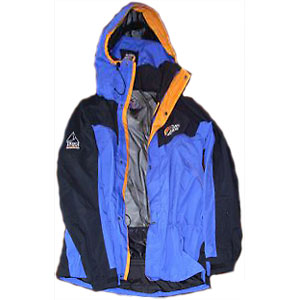 Specs
| | |
| --- | --- |
| Price | Reviewers Paid: $25.00-$248.00 |
Reviews
17

reviews

5-star:

9

4-star:

3

3-star:

1

2-star:

1

1-star:

3
Very very good jacket, when one thinks of the age it was made in. Ceramic layer flaking off after years of use.
Pros
Extremely hard wearing and tear proof
Comfortable and very rain resistant for years, if sparingly washed and correctly treated
Super zips and lots of smart details for the time it was made
Cons
Ceramic layer giving up the ghost and jacket is near useless now. Pity, as it looks like new.
Some will find it a bit too roomy and size one step down.
I have three of these jackets since new, all bought on the same sale, and that is some 14 years ago. I've use one of them specifically on all my mountain trips since new, and through the autumn and spring in my home country, which is pretty wet, and only washed it sparingly. No problem, no tears even on rocks and through wilderness forests.
Only now, after so many years, the ceramic middle layer is flaking off and the jacket is noticeably colder and wetting out. I will keep it as a memory of my trips. Sad that Lowe Alpine does not make garments any more. They did it well.
So, I just found another one for near free. Happy to start all over again ;)
The other two also likewise old ones I also got back then? Well, they last and last and last. Still wearing them. They are a thicker more insulated model though. In fact all my other Lowe Alpine stuff still works and looks perfectly—two smaller 28 Liters and one big traveling backpack with adjustable back by means of a funny coloured scale of adjustment. Rememer that? ;) 
And then the gaiters, gloves, mits, trekking trousers and my pair of highly insulated snow-trousers with suspenders. Love those!!! Definitely harder wearing than say Fjällräven.
Experience
Lasted longer than any Gore-tex jacket I've owned, or any other jacket for that matter. Would buy again if possible.
Source: bought it new
Price Paid: 100 usd

I agree with the other reviewer...the lining is completely flaking off of my jacket. Shouldn't the company warranty this products and replace it?
No one expects to pay a high price for items and them find them useless through no fault of the owner.
Nice looking jacket, very comfortable to wear and completely waterproof. What more could you ask for?
Maybe that the ceramic coating didn't flake off in little bits like dandruff... The flakes are so small that they actually slip through the mesh lining and cover whatever you're wearing underneath. A wee bit embarrassing at times. The hood is now completely unusable due to the amazing quantities of 'dandruff' it produces.
Certainly my jacket is a few years old now, but it's been looked after and not abused. A real pity about the dandruff, because it's a nice jacket.
Price Paid: £125

Almost all of my walking and climbing is done in the mountains of the UK and as a consequence a good hard shell is a must (due to huge amounts of rain). I have also used the jacket extensively in New Zealand (winter) and India (monsoon season).
The TPCJ has good styling and cut, pockets are so-so, excellent zips and a roomy adjustable hood. I can also fit decent amount of mid and base layers under it or wear it with a t-shirt as good shock-cord adjustment stops it feeling like a sail.
I first got this jacket as (due to a packing over-sight) I forgot my normal Gore-Tex (doh!) and bought this to be used as cheap stop-gap. This beats my other Gore-Tex jackets hands-down. This is a fantastic jacket for REALLY wet conditions and although it weighs in heavier seems altogether more packable.
7 years extreme use and it still looks like new and I am as happy popping down the pub in it as I am Kea spotting in Milford Sound.
Fabric: Triple Point Ceramic
Price Paid: Sale $60

I agree with all other reviewers I've read on your columns, this Alpine jacket is fantastic, well shaped, comfortable, roomy, great adjustable hood, warm, nice finish, pretty blue color/black. I was astonished to win on Ebay this bombproof jacket for so few bucks. I noticed that since they issued this model, they never did so good item. I hope Lowe Alpine will read that. I'm ready to try it this summer and winter.
Fabric: 100% nylon PU coated
Fill: Polyester mesh lined
Price Paid: 62 GB pounds and mint!!

Like some of the other people reviewing this jacket, I bought it as a cheap Gore-Tex substitute, but found it to be far superior in many ways. The design is VERY well thought out with pockets and double-length pit zips. Also the jacket is BOMBER. Noticeably heavier than similar products, but it will also outlast those products. If you are not a weight weenie and want a rugged, solid mountaineering jacket, buy this one.
Fabric: Triple Point Ceramic
Price Paid: $125

I have been using my TPCJ for almost 11 years now and I love it. I really don't know about other Gore-tex jackets. Why? The TPCJ works so well I have never considered anything else.
I wear this jacket everywhere, skiing, hiking, football games, and its great.
After all this time I have just one teenie tiny little hole. This is a great buy!
Great for wandering around in town on a cold and rainy day. Too damn heavy for climbing, hiking, or any of the other things you'd buy a coat like this for.
Fabric: Triple Ceramic
Price Paid: $25 (used equipment sale)

Triple Point Ceramic is a little heavier that Gore-Tex, a little warmer, but will outlast it anyday. Not a leak after two years of heavy use. Never been treated either. Bombproof construction...have used it bushwacking and scraping on rocks, but not a scratch on it. Highly recommended.
Fabric: Triple Point Ceramic
Price Paid: Sale-$60

Super quality, smart looking.
I have owned this jacket for now...21 years!!!! It looks exactly like the day I got it for my birthday (I don't).
I've only used it for hiking and city walking so not heavily used, but still, the jacket is completely as new and I still love wearing it on a cold, windy, rainy day. It never lets my down. Damned thing that they don't produce it any longer.
Source: bought it new

This jacket has been used by me downhill skiing for the past 13 years.
Pros
Tough material on arms and shoulders
Pockets
Storm flaps
Fold away hood
I retired it and brought back after both my North Face and Marmot jackets were ripped by trees.
Bombproof and versatile. I keep looking for a new jacket but none has equivalent features and toughness.
Source: bought it new
Price Paid: $175

I own three of these TPC jackets. All different styles. All three have failed with the lining flaking off.
Cons
All have failed. Lining has flaked off on all of them.
These are not jackets to count on for long term use. I have a Gortex jacket that I bought 26 years ago. It has lived in my pack in Europe, South America, and Africa. Still my jacket of choice. 
The TPC worked, but wetted out after a week on the trail. Lowe Alpine recoated the outside. Now the lining is flaking off, as are the linings of the other two I own. None of these has gotten a tenth of the use that the Gortex has. 
Source: bought it new
Price Paid: do not recall the prices

I would not recommend this jacket because the lining has completely flaked off and looks like dandruff which gets on everything. The jacket was bought new and started flaking within one year of only wearing it a couple of times a month.
Cons
Lining flakes off making it unwearable
The overall fit is good with convenient, adjustable cuffs and the zipper is of good quality. It is easy to wear layers under this jacket.
The downside is that the entire inside lining is completely flaked away and looks like dandruff and gets over everything, making it impossible to use the jacket. This started to happen only after a few months of use and I feel it is the company's responsibility to replace it or give a reimbursement.
I would not recommend this jacket and would never buy a jacket from this company again.
Source: bought it new

The dandruff and degradation problem is due to the wash detergent used to clean the fabrics. My jacket is now 10 years and still in optimal shape. I recomend the use of a specialized detergent and heavy rinse of the garment.. Great jacket!!
Source: bought it used
Price Paid: 50 usd

My first TPCJ jacket I wore in the mountains of the UK (lots of rain) for a couple of years of hard use. I then took it to Patagonia where I spent four months leading treks and living outdoors. In one particularly wet month, all of the Gore-tex users in my group were getting wet but the two of us in this fabric were not.
When that jacket was stolen I replaced it with the same model and have now used that for several years without problem.
Good pockets, good zips, good hood, could perhaps do with a bit more soft fabric to protect the chin when fully zipped up.
Ideal jacket for really wet conditions.
I bought mine four years ago when on a tight budget thinking it would be a budget buy. I have since bought another brand name Gore-Tex jacket, but I know without doubt which I would prefer to have with me at all times. The Triple Point Ceramic is warm when worn over a base and mid-layer in winter, but also cool when worn over a base layer on those cooler days in spring and autumn. Most importantly, it is a very comfortable garment to wear. Highly recommended.
Fabric: Triple Point Ceramic
Price Paid: £100

Triple Point Ceramic is the ultimate. Much more comfortable than Gore-Tex. Also packs smaller.
Price Paid: $248

You May Like
Recently on Trailspace