Lowe Alpine Vision 40

Top 25 in unisex Overnight Packs
The Vision 40 has been discontinued. If you're looking for something new, check out the best overnight packs for 2022.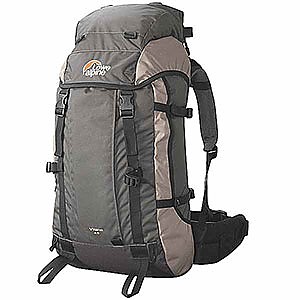 Great sturdy minimalist pack!
Pros
Extremely well made
Durable
Comfortable
Carries loads well
Cons
A bit heavy by today's UL standards, but not overly so
No hip belt pockets
This is a superb pack. I bought mine for $30 on ebay a few years ago and have put over 500+ miles on it over various 3-15 day AT section hikes. I don't know when they stopped making it but it was a workhorse of the Lowe line for many years. I think mine is from 1999 or 2000; it's the cool "pumpkin" color.
With a minimalist mindset you could definitely use this for an AT thru hike, or something shorter. They say it's 40L but probably it's really about 45L or so if you factor in the long exterior front pocket and the pockets in the lid. There's places for straps on the top and along the face of the bag, though not the bottom, so you can expand this even more by attaching things to the outside. It would't really fit a bear canister, but you don't need those on the East Coast where all you have are nosy black bears and a hang is sufficient, haha.
While it might be slightly heavier than today's UL bags, it's also WAY sturdier, and truthfully is only about a pound heavier than most UL bags that still have frames and hip belts. The frame sheet is plastic with aluminum stave and provides nice rigidity and load carrying. The shoulder straps and hip belt are well padded and it carries weight very comfortably.
There're no hip belt pockets, which is a minor drawback, but you can buy after-market ones so it's not a big deal—I have one after-market hip belt pocket on one side and my ESEE Izula clips snuggly to the strap loop on the other, so I make it work.
The side straps compress the bag nicely and there are a couple pockets in the "brain" (2 or 3 depending on the year it was made). I know that bags with "brains" are no longer vogue, but I like them because it keeps things organized and you can easily strap things to the top or under the lid.
This is an awesome bag for anyone that finds one cheap and wants to adopt a minimalist philosophy for any season backpacking. If you see one on ebay or at a yard sale get it! 
Experience
I have owned this for two years and backpacked 500+ miles with it
Source: bought it used
Price Paid: $30

Excellent lightweight pack that is versatile for many conditions.
Pros
Indestructible
Comfortable
Breathes very well
Straps for external add-ons
Lightweight
Cons
No access to the bottom of the pack, additional pockets would be nice
I've had this pack for over 12 years now and use the heck out of it.
I actually use this a lightweight multi-night pack, but when doing so I typically have to strap things like my sleeping bag on the outside. I've added a few more external straps to help add items and I've sewed in a little nylon hook for my water bladder in the back storage.  
This bag is indestructible. Still to this day I have no tears (and I really pull down the compression straps). Useful pockets throughout and the biggest benefit is it is extremely comfortable.
My pack has been to three continents, on multiple hikes, several 5-day hikes, and numerous multi-day bike trips.
Source: bought it new
Price Paid: $100

A 1-2 night fast and light pack.
Pros
Light
Comfortable
Strong materials
Cons
DWR finish is a little flimsy
I am 5'11" 190 and this pack has fit me very well, it is somewhat adjustable. 
The hip belts and shoulder straps are very well padded with and the padding has stood up well over time. 
I think it truly holds 40L, but is 40L enough for a reasonable amount of gear? If you want to get more than a day hike out of this pack you will have to be very selective about your gear selection for the sake of eliminating bulk. I do believe that you could comfortable carry 35-40lbs with this pack. But it would be in its element with some nice light gear and moving fast with a <30 lb. 
I have carried a variety of loads for over long and short distances with this pack. I think the heaviest I have made it was about 40lbs, but that was to carry 1/2 my wife's gear, but only for a one-nighter. 
The load sits very comfortably and weight is distributed well and rides nicely on the hips without pulling down on your shoulders.
It has nice ice-axe loops with the additional handle cinches (can't say I have gotten to use them). This bag would be in its element doing rapid 24hr summer-time summits. 
This bag is built very well. If you get caught in the rain, you will want something waterproof to throw over it. That said, I have biked home in the rain with it many times and not worried about my belongings.
Source: bought it new
Price Paid: $40 (Sierra Trading Post)

I've had this pack for about 6 years and have absolutely loved it. This thing has gone with me to the summits of Orizaba, the Grand Teton, Timponogos (multiple winter ascents), and many others. It's a little tight for overnight use, but it carries all of the backcountry essentials plus necessary climbing gear (e.g. ropes, crampons, axes, rock protection, etc.).
It's very comfortable and rides well. I don't know if they even make these anymore, but you'd be hard pressed to find a better mid-sized frame pack for this price.
Design: Top-Loading
Size: 40 liters
Number of Pockets: 2
Max. Load Carried: 40 lbs.
Height of Owner: 5' 11"
Price Paid: $70

I bought this pack in Toronto (stores on King St.W. & Front St.) for the amazing price of $69 Cdn ($46 US). I recently used it for an ultralight winter trip, but most often it is used as a large daypack. Wife used it on Mt. Washington, N.H. for an ultralight week!
I love the back air-channel and the frame (single stay + framesheet are the best). Materials of heavy-duty rip-stop are about the strongest I've seen. Zipper have flourescent pull-tabs that are great in the tent at night. Top stabilizer strabs work well. Three pockets in lid are handy organizers. Not clutered with pockets, straps hanging off. No spindrift collar, but lid covers well/tightly.
This is a VERY well made pack, even at full ($100 US) price. Better quality than any pack in its class. And I researched the hell out of packs before I bought.
Seems bigger than the stated 40 liters (Explore Magazine Gear Guide says it is 47 liters). Much better than the MEC pack and Eureka 40 I had before. The best thing about this pack is the bombproof way it was sewn (apparently still by hand). Great attention to detail. Don't anticipate any probs...ever.
The bellows pocket fits my 2 liter platy hydration, the pole pockets fit my Bivy poles, and tekking poles perfectly. I bent the stay and it fits perfectly. The pack weighs about 3.5 lbs (due to kick-ass frame) but can carry enough for a week. I need it up to about 25lbs, but it can handle 35lbs with aplomb. 1999 Pumpkin color is great
Design: internal frame
Size: 2400
Number of Pockets: lid, front bellows
Max. Load Carried: 35 lbs
Height of Owner: 5'10
Price Paid: $46 US ($69 Cdn)

Very nice daypack with a lot of capacity and a comfortable suspension that is designed to carry a lot of weight. I use it mostly for desert hiking, which it seems to be designed for.
Minus point: not sure what the mesh side pouches were designed for. I use them to hold a water bottle occasionally, but the bottle isn't all that secure there.
Design: Top loading daypack
Size: 2400 cu.in.
Number of Pockets: 1 back pocket plus 2 side mesh pouches
Max. Load Carried: 25 lbs.
Height of Owner: 5'9"
Price Paid: $58.95

Your Review
You May Like
Specs
Price
Historic Range: $39.96
Reviewers Paid: $30.00-$100.00

Recently on Trailspace