Macpac Microlight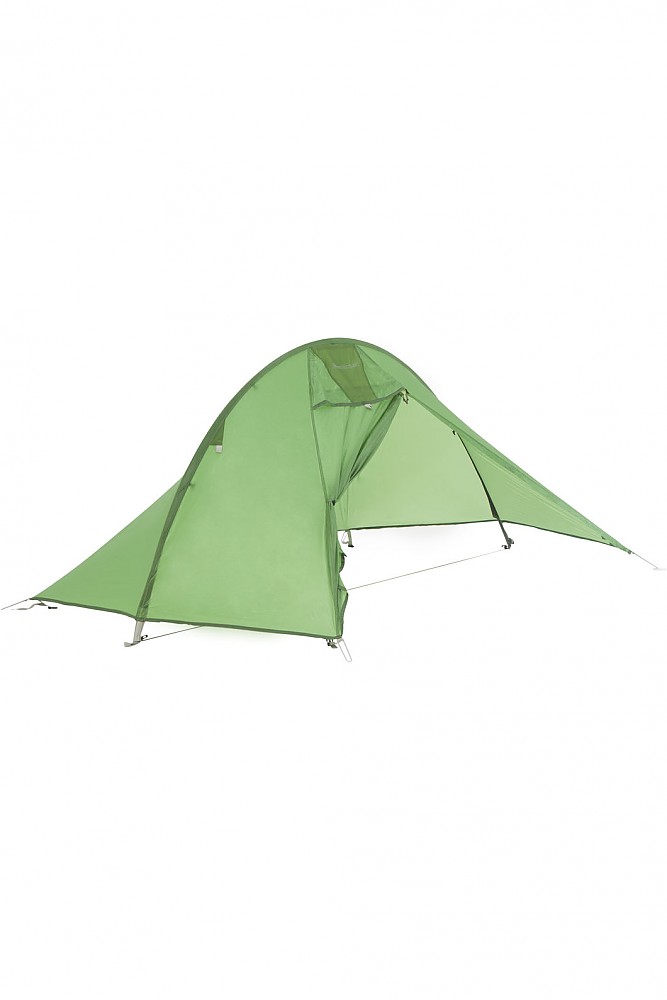 The Macpac Microlight is a versatile tent especially for a 46-year-old dad, me, wanting to introduce his 5-year-old daughter to the Australian Alps and for a once competent 20-something telemarker to give it go again this snow season on battered knees.

At 46 I unashamedly want four-season gear to be lightweight and this delivers at 1.5 kgs. I've heard it's perhaps too warm for Australian summer conditions, but then you can't have everything. Where would I put it! I thought the vestibule was generous and workable, possible to keep all gear covered and cook. I am 5'8" FYI, something to consider.
Pros
Versatility
Well thought out
Generous 1-person interior
Good size mesh gear storage pocket.
Cons
Harsh to report any!
Would like to be able to purchase a floor, maybe you can.
After using the Macpac Olympus for over 25 years I required another tent to introduce my 5-year-old daughter to the wonders of the alpine wilderness (I did not want to hall a 3.5kg tent plus Teddy on my own).
After searching for a suitable tent it occurred to me that I have been in blizzards in my Olympus on numerous occasions where the tent would be flattened to face level then dutifully stand to attention only to be flattened again and re-stand itself. So it finally occurred to me, why would I consider any other brand?
My daughter and I set off for Mt. Howitt, Australia, last weekend. There had been snow and temps got well below freezing. What versatility the Microlight offers, a generous lightweight 1-man for me or for my daughter and I until she's at least 10 I'd say. She said she slept as "snug as a bug in a rug," and I slept soundly feeling that I had taken my daughter's safety seriously in purchasing a tent that I could trust above the snow line.
I'm yet to try it in heavy snow and feel that with cautious orientation and perhaps building a snow wall the Microlight would survive heavy falls with adequate snow pegs (I'M GUESSING THOUGH). I'm intending to give it a go this snow season.
Source: bought it new
Price Paid: $315 AUS

Very good tent, only lacking a little in the way that condensation can build up.
Pros
Quick and easy to set up and pull down
Light and compact
Dual pitch system
Cons
cCondensation can build up if no breeze
Setup: Sets up quick and easy, especially handy is the dual pitch.
Stability: Nice and stable, must be pitched in the right direction in strong wind. Have only used in very light snow and was no risk to the stability of any tent.
Weather Resistance: Keeps out rain quite well.
Ventilation: This is the only point where it is lacking, has a vent up top that must be open along with a mesh window unless there is a good breeze blowing.
Room and Storage: Lacks in headroom, but I have spent a night with two people in this tent. Thankfully there was a good amount of wind to keep away condensation, plenty of space for gear out in the vestibule, and a good size wall pocket inside too.
Packability: Easily packed up, packs nice and small. There are now tents that are able to pack up smaller and lighter, but I believe that the Microlight will outlast them simply on the basis of its strength.
Ease of Use: Works just fine consistently. The pegs that come with it are a great relief to previous pegs I've used as they don't bend easily, yet are still light aluminum.
Durability: As always with Macpac, the product is designed to last a lifetime.
Conditions of Use: Used this in mainly three-season use for three years now, about 6-8 times a year.
Source: bought it used
Price Paid: unsure

Used this tent always on multi-day trips on foot. I have done quite a bit of research before I bought this tent and I could not find any other tent here in Australia that compares with this in regards to space and weight. Most one-person tents are too small that you put your backpack either under the fly or if you put it inside then it gets uncomfortable to sleep.
The Microlight has enough space to put the backpack under the outer fly and you can also still cook on a little stove when it is raining outside—which is another feature many other single person tents don't have. The siliconized fabric is unbelievable when it comes to water repellency. Also dries very quickly.
It is not a good tent for hot climates, cause the ventilation is pretty bad (which is the only minus with this tent). However, that makes the tent very good for cooler and even winter conditions. Condensation inside the tent is also pretty big, but not that it would be a major concern.
Inside space is excellent, you can sleep very comfortable alone or even squeeze a second smaller person in there (or a child).
All in all, very good tent, good fabric and excellent manufactured. Love the size and weight of it—packed and unpacked. Nevertheless it is quite expensive considering the size.
Design: 3-4 season, not-freestanding
Sleeps: 1
Ease of Setup: very easy and quick, couple of minutes
Weight: about 1.6kg
Price Paid: 490 AUD

Have used the Macpac Microlight for over 20 years. There are lighter alternatives, however, this is a tried and tested "bomb proof." Have used it through winter snows and mountain "hoolies." You won't go wrong with this tent.
Pros
Bomb proof! Have had it almost blown flat and touching my face in a mountain hoolie.
Simple and fast to erect
Spacious for one and "friendly" for two
Long lasting quality
Cons
Can't think of nor have found any
Simple and quick to put up. Bomb proof design and top quality fabrics and components.
Treat it well and it will look after you for a lifetime of adventures. 
Experience
This has been my staple tent for overnight mountain adventures for over 20 years.
Source: bought it new
Price Paid: At the time, 2000, about £190.

My go-to tent. UK all year.
Pros
Bombproof
Spacious for one
Cons
Condensation, airflow needs to be considered.
Easy to set up, easy to sleep in, easy to pack up.
I'm 6'1", 14 stone, and this is my first choice tent. I do 4/5 day hikes in the UK, averaging 20+ miles (32k+) in mainly mountain and hill country. I need a tent to rely on. This is it.
There are lighter tents and there are larger tents. The Microlight does all that I need: I can store all my stuff inside, cook, sit up... At a squeeze two could use it—packs outside!
Mine was an auction buy...£15 including two other tents. (Sold for £125.) Best deal for ages. It is admired and asked about wherever I am. A brilliant tent.
Experience
I have many other tents. I bought this just after buying a Big Agnes copy on eBay—I have yet to use the new tent.

It pitches within minutes—outer first or together. (Clips need attaching.) If condensation is an issue, just pack inner separately.
Source: bought it used

A relatively inexpensive quality tent that is robust and can be used in much tougher conditions than you might expect.
Pros
It is a simple and very functional design.
Perfect for extended use for one or short-term use (eg. summit attempt) for two.
Relatively light without getting too silly (like the Terra Nova Laser Photon I also have).
Pitched sensibly it will really stand up to some proper storms (e.g. steady 100km winds with gusts much stronger). The single pole might bend down and touch your nose but the tent hangs on in there.
I have spent over 300 nights in one of these. Camped in boulder fields glaciers, forests, snow, over 5000m, exposed ridges.... It took everything I have thrown at it
Cons
Yes, it has flaws but mostly as a result of its functionality.
It's small.
It's not a full on expedition/snow tent that weighs 4-5kg.
If you are mostly alone and don't have a quiver of tents this is a trusty one stop shop.
Like others mentioned it is roomy enough for most, especially if you are organised.
Source: bought it new
Price Paid: About 3000NOK. 350GBP. 500USD

Pros
Easy to pitch
Fly first or in one
Brilliant in wind and rain
Cons
Availability here in the UK
No extra groundsheet for the vestibule
Used a few times, including last night in Torridon in very wet conditions. Stable as anything, no condensation to worry about.
Pitches really quickly. Took about five minutes and being fly first / in one means it's wonderful to put up when already raining.
Weight—1.6 kilos—so not too heavy, but it feels bombproof, so worth the weight sacrifice for comfort. 
Experience
Used it for four years now.
Source: bought it used
Price Paid: 80

Macpac make wonderful tents. Fly is UV40 polyester, waterproof to 3500ml, floor is robust, no leaks after prolonged pitching in wet areas.
Pole threads through the fly and the whole unit can be pitched either together or independently.
Design: 3 season, lightweight 1 pole
Sleeps: 1
Ease of Setup: Simple, under 1 min
Weight: 1.9kg
Price Paid: A$400

Your Review
Where to Buy
Help support this site by making your next gear purchase through one of the links above. Click a link, buy what you need, and the seller will contribute a portion of the purchase price to support Trailspace's independent gear reviews.
You May Like
Specs
| | |
| --- | --- |
| Outer Fabric | UV30 SI 100% Nylon Ripstop, 30D with Silicone coating |
| Tent Inner Fabric | 100% Nylon Ripstop (40D) |
| Outer Fabric Hydrostatic Head | 3000 mm |
| Floor Fabric | Torrentwear XP 100% Nylon (70D/210T with PU coating) — 10,000 mm Hydrostatic Head |
| Floor Area | 2.1 sq m |
| Pole Type | DAC Featherlite NSL 9.6 mm |
| Pole Count | 1 |
| Pitching System | Multi-Pitch |
| Persons | 1 |
| Vestibule Size | 1.2 sq m |
| Weight | 1600 g (Max) / 1400 g (Min) |