Magellan Triton 300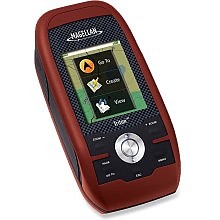 Since none of the reputable tech sites have decided to review the Magellan Triton series, I will take the task upon myself. I found no good information on Tritons before purchasing one, so I hope to arm you with the information you need to make a wise decision before purchasing.
First and foremost, if you value customer support whatsoever, keep in mind Magellan has the worst customer support known to man. Everything is outsourced straight to India, and they are rude, incompetent, and offer absolutely no technical knowledge about any of their products.
Now to the Triton – and the bad comes out first. I was excited to find a product within my price range (I have the 300), but as often as the saying goes, you get what you pay for. The learning curve is somewhat difficult if you are used to a Garmin. The menus seem somewhat illogical to navigate through; it seems like it's a one way street…you'll understand if you operate one. The buttons are not comfortable or backlit in the cheaper models, and are very difficult to push.
The operating system can be a bit confusing at some points in time, and often overcomplicates a task that would be much simpler on other units.
It's also extremely sluggish! It takes a full 6 seconds to load the manual coordinate input screen; so that's 6 seconds for the Lat, and another 6 second wait for the Long. The coordinate insertion process also takes a bit of getting used to. Finally, the basemap is extremely basic and disappointing.
On the plus side, the unit possesses the Sirfstar III antenna dramatically increasing accurateness and reducing satellite acquisition time. To my surprise, I first loaded mine inside the house with full bar reception.
Aside from the learning curve and sluggish behavior, the operating system is very aesthetically pleasing – it just looks good. The screen resolution, colors, and navigational screens are easy on the eyes. In daylight however, the screen is quite dark without the use of the backlight.
The worst part about the Tritons is, by far, the software compatibility. I still can't manage to load any detailed maps from previous Magellan software, and I'm not sure if I'll ever be able to. Also, DO NOT BE FOOLED: The National Geographic maps (or any detailed maps for that matter) as advertised are not free by any stretch of the imagination. Even if you pay for them, good luck getting them to work with the VantagePoint software.
All in all, not the best unit I've seen. Once you adapt to the unit, it gets the job done. It may be decent for the price, but I have not yet decided whether to return it, and take my chances with something else.
Price Paid: ~$150

After approximately 20 hours of using the Triton 300 in the field, these are my impressions.
The good:
Quick to power up and initialize.
Rugged construction and feel of case.
Clear bright screen.
Navigation fairly easy and intuitive.
Good battery life.
Compatible with National Geographic 1:24000 maps
The bad:
User manual is incomplete leaving out a lot of necessary information. Some of the information is just plain incorrect and unit will not function if directions are followed.
Unit locks up (every time) after connecting to TOPO! and Vantage Point (Magellan's software) requiring a battery to be pulled out to reset the unit.
Approximately 15-25 times in the twenty hours, upon pressing a key the unit would lock up. A continuous sound would emit as if the key was being held down. The only alternative was to pull the batteries out to restart.
Magellan tech support (India) claimed they would have one of their Senior members call be back within the hour to help with some issues. 20 days later....still no call.
Much difficulty connecting for map and waypoint transfers.
Overall Impression:
A ton of aggravation I could have done without!It is very obvious Magellan rushed product rollout despite tons of bugs in the software and inadequate documentation(Manual).
Recommendation: Unless you love frustration, wait for them to work out the bugs.
Price Paid: $150

I began shopping for a new GPS last fall. I did not want a unit with 2,000 bells and 700 whistles that I would never use. Just a simple unit that said,"you are here!" and that's it. Then on a river boat trip last fall my friend's unit saved our butts with the topo map ability (long story but that feature saved us) and I thought what a great feature. I would like that too.
After some reading and shopping I bought the Triton GPS unit for these reasons and the 1/2 price deal. Not too many bells and whistles, great price, and the on board topographical map ability. When it arrived I liked the units size, look, fast initialization, colour screen and light weight waterproof design. It is a nice simple unit that does a good basic job. I do like the piece.
For the topo feature I needed a download from the Magellan website, their Vantage program. This would allow my home computer and unit to communicate and to download topo maps from the National Geographic CD. There is where you will find the unit's problem, technical support.
To start, their computer does not recognize Canadian addresses, so to register the product I had to use a family member's American address. Then the Vantage program itself doesn't want to download from the website for some technical reason or another. I called the Magellan support line and tried to work it out with their tech staff but the support staff knew less about the unit's programming than I did-a blind leading the blind thing. They are polite but not much help.
So now I have a nice unit (I am happy with it overall) that I can't use all the features I paid. I suppose I paid half price and am using 1/2 the features so I got what I paid for.
All and all it is a nice unit, good reception, easy menu and screen changes, a beautiful colour screen, and the potential for being a great unit; if only the tech support was there.
The two stars off the overall rating is for the lack of tech support. Garmin does not seem to have this issue (my friend's butt saving unit is a Garmin) maybe look at their line for units that function as advertised.
Price Paid: $71

While this maybe an older model Magellan, it is still better then a lot out there. I would highly reccomend it for beginners in geocaching.
Pros
ease of use
datailed map
ruggedness of unit
Cons
battery life
not waterproof
speed of picking up gps signal
This was the first gps unit we owned, and we got it used already, but other then finding new maps or updating the software it works well.
The unit is overall fairly rugged design but not waterproof from what I have read, so I don't let it get wet. The power save feature is a good thing sometimes but not others.
We have had it a few years now and like it a lot, had stood up well. Like i said before, we got it used few years ago and use it primarily for geocaching here in Indiana.
Source: bought it used
Price Paid: 40$

Works great for the price paid....went into purchase knowing for the price paid I did not expect getting $400 worth of GPS for $116. Have not purchased topo maps to download and have no plans to do so. If I wanted topo would of spent much more to start with.
Having said that it's as simple as "you get for you pay for". Got $116 worth of GPS for $116. So I have to give it a great review....Would of given 5 stars except for lack of battery life and lack of battery meter.
Price Paid: $116

I agree with the other reviews concerning the Triton 300. I do find it useful if I can get it to connect to the vantage point software. I'm still waiting for the ability to load maps on it, but then Magellan says you can and the topo program states right on the box it can't... hmmmmm.
Also the National Geographic programs won't connect to the unit, even thought the vantage point can. Seems some one didn't talk to each other.
Would be nice if other people who use the Triton would share there routes and waypoints.
Price Paid: Gift

I have had the Triton 300 for 3 days now and have been on the phone with their so called tech support twice already. Right out of the box the alerts are so low you need to put the unit up to your ear to hear them.
First person in their India tech support told me I would have to take the unit outside to get maximum signal and do a hard reset by pushing the select button, the esc button, and the power button all at the same time, try that if you have fat fingers.
Well needless to say it did nothing for the volume, so I made another call to you know where and got a young lady very polite, but had no clue what I was talking about, every couple of minutes she would put me on hold to research the problem. After spending about an hour with do this and do that she informs me that this is a known problem with the Triton 300 and there is a planed fix for it in the next firmware update maybe by mid February. I don't think I'll hold my breath waiting.
So I inquired about returning the unit for a replacement and was told they all have the same problem. Unfortunately I don't know anyone who has this model. Maybe someone reading this can confirm they have the same problem. At this point I'm not sure I would recommend this product to anyone at this time.
Price Paid: $130

Your Review
Where to Buy
Help support this site by making your next gear purchase through one of the links above. Click a link, buy what you need, and the seller will contribute a portion of the purchase price to support Trailspace's independent gear reviews.
You May Like
Specs
Price
Historic Range: $89.93-$149.99
Reviewers Paid: $40.00-$150.00

Recently on Trailspace