Mammut Comfort High GTX Surround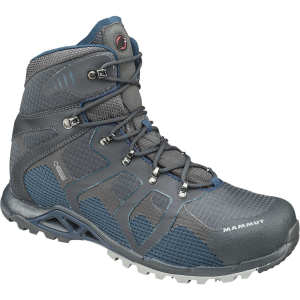 A formidable warm-weather boot that offers full waterproof protection and breathability. These comfortable and lightweight high boots are ideal for hiking in the heat.

Pros
Comfort
Vents, vents, vents
Waterproof
Shines in hot weather
Ankle cuff is very comfortable
Lightweight
Cons
Uncertain about the toe cap
Outsole appears to have a slight warping
Bold colors
Conditions:
Two overnight trips and several day hikes have allowed me to put approximately 65-75 miles (105-120 km) on these boots from late July to late September 2015. The conditions have been a mix of hot and humid (90°F and 70+% humidity) to cool and damp (65°F). 
The range of trails these boots have been exposed to include ridge tops in the Appalachians with jagged boulder field crossings, low-lying bog-like trails with seasonal flooding, as well as the smooth and well maintained community/regional/state park trails. On both overnight trips, I was carrying a max load of 30 pounds (13.6 kilos) for 6+ hours.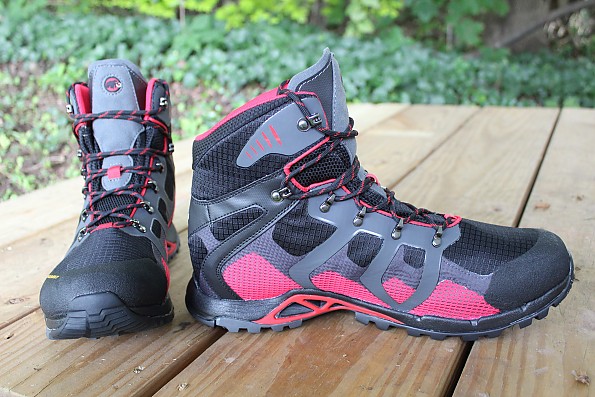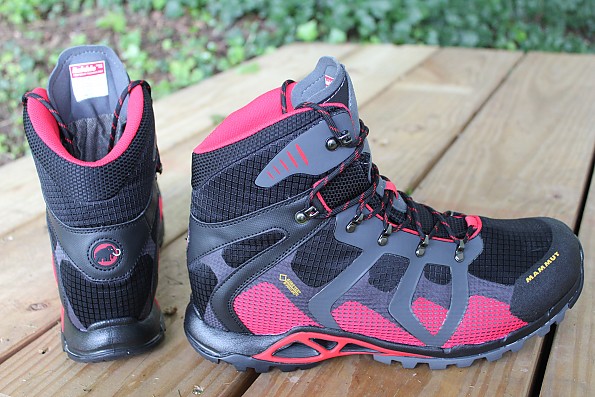 Fit: 
Because everyone's feet are different, it may be helpful for you to know my foot structure. My feet are, on the whole, slightly narrow, but with a slightly wider forefoot, and normal to slightly high arches. I tested the men's size US 13, which is my normal shoe/boot size. I know some hikers who prefer to wear 1-1.5 sizes up for hiking, but I do not. I wore the boots with a variety of socks, primarily light-to-mid hiker socks (although you'll see in the photos below a pair of cycling socks too).
The ankle cuff, toe box, and heel all fit comfortably, with the ankle cuff being especially stand-out comfortable with no rubbing, very adequate protection, and no lack of support.
Comfort: 
After ensuring they were a good fit (i.e. wearing them around the house for a couple days) I put these boots to the test with a ~15-mile (24 km), two-day trip though some of the most consistently rocky terrain I've hiked in years (Trip report here).     
After setting up camp following the first day of hard hiking (i.e. 30 pounds in my pack, 8 hours of hiking, 80-90F and high humidity, rocks galore, dodging rattlesnakes, etc.), I went to take off my boots and something strange happened, I never let out my typical big sigh of relief when removing my footwear. Instead, I slipped off my boots and realized that my feet had been perfectly content being in the boots all day. While that's difficult to quantify, to me, this gives these boots a huge advantage over others I've worn.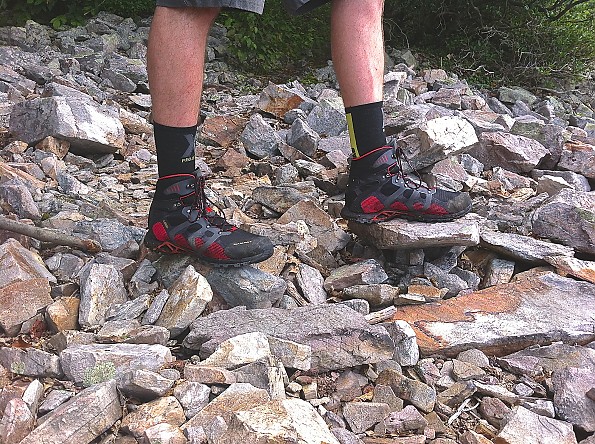 Traction:
Mammut's proprietary sole is the Gripex outsole, which is a combination of materials that work in combination to absorb shock and provide the needed traction. The sole is somewhere between slightly and mildly flexible. Most of the hiking in these boots has been in dry, but humid conditions, but the few times they experienced water (i.e. creek crossing, morning dew, and light rain) the grip has not wavered. When rock scrambling, hiking in root-laden trails, or up/down steep grades, I never once questioned the traction. 
I've noticed a small "bubble" or warp to the outsole near the toe of the right boot. I'm not entirely sure if this was how it came out of the box or if it has evolved due to wear. Either way, at this time this "bubble" has no noticeable impact to the usability of the boot or detriment to the sole. However, this is something worth keeping an eye on in the future.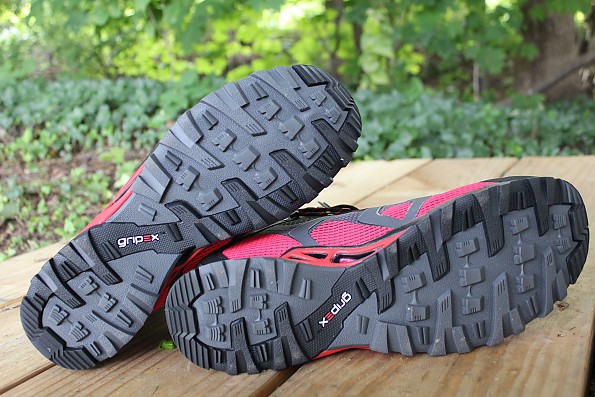 Temp Control: 
I own a 12-year-old pair of Gore-Tex trail shoes that, from day one, my feet were constantly overheating in. I've mostly avoided Gore-Tex footwear since and just dealt with my feet getting wet. However, I wanted to give these boots a fair shot based on the claims that they are not only waterproof, but also highly breathable thanks to the Gore-Tex Surround technology. 
Boy am I glad that I was open-minded!
The thing with footwear and breathability is that you tend not to notice breathability unless your footwear doesn't breathe well. When shoes breathe well, they go unnoticed. Case in point: on a couple different occasions, I hiked 5-6 hours in 90°F+ weather and never thought about the temperature of my feet. Had I been wearing my older Gore-Tex trail shoes, my feet would have been sweltering in no time. Again, it wasn't until I took them off that I realized my feet were mostly dry (sure, some sweating occurred, but no more than if I were wearing all-mesh trail shoes).
If I had to guess what Mammut had in mind when they created these, I'd say they were thinking summer hiking boot. And they executed it very nicely.
The GTX Surround technology seems to do a good job of providing both breathability and waterproofness, and at a minimal weight (I recall my old GTX trail shoes being VERY heavy). Some retailers say that if you're standing in a shallow, steady moving creek, you'd be able to feel water pass through the vents of these boots (i.e. directly between the bottom of your foot and the sole), but you're feet wouldn't get wet. I tried this but could not feel water passing through the boot. That's not to say it didn't, I just couldn't feel it if it was.
I have yet to hike in below 60°F weather with these boots though, but if given the chance, would be really interested to see how these perform in the colder, icy, snowy conditions of my area.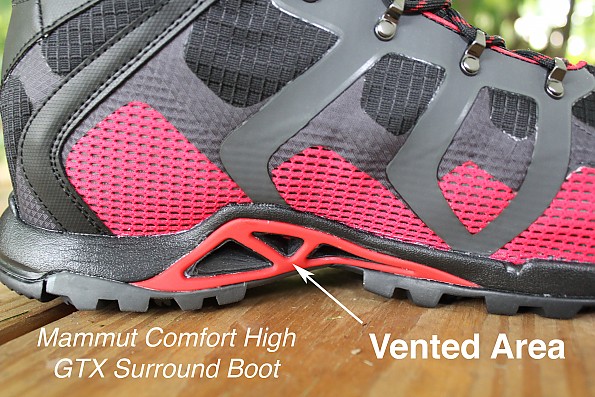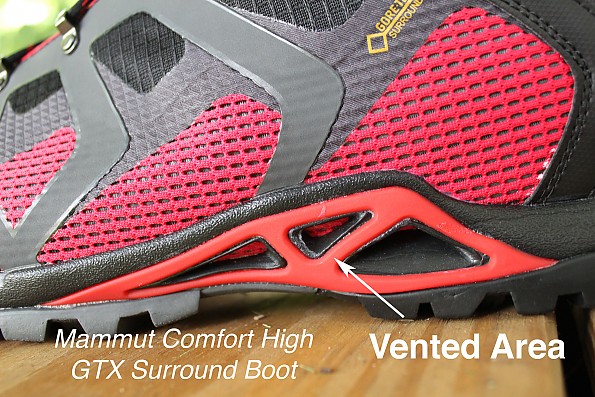 Visual Appeal:
Look, I don't buy gear based on looks alone, but I'd be lying to myself (and to you) if I said visual appeal doesn't play at least a small role in my purchasing decisions. These boots are pretty visually bold, and remind me of a pair of old high-top basketball shoes I once owned. They might not be my first choice based solely on looks (I like more earth tones), but because of how they excel in some of the key performance areas (comfort, weight, support, breathability, waterproofness), it's easy to look past the visual appeal. 
Construction & Durability: 
The first thing I noticed about the boot was the combination of mesh and liquid rubber hybrid shell. It's an interesting combo that has held up well so far and likely leads to the boot being lighter than normal. It dawned on me after a while that I've never owned a boot in which the upper is primarily glued to the outsole and shows little to no signs of stitching. While they are still in great shape, I do wonder if and how these boots could be repaired if ever needed.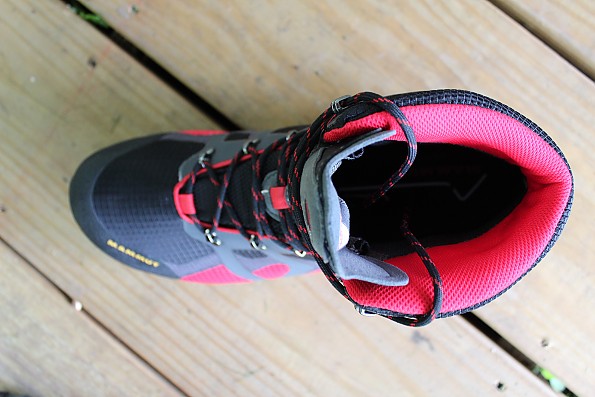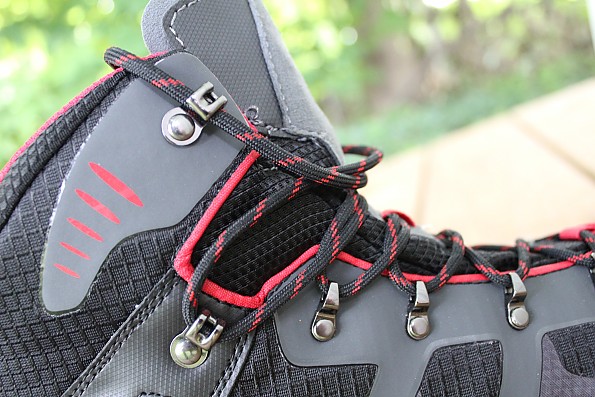 The metal eyelets for the laces are well placed and lead to the laces staying secure and providing the needed stability.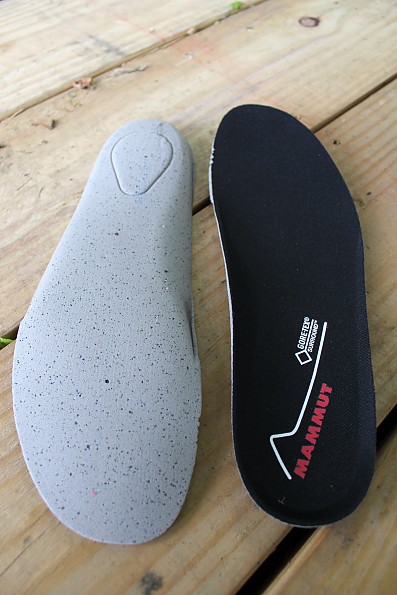 The insole is pretty standard with a nice mild cushion.
One note on insoles here: OutdoorKelly's review of the low version of these boots/shoes does a great job explaining the experience she had with wearing custom orthotics. I do not wear any custom or aftermarket insoles. 
Toe Cap:
One of the drawbacks to the push for lightweight footwear is that many companies inevitably decrease the size and durability of the toe cap, which can lead to being less effective. While the liquid rubber toe cap is heat treated in place (no stitches), it does seem a little on the thin side.
I had one encounter in particular while exiting a boulder field where I jammed my big toe, causing a fair bit of pain. No bleeding or swelling, but just a nagging pain for a couple days in the toe nail. I can't say for certain how a different boot with a more comprehensive toe cap would have dealt with this toe jam, but I don't really care to find out either.
Recommendation:
There are a lot of good reasons to like these boots — comfort is great, light weight, supportive features, waterproof AND breathable. The only drawback I've experienced so far has been with the thin toe cap, but this seems to be common throughout the industry of lightweight trail footwear.
Overall, I'd recommend these boots to warm weather hikers wanting waterproof capabilities without giving up comfort or breathability.
Update (06 Feb 2016):
After wearing these boots throughout the winter in cold/dry, cold/wet, and cold/snow conditions, it is safe to say that they can be worn for cold weather hiking as well, with the caveat that a thicker/warmer hiking sock is best to wear. While these won't replace my taller, deep-snow boots, they do work great for those winter days when the snow on the trail is already packed down. 
Source: received for testing via the Trailspace Review Corps (Sample provided by Mammut for testing and review)

Your Review
Where to Buy
Help support this site by making your next gear purchase through one of the links above. Click a link, buy what you need, and the seller will contribute a portion of the purchase price to support Trailspace's independent gear reviews.
You May Like
Specs
Men's
Price
Historic Range: $113.40-$198.95

Women's
Price
Historic Range: $69.21-$199.00

Recently on Trailspace