Mammut MTR 201 Tech Shirt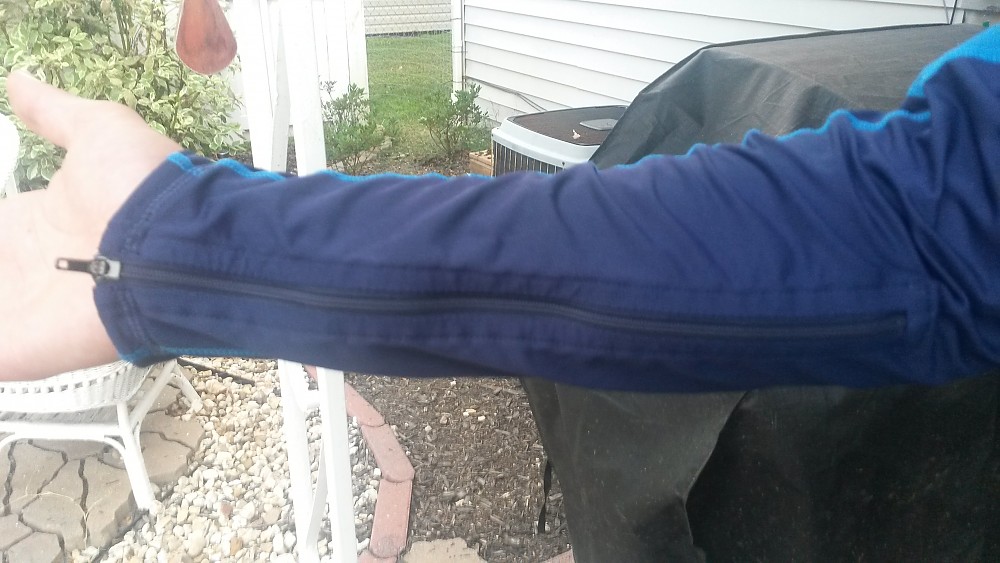 The Mammut MTR 201 Tech Shirt is as tech as its name. The following is a self-described Luddite's take on a shirt that only an engineer could love.
Pros
Materials
Ethics
Durability
Introduction

I will start by making it clear that everything being the same I prefer cheap and simple gear. However, as someone who went to school for a long time to study technological change I also understand the need for manufacturers to continually push the design of gear so that it is both safer and more effective for users.
In many ways I am a hard-test for the MTR 201, because I am inclined to find almost all of its design elements not only unnecessary, but also a poor decision, because additional design elements tend to increase cost and make repair more difficult.
The good news is my experience with the MTR 201 can provide insights into how consumers outside of the design constituency might perceive the shirt and how if the manufacturer wishes they might market the shirt to folks who are not so crazy about features and other design rickety-rack.
Testing
I do not want there to be any mistake about how much I tested this product. I did not simply find it unsuitable and set it aside. I tested it for more than six months (April-October) and in that period I used it for running, hiking, backpacking, paddling, bike riding, as well as a few trips around town. Put simply, I basically tried to wear this shirt to threads.
In fact I want to personally thank Alicia for being so patient with this review, which is more than two months late due to the extensive testing I put it through, the desire to push its design as far as I was capable, and that PhD thing I am trying to finish this year.
There is a lot to like about the MTR as I will discuss below, but there are also some serious concerns that I have as someone who tends to lean towards low-tech solutions as long as they "work."
Fabrics
The MTR 201 is not unlike a lot of polyester UV shirts. The fabric has a high-stretch blend (10% elastane) that offers additional comfort for running, but which I find troublesome for paddling as the material tends to create more drag when swimming. As far as I know Mammut does not list the shirt as having UV protective qualities, but my Sol Cool by ExOfficio is constructed of a very similar fabric and offers a UPF of 50 (which I use for paddling despite my reservations about the additional drag created by the stretchy fabric).
The MTR 201 is a 1/4 zip-neck, which is for me the only acceptable use of a zipper on a shirt, but I would like the zipper to be a few inches longer because the best way to keep a shirt dry is to have less fabric to absorb sweat and moisture.
The shirt has a small collar which I really like for additional sun-protection and eagerly await the time when it becomes a standard design for clothing intended to be used for paddling and sun wear. The collar is much less necessary for me while on the trail because I live where there are lots of trees, but I'll take the additional cost and complexity for having a collar when I need it.
Mesh
One of my favorite features of the MTR 201 is the use of mesh fabrics under the arms and down the back. Mesh fabrics absorb less moisture and thus necessarily dry faster. For me the primary function of the layer I place against my skin is to either dry quickly or dry slowly (depending on whether I want to stay cool or warm). The use of mesh not only dries faster, it also creates greater ventilation so you do stay marginally cooler while wearing it (though cotton is a much better fabric for staying cool).
The only serious drawback to mesh is that it can be less comfortable against the skin, but where the mesh fabric is located is not in comfort hot spots (i.e. nipples). The MTR 201 has a very smart and judicious use of mesh fabric, which I fully endorse for layers intended to be worn against the skin.
Ethics
The ethical manufacture of the MTR 201 is another aspect which I greatly respect. There is an inherent tension in enjoying the outdoors and contributing to its destruction through reckless consumptive practices, which I personally struggle with. Moreover, I believe we should all give consideration to the burden we put on those who make our gear, as many are themselves unable to enjoy the outdoors at the same time they are making it easier for others to do so.
Mammut is affiliated with the Fair Wear Foundation, which actively seeks to improve labor conditions throughout the supply chain. This might not sufficiently address the vast inequalities of which the global world is comprised, but change is more often than not the result of small changes repeated many times.
Mammut's ethics also extends to the environment as well. Like so much of what we designate as nature, the environment does not get a vote in our practices, yet likely pays the greatest cost of our choices. I struggle personally everyday with the choices I make, but practices like Mammut's Bluesign help me to better strike a balance between my need for clothing and my love of the Earth and all the things which inhabit it.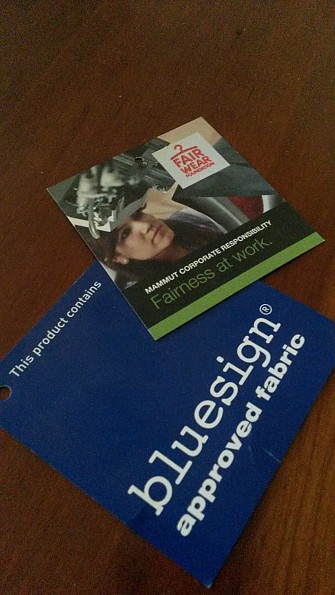 Odor
Synthetic fabrics are said to be stinkier than so-called natural fibers. I have no reason to doubt this because there are a great number of people who I have respect for that claim this to be true. Unfortunately I have a peculiar biology which makes me not altogether odorless, but noticeably so, and so I have never had an issue with synthetic clothing (I also produce almost no ear-wax, which is weird and makes me feel uncertain about my humanity).
Despite my less than effective means to stink fabric up, I tried my absolute best to put the PURE odor control product used in the MTR 201 to the test. Ultimately I was able to get it to smell like mildew from copious amounts of sweat after a few days, so the silver ions used in the MTR 201 do have their limitations, but whether or not it reduces other odors I really cannot say.
Transitional Sleeves
The MTR 201 sets itself apart with its ability to transition from long-sleeve to short-sleeve without removing the sleeves. I am going to be brutally honest, this was the absolute worst feature of the MTR 201, which is saying a lot because I greatly disliked the built-in pockets in the rear as well. The zippers actually rubbed against my arms and created hot spots.
Along with that peculiar biology I mentioned above I have almost no hair on my arms and legs (now I really feel like a freak). I can only imagine how much I would hate the zippers on this shirt if I had some furry arms. Moreover, the whole idea seems silly to me, because I usually just push my sleeves up when I want them to be shorter. For those times where I want my sleeves to stay-put I buy shirts that have a button and tab on the inside of the sleeve to hold the rolled fabric in-place.
How this is perceived as a problem is something that still eludes me, but there is no doubt in my mind that I would rather have the more easily repaired and cheaper to make button option than the zipper option. In fact, it was this zipper design (and my desire to destroy this shirt through use) that is the primary cause for me taking so long to test it, but in the end I simply could not understand how this new sleeve design is considered an improvement, though it did bother me less for bike riding than running and paddling where my arms are more active.
Summary
In the end I believe I gave the MTR 201 more testing than any of my other reviews. I really wanted to try and find where this shirt shines despite my misgivings about its overly tech design and high cost. Setting aside the sleeves, the shirt functioned as well as any other shirt I have used, but it barely outperformed a shirt I bought at Walmart for $15, which also has mesh fabric strategically placed across the back, and only did so primarily due to the fact that the cheaper shirt was a simple crew-neck (the stinky factor might be something to consider here for humans).
However, given my biology and needs I would much rather buy the $15 shirt at Walmart and save the approximately $85.
In addition to the terrible sleeve design I really disliked the rear pockets on the shirt. They were capable of holding my Galaxy S4 Mini while running, but the tug created hot spots on my neck where the collar would pull, and my phone is one of the lightest and smallest phones available. So I cannot say that these pockets can be trusted with anything larger.
Placing a water bottle in the pockets was hilarious and my friends and I chuckled at how much the weight of the bottle would pull down on the shirt. However, the pockets held the water bottle a degree better while bike riding on smooth surfaces. In this capacity the pockets could be seen as functional, otherwise I would rip them off.
Finally, I wore this shirt to run a few errands in town and I felt like an absolute clown. In my head everyone was wondering if I was in the Tour de France. Like so much tech-wear it is hideous and I could give a flying you know what about fashion. Ask all my students and friends. Seriously, I take the hot pink discount on clothing proudly and I haven't combed my hair in 20 years, so appearance is not something I give a lot of consideration to, but wow is this thing ridiculous looking.
All I can say is that there better be some statistically significant improvements in race times or I would NEVER wear this thing anywhere but in the woods under layers.
I want to end on a happier note by applauding Mammut for pushing the design of existing gear and to remind everyone that most innovations are failures at first. It takes time and energy among other things to get it right, but in the mean time I can feel good about the ethics of Mammut as a company and though I was not completely won over by the MTR 201, I will certainly keep an eye out for the Bulesign and Fair Wear labels in future purchases.
Source: received for testing via the Trailspace Review Corps (Sample provided by Mammut for testing and review)

Your Review
Where to Buy
Help support this site by making your next gear purchase through one of the links above. Click a link, buy what you need, and the seller will contribute a portion of the purchase price to support Trailspace's independent gear reviews.
You May Like
Specs
| | |
| --- | --- |
| Price | Historic Range: $53.37-$88.95 |
Recently on Trailspace