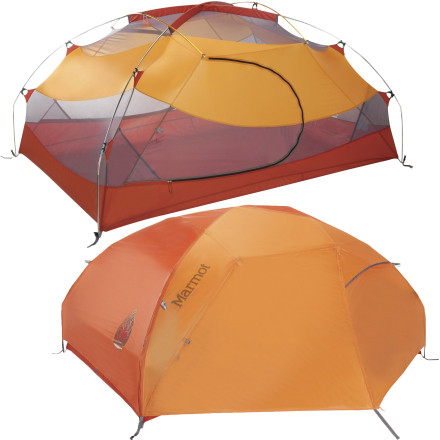 Specs
Price
MSRP: $339.00
Historic Range: $39.95-$339.00
Reviewers Paid: $229.00-$350.00

Maximum Weight
5 lb 12 oz / 2.6 kg

Minimum Weight
5 lb 5 oz / 2.4 kg

Dimensions
40 x 56 x 90 in / 102 x 142 x 229 cm

Packed Size
7 x 20 in / 18 x 51 cm

Vestibule Area
19 sq ft / 1.8 sq m

Tent Poles
4 / DAC NSL Dual Diameter Pole

Floor Area
35 sq ft / 3.3 sq m

Tent Floor Material
70d 100% Nylon PU 3000 mm W/R, F/R

Tent Canopy Material
100% Polyester Taffeta F/R

Tent Fly Material
40d 100% Nylon Ripstop, Silicon / PU 1800 mm W/R, F/R

Reviews
12

reviews

5-star:

3

4-star:

5

3-star:

1

2-star:

2

1-star:

1
Nice tent, terrible rain fly!
The tent is solid (good size, easy setup, durable, light), but there seems to be some sort of defect with the rain fly. I've probably used this tent on about 8-10 short (~2 night) backpacking trips and the fly is decaying to the point that I'm searching desperately for a replacement fly (the rest of the tent is fine so I hate to replace all of it).
The tear-drop shaped windows on the fly both fell out last year and whatever adhesive they used on the seams is flaking and falling off. When you shake the fly out, it looks like it has a bad case of dandruff!  
I agree with other reviewers who noted the condensation issues and the awkwardness of the rain fly door tie-up position too. It totally sags when it's rolled up so only about half of the zippered entry into the tent is revealed. You can't get in and out without brushing against the fly. Not good when it's wet!
There is a lot of mesh in this tent so a good rain fly is critical.
Source: bought it new
Price Paid: ~$300

Do not buy this tent!!
I used the tent once, and the fly completely fell apart, fittings came off, plastic windows came off. The company replaced it, with an identical fly that did the same thing! The $300 + tent is useless!! I think it was only hot-glued together! The fly is also so sticky with what they used to coat it, it covers your hands when you set it up.
Never buying Marmot again.
Source: bought it new
Price Paid: $300

Nice to use, packs easy, but fly has decayed over last couple of years, even with no use.
Pros
Lightweight
Easy to put up
Roomy pack storage under fly
Cons
Door flap in tent does not stay open very well.
We bought this in 2007, and haven't used it much in the past two years or so. Taking it out this summer for a short trip, we found the fly sticky all over on the inside, which other websites point out is due to the lining decaying.  
We kept it stored in its stuff sack, as we've been moving quite a bit these last few years. I'm a bit disappointed that without use it has decayed so quickly. Suggestions have ranged from repair the lining with baby talc, to vinegar water to liquid graphite.  We haven't tried these yet, but will soon.
Source: bought it new
Price Paid: approx US $300

I slept in this tent for 2 weeks up in Nor Cal. It rained a total of 4 days without one drop of water inside the tent!
I had read that the fly didn't work well and I had no choice but to test it out on the first major Pacific Northwest storm to hit the coast in Oct 2009...not a drop of water and 30mph gusts! You have to properly attach the fly. It rained hard for 2 days straight!
I am happy with my purchase!
Design: 3 season
Sleeps: 2
Ease of Setup: Simple
Weight: Under 5lbs

Not too shabby. Water-tight, lightweight, reasonably spacious for two people, two doors / vestibules = awesome, solid construction, nice windows, easy entry / exit, packs down fairly small (I use a more compact stuff sack than the one Marmot supplies). Not too shabby ...
Price Paid: just under $300

I waited to get this tent until the price came down. It was definitely worth the wait. Setup is easy and can be done by one person in just a few min. Total weight is a bit heavy for a two man (wow the 4 pound tents have spoiled us) but the extra room more than makes up for it. This tent could fit 3 in a pinch. Knee pole system is amazing; lots and lots of extra room (at least it feels that way).
I have had it out on two separate trips; one was a road trip from Hollywood CA to Cincinnati OH. Tent performed great in all types of weather, with almost no condensation. Fly tension is great with the quick adjust straps (no flapping in winds over 40 mph).
I do have two complaints; one is that it does not stuff down as small as I would like. The other is the vestibule and door tie backs are in a location that allows the doors and vestibule to come unrolled and rest on the ground.
Design: three-season freestanding
Sleeps: 2
Ease of Setup: Easy after the first time
Weight: 5.10 lbs pack weight
Price Paid: $235

I love this tent. It is so awesome! I've used it more than about 5 times in the past year. However, I've only used it while car camping in Northern California and not while backpacking. It's a bit heavy for me backpacking since I usually sleep solo. I would use this tent backpacking if I was to share my tent.
Me and a friend have shared this tent camping and there is plenty of space in terms of both width and length. We usually have enough room to store our gear between our feet and the wall of the tent.
One needs to be sure the fly is secured internally via the grommets to the poles. Also guy the fly at the the head and feet to provide plenty of ventilation. There also ventilation at the top of the fly which is awesome. The vestibule is nice but I've only keep my shoes there while keeping my gear inside the tent with me.
My complaints are the doors on the fly and how they don't stay open. Marmot could have put another latch so that they would stay open. Overall, it's a quality product.
Design: three-season freestanding
Sleeps: 2
Ease of Setup: pretty easy
Weight: 5-6 pounds
Price Paid: $350+

Since I bought this tent back in Aug 2007, I have used it on 3 backpacking trips, 2 of which included rain, one all night throughout the morning (including packing up in the rain). Not a drop of rain in the tent! As other reviewers have illustrated, pitching the tent correctly is key to staying dry. The 2 shorter poles need to go through the grommets in the rainfly. As airy as this tent is (short rainfly), I did not feel any wind blowing into the tent. Although a bit tight, we (2 adults) were able to fit our 85 lb pooch in the tent (thanks to the bent knee poles).
I am headed up to the enchantments (WA) to climb Prusiks Peaks this weekend. Snow and foul weather is in the forecast. I will update on this tent upon return. Overall, a great tent, not the ultra light like others in the market, but then most of them are are primarily glorified mosquito nets. And yes, fully taped seams is a plus. Cheers!!
Design: three-season freestanding dome
Sleeps: 2
Ease of Setup: piece of cake
Weight: Almost 6 lbs
Price Paid: $250+shipping

I decided to drop a few big ones on this tent since the weight of my Sierra Designs Antares was getting to me. I LOVE this tent! It is incredibly light for its size, and moving it around after it's been pitched is exceedingly easy.
Previous reviews touch on problems with the rain fly that I have never had. The ventilation is great, and if you have the fly staked out correctly, it should stay right on top of the poles. Also, on the inside of the fly, there are holes in which to stick the brow poles to further keep the fly well above the tent ceiling. Also, if you're having problems rolling up the larger side of the vestibule door, roll it up tight away from the tent, and strap it and there shouldn't be any problem.
I'm planning a trip for the Hoh Rainforest so I'll finally get to test the tent in a sopping wet environment, but it's already held up well in normal rain.
Oh, and I love Marmot's colors.
Sleeps: 2
Ease of Setup: I'd be worried if anyone had difficulty pitching this tent... one person can set it up easily
Weight: 5-ish lbs
Price Paid: $325 + $40 footprint

I purchased this tent after reading nothing but good things about it in several leading outdoor magazines. I recently used it on a trip to Big Bend with my girlfriend and it performed very well.
The first night was windy (15-25 mph gusts) and it looked like it might rain so I set up the tent with the fly on, but left the vestibule doors open. I didn't guy out the fly, but it held up just fine despite the wind. It didn't rain that night, but we both slept soundly and the tent stayed very well ventilated. I noticed the fly had stretched slightly after being left on for the night (probably because it was the first time I had fully set it up), but it was easy to get it tight again with Marmot's Stake Tape design that gives you multiple stake holes. This allows you to adjust tension on the tent body and fly without reposition stakes, very handy! I was able to keep the fly drum tight and it only draped slightly on the area between the brow poles over the tent door. I don't believe this would lead to any problems with water leakage. I kept the vestibule doors open with the ties, and although they drape down a little bit, they don't hang down to the ground as mentioned in a previous review, and I wouldn't see them creating problems with getting water in the tent.
The second night our backcountry site had limited space to pitch the tent, so I set up the Aeolos sans fly and luckily the sky was clear. It was nice to star gaze as we fell asleep, and the tent was very well ventilated and comfortable. I like the combination of lots of mesh with some nylon for the tent body. It allows for great ventilation. I prefer it to designs that use all mesh for the tent body.
Overall, I was very pleased with the tent's performance. Interior space is definitely one of its strong points. I'm 6'1" and I can sit up with plenty of room in this tent. Even with the gear loft, there was plenty of space inside. The vestibules are good sized too. The tent pitches tight without having to guy it out, the DAC NSL poles are very strong and stable in the wind, and there are lots of nice details like the two vents and welded windows on the fly. Although I have not tested this tent in the rain yet, I am confident it will be weathertight. I'm more than satisfied with this tent and would recommend it to anyone looking for a solid, reliable, and detailed three season shelter.
Design: 3 Season Backpacking Tent
Sleeps: 2
Ease of Setup: Easy as pie
Weight: 5-6 lbs.
Price Paid: $325 w/footprint

I have been wanting this tent ever since I saw it. It helps that it was an Editors Choice award for 2006 from Backpacker magazine. I didn't want to pay over $300 hundred but saw it on sale miraculously for $229. So me and my girfriend took it out for a spin this weekend.
The basic setup for the tent was very intuitive, but it helps to read the instructions on the inside flap of the tent bag your first time. There are a couple of unique things about the rain fly. There are actually metal grommets on the fly that fit into the end of the two small crossbars. There are a couple of parts in the stake bag that are mentioned with the vestibules in the directions that I couldn't figure out but I got it up without them. (2 small bungie loops with a grommet on the end) That was a little confusing.
Anyway as soon as I got the tent up and was admiring it along comes the rain. It wasn't a heavy thunderstorm but a good Colorado afternoon shower. I used the extra tent stakes and rope and guyed the fly out from the loops provided and that took the fly out a little extra which was nice. It rained from about 2 p.m. till 1 a.m. Sometimes just drizzling and sometimes harder. I kept peeping into the tent through the vestibule all night to see if there was any leaking (especially after reading the above review) but it was dry all night. I was worried because the vestibule does seem to rest a bit on the tent along the top of the door were the fly grommets connect to the small crossbars. But not a single drop inside the tent.
The dual vestibules was nice so we could both enter the tent at the same time. They are not huge vestibules but there was plenty of room for to take off our shoes and get into the tent without getting anything wet. The ground under the vestibules was still dry soil too so that was nice. I do think that I was missing something when setting up the vestibules so I will go to Marmot's site to figure that out. But we were dry all night and not a drop in the tent.
Once inside there was plenty of room for us to get settled and zip our bags together and move the mats around. There is plenty room for two in this tent. The walls are nice and straight thanks to the bent pole design. No slanted walls.
So I am a happy camper. I am actually glad that I got to test out the rain on my first night. I know this tent can handle the rain now. Great tent and more roomy than most tents in its class.
Design: 3-season
Sleeps: 2
Weight: 5lbs?oz
Price Paid: $229 ON SALE

I used this tent one rather cool night (some frost) in early July in the North Cascades (Washington, State, USA). Here's what I found in terms of problems:
1) The rain fly touches the roof of the inner tent no matter how we tried to pitch it and tension it. Since the inner tent is mostly mosquito netting, it means that when moisture condenses on the inside surface of the rainfly it will drip into the tent. When we looked above us in the early AM we saw that the wet fly was indeed makin ghte inner tent ceiling wet. You would think the folks at Marmot would have put some attention into this type of detail for a tent that costs $325!
2) When you roll-up the rain fly entrance flaps there is a little ties strap where you can keep the rain fly rolled-up. But, since the strap is located so far to one side of the tent opening it means that even if you roll-up the entrance flap and tie it with the tie strap that the other end falls to the ground. That meant, in our case, that you would always brushup against the rain fly as you went in and out of the tent. In the wee hours of the AM leaving the tent to relieve ourselves it meant that the condensation on the fly got all over us and we got wet.
3) Since the inner tent is mostly made of mosquito netting it means that it there is any wind (and there was the night I used this tent) it goes straight through the tent, which makes for a chilly evening.
My conclusion was to return the tent. Although the tent is very roomy, it got us wet on a clear rainless night, not a very imporssive tent. It seems like the tent-designer folks at Marmot might not have actually used the tent at all!
Design: three-season freestanding dome
Sleeps: 2
Price Paid: $325

You May Like
Recently on Trailspace