Marmot Alpha Pro Jacket

The Alpha Pro Jacket has been discontinued. If you're looking for something new, check out the best synthetic insulated jackets for 2023.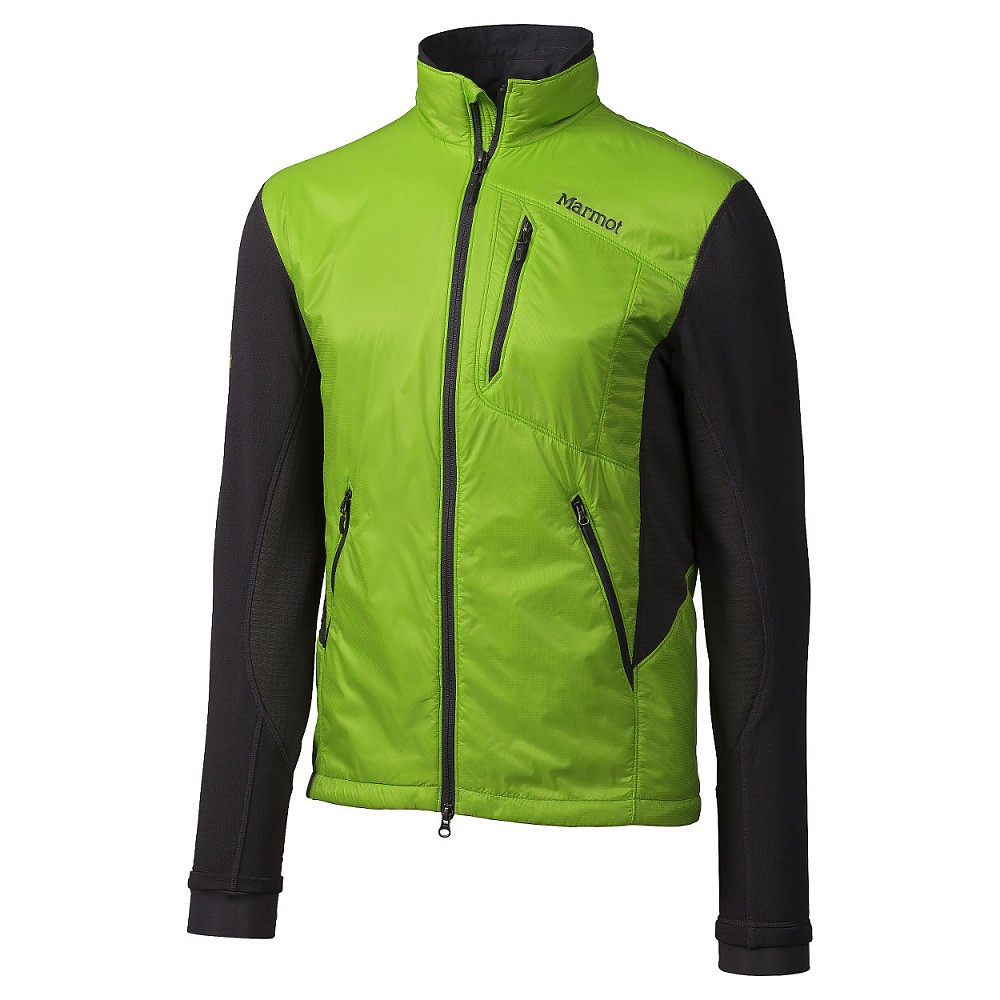 Lightweight and warm, breathable and snow repellent. A perfect winter layer for the extreme athlete!
Pros
Very lightweight
Very good design, with a creative application of new technology
Excellent for highly aerobic winter activities at moderate temperatures
Warm and comfortable at a wide range of temperatures.
Excellent stretch and freedom of movement
Cons
Odd fit. This was a pre-production sample though, so try on before buying
Insulation in the arms is vulnerable to winds
Optimal use is in extreme applications – less useful for average consumers
Marmot Alpha Pro Jacket
The concept of body mapping has hit the retail markets with the advent of the new Marmot Alpha Pro Jacket. The idea is simply that different areas of the body need different levels of ventilation, wind protection, and insulation, and that a variety of fabrics are needed to make that work.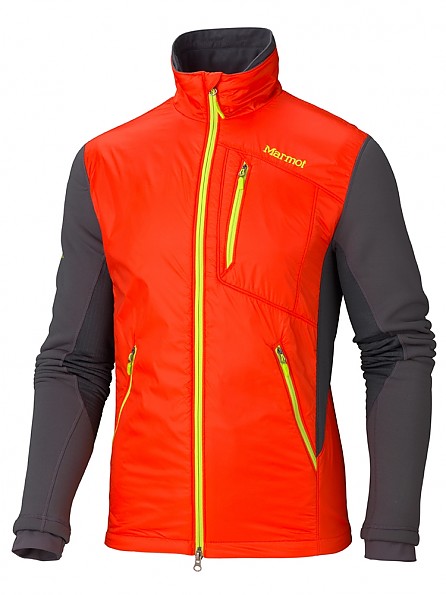 In the Alpha Pro, three different Polartec fabrics are used in one jacket. The key is state-of-the-art Alpha insulation, originally developed for U.S. Special Operations, that offers very good insulation with very little weight. The Alpha part of the jacket is covered in Pertex Quantum.
Used on the front and back of the torso, the combination provides excellent wind-proofing and some water resistance, and it's advertised as drying up to 45 times faster than conventional fabrics. It's also a step forward in terms of breathability; while traditional 'puffy' jackets hold in sweat as well as warmth, the Alpha insulation solves that problem.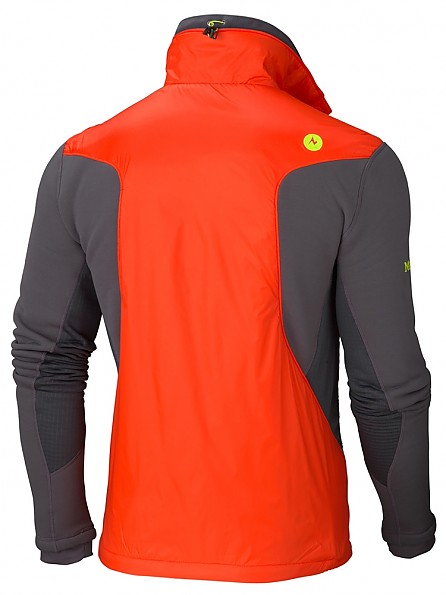 The sleeves themselves are cut from Polartec Power Stretch, with a proprietary Angel-Wing Movement. Covering sections of the upper back as well as just the arms, the Power Stretch allows complete range of motion in almost any position. The fabric is also warm and quite breathable but not very wind-resistant. By comparison with the other fabrics in the Alpha Pro, it's also the heaviest component, but it's comfortable at both low and high levels of activity.
The underarm panels are made from Polartec Power Dry High Efficiency (Power Dry is the fabric, High Efficiency means it has a grid back/interior), a very breathable and stretchy fabric. They extend down the underside of the arm and down the sides of the jacket, as well as the armpits, allowing good sweat-dispersing properties and extra stretch.
Other design features include a Napoleon pocket, and two hand pockets that are under the insulating layer for warmth. The hand pockets are also located a bit higher than in some jackets, allowing the Alpha Pro to be worn comfortably while wearing a pack. All pockets are zippered (the front zipper is two-way), and there are drawstrings around the waist and at the neck. There is a moisture-wicking DriClime® lined chin guard and a high collar for extra warmth.
The result is an extremely lightweight jacket that is specifically designed to be warm where needed, stretch where necessary, and cool under high activity levels.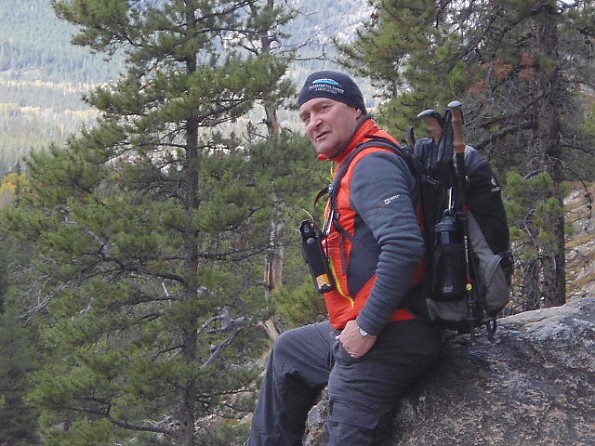 Does it work? While I've worn the jacket under a variety of conditions, I've picked out four days of use that demonstrate how the Marmot Alpha Pro works at various levels of activity and in different kinds of weather. They range from a cool day at a mountain resort, through winter conditions with cold temperatures and high winds on a mountain ascent.
Day 1: Hiking/walking during the day and an evening boat trip on a glacial lake. Exertion level 'low'. Temperature around 10°C/50°F in the morning, overcast, occasional light drizzle, staying about the same throughout the day, but dropping to around 6 °C/43°F in the evening.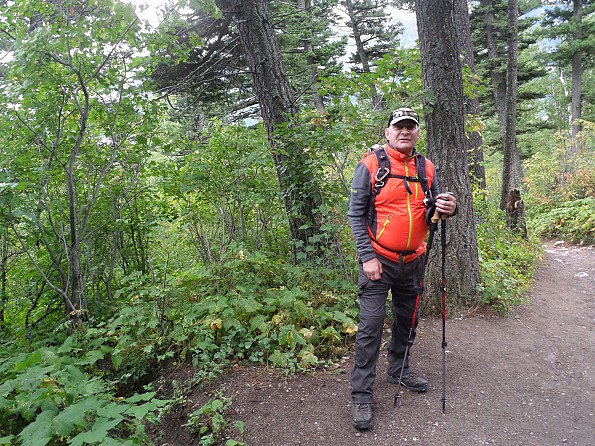 Performance: I started off wearing the jacket by itself. It was definitely too warm to wear casually when sitting at breakfast, but quite comfortable when hiking and walking through the day. When a light drizzle started, I added a Gore-Tex shell, and found the combination worked quite well. Opening the pit zips in the outer jacket exposed the High Efficiency fabric, and I was able to avoid overheating quite easily. Without the shell, the rain began to skitter off the fabric of the Alpha Pro but I noticed no loss of warmth.
Later that evening I took a boat ride down an open glacial lake. Exposed to higher winds and falling temperatures (6 °C/43°F), I started off wearing just the Alpha Pro, and added a shell when the spray started blowing around to keep the water off the jacket. I was perfectly comfortable, without getting cold or overheating.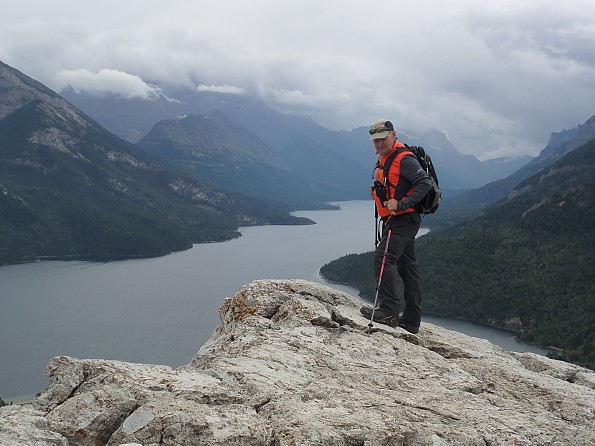 Day 2: Day hike, short but strenuous, with elevation gain of several hundred metres over just one kilometre. A cool start with temperatures below 10°C/50°F and while I was carrying a Gore-Tex shell, I was wearing the Alpha Pro.
Performance: As promised, I stayed dry and cool as the level of exertion went up. The ventilation of the Polartec High Efficiency fabric worked well, and my core stayed warm. As I neared the top of the mountain the ambient temperature dropped, and I met higher winds at the crest. The Polartec Alpha insulation is completely windproof, and the Polartec Powerstrech fabric is almost as good. For a while, I was quite comfortable but then I started a short and easy scramble.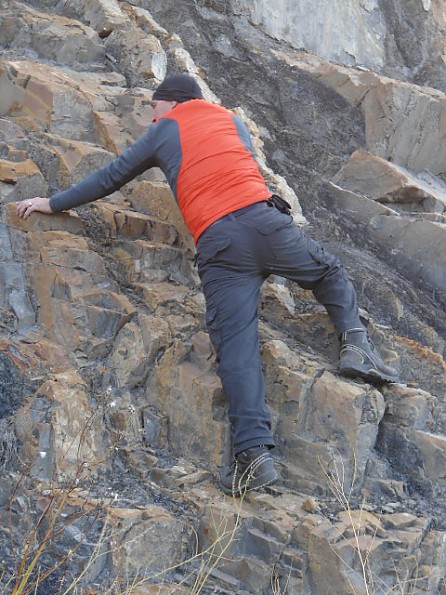 The Angel-Wing Movement proved its worth, giving full freedom of movement, but the wind started to chill my forearms in the areas where the Polartec High Efficiency fabric was exposed and the rest of my body started to follow.
One suggestion for a minor design change would be to reduce the amount of thin High Efficiency fabric in the forearms, replacing it with the heavier Powerstretch. In the meantime I covered up with my windshell, which reduced the value of the Angel-Wing Movement.
Coming back down, I started to warm up as the elevation dropped, and I soon had the zipper open. By the time I reached the trailhead, the temperatures were getting up around 16°C/60°F with the prospect of a warm afternoon, and the jacket went back into my pack.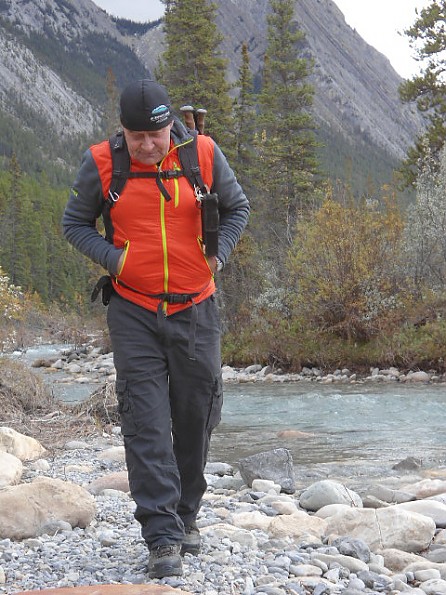 Day 3: Evening fitness hike, 95 minutes at 5 kph/3 mph with moderate elevation, temperatures +4°C/39°F, light rain. Exertion level, highly aerobic. Reviewed by an apprentice leading a group of seven hikers, in order to cross-check my opinions. Besides, she wanted to try it out!
Performance: "The jacket is amazing for higher aerobic activities! Venting was perfect as it kept me from overheating. There was no wind so the venting allowing wind in was not an issue. Very comfortable with the angel wing shape, movement was easy. Even the longer sleeves worked as I could pull them around my hands. The drizzle was not heavy enough to soak through, and I stayed dry. It would have to be raining quite a bit for it to be a problem - the fabric sheds water well.
I would certainly buy this jacket for outdoor running, skiing and winter activities to about -5°C/23°F. The lightness is deceiving. I was very comfortable."C. Raitt, IGA Apprentice Guide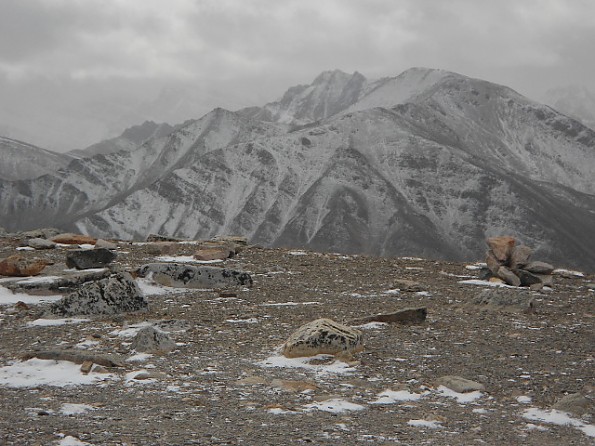 Day 4: Day hike with 1400 metres of elevation, early winter conditions with temperatures from +3°C to -10°C, and winds gusting up to 50 kph/30 mph. Exertion moderate but steady.
Performance: Leaving the trailhead (+3°C/37°F, overcast), the shell worked well, maintaining a comfortable body temperature and venting sweat. As we left the treeline (-5°C/23ºF), however, I started to notice the same excessive heat loss through the PolartecHigh Efficiency side-panels and down the underside of the arms. In more exposed area, the winds substantially reduced the warmth of the jacket, and I soon had to put on a wind-proof shell over top. My companion was already wearing a fleece, and added her windshell.
Temperatures on top dropped to -10°C/14°F and the winds started gusting at speeds estimated to be as high as 50 kph/30 mph. That means chill factors of about -32°C/-26°F. My friend stopped and added a softshell for extra insulation, but with all due credit to the design of the Alpha Pro, I was still comfortable with just the jacket as an insulating layer and my wind shell over top! The lack of a hood hurt, but under those conditions we were both wearing toques and had the windshell hoods pulled up.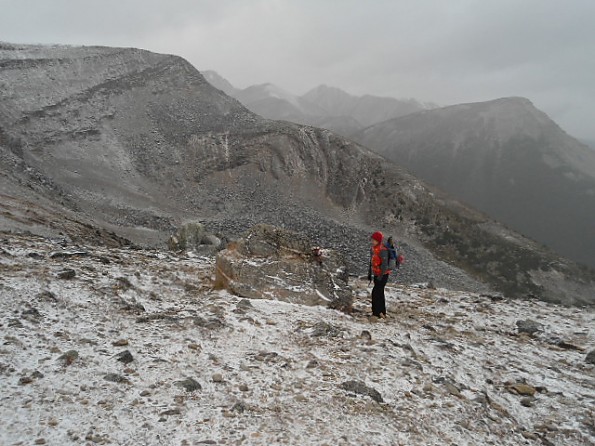 Fit: My jacket size is usually a Men's Medium, but in some brands (such as Outdoor Research) I wear a Small in some styles. For reference, I'm 172 cm/5'8" tall and 75 kg/165 lbs with an 81 cm/32" waist. My chest measurement is 107 cm/42" and my usual sleeve length is 61 cm/24". While there are variations in design, such as 'athletic fit' vs. 'regular fit', I was surprised by some odd discrepancies between what I expected and what I got.
Specifically, I found the torso to be longer than necessary and fairly snug, and the arms were disproportionally long. Every other jacket I have in a Medium, including the 'athletic' ones, fits just fine in the torso. I can zip up the Alpha Pro, but there's not a lot of extra room. The lower hem fits quite tightly around my hips and has to be worn at the waist instead. The Alpha insulation with the Pertex Quantum has little to no stretch, and I found relying on the Power Dry High Efficiency  inserts in the side panels for extra room to be too confining.
The sleeves are long enough to reach down to my knuckles, at 69 cm/27", even without the extension of the extra inner fold of fabric that's attached, and they are also a snug fit. I looked for something like a thumb loop to justify the extra length, but I really couldn't find any reason for the additional fabric. Adding a thumb loop would be an easy design upgrade.
One real annoyance was the collar. When zipped up, it was as tight as it could be without actually choking me. I liked the height, which kept the back of my neck warm, but I found it was simply too snug. For what it's worth, my fellow guide found the same problems, with the exception of the tight collar, and she liked the extra sleeve length.
All that being said, I can only suggest that someone looking to purchase an Alpha Pro do so in person. If you're tall and skinny, with long, thin arms, this just might be a perfect fit. If you're an average height and average build, you are likely to run into some problems ordering online.
I've noticed no abrasion or wear after a couple of months of use, and my only complaint is that the two-way zipper gets a bit sticky sometimes. To wash, I just tossed the jacket in the machine and dried it on 'low' - no problem.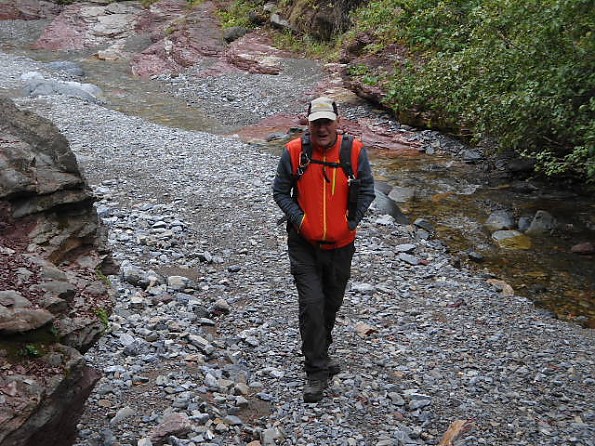 Summary:
Very lightweight. My basic fleece weighs 650 gms and needs a shell over it, but the Alpha Pro comes in at only 400 gms and, under most circumstances, does the same job. Specifically, when compared side by side under the same conditions, the Marmot Alpha Pro performed as well as a fleece/softshell combination, but did it with 1/3 of the weight!

Compressibility is excellent and this could easily be packed down to something about the size of a softball. No stuff sack is provided, though, and none of the pockets are set up to pack the jacket into.

No apparent loss of insulation when damp, and the Pertex Quantum sheds some of the moisture anyway. It's coated with a DWR treatment, so it's not waterproof but water repellent, but that is less of an issue in winter. 

Excellent temperature control under a variety of different circumstances. Kept me cool and dry when working hard, and warm in cool conditions. The Marmot Alpha Pro works well as a lightweight insulating layer to carry in spring or fall. It would also be good in moderate winter temperatures for high-intensity activities if matched with an extra layer for warmth when stopping. As a jacket for trail running or ice climbing the Alpha Pro would be perfect, but you would have to have a belay jacket handy to change into when you stop.

Breathes very well. Sweat is wicked away from the body and disperses quickly, and we noticed no buildups of moisture inside the jacket. That's a tribute to the concept of body mapping – having the right fabrics in the right places. For the most part it works very well, but for moderate activity levels or windier conditions the armpit ventilation is too porous. However, as it stands the Alpha Pro is perfect for highly aerobic levels.

The biggest problem is the fit. As I mentioned, the arms were disproportionately long, as was the torso length, and the torso and neck were too tight. I was able to layer this under an 'athletic fit' shell because of that, but I found that the jacket was most comfortable to wear when it was partially unzipped.

In practice, I found I was using the Alpha Pro Jacket more as a sweater than a jacket. The lack of a hood or internal pockets meant that an extra windproof layer was needed when dealing with any kind of wind, and when worn by itself, the level of warmth was insufficient for winter blizzards.

On a personal note, the Alpha Pro I was sent for testing came in brilliant SAR orange, trimmed with Marmot's standard day-glo lime green. Either one would have been okay, but I found the combination to be quite unsettling. When I look at the other Marmot jackets I see on the trails, I suspect sales would be better if the jackets came in less vivid colour combinations.
If you're an 'average Joe', the kind of person who gets outside for recreation and maybe a bit of exercise on the way, the Marmot Alpha Pro isn't what you need. It's too much for après-ski in a mountain resort, and it's probably even overkill for the regular shoulder season hiker.
But if you're an extreme outdoor athlete who pushes himself to the absolute limit at every turn, this just may be the greatest piece of winter gear you own!
Peter McClure
PS: I'll add more information about use for winter activities as soon as it gets colder here. I'm curious to see how the Alpha Pro works for snowshoeing and ice climbing.
Source: received for testing via the Trailspace Review Corps (Sample provided by Marmot for testing and review)

Your Review
You May Like
Specs
| | |
| --- | --- |
| Price | Historic Range: $78.97-$416.99 |
Recently on Trailspace