Marmot Cervino Jacket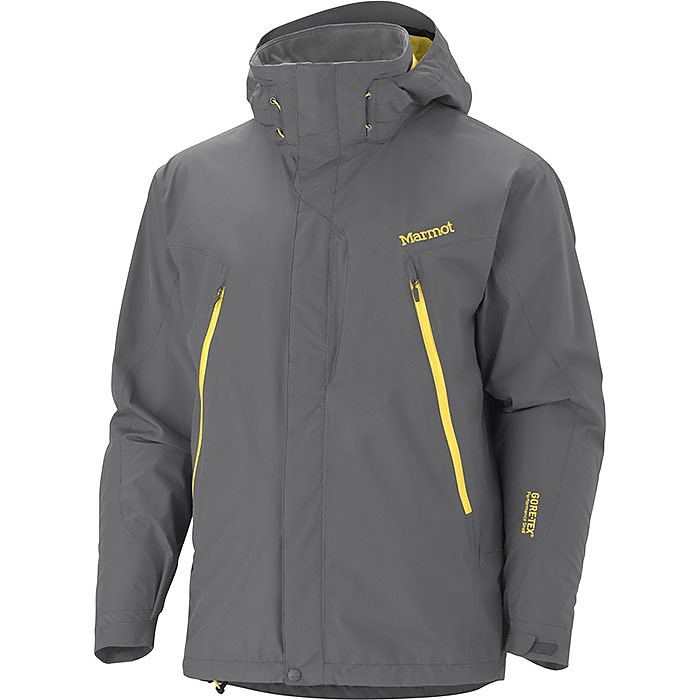 All right, there's been a lot of talk about this jacket not being waterproof, some incredibly cheap jackets being bone-dry, etc. So I decided to make a test of three similarly priced but differently constructed shells that I happen to own.
The contestants are:
• 98 Patagonia Storm Jacket
Fabric: 2-Ply Mid Weight Taslanized Nylon
Barrier: H2NO Storm Coating
Lining: Mesh and Nylon Taffeta
Weight: 25oz.
No pit zips or reinforcement patches
• 99 Patagonia Super Pluma Jacket
Fabric: 3-Ply Light Weight Ripstop Nylon
Barrier: H2NO StormHB Coating
Lining: Laminated Tricot Scrim
Weight: 18 oz.
No pit zips or reinforcement patches
• 96 Marmot Cervino Jacket
Fabric: 2-Ply Light Weight Microfiber Nylon and Mid Weight Taslanized Nylon
Barrier: MemBrain Laminate
Lining: Mesh and Nylon Taffeta
Weight: 32 oz.
Pit zips and reinforcement patches
OK, How waterproof are these things? This is test drill:
Wear Capilene shirt and pants and wool socks, but no fleece layer that could absorb leakage or sweat. Put on the jacket, a pair of Waterproof pants, waterproof boots, and Marmot Randonee Gore-Tex ski gloves. Batten down the hatches and pull up the hood as far as it will go. Put large hunks of toilet paper in the chest pockets (a place about equal with the hood and back shoulders for potential leakage). Then stand in the shower at full force and let it run until the 40 gallon water heater runs out of hot water (about 20 minutes, and I figure the equivalent of 10-12 inches of rain). If, after this, the toilet paper is dry enough to be lit with a match, then the jacket is waterproof enough for me.
With the Patagonia Storm jacket, the toilet paper was completely dry. The insides of the zipper flaps were wet (to be expected) and there was a bit of wet through where the hood cord came out of the taffeta tunnel near the outside edge of the hood. The exterior fabric was saturated, but the inside was dry. After I hung the jacket up, the taffeta in the sleeves felt clammy (probably because the fabric cooled down and the moisture was my sweat condensing—I think mesh is a better liner for the arms), and the taffeta lower lining was starting to soak through from water running down the outer fabric and then being wicked up by the liner (which makes the mesh drain strip at the bottom a brilliant idea). The jacket air-dried overnight.
Next night, I did the same thing with a Patagonia Super Pluma jacket (H2No and Deluge DWR but no pit-zips.) Again, dry as Natur champagne (interior and toilet paper) except for some wetting of the inside of the zipper flaps. This is a nearly new jacket, but the Deluge DWR does the trick—fabric saturation only on the hood and over the pockets. When drying no wicking of the exterior water into the liner except for the hem tunnel. Air-dried in a couple of hours without shaking.
As for the Marmot Cervino (from the first year it was made), things didn't work as well. Although in fairness to Marmot, they've recently pulled back a little on their statements about their MemBrain laminate, and this has been a fine ski parka (the catalog copy says: "especially suitable for very cold, drier climates like the Rockies where breathability and softness are key." Because of the considerable number of seams, the zip-off hood, and pit zips, I thought this jacket would at least leak at the hood connection or in the pit zips, but these areas held up well. It seems that the force of the water simply overwhelmed the barrier—one paper wad was drenched, the other was damp; the mesh liner was wet; and one side of my shirt was damp. The Cervino's microfiber shell was really saturated, and it didn't air dry overnight. It should be noted that the present Cervino has entirely different fabric than the one I tested—a lthough it still uses MemBrain laminate.
As for the Patagonia Triolet pants (three-layer H2No with smooth nylon shell), it's a little harder to say—the tricot scrim was a bit clammy in the knees and seat—probably from perspiration (it was, after all, hot water). There was no leak through at the seams or even the side zippers—which I found amazing. Water beaded well except at the knees (I've Nikwaxed these), and they dried as fast as the Super Pluma.
Tests with a Patagonia Glade Runner Acitvent/Pneumatic jacket and an old Sierra Designs coated nylon parka didn't last long about two minutes for the Activent and five for the coated nylon without any seam taping.
I never really expected the gloves to stay dry through this deluge, and they didn't. I put the glove gauntlet over the jacket sleeves and tightened the draw cord as much as I could. My hands had water on them at the end, but not really running off, and the dri-clime liner was damp but not soaking. After I took the gloves off to dry, the liners really got soaked—proving that they wick like crazy, which is what they are supposed to do. I suspect the problem is that water runs down from the jacket sleeve into the gauntlet (and thus onto your hand) rather than the gloves are inherently leaky. But the gauntlets are too bulky to fit under the jacket sleeve. Gloves are also notoriously difficult to waterproof even with Gore-Tex (although better gloves like Marmot and Black Diamond have either welded or taped seams on the waterproof bladder).
So the moral is, the Storm Jacket is waterproof but not the best choice for extended trips because the outer fabric saturates—thus destroying breathability until the outer shell dries again. As Clyde Soles has said over and over in Rock and Ice magazine, three-ply shells like the Super Pluma and others are the only choice for the big mountains. As Marmot itself says, MemBrain is not as waterproof as Gore-Tex (65+PSI for Gore vs. 45 PSI for MemBrain). Patagonia says H2No is as waterproof as Gore-Tex but not as breathable—which seems to be true. Smooth finishes such as ripstop bead water better than texturized fabrics, and three-layer parkas feel less clammy.
As for durability, I've never seen a really torn-up Storm Jacket, I put a big hole in an old Super Pluma Gore-Tex I had by falling on some small rocks, and the microfiber of the Cervino got little pin hole tears near the hem from falling on gravel covering an icy sidewalk.
Fabric: Various
Price Paid: $28-325

This jacket is originally $300 but I got it at Sierra Trading Post as a closeout! I traded my big yellow Titanium Ballistic Parka for this and I love this one so much more! It is very waterproof. I have yet to put a DWF finish on it. It has a zip-in feature to zip in a marmot fleece or down jacket and a nice hood. I would recommend it to anyone!
Fabric: Membrain
Price Paid: $99

I have had this jacket for about one year and have been quite satisfied w/ its performance. I've used it snowshoeing/climbing in the White Mountains in NH, backcountry skiing in the Rockies, and on one rainy mother of a backpacking trip (also in NH) and the Membrain fabric proved to be quite breathable. The zip off hood is a pain (although it's been subsequently been changed). I bought it because it was on sale and I had heard good things about Marmot products.
Fabric: Membrain
Price Paid: $200

Wow! As a poor college student, Gore-Tex wasn't an option for me, even at the insanely low prices offered on the clearance rack at my local outfitters'. I needed a waterproof/breathable jacket, however, and after looking around for one that fit my needs (pit zips, a hood, reinforced shoulders, GREAT freedom of movement) and the constraints of my budget, I settled on the Cervino Jacket from Marmot. I'm impressed. It has all the features I want, and it didn't cost me my life's savings. This is one spiffy piece of outerwear.
My only gripe is that the zip-off hood has an annoying tendency to lay flat against the back--and get wedged inbetween me and my pack. I suppose I could roll it up, but I'm lazy and contorting myself around to undo the velcro isn't too fun with a 50 lb. load. So, I've just taken off the hood and I use a rain hat. Problem solved.
I like the breathability that MemBrain offers--they say it allows more moisture to transfer through when you're heating up, and it's true. I have two MemBrain garments (this jacket and a pair of Guide zip-up pants). Both work very well. I'm a very "warm-blooded" person, and this jacket is ALMOST as breathable as TNF's Hydrenaline. It keeps me nice and dry no matter what and the fabric is quieter and more supple than Gore-Tex fabrics generally are. The DWR coating on the outside lost its beading properties rather quickly. But the actual waterproof qualities of the fabric have diminished very little. I suspect some NikWax will rectify the glitches.
Personally, I don't get "Zip-In." The zipper adds extra weight and zipping in a fleece jacket hinders freedom of movement a bit. It also locks you in to having to buy a Marmot insulation layer--rather pricey when you can get the same Polartech from Land's End or REI for a fraction of the cost.
All in all, though, this jacket is great. Everything you need for backpacking and general use without all the whistles and bells of more expensive technical climbing parkas. I recommend it to anyone on a budget.
Fabric: MemBrain
Price Paid: About $300

Standard *technical* features - zipoff hood, underarm vents, multiple drawcords, strategic pockets, storm flaps, velcro cuffs, reinforced shoulders and wear points - they didn't miss much.
What I really enjoy about this jacket is the feel. It does not have the starchy feel of Gore products, it's soft and not crinkly (dunno about that word?). The DWR off-the-shelf is equal to Gore but it lost the surface beading pretty quickly - two hard outings and a subsequent tumble wash and dry. The double NikWax treatment (their non-detergent wash and the non-aerosol spray) restored the DWR to, what I believe, is a surface which beads more than it did when new. A data point: follow the directions and soak the garment with the spray-on, then tumble dry on low/no heat. This has the effect of not only evening-out the application but also *appears* to nudge the DWR a click higher - your mileage may vary.
Sorry for the digression. The Cervino meets my needs for a flexible piece of outerwear, with the ability to get very warm by zipping in a fleece or wearing it alone in less than arctic conditions. The money I saved by not getting Gore-Tex was applied toward a pair of gloves and that's a good thing. The fit and finish are excellent.
I did return the jacket to the factory to have the fleece zipper system replaced at no cost. Apparently their zipper supplier changed styles on them so my previously purchased fleece did not zip in as advertised. Beware of this issue.
The need to give the jacket the NikWax treatment is not that disasterous. Even my Gore outerwear eventually required that after steam-ironing lost its effectiveness - so I can live with it if the beading is restored - and it is.
On the side of comfort - the feel of the jacket - I give it the nod over my Gore outerwear and that qualifies it as a good thing since it performs well and cost less.
Fabric: MemBrain - their version of waterproof/breathable
Price Paid: $299

Your Review
You May Like
Specs
Men's
Price
MSRP: $300.00
Historic Range: $146.23-$349.95
Reviewers Paid: $28.00-$300.00

Weight
1 lb 12.2 oz / 799.5 g

Main Material
GORE-TEX® Performance 2L 100% Polyester 3.5 oz / yd

Lining Material
100% Polyester Embossed WR 1.8 oz / yd, 100% Polyester Mesh Lining 2.0 oz / yd

Women's
Price
Historic Range: $119.96-$300.00

Recently on Trailspace