Marmot Den 4P

The Den 4P has been discontinued. If you're looking for something new, check out the best three-season tents for 2020.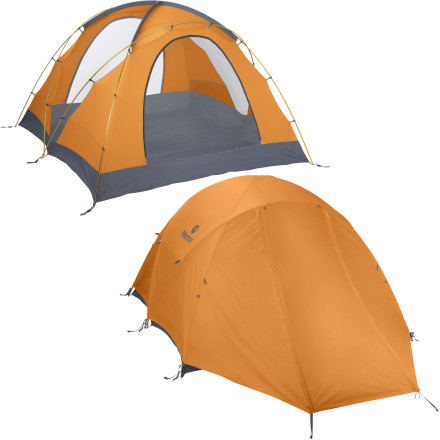 Specs
Price
MSRP: $349.00
Historic Range: $199.95-$349.00
Reviewers Paid: $209.00-$350.00

Maximum Weight
10 lb 8 oz / 4.763 kg

Minimum Weight
10 lb 2 oz / 4.593 kg

Dimensions
59 x 96 x 96 in / 149.9 x 243.8 x 243.8 cm

Packed Size
10 x 26 in / 25.4 x 66 cm

Vestibule Area
25 sq ft / 2.3 sq m

Tent Poles
4 / DAC Poles

Floor Area
64 sq ft / 5.9 sq m

Tent floor Material
70d 100% Nylon PU 3000 mm W/R, F/R

Tent canopy Material
68d Polyester Ripstop, F/R

Tent fly Material
68d Polyester Ripstop 1500 mm W/R, F/R

Reviews
2

reviews

5-star:

1

4-star:

0

3-star:

0

2-star:

0

1-star:

1
Very Nice Tent but Be Careful
Let me begin by saying that I am an experienced camper. I started camping with my father about 55 years ago and have personally owned and camped in thirteen other tent brands—including Ozark Trail, Eureka, Kelty, Sierra Designs, Mountain Hardwear, and REI. Furthermore, I am a little older (65 years old) and a little bigger (6'3"; 270 lbs) than the average camper. With these qualifications as a reference point, let me share a few observations and opinions about the Marmot Den 4 tent.
I first noticed the Den in September 2009 when I was looking for a four-person tent that had ample floor space but yet could be packed down into a small bundle. I narrowed my search down to the Den and the REI Camp Dome. Both tents advertised about the same floor space (63 square feet), about the same height (5 feet), and about the same packed weight (10 pounds). Eventually, I chose the Camp Dome because of the price difference. And, I have been generally pleased with the Camp Dome over the past two years.
Two weeks ago (April 2011) I noticed that an online retailer was offering the Den for a very low price ($209), and I immediately purchased one. When it arrived, I was eager to set it up and spend the night inside. When I opened the box, I discovered two sets of poles (yellow and grey) and no instructions regarding which set went where. I knew that one set went through the sleeves of the canopy from corner to corner and that the other set went from side to side. But, other than a difference in color, both sets looked the same.
So I went back to the Internet looking for instructions. Unfortunately, I could find none but I did notice several reviews of the Den. A couple of reviewers commented that directions were not included in their package and a couple other reviewers said that their poles bent soon after purchasing the tent. I assumed that these later reviewers probably lacked experience and stepped on the poles or made some other careless mistake. So, I refocused my attention on which poles went where.
According to specifications for the Den found on several on Internet sites, the tent is "color coded for easy set-up" but I could not find any color coded tabs on my tent. So I examined the photo of the Den found on several Web sites and observed that yellow poles appeared to go from side to side. So I went out to the back yard and began to set up the tent. I figured that I'd try it one way and, if that didn't work, I try it the other way.
First, I carefully assembled the grey poles, slid them through the sleeves, inserted the tips into their respective seats, and attached the lower clips. The tent didn't look right but I assumed that the side poles would lift the sides and give the tent more form.
Then, I made the fatal mistake. I inserted one tip of a yellow pole into the grommet on one side and bent it over the tent to the grommet on the other side. Immediately, I realized that this pole was much longer than the grey poles and that I had to swap poles. But when I removed the yellow pole, two sections were noticeably bent.
I was very disappointed to say the least. I had never broken or bent a tent pole in my 55 years of camping experience. Despite the bent pole, I decided to continue setting up the tent and sleep in it that night.
Boy, was I impressed! Despite advertising the same approximate floor footage as the Camp Dome, the Den feels much larger—largely due to the two side poles that pull both the sides and doors to a more vertical position. I also was impressed with the very large door and rain fly opening that made it very easy for my old, stiff, and obese body to enter and exit the tent. In fact this tent is easier to enter and exit than any other 3- or 4-person tent I have ever owned or inspected in camping stores.
Another nice feature was that the floor was wide enough to sleep with my head at one door and my feet at the other door. I personally prefer this position so that I can get fresh air and cool breezes at my head on hot nights and so that I can look out at the sky and stars as I fall asleep. The mesh door at the foot end offered an unexpected benefit—even better ventilation for those hot summer nights.
In contrast to another reviewer who objected to the mesh canopy because it reduced privacy, I was specifically attracted to the Den was because it had lots of mesh that would allow better ventilation for hot humid summer nights in the Deep South.
The Den also has more pockets than I have ever seen in a tent—two in each of the four corners and two more in the loft. But be careful, the side pockets are sewn directly to the walls and could easily snag or tear the side of the tent if you put something with sharp edges inside.
Other nice features are:
1) compared with the Camp Dome and other tents with partial coverage rain flys, the Den's full coverage rain fly offers better protection on windy and stormy days or nights,
2) materials used to make the canopy and rain fly are lightweight but appear to be durable,
3) zippers move effortlessly without snagging,
4) both canopy doors appear to be the same size so that you do not have to decide how to position the canopy in order to match the right door with the large rain fly entrance,
5) the center section of the large vestibule rolls back and allows easy entry and exit,
6) the main vestibule is larger than most other tents and provides plenty of covered space—even when the center section is rolled back,
7) both rain fly entrances have double zippers that allow you to open small vents at the top when the fly is closed for cold or rainy weather,
8) loops are sewn in the top of the canopy to accommodate a gear loft (not included) and/or a tent light,
9) about 50 feet of high quality cord was included in the package for making guy lines, and
10) outside guy loops have reflective strips so they can be easily seen in the dark.
I do have one question about this tent. Out of curiosity, I'd like to know the difference between the "cantenary floor" of this tent and the "bath tub floor" of many other tents. They look the same to me. I went to the Internet to find an explanation but could not find one.
Overall, I am very pleased with this tent and look forward to several comfortable camping trips in the years to come. I just wish there had been some instructions and that I had not bent that pole.
PS I called the retailer where I purchased the tent and described the bent pole problem. The technician said that she would try to send a replacement pole. Hopefully they can send the one pole rather than me having to return the whole tent.
Update: October 19, 2011
This is a brief update to my earlier Marmot Den 4 Review.
I have now slept in this tent for about 26 nights spread over five trips — including a ten-day trip to northern Wisconsin. Several of the nights were stormy and cool, but the tent provided a warm, dry, and comfortable escape from the elements.
Although the poles are slightly bent, the bends do not seem to cause any problems and I have decided to keep using these poles until they do cause problems.
Overall, this tent is easy to enter and exit, provides plenty of space, and is storm-tight. Notice that my rating has now increased to five stars.
Price Paid: $209

We went with this tent based on the fabulous Marmot backpacking tent we have. Very disappointed! Here's what was good: best zippers ever (we've had past zipper issues with breakage), easy set up, quality materials.
Here's the bad: NO PRIVACY unless you have on the rain fly, the inverted U shaped doors were horrible. You can't partially open the door like a "D" style door to go in and out, you have to unzip the entire door, which flops to the floor (usually on the outside) so you are stepping on it, or if it is wet, it is getting wet and mudding, and you run the risk of tearing/snagging the mesh.
The doors were also mesh only, no second door to zip up for privacy or warmth. Water leaked through the bottom of the floor to get the whole side of my daughters sleeping bag wet with a plastic footprint. We have camped in cold weather with other tents (twenties and teens) and the tent has never gotten below freezing in the tent.
There is no insulation in this tent because of the huge amount of mesh, so we were at 22 degrees inside the tent. But the mesh is so fine, in the heat, a box fan placed outside the door did not blow any air in the tent at all, we had to put the fan in the tent. (we normally don't have the luxury of electricity when we camp, but it was very hot in this one without the fan inside).
The front large vestibule of the fly is poorly designed. The angle is such when it is raining/wet and you try and zip the fly down,you can't reach the end with out getting wet, and I'm 5'7". The angle was also so tight that it was extremely cramped with two people in the vestibule, and the back area was very small, no gear storage there.
We had really high hopes because of the Marmot quality, but this tent was nothing but frustrating and COLD! Bottom line- we are returning this tent!

Design: 3 season
Sleeps: 4
Ease of Setup: easy breezy!
Price Paid: $350

You May Like
Recently on Trailspace