Marmot DriClime Windshirt

The DriClime Windshirt has been discontinued. If you're looking for something new, check out the best wind shirts for 2023.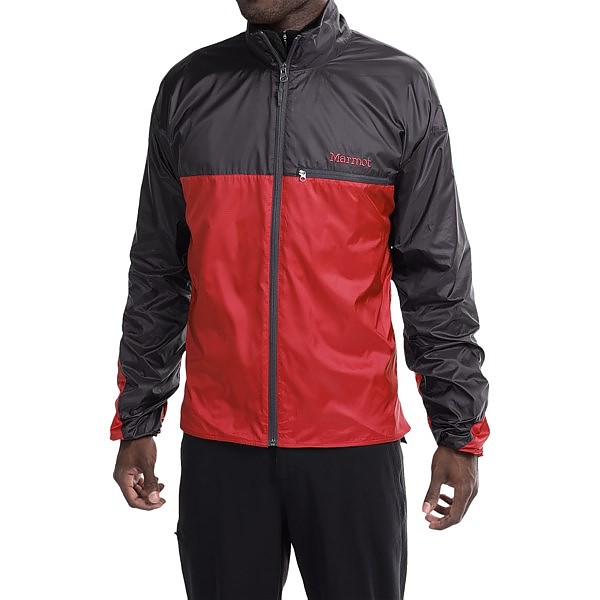 This is a great 3-season piece! A must have, it blocks the wind to keep the chill off on breezy summer nights, breathes well for hiking, and is an excellent wind breaker for biking. It's super light and can fold up to fit easily in a fanny pack or minimalist Camelbak pack. Believe it or not, I've even used it on a waverunner on a windy day and the white caps were splashing the water all over me. The jacket is not a waterproof rain jacket so I got wet, but the super soft comfortable lining kept me really warm even when wet and it dried sooooo fast!!!
Pros
Light weight
Compact
Fast drying
Comfortable
Cons
Wish it stowed into its own pocket
Fit & Comfort:  Marmot does a great job with their fit. I have long arms and relatively broad shoulders and have no problem with the arms being too short. It's a slimmer fit which allows for better moisture transport form the skin.
Water Resistance:  This is not a waterproof jacket. It's designed as a windbreaker. It is however water resistant and will keep you dry in a sprinkle or very light rain. The big thing is that it does dry fast in the event that you do get wet from a suprise rain.
Breathability: This item breathes well during activity, especially for a windbreaker. 
Moisture: The Driclime lining does an excellent job pulling moisture up and out of the jacket. It wicks sweat nicely and dries super fast.
Warmth/Layering: The soft lining is comfortable and keeps you warm when weather gets cool. It pulls moisture away from the skin and dries fast which also help with temperature regulation. In colder weather, like in the fall, you could layer with a thin fleece for added warmth and have this as an outer layer to break the wind. It's not meant to layer bigger layers underneath as it's a slim fit so you can't wear bulky fleeces, sweaters etc. During colder weather, a warmer insulated jacket or a shell you can really layer under would be recommended.
Function: This jacket doesn't have a lot of bells and whisltes, but it's light weight and it works well.
Durability:  I've had this jacket several years and it has proven to be durable, especially for the weight of the outer fabric. It has a few scuffs from trees, but resisted being torn from the branches. I'm fairly hard on my gear, always throwing it in the car, sitting on it to each lunch, etc and it has held up well.
Conditions:  I use this jacket from spring through fall. I bought it to wear biking and fell in love with how comfortable it is against the skin — it feels great to throw on over a short sleeved shirt when the weather changes or you go out in the wind to run or for biking.  I've worn it in the Moab hiking in the desert in April and it was perfect for those ultra-windy days.  It typically lives in my car ready for any adventure where I live in Jackson, WY.
Source: bought it new
Price Paid: bought it on sale end of season

This is a really nifty little piece that's intended to be used as a super-lightweight (~ 300 g) in the summer or a wind-proof base-layer in the winter. It is basically designed along the lines of a dress-shirt. The shell is a super-smooth nylon that must be very near to being a microfibre. The lining is a bi-component polyester knit sort of like fleece but superior at wicking and much more airy. The underarm gussets are made from Cool-max mesh. The underarm gussets seem very well designed to not limit arm movement. The front zipper is the wind-resistant water-resistant type and there's a backing flap of fabric, but it's not perfect at sealing out gusts.
The piece works well over a wide range of temperatures, largely because it's windproof and the pit vents. If you want to cool off, zip open the front. If you want to be warmer, tuck the tail into your pants, put on some gauntlet gloves, and seal off the collar. The collar is the weak link in sealing off the jacket. It is cut quite wide, and the seam for the collar lies directly on top of my collar bone. This provides a pretty good seal as long as you stand strait up, but my neck gets cold.
The water-repellency is excellent, largely due to the fabric being an almost-microfibre. I have gotten wet by water leaking in through the seams but they can be sealed with seamgrip -- the shell fabric almost never seems to "wet-out".
Warmth-wise, I'd rate it about equal to a expedition-weight thermal top under a windshell. There's enough space underneath to layer a polartec100 jacket and a thermal top, which allows me to keep that sweaty Gore-tex jacket in my pack when the wind is blowing and it's below freezing.
Overall, I'd rate this product a 9.5/10. It's relatively inexpensive (compared to say, Windstopper fleece), lightweight, and super-functional.
Fabric: NR-160 Nylon Taffeta
Fill: Driclime bi-component knit
Price Paid: $160 Cdn.

Literally... I wear it every day. I wear it like most people wear a hoodie. I've taken it everywhere for 4 years now: over mountain passes, along glaciers, into a 3rd grade classroom, in downpours. I've worn it against my skin, as an outer layer, and as a mid layer, on a bike ride, to the gym- you get it.
I'm not saying anything new here. It's an amazing piece. I wouldn't leave home without it in any season. The only ding it gets is it snags easily; You don't want to bushwhack in this or it will get shredded. The nylon taffeta is easily penetrated by briers. That said, I've snagged it dozens of times but never damaged it so maybe I'm wrong.
I will miss this jacket when it goes.
Price Paid: $85

I can't add much that hasn't been listed, but a couple years after purchase it is holding up great and continues to be one of the most versatile and satisfying pieces of clothing I've ever purchased, outdoor or otherwise.
Most recently, I've been using it as a mid-layer when biking in cooler weather. A wicking thin T underneath and an Arc Gamma LT on top and I'm nice and toasty. Since it a full zip, I can vent as necessary. Plus, the elastic sleeves mean you can push the sleeves up if wearing as a shell.
A very simple but versitle piece just fantastic. You just can't say enough good things about this product. Worth very penny.
My wife and kids tease me about how I go on and on about this "piece!" As a backpacker to the Tetons, Wind River, Glacier National Park Mountains and to the Himalayas, I would not hesitate to call this "the ONE piece" I would not leave home without! It is, as everyone has said, a breathable, wicking, windproof garment that can be worn next to skin, over another skin layer piece, or as an outer shell. In Minnesota in the late fall I love to wear this under a fleece jacket. I can feel warm even to 20 degrees and lower. It is a must for backpacking and camping. Highly recommended!
Price Paid: $99

Incredible pieces. Extremely versatile. I consider these items a must for everyday life as well as extreme life. I know it sounds like I work for Marmot, but the fact is, these garments are the ultimate base layers. Very comfortable next to the skin, excellent over long underwear (on colder days), smooth as silk under a shell and perfect as everyday winter/fall outerwear. They are not windproof, but in the winter/fall they'll be your second skin.
Fabric: DRI-CLIME
Price Paid: $119

My favorite layering piece. I bike in it alone, have been in 20' of snow with it as a base layer. It is far more water resistant than I presumed and basically works in all but a downpour. I find the inner material to be extremely comfortable to the skin and it wicks just like it claims. It is pricey but has justified itself due to its flexibility and quality.
Fabric: Pertex - a nylon variant. Lined with a wicking polyester.
Price Paid: $150

Just got this jacket (for summer)--has proved cozy and windproof on adirondack peaks. Is lightweight (10oz) and proved to be a lot more rain resistant than I was hoping. Hiked for seven hrs in the rain this past weekend and my T-shirt stayed dry under this thing. Joy....
Fabric: pertex4.5tx10i (fancy name for nylon i guess)
Fill: has a very thin fleece layer that increases evaporation surface area
Price Paid: 83 bucks on sale (130 normally)

I love this jacket. I wear it around town during the winter (it is AZ after all) when i need a light wind jacket that has a very thin lining. For backpacking I use a Mont-Bell UL Windshirt, but the rest of the time I use this.
Fabric: 1.7 oz/yd Polyester with DWR
Fill: Lining - DriClime® 100% Polyester Lining 2.7 oz/yd
Price Paid: $50

Three descriptive words -- simple, functional, and versatile.
To describe more would be a crime.

Fabric: Driclime and polyester
Price Paid: $50

Your Review
You May Like
Specs
Men's
Price
MSRP: $90.00
Historic Range: $33.88-$100.00
Reviewers Paid: $50.00-$150.00

Weight
8.8 oz / 249.5 g

Main Material
100% Polyester DWR 1.5 oz / yd

Women's
Price
MSRP: $90.00
Historic Range: $39.96-$100.00

Weight
8.4 oz / 238.1 g

Main Material
100% Polyester DWR Ottaman 2.2 oz / yd

Lining Material
DriClime® 100% Polyester Lining 2.7 oz / yd

Kids'
Price
MSRP: $45.00
Historic Range: $14.83-$179.99

Main Material
100% Polyester with Marmot Defender DWR 1.7 oz / yd

Lining Material
DriClime® 100% Polyester Lining 2.7 oz / yd