Marmot Eiger 36

The Eiger 36 has been discontinued. If you're looking for something new, check out the best overnight packs for 2021.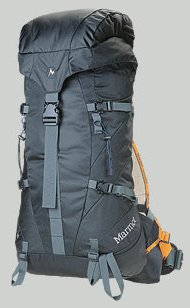 Specs
Price
Historic Range: $34.56-$109.00
Reviewers Paid: $64.00-$115.00

Reviews
6

reviews

5-star:

3

4-star:

3

3-star:

0

2-star:

0

1-star:

0
Hands down the best pack Marmot has ever made. I'm a classic backpacker in that I strictly use and promote the 3 pack model; Daypacks should be 10 to 20/25 Liters, Weekenders/Alpine Summit packs should be 50 Liters, and Weeklong/Winter/Expedition packs should be 70+ liters. By sticking to that rule you can't go wrong and you will save money from all the fads and trends that go and come each year and you will not end up having 20 different packs in your garage after 5 years (like most of my friends).
That said the 30-40 Liter pack range has always been useless for me because at the end of the day you are looking at an extra large heavy daypack or a small weekender that won't work for us normal backpackers. So this pack goes into the garage never to come out until your great grandkids are selling your house 100 yrs from now.
And funny enough, these packs tend to be more expensive than others and tend to carry all the fads on them like intercooled mesh paneling, turbo charged hipbelts and
all-wheel-drive BMW inspired suspension parts.
Now when I came across the 36 Liter Eiger on a recent trip abroad I was surprised by the quality and flexibility of it. You can easily remove the lid and shrink it down to a daypack without losing load stability or you can stuff it beyond the extension collar for a weekend outing and not lose load stability or feel like you have to sacrifice something to fit everything in. This sold me! and had me looking for this pack online when I came home.
Now that I finally got one, I'm realizing how much cooler the Eiger is in the field than on paper.
PROS: Lighter than most packs in this range. Lid comes off easier than other lid-based packs. Plethora of secret pockets that are actually useful. Color coded strapping on Hipbelt is helpful when adjusting on the move. Higher-than-normal extension lid rim accepts a lot of gear beyond 36 Liters. Durable tough nylon, similar to Dana Design quality, and not that other stuff Marmot uses on their packs. Comfortable shoulder strappings and hipbelt hugs your body and carries heavy loads confidently and easily without the normal sore spots you get from the usual padded, stiff foam straps.
CONS: None really. Marmot discontinued this pack and that sucks, but they are still plenty of them online and on eBay for cheap. Hipbelt buckle could be smaller, its like dinner plate sized. It would have been good if the lid turned into a fanny daypack. Side entry zip would have been cool as well.
BOTTOM LINE: Great pack! No fads or tricks here! 5 Stars! Can possibly concrete an honest niche for the 30-40 Liter packs.
Design: Top Loading
Size: 36 Liters
Number of Pockets: 5
Max. Load Carried: 46 lbs
Height of Owner: 5'8"
Price Paid: $66

About a year ago I upgraded from my cheap Jansport external frame pack to the Eiger 36 and I love it. It is relatively lightweight, very affordable, and carries enough for my needs though it might be a bit small for those looking to go out for more than a week.
I was going to purchase a more expensive pack with more volume, but wearing this one in the store was like packing comfortable air on my back. The straps are comfortable and it doesn't ride up too high.
I would personally like more external pockets/daisychains, as this pack is essentially one big top loading pocket, but I can't complain too much. For the money, and the comfort, I would definitely recommend this pack.
Design: Top loading internal frame
Size: 2200
Number of Pockets: 1 main compartment, reservoir holder, detachable fanny pack with three pockets
Max. Load Carried: 40 lbs.
Height of Owner: 5'
Price Paid: $115

This is an excellent pack. It can be used as a large daypack or as a 1-3 night pack. The shoulder straps and hip belt bear weight very well. Everything cinches down nicely to secure your load and there is plenty of space for everything you need.
They say it should max at about 35lbs, but I have loaded this pack to 45lbs on a 4+ mile run and it performed excellently. After a test like that, hiking and camping are not even an issue.
The only complaint I have is that the hip belt doesn't handle 45-50lb loads as well as I would like, but the pack wasn't designed to do that in the first place.
For a daypack, it does its job perfectly and if you want to push it beyond that it will outperform its specs with ease. Highly recommended!
Design: Top loading
Size: 36L
Max. Load Carried: 45lbs
Height of Owner: 5'8"
Price Paid: $65

I have to agree with Brad, the prior reviewer. This is a great daypack. Very confortable with good adjustments and the size is perfect for enough essentials for a good day out on the trail. Material is 420d broken twill nylon, weight is 2lbs 15 oz and a medium pack volume is 2200 cc.
Features include:
* Storm collar -- to secure and protect gear under the lid.
* Marigold lining -- makes it easy to find your stuff inside your pack
* Removable lid
* Ice axe strap -- to carry tools against your pack
* Ice axe loop -- for carrying ice tools the traditional way
* BioSpan™ -- patented load transfer system
* 3-D DriClime® mesh belt Particularly comfortable over climbing harnesses.
I liked it so much, I bought two.
Design: Top-loading internal pack
Height of Owner: 5'10"
Price Paid: $64

Is an all around great pack. Perfect for little trips.
Design: top loading
Size: large
Height of Owner: 6'1"
Price Paid: $99

The Eiger held up really well under some pretty tough stuff. We did Mt. Elbert, taking our time (had two first timers to altitude with me) two-day summit. Then lived in Rocky Mountain for three days. Five days and only reloaded water and that was at natural runs.
So efectively held five days of gear. This includes bag, stove, seven days of food, 110 oz of water (70 full, 50 backup). Cook set (SnowpeakTitanium full rig) MSR titanium, water filtration, shell, and the body of a Moss Titan GT, split three ways.
Great trip and no complaints about the pack other than I had to lash some to the outside at the beginning. Had an Ultralite Therm-A-Rest lashed to outside and had to adapt crampon coverage on lid. And the piolet (ice axe) lash seemed to sit higher than I like but I had a cane practically (80cm) not tall just like it on light hikes. Had some other stuff but I forget exactly.
Expected the BioSpan to fail miserably at almost 30 lbs but held very well. GOOD BUY if that counts for anything. Great mountaineering pack on some of the steepest ladders.
Good trips to you all.
Design: eiger
Size: 2200
Number of Pockets: 1
Max. Load Carried: 28
Height of Owner: 5'11''
Price Paid: about 100 bucks

You May Like
Recently on Trailspace