Marmot Never Winter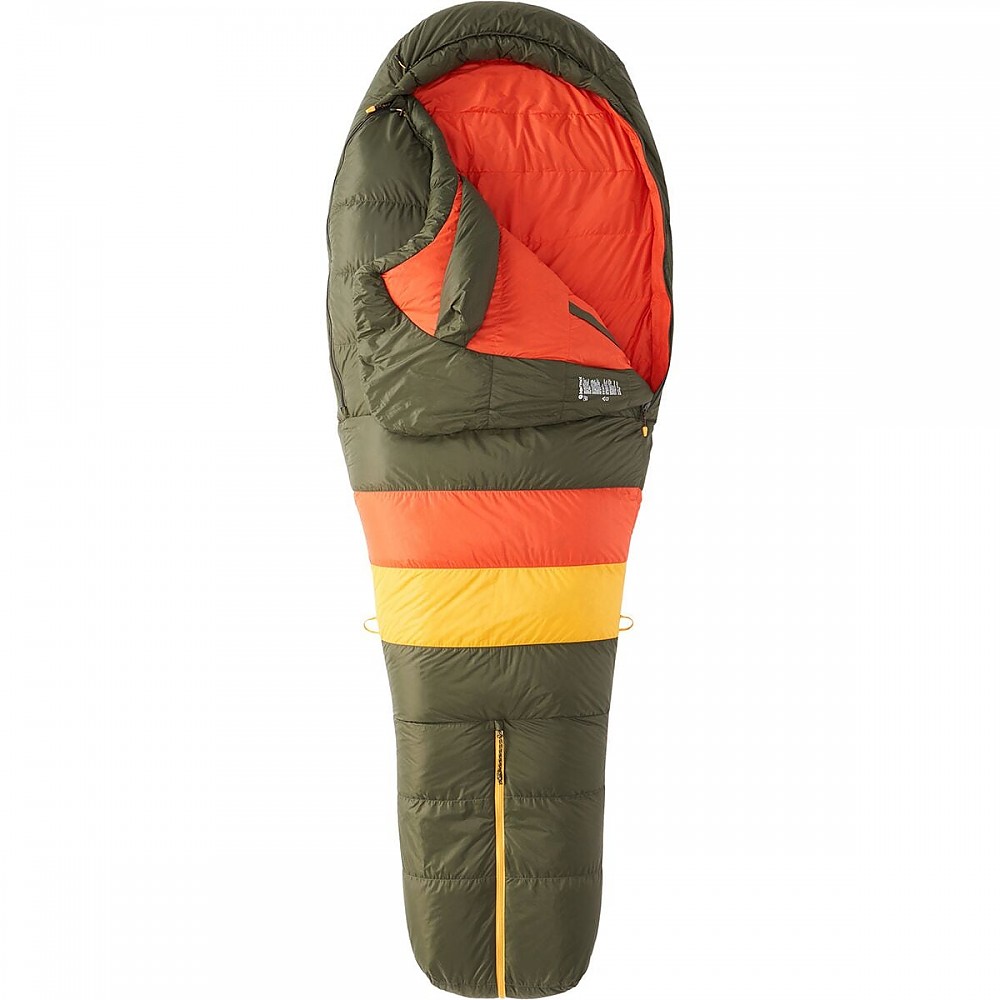 The one line review: A truly great summer backpacking bag.
I just returned from a week long trek through Sequoia and Kings Canyon National Parks using this bag. I was a little apprehensive - I usually like to test out my gear before a long trip - but this one was fresh and brand new for the hike. I couldn't have been more impressed.
It packs super light and super small. How small? Roughly, about the size of a football, non-compressed. And yet, it's not cut as trim as other mummy-style bags. You really do have room to move around and get comfy - and I'm a big, broad shouldered guy.
What's most important is that it seems very warm - almost warmer than its stated EN rating. There were a couple nights where I had to vent the bag, despite it dropping to the low 30s, near the stated comfort limit.
My only nit was that it seemed cut a bit short (and I had the long version).
Bottom line, if you're looking for a comfortable, great, summer-to-three season backpacking bag pick this one up. Frankly, I cannot imagine what more folks could want...and why this model isn't more popular!
Design: Mummy - but cut roomier than most
Fill: 600 Fill Down
Temperature Rating: EN rated to 30F
Weight: 2.5 pounds
Price Paid: $200

I've used my Marmot bag for a few years now and I completely love it. It's very well-designed. It's comfy (not too narrow, not too wide), lightweight, true to its temp rating, and packs down very small. The fat draft tube and excellent adjustable hood has kept me toasty a few degrees below it's temp rating - no drafts! It breathes well for warmer nights, too - never clammy. I actually like this bag better than the very spendy Gore-Tex Feathered Friends Swallow it replaced.
Design: mummy
Fill: 600 fill down
Temperature Rating: 30 degrees
Weight: about 2 lbs
Price Paid: retail

Looks high quality, warm, and skin friendly.
Pros
Light
Workmanship
Free storage sack
Just received the bag, looks high quality. The zipper did get stuck a bit as I played around with it, but that may be due to the bag being brand new.
11/28/16 Update:
Very warm, definitely wouldn't call it a summer bag. The -1c rating is in fact the average rating for men and women. It says 2c for women and -3c for men. It has great compression and for less than 900 gram that is great value.
Source: bought it new
Price Paid: 170$

Warmer than its rating, lighter than many and bullet proof.
Pros
Extra shoulder space
Ultra-compact
Definitely should be rated at least 5 degrees lower
Cons
Errrmmm...let me think...
The colour scheme maybe?
No, nothing really.
This bag is definitely warmer than its rating. In a hammock at negative 8 degrees Celcius (I'm from the UK) I was plenty warm enough in long johns and a fleece jacket. No draughts or cold spots I could find and nothing scratchy in your face when bundled up.
I'm short and wide, so I don't reach the footbox completely, but I like the extra space at the shoulders. I like to turn IN the bag, not have the bag turn with me.
The zip is full length so I use this as a quilt in summer, and in the hammock I can unzip from the bottom and lower my feet into my boots while staying in the bag if nature calls in the night.
I have very occasionally had condensation on the outside of the bag, but it never seems to soak in.
The bag packs down to practically nothing because of the quality of the fill. It takes only a few minutes to re-loft after being in the stuffsack. You also get a proper large storage bag with this model.
The zip works smoothly, although, like any nylon coated bag, you should be careful to avoid letting the outer skin get jammed in it.
This bag has now been my number one for three years, probably in use for about 100 nights a year and still looks like new, though I can't say it still has the brand-new smell... It has been used under open skies, in tents on moors and mountains, on my couch, in my hammock and in someone's car.
Source: bought it new
Price Paid: £120

I've used more than my fair share of sleeping bags over the years, But this is the first one I didn't find myself wanting to upgrade. I have had this sleeping bag for 7 years.  It's is a sub 2lb down (mine actually weighs in under the manufacturers weight) sleeping bag.
This thing has been used hard, and keeps coming back for more year after year.  It works to the rated temps without issue.
I've had it damp, I've had it out under the stars in sub 0 temps for the night, it's been drug around camp when the night temps drop lower than expected. It's still in one piece, has never leaked a single piece of down.
After 7+ years of use, the only flaw this bag has is a minor loss in loft, and a nasty "What is that from?" stain.  I'm sure if I toss it in the dryer for 15 minutes the loft will be restored to near new.
I will never buy another sleeping bag from another company. I got this bag for right at $130 on closeout, and I have yet to try out another bag that performs as well as this one for less than $250, and none of them have been a sub 2lb bag.
Price Paid: $130

The initial description list here is wrong. This is not a 0-30 degree bag, it is a 30 degree bag. I think they are mixing it up with Marmot's Never Summer bag. In any case, for most three-season backpackers this is all the bag you'll ever need. If you normally sleep in a tent, it is all the bag you'll ever need.
I've given my two years of pretty hard use (nearly every other weekend during the spring, summer, and early fall) and it sill is in great shape. I've given it only four stars because Marmot's advertised weight is off, but a goose down bag with a pertex cover that does everything that this one does for $179 (or $159 on sale) that holds up this well is quite a find. It compresses down to nothing in the pack and has never failed to keep me warm down to its temperature rating and I am cold sleeper. Great bag.
Design: Mummy
Fill: 600 fill down
Temperature Rating: 30 degrees farenheight or -1 degree celsius
Weight: 2 pounds, four ounces
Price Paid: $159

I just got back from a week in the Ansel Adams Wilderness near Mammoth Mountain and took my new Marmot Never Winter bag. The bag packs really small and fit into the bottom of a 2400 cu.in ultralight pack. The stuff sack is appropriately sized and acts like a light duty stuff compresion sack. The bag fits my 5'11", 190 lb frame good. I thought it would be a little tighter fit but the extra room was welcomed.
The overnight temps dropped to 31 degrees and I wore silkweight long johns and a 100 wt microfleece zip-T with wool socks and a beanie. I slept out in the open on top a rock outcropping without a tent, totally exposed to the elements. I never got cold or chilled. In fact about half way through the night I had to loosen the hood to let some heat escape. In the morning the bag exterior was damp from moisture but I was dry inside the bag. The bags DWR repelled the dew without any problems.
Overall the bag was a success, the temperature rating is right on and the compressability is a plus. I would safely say I would have been comfortable down to about 20 degrees with a little more layering or a tent.
Design: Mummy
Fill: 600 fill down
Temperature Rating: 30
Weight: 1lb 15oz
Price Paid: $159

Received the regular length bag from REI and found that it didn't weight 1 lb 15 oz as listed on REI and Marmot's web site but 2 lb 4.6 oz. That is 18 percent over specified weight and that didn't include stuff sack or tags. I sent Marmot 2 emails over a 2 week period with no reply. Since I purchased through REI, I asked if they could verify weight. They measured 2 bags in their warehouse and found the average to be 2 lb 6 oz or 22 percent of weight specifications. REI indicated they will update their web site. Rather disappointing for reputable company to be misleading the consumer.
Design: Mummy
Fill: 600 fill down
Temperature Rating: 30F
Weight: 2lb 4.6oz
Price Paid: $159

Your Review
Where to Buy
Help support this site by making your next gear purchase through one of the links above. Click a link, buy what you need, and the seller will contribute a portion of the purchase price to support Trailspace's independent gear reviews.
You May Like
Specs
Comfort
Lower Limit
Extreme
Price
MSRP: $209.00
Current Retail: $169.99-$259.00
Historic Range: $108.93-$259.00
Reviewers Paid: $130.00-$200.00

EN Temp Rating
36.1°F / 2.3°C
26.2°F / -3.2°C
-3.6° F / -19.8° C
Weight
1lb 13oz / 830 g

Fill Weight
13 oz / 370 g

Recently on Trailspace