Marmot Nyx 2P

The Nyx 2P has been discontinued. If you're looking for something new, check out the best three-season tents for 2022.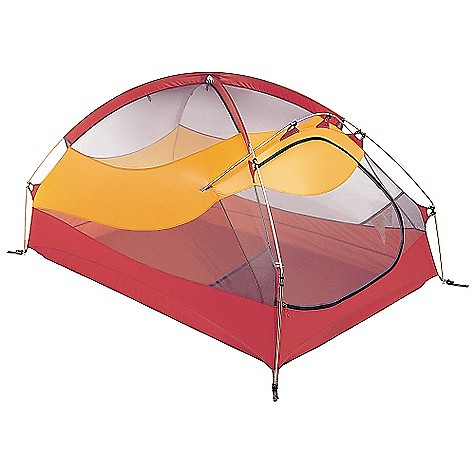 Specs
Price
Historic Range: $155.95-$299.99
Reviewers Paid: $199.00-$250.00

Reviews
5

reviews

5-star:

3

4-star:

2

3-star:

0

2-star:

0

1-star:

0
Overall, great tent. My sister and I shared this tent for a week on the Colorado trail with my 55 lbs dog (yes we all slept in the tent!) and were more than comfortable.
The tent had little condensation except for the coldest nights (it does get cold on summer nights in the Colorado mtns.!!), but the condensation was never a problem. The rainfly dried quickly when set out during our lunch breaks.
I also used it in the pouring rain and let my soaking wet dog in to sleep for the night and was happily surprised in the morning when everything inside the tent was dry! The tent is easy to set up and is light for a roomy 2-person tent.
Design: 2-person, three season freestanding tent
Sleeps: 2
Ease of Setup: easy to pitch, even in the rain
Weight: ??4.10lbs??
Price Paid: $242

This tent is awesome. It is pretty light for a 2 person tent. I am pretty tall (6' 2") and I had no problems sleeping lengthwise in the tent, as I usually do.
Also, the interior of the tent is tall. I could sit up straight with close to six inches of headroom to spare.
Design: Three-season
Sleeps: 2
Ease of Setup: I set it up in 2-3 minutes in the dark.
Weight: 4 pounds 13 ounces
Price Paid: $250

I am writing this review because when I had researched this tent I could hardly find any information on it. I have just received it and have not yet had a chance to really see what it can do as far as handling weather in a variety of conditions, but I thought I would write a little something based on my initial impressions since so little content is available for those who may be considering this tent.
Here are my initial impressions. The tent is light for a 2p tent, but not the lightest. However, for the weight is seems incredibly sturdy. The bent pole design is a very nice feature, and does in fact make the tent seem bigger than it actually is in terms of floor space (it does provide more actual space in terms of volume compared to a typical dome). The ceiling height is higher than I expected, a person six foot and under can comfortably sit straight up and lie down with plenty of room. If one were over six feet (and using the tent with two people) it would be a bit short. Nevertheless, for the average person this has plenty of space.
The Nyx saves weight by making a bit shorter in length and narrower in width than the Aeolos. It also has only one smaller vestibule and door opposed to the two doors and vestibules on the Aeolos. All of this considered, the near one pound of weight saved between the two will probably make it well worth it (it does for me since I carry the whole thing). Further, for people of average, even slightly above average, build it is a very comfortable tent.
I had also mentioned that it was sturdy. This is typical of Marmot, but what I didn't expect (for a 2p tent under 5 pounds) was how bomb proof the rain fly would be! I think the fly makes up the majority of the weight, and is well worth the few extra ounces (compared to other manufactures and single wall tents) to have such a solid fly. The Nyx incorporates all of the features one needs in a well built, solid, and comfortable 2p tent. I hope this information helps anyone considering this tent as I am already very happy with the purchase and can't wait for some very inclement weather to test this baby out in.
The last selling point, of course, is the price. It is considerably less than the Aeolos, for good reason as the Aeolos is a bit bigger. But considering my own needs, the weight, and the price, the Nyx has won my vote hands down.
Design: three-season freestanding knee dome
Sleeps: 2
Ease of Setup: Chimp Simple
Weight: 4 lbs 12 oz
Price Paid: $199

I've been looking for a TALL 2p tent for about a year now and had to grab this when I saw it on sale. I am very glad that I did, although some may consider its size and weight a little extravagant for a 1 person set-up, I am 6'4" and 275 pounds and the height of this tent is perfect for me. On two separate outings, the tent performed flawlessly...pitches easily, remains taut and is well ventilated and plenty of room. I would recommend this tent to anyone not afraid to carry the weight.
Design: Three Season Free Standing Dome
Sleeps: 2
Ease of Setup: very easy
Weight: 5 pounds (roughly)
Price Paid: $200

I use the NYX as a solo tent. I may sacrifice 1-1/2 lbs over a true solo ultralight, but the extra room is more than worth it. I can easily store all my gear within the tent and/or vestibule, and I have plenty of room for changing clothes. Ample headroom is a strong feature of this tent.
I have used the NYX on 4 outings in the Blue Ridge Mountains. Conditions included significant rain, snow, and ice. Temps dropped under 20F. The tent remained very taut, even under a light load of ice and snow. Due to the steep sides (which afford greater interior space), precip accumulations were minimized.
The tent is well vented, so condensation is not an issue. Fit and finish are top notch (what you would expect from Marmot). An all-around winner.
Design: three-season freestanding dome
Sleeps: 2
Ease of Setup: Easy
Weight: 4.5
Price Paid: $235

You May Like
Recently on Trailspace