Marmot Pinnacle

Top 50 in 3-Season Down Sleeping Bags
The Pinnacle has been discontinued. If you're looking for something new, check out the best 3-season down sleeping bags for 2022.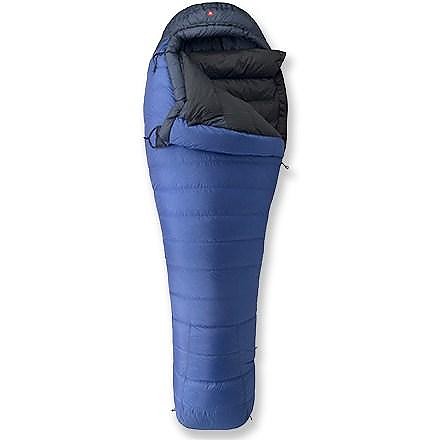 Specs
Men's
Regular
Long
Price
MSRP: $349.00
Historic Range: $215.37-$378.95
Reviewers Paid: $220.00-$349.00

Weight
2 lb 8 oz / 1133 g
2 lb 12 oz / 1247 g
Fill Weight
1 lb 6.5 oz / 637 g
1 lb 8 oz / 680 g
Temperature Rating
15 F / -9.4 C
15 F / -9.4 C
EN Comfort
22.3 F / -5.4 C
22.3 F / -5.4 C
EN Lower Limit
10 F / -12.2 C
10 F / -12.2 C
EN Extreme
-24.7 F / -31.5 C
-24.7 F / -31.5 C
Fill
800 Fill-Power Down
800 Fill-Power Down
Shape
Mummy
Mummy
Max User Height
6 ft 0 in / 180 cm
6 ft 6 in / 200 cm
Hip Girth
58 in / 147 cm
58 in / 147 cm
Foot Girth
40 in / 101 cm
40 in / 101 cm
Price
$349.00 USD
$369.00 USD
Women's
Price
MSRP: $329.00
Historic Range: $199.95-$359.00
Reviewers Paid: $187.00-$195.00

Weight
2 lb 7 oz / 1120 g

Fill Weight
1 lb 6.5 oz / 637 g

Temperature Rating
15 F / -9.4 C

Fill
800 Fill-Power Down

Shape
Mummy

Max User Height
5 ft 6 in / 170 cm

Hip Girth
58 in / 147 cm

Foot Girth
38 in / 96 cm

Reviews
16

reviews

5-star:

13

4-star:

3

3-star:

0

2-star:

0

1-star:

0
When my previous bag, a moderately priced store brand synthetic, had its zipper break at the same time that the fill lost most of its loft, I decided to move up to down.
I do a lot of camping while motorcycle touring and, while weight is not especially critical, the volume of one's kit must be rigorously minimized if the bike is not to become unroadworthy, or even unrideable. So in my case the pack size of the Pinnacle, only slightly larger than a football, was what got me past its--for me--fairly steep retail price.
I have now used it more than three years--somewhere between 150 and 200 nights--and am glad I got it; I've become truly fond of it. The Pinnacle strikes a good balance between being somewhat usable in hot weather and warm enough when the temperature plunges. With a Thermarest underneath and wearing a suit of thermal underwear, I have zipped up and stayed comfortable in nights in the very low twenties. And I am an extremely cold sleeper.
Only a few picky things keep me from giving it five stars: the occasional errant quill of goose down works its way out of the nylon lining; it might be only my prodigious finger skills, but I can quite easily get the zipper snagged in the lining if I am not careful and deliberate.
Basically, as the reviewers uniformly note, it's a great bag.
Price Paid: $280

We bought two of these about six years ago. buy this bag. it has been flawless. we got a great buy at sierratradingpost.com. it has it all--we use them even in our RV in lieu of blankets. but it shines on the trail. tiny, warm, convenient, not confining, state of the art design and workmanship.
i sat on mine once while we had it hanging on a hook at home after a trip-YEEOUCHH--i tore it. NOT to worry--Marmot Mtn Works fixed it--i can't even remember where the tear was, they did such a great job-no cost.
we may die when we finally have to replace them--but the way it looks now, the bags will outlive us!!
Design: mummy
Fill: 750 down
Temperature Rating: 15
Weight: practically zero
Price Paid: $187

Almost too warm.
Cons
Takes very long time to dry in dryer
The wife and I both have these bags. The long size fits my 6'2" frame with plenty of room for tossing/turning. The regular size fits her (much) smaller body just fine.
She sleeps very cold, but is comfortable in this bag when layered up. I, OTOH, throw heat like a furnace and use only a very light base, more to keep body oils off the bag than for warmth. The only time I have slept in this bag all zipped up was at 13K feet during a light snow shower (probably around 20 degrees at the time). Otherwise, I end up using it more like a quilt.
We have laundered our bags using Mcnett Down Wash in a top load HE washer several times, and they have not shown any sign of wear and tear.
One thing to keep in mind, is that this bag takes a loooooong time to dry and I have to constantly unclump the down during the process. Same for any down bag, but I have used other manufacture's models with similar ratings that did not have near the amount of loft this bag has.
Source: bought it new
Price Paid: $220

Comfortable, toasty, breathable, the Marmot Pinnacle performs like a dream. Better still, its impressive compressability and light weight make it a winner for spring and fall trips.
Pros
Lightweight
Comfortable
Small pack size
Good closures
I've used the Marmot Pinnacle on backpacking, canoeing, and car-camping trips for two years. This bag is perfect for spring and fall adventures and has kept me warm on many nights when the temperature has dipped into the 20s(F).  
First, a few notes on its construction. Weighing in at just under 3lbs, the Pinnacle is a winner for backpacking.  Better still, it packs small and takes up little more room in my backpack than my campstove. I'm 6'1", and it fits me with a bit of wiggle room. The multiple drawstrings in the hood make it possible to trap almost all your body heat, or give yourself some breathing room on warmer nights.  
My one gripe: the zipper tends to snag when zipping up.  
Being a down bag, breathability is important. The Pinnacle does a good job at wicking away body moisture, keeping the insulation dry and warm. Even after spending long-hours in a tent during heavy rainstorms, it retains its loft well.
Source: bought it new
Price Paid: $325

Great mummy bag!
Pros
very warm
stores easily
light
Overall, I have enjoyed this mummy bag, and would recommend it, considering you have the money to invest.  The down insulation is SOO warm and crams to a size a little bigger than a football. With a decent pad, you will stay toasty even on a very chilly night. I just used it on an 11°F night and stayed moderately warm.
The zipper might get a little stuck on you, but just take a little care when zipping yourself up.
Very nice product!
Source: bought it new

This bag lives up to its rating. My son and I were 500 feet below this freezing level one night and I did not notice that fact until I woke up and had to take care of business in the middle of the night. It was freezing out there but I was very warm and comfortable in my bag.
I had used the Sawtooth before (the 600 fill version), and did noticed the difference in the way the the 800 fill envelops your body rather than lay on your body. I was so warm that night that I purchased a +30 Arroyo for those warmer, low altitude, mid-summer trips. I love this bag.
Design: Mummy
Fill: 800 fill down
Temperature Rating: +15 Farenheight
Weight: 2lbs. 12 oz.
Price Paid: $349

We bought a pair of these for each other four years ago. They are absolutely awesome.
I sleep warm and she sleeps cold. We both love the bags. The temperature ratings are conservative, we've been quite comfortable in the low teens with base layers on.
The zipper runs the length of the bag so it is easy to use as a quilt on warm nights. Mating two bags offers a large volume for a couple (just don't do it in winter - you'll freeze). I'm 6'2, 200#, and I have never felt confined, even when sharing it with a 35# dog (he weasels in when I'm asleep).
Light, durable, extremely packable, it'll be the last bag you'll own. Worth every penny.
Used this bag in the 40's and actually sweated during the night. Very comfortable fabric and great packability. Avoid over-compressing the bag with an aftermarket compression sack and use a liner to keep it clean use after use.
Price Paid: $269

I have owned this bag for two years now and I have no complaints about it. The first trip I took it on was on Mount St. Helens in December where temps got as low as 5* Fahrenheit. I am a cold sleeper but in this bag I was almost sweating. I have never had a cold spot or cold night in this bag. It packs very small and is uber light. It is perfect for any type of weather.
Design: Mummy
Fill: 800
Temperature Rating: 15 Farenheight
Weight: 2lbs 2oz
Price Paid: $300

Wow! I can't say enough about this bag. Camped at 7000 ft in Death Valley in December on the slopes of Telescope peak during a clear night. Temps dropped into the single digits and all I had on were my thermals and a pair of light weight socks. The bag is rated 10 15 F but that's pretty conservative, I think it's good to around 5 F actually.
I was on a thermarest (which probably helped) but I never once was cold in this bag. My partner, who is from Siberia, froze all night in a syn bag. I was chilled initially, but the cinching up the draft tube (a necessary feature) stopped that. The bag compresses extremely well - I'm able to squeeeze it into the bottom of a Gregory Advent Pro daypack. The only downside is it was a little difficult to get out of in a hurry when a black bear approached my tent on a separate hike, but that's another story.
Design: mummy
Fill: 800
Temperature Rating: 15 F
Price Paid: $249

I love this bag. In fact its my second marmot bag. The first was an older pinnacle. But this one is the 800 fill design. My older one didn't have the neck collar either. The bag seems to live up to its rating, I've never been cold in it yet and I know the temps were in the low 20's. I did wear a tshirt, pj pants and socks.
The bag shows excellent quality and great attention to detail. I think that the fact that I purchased the same bag a second time means something; considering I'm the type of person who usually buys something different ay any cost. I just didn't see anything worth switching too.
Design: mummy
Fill: 800
Temperature Rating: 15 F
Weight: 3 lbs ?
Price Paid: $279

Version reviewed: Gossamer Long
Sweet bag! No problems. Very warm, especially with a silk liner. This bag is soooo light and compact, even without a compression bag. The zipper is great in that is doesn't snag at all and there is plenty of room inside. Rarely do I spend an entire night on my back, and this bag does the trick. I really like the separate drawstring baffle that goes around your shoulders or collarbone.
Design: Mummy
Fill: 800 fill down
Temperature Rating: 15 F
Weight: 2 lbs, 11 oz
Price Paid: $225

Excellent bag! Very warm and light, and compresses very small, like any down bag, but the quality of workmanship shows up in the details. The zipper never jams thanks to the draft tube stiffener, and there is plenty of room at the top end so that I never feel claustrophobic despite the mummy design. The temperature rating is right on. Though it's rated at 15 F, it's comfy at 0 with the hood and draft collar drawn up.
It's a bit pricey at $299 ($279 for the short version), but it's worth every penny. I waited and shopped around until I found it on sale for $195. My only problem with it is having to kick my cats out of it when I want to use it at home!
Design: Mummy
Fill: 775 fill down
Temperature Rating: 15 F
Weight: 2 lbs
Price Paid: $279 reg, $195 on sale

Version reviewed: Gossamer Long
Comfy, toasty warm down to the 35 degrees I encountered, but also surprisingly accommodating up to 50 degrees. I still managed to snag the zipper several times, even with the stiffened zipper column. I had a surprising amount of room to move around my average-sized, 5'9"/165 pound body at night.
I used a silk liner from www.dreamsacks.com that probably tacked on another 10 degrees of warmth and kept the sleeping bag from taking on my stink.
I love the way the bag compresses down to almost the size of a liter water bottle. This is definitely my Spring/Fall bag from now on.
Design: Mummy
Fill: 750+ fill down
Temperature Rating: 15F
Weight: 2 lbs, 3 oz
Price Paid: $299

An awesome bag. Marmot's temperature ratings are accurate. I have used this bag at 25F (without long underwear) and was very warm. It is also roomy for a mummy. Somewhat pricey, but the best is never the cheapest. Has a "stiff" draft tube, so the zipper works without jamming. Also has a draft collar, but not sure if there is actually any down inside it, but I don't think it needs it anyway. One of the lightest, smallest compressing 15F bags available.
I also have a TNF Blue Kazoo, and although it's a decent bag, I consider it a 30-40 F bag, not the 15-30 F that TNF rates it at. I would probably compare Marmot bags to TNF ones rated 20 degrees lower (30 F Marmot = 10 F TNF) If you put a Pinnacle next to a Blue Kazoo, you'll understand.
Design: Mummy
Fill: 775 fill down
Temperature Rating: 15 F
Weight: 3? lbs
Price Paid: $320

Version reviewed: MicroFiber
A great bag, very comfortable. It is almost too warm for most months (I sometimes use it as a blanket)! It is hard to find a 3-season bag with a full hood, dual zippers, draft collar and a draft tube along the zipper. It is even harder to find a bag, even in long, that'll fit a 6'2", 220lb guy without feeling like you're going to bust a seam. I find Marmot doesn't cut corners on its longs, it actually thinks a large person will be using them. Also, the bag will compress down to something a bit larger than a football.
I didn't get the Dryloft version for two reasons:
1. $100 more!
2. I felt from talking to Dryloft owners that the bag would pass moisture better without the Dryloft cover.
The worst I've had is a damp spot from touching the bottom of the tent side overnight. I just laid the bag out on a dry spot and it dried out pretty well. Guess if I can keep it dry in Olympic NP I can live without the Dryloft.
Design: Mummy (Long)
Fill: 775 fill down
Temperature Rating: 15-25 F
Weight: 2 lbs 8 oz
Price Paid: ~$250

You May Like
Recently on Trailspace