Marmot Pounder Plus

The Pounder Plus has been discontinued. If you're looking for something new, check out the best 3-season synthetic sleeping bags for 2023.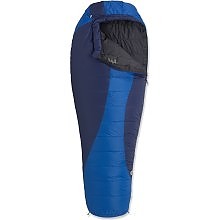 Boo hoo, it's not a 25 degree bag, blah blah blah. None of the 25 degree bags are 25 degrees (unless you buy down and pay $250+ for it)
Now that the EN rating system is available people need to look for bags with an EN rating.
The comfort rating (Temp a woman would be comfortable at) for this bag is 41,4 degrees, and the "Lower limit" for this bag is 32.4 (The temp an average guy would be comfortable at).
Until the EN ratings people were just guessing at temps You may still be a warm or cold sleeper as well, but at least now you can compare bags from different companies. Only the big companies are going to get the EN testing done (Sierra Designs, Marmot, North Face, REI, Mountain Hardwear, Kelty) the Good bag makers, Western Mountaineering, Mont-Bell, Feathered Friends, Nunatak etc. won't bother since they don't need to prove how good their bags are.
You people should have ALWAYS known that you add a minimum of 10 degrees to ANY synthetic bag (Women 15-20 degrees) So complaining that a bag does not stay warm to its rating is ridiculous.
Design: Mummy
Fill: Primaloft Sport Insulation
Temperature Rating: 25 Degrees Farenheight
Weight: 2 lbs 5 oz for mens, 1 lb 15 oz for womens
Price Paid: $120

I bought this sleeping bag on sale. I love the idea of having a light sleeping bag that is constructed with baffles every six inches like a down bag. I agree this bag is not a 25 degree bag, I just spent the night out in 29 degree weather and I was cold by morning. But this is a great bag if you want to modify it.
By this, I mean adding 30 ounces of down in those six inch baffles.....wow, this bag is now warm at 0 degrees and weighs just over 3 pounds. I am not a expert sewer, I just cut 4 inch cuts in each baffle and added 1.5 to 2.0 ounces per baffle. and re-sewed the cuts shut. I added down to the drafted tube in hood as well the draft tube by the zipper.
This is my favorite bag, it's light and compresses down to the size of a pro football.
I would rate this bag higher, but to those people that want a warm bag without making modifications, may want to look elsewhere. BUT if you can sew, get some 600 to 750 down fill this is a great bag. At 2010 prices, this bag is priced right, down is cheap at the moment. This bag is almost better than the 15 Helium EQ if you modify it.
Design: mummy
Temperature Rating: 35 to 40
Weight: 1.5 / 3 + pounds after mods completed
Price Paid: $121

This is a great bag, very light and packs tight. I have used it in moderately cool nights around 40's and I have been roasting. It is perfect for backcountry treks and the minimalist who needs great gear without the bulk and weight.
Unless you are at very high altitude or have an inadequate tent this bag is perfect. Well worth the money, and I will try it this year during some mountaineering and let you guys know how it holds up below freezing.
Design: mummy
Fill: primaloft
Temperature Rating: 25 F
Weight: 2.4 lbs
Price Paid: $150

After reading several positive reviews about this bag, I bought one after finding it at a great price. It's rated to 25 degrees, but for me it doesn't come anywhere near that temperature rating. I'm an average sleeper, neither cold nor hot. At around 47 degrees, I was cold while wearing a single layer of capilene. At around 35 degrees, I was absolutely freezing even with four shirts and two layers of pants!
Pros: weight and cost
Cons: way off on the rating, COLD!
Update: January 31, 2008
I bought this bag to go on three-season backpacks in the Appalachians, mostly in western North Carolina. It's a great bag for warm nights, but it doesn't come close to reaching its 25 degree rating.
There are cold spots, and even with fleece on, I couldn't get comfortable on nights when the temperature went below 40 degrees or so. The zipper snags also.
I called Marmot to tell them about this, and although the customer service rep was very nice, she didn't offer to let me return the bag or exchange it. It's a good bag for strictly summer camping or backpacking, but I don't recommend it for chilly nights.
Design: mummy
Fill: Polarguard
Temperature Rating: 25 degrees F
Weight: ~2.5 pounds
Price Paid: $120

Bought it, love it, use it often. Had it wet at just above freezing, have had it 5 degrees under rating and it keeps me warm.
Price Paid: $150

Your Review
You May Like
Specs
Men's
Price
Historic Range: $84.51-$209.00
Reviewers Paid: $113.00-$150.00

Women's
Price
Historic Range: $113.37-$334.95

Recently on Trailspace